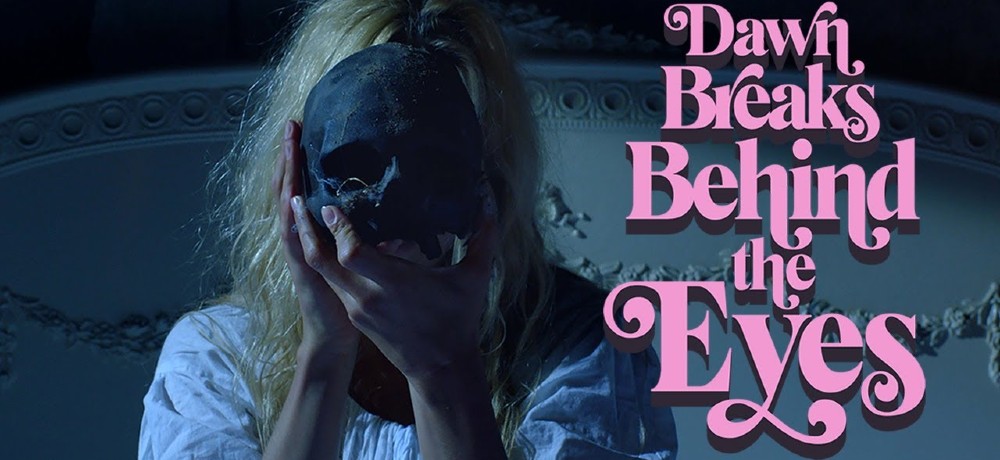 DAWN BREAKS BEHIND THE EYES: "Margo, who comes from a noble family, inherited a castle that she inspects with her ill-tempered husband Dieter. When they arrive at the run-down keep, their relationship is put to a test as their sanity slowly deteriorates. This opens up a new world.  As time and space begin to shift around them, a reality that only exists within the walls of the eerie building is exposed - a reality full of warmth and excess.
Things aren't as they seem in this genre-bending film, that shifts between different story layers in unpredictable ways. It is a love letter to European cinema of the sixties and seventies that will leave viewers guessing what will happen next. "
Directed by: Kevin Kopacka (Hades)
Written by: Lili Villányi & Kevin Kopacka
Produced by: Lili Villányi & Kevin Kopacka
Country of Origin: Germany
Language: German
Genre: Thriller
Distributor: Dark Sky Films
Run Time: 76 minutes
Cast: Anna Platen (Para - Wir sind King), Jeff Wilbusch (Peacock's The Missing, Netflix's Unorthodox), Luisa Taraz, Frederik Von Lüttichau (Notes of Berlin, Gender Crisis), with Bill Becker, Christopher Ramm, and Elena Gomez Alvarez
DAWN BREAKS BEHIND THE EYES Comes to Digital on 6/24
----
SHUDDER BOARDS '70S HORROR THE SACRIFICE GAME: "Shudder, AMC Networks' premium streamer for horror, thriller, and the supernatural, and Red Sea Media announced today that production will begin next week on 1970s supernatural horror The Sacrifice Game, written by Jenn Wexler (The Ranger) and Sean Redlitz and set to be directed by Wexler, to star Mena Massoud (Aladdin), Olivia Scott Welch (Fear Street), with Gus Kenworthy (American Horror Story: 1984) and Chloë Levine (The OA), who also starred in Wexler's The Ranger. Shudder has taken all rights to the film in its territories, while Red Sea Media, Inc. has acquired international. 
The film, which begins principal photography May 9, 2022, is set at a girls' boarding school over Christmas break, 1971, where Samantha and Clara, two students staying behind for the holidays, must survive the night against uninvited visitors.  
The film will also star Derek Johns (The Wolf and the Lion) and Laurent Pitre (Under the Banner of Heaven), along with Madison Baines (1UP) and newcomer Georgia Acken.
The producers are Philip Kalin-Hajdu and Albert I. Melamed with Heather Buckley, Wexler, and Todd Slater (King of Killers, The Parts You Lose) of Slater Brothers Entertainment. Roman Kopelevich and Crystal Hill of Red Sea Media, Inc., Peter Phok, Mark Berry and Duane Farley of AMG, with Massoud and Welch are executive producing. Real by Fake (The Morning Show, Big Little Lies) is on board with Marc Côté executive producing and Yannick Sadler co-producing.
The deal was negotiated by Emily Gotto, VP, Global Acquisitions & Co-Productions for Shudder and Philip Kalin-Hajdu and Albert I. Melamed on behalf of the filmmakers. Todd Slater of Slater Brothers Entertainment brokered the deal with Red Sea Media on behalf of the filmmakers.
"We loved The Ranger and are thrilled to be working with Jenn and her team to bring her new film, The Sacrifice Game, to life. Jenn's film promises to be a wild and thrilling ride that offers a fresh take on timeless horror themes. We can't wait to share it with our members," said Shudder General Manager Craig Engler.
"I loved this script – it reminded me of the classic horror films of the 70's," stated Red Sea Media's CEO, Roman Kopelevich.
"I am extremely excited to be working with this incredible cast and to be partnering again with Shudder and with RSM. The Sacrifice Game is my tribute to the beauty and boldness of '70s horror, anchored in an unlikely friendship between outsiders," said Wexler.
"After years working in genre, it is a highlight to be making a Shudder original with this film. Wexler's thrilling vision pulled us in from the start. We have never seen Mena Massoud and Olivia Scott Welch in roles like these and we can't wait to share it with the world. We are grateful to be working with Shudder and RSM," said producers Philip Kalin-Hajdu and Albert Melamed.
Massoud is represented by Gersh, LINK Entertainment and Myman Greenspan. Welch is represented by UTA and Vault. Kenworthy is represented by WME, Sugar23, Michael Spencer, and Jen Peros, Famous Last Words PR. Levine is represented by APA and Anthony & Associates. Wexler is represented by CAA and Hitman Studios."
----
Hear Us Scream: The Voices of Horror Launches Volume II Indiegogo Campaign and Announces Contributors and Editors: "The team behind Hear Us Scream: The Voices of Horror are proud to announce Volume II is currently in the works. Today, the Indiegogo crowdfunding campaign begins to support the project. The campaign has a goal of $8,000 USD to help fund the project, pay contributors, and publish the final piece of work.
Volume II is due to launch in October of 2022, just in time for Halloween and will retail at $20 USD.
"This volume of Hear Us Scream is going to be amazing. Volume One was an incredibly rewarding and successful publication and we were so proud of the outcome. Deciding to do a second volume was a no-brainer, we knew we had to keep the momentum going and work on a second issue. We hope to continue publishing these wonderful personal stories for many years to come" said Catherine Benstead, Founder of Hear Us Scream.
Hear Us Scream: The Voices of Horror is a collaborative effort committed to building supportive, genuine connections and safer spaces for women and/or non-binary folks in the horror community. We aim to amplify marginalized voices that have been frequently drowned out or ignored in a genre traditionally perceived as othering women and non-binary individuals.   Horror is so dear to so many of us, and we believe that sharing these diverse personal stories can foster an important sense of belonging and community for those who need it most. We treasure the connections we forged and the voices we highlighted in Volume One, and we can't wait to continue this work as we publish Volume Two. Our fantastic group of Volume Two contributors are ready to share their unique perspectives on and connections to horror, and we can't wait for you to read them.
We are so proud to announce that this volume will contain the essays of 36 horror loving writers! A whole 10 (+1) more essays than volume one. Hear Us Scream: The Voices of Horror Volume Two will publish essays from the following:
This incredible team of horror loving writers will be supported and mentored by our wonderful team of editors including editing alumni Violet Burns and Catherine Benstead with the addition of Rebecca McCallum (Ghouls Magazine, Mums and Sons, Hear Us Scream Volume One), Blayne Waterloo (Hear Us Scream Online and Hear Us Scream Volume One), and S. L. McGee (Hear Us Scream Online, Author of Voices on the Air).
The campaign has a range of perks that come with supporting it financially. Including the following:
Exclusively designed t-shirt or long-sleeve by @piinkfang

Paperback copy of Hear Us Scream: The Voices of Horror Volume Two

E-Book copy of Hear Us Scream: The Voices of Horror Volume Two
You can find out more about the Indiegogo Campaign by heading to the following website: https://igg.me/at/hus-volume-two/x/28690166#/