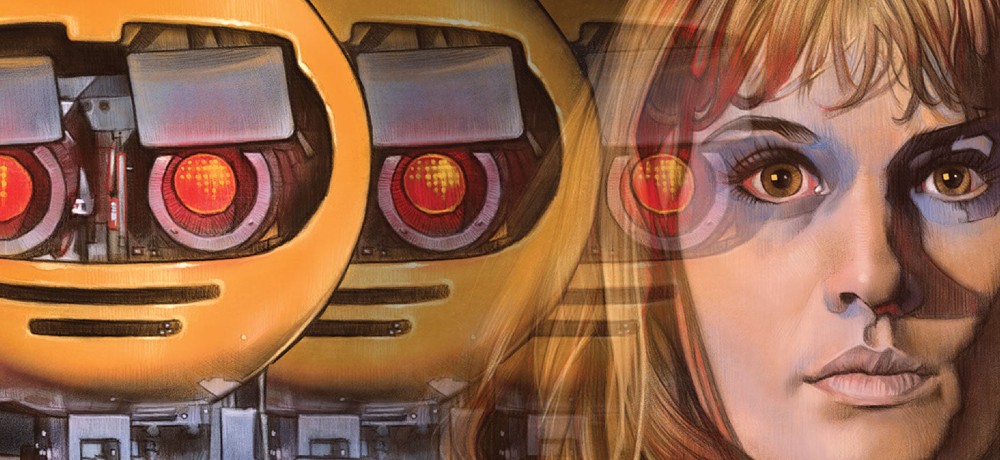 DEADLY FRIEND COLLECTOR'S EDITION: "From Director Wes Craven (A Nightmare On Elm Street, Scream) comes a terrifying tale of technology gone haywire!  A lonely teenage genius, a specialist in brain research, has two best friends: his remarkable robot and a beautiful girl next door. When tragedy strikes both of his friends, he desperately tries to save them by pushing technology beyond its mortal limits into a terrifying new realm. Like a modern-day Dr. Frankenstein, Paul discovers too late that he has created a rampaging monster!
Directed by West Craven and featuring an all-star cast including Matthew Labyorteaux, Kristy Swanson, Michael Sharrett, and Anne Twomey, this entertaining sci-fi, horror cult classic makes its Blu-ray debut in a Collector's Edition on October 12, 2021 from Scream Factory. DEADLY FRIEND Collector's Edition features new 2K scan, new interviews with Kristy Swanson, screenwriter Bruce Joel Rubin, special makeup effects artist Lance Anderson, and more. Fans can pre-order their copies now by visiting ShoutFactory.com
DEADLY FRIEND Collector's Edition Bonus Features
·      NEW 2K scan of the interpositive
·      NEW Hey Sam, Nice Shot – an interview with actress Kristy Swanson
·      NEW Written in Blood – an interview with screenwriter Bruce Joel Rubin
·      NEW Robots, Ramsey and Revenge – an interview with special makeup effects artist Lance Anderson
·      NEW Samantha's Symphony – an interview with composer Charles Bernstein
·      Theatrical Trailer (in English, Spanish and German)
·      TV Spots"
---------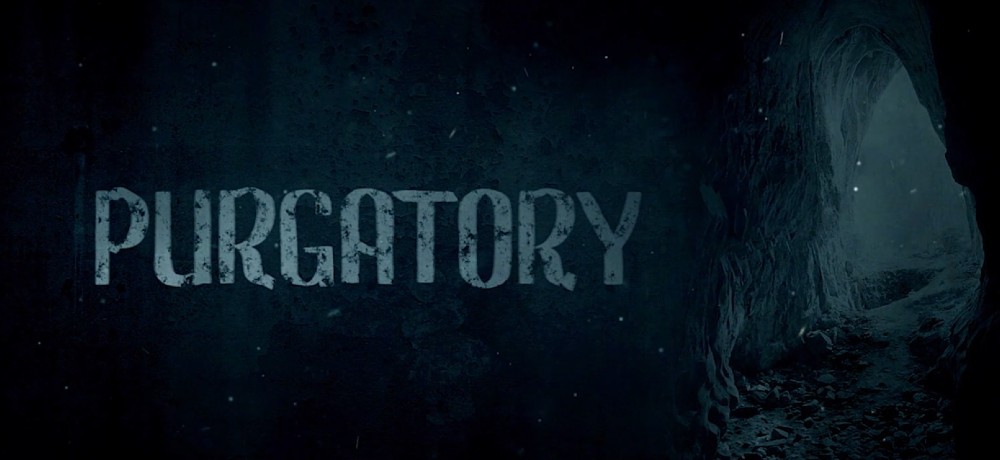 Erik Fellows And Tatjana Marjanovic Return for Season 2 of Popstar!TV's 'Purgatory' Series: "Erik Fellows (The Bay, Days of Our Lives, Break Even) and Tatjana Marjanovic (Monsters of Man) are returning for the second season of Purgatory, a horror-thriller series. Purgatory is about a group of strangers who are invited to Shambala, a remote winter resort, for the New Year's Eve festivities. One person, however, has plans that don't involve celebrating. The second season of Purgatory will begin airing on September 16, 2021, on Popstar!TV. 
Purgatory is set mostly in man-made caves in Armenia. Erik Fellows plays the role of Bobby, and Tatjana Marjanovic plays the role of Lisa. Purgatory is directed by Michael Caissie and Hayk Kbeyan and written by Michael Caissie, David Chandler, Anahit Shahsuvaryan. Additional cast includes Danny Mahoney as Chris, Anelya Gubryan as Nora, David Chandler as Preston, Bibi Lucille as Marie, and Johnny Neal as Adam.
Popstar!TV is a live 24/7 linear and video-on-demand channel available for free on Roku, Amazon Fire TV, Apple TV, and many more outlets.
Erik Fellows is best known for his role as Troy Winston in the long-running NBC's daytime soap opera Days of Our Lives. He's also known for his lead roles in movies such as 2019's Being Rose, starring opposite iconic legends Cybill Shepard, James Brolin, and Pam Grier. He also starred in the Texas Heart, multiple award-winning drama film, starring opposite Lin Shaye, John Savage, and Blake Clark. Fellows proved he has the chops to pull off comedy when starring in the edgy, dark comedy, American Cowslip, alongside Oscar-nominated and award-winning legends Val Kilmer, Bruce Dern, Diane Ladd, Peter Falk, Rip Torn, Lin Shaye, and Blake Clark. He has appeared in numerous primetime series, including CSI: NY and NCIS: Los Angeles and was a series regular starring as Damian Blackwell on the 22x Emmy winning series The Bay. A recent feature film credit includes the action-suspense thriller Break Even (now available on Amazon). Upcoming soon-to-be-released projects include the romantic comedy Divorce Bait and the dark comedy Starf*cker; which explores the dark, cruel underbelly of Hollywood with Erik in the lead role of Jimmy Starr.
Erik Fellows is represented by manager Tabitha Minchew of Established Artists, CrawfordTalents, and Wendy Shepherd of Studio Matrix for publicity and brand management. Tatjana Marjanovic is represented by talent agents CBM Management and AC Talent Agency (commercial), with management by Framework Entertainment."
----------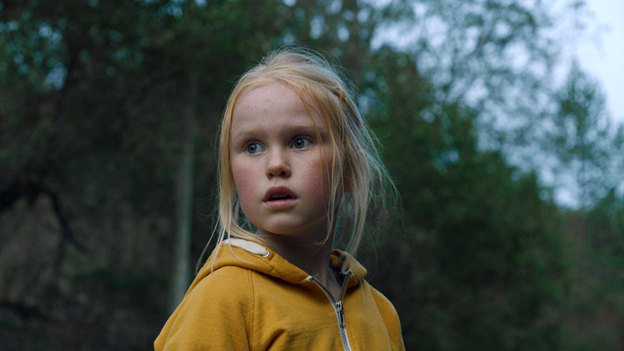 IFC MIDNIGHT PICKS UP ESKIL VOGT'S CHILLING SUPERNATURAL DRAMA "THE INNOCENTS" AHEAD OF NORTH AMERICAN PREMIERE AT FANTASTIC FEST: "IFC Midnight announced today that they are acquiring U.S. rights to the coming of age supernatural drama The Innocents, written and directed by Eskil Vogt. IFC Midnight will release the film in 2022.
One of Scandinavia's most acclaimed screenwriters for his collaborations with Joachim Trier, including Thelma, Louder Than Bombs, and Oslo, August 31, Eskil Vogt made his directorial debut with the 2014 Sundance and Berlin prizewinner Blind. His second feature as writer/director, The Innocents stars Rakel Lenora Fløttum, Alva Brynsmo Ramstad, Mina Yasmin Bremseth Asheim, and Sam Ashraf alongside Morten Svartveit and Ellen Dorrit Petersen. The film was produced by Maria Ekerhovd for Mer Films, in co-production with Zentropa Sweden, Film i Vast, Snowglobe, Bufo, Logical, Zefyr, and Don't Look Now.
A dark and twisted morality fable that unfolds under the bright Nordic sun, The Innocents follows a group of young children who become friends during the summer holidays, drawn together by the discovery of mysterious shared abilities. Out of sight of the adults, the children bond quickly, exploring their newfound powers and testing their limits in the forests and playgrounds surrounding their brutalist apartment complex. As the children's loyalties shift and small cruelties escalate, their innocent play takes a dark turn towards the malevolent, and strange things begin to happen.
Vogt made a splash at the 2021 Cannes Film Festival with two films, premiering The Worst Person in the World in competition with Joachim Trier and making his first directorial Cannes appearance with The Innocents in Un Certain Regard, where it caught the attention of critics for Vogt's meticulous direction and the haunting performances by its young cast. In a review for the Hollywood Reporter, Leslie Felperin wrote, "The lonely, uncanny and sometimes unthinkingly violent world of childhood is explored with chilling candor and exceptional skill… Vogt keeps the focus tight on the children throughout, which somehow punches up the sense of dread". Writing for Variety, Jessica Kiang hailed the film as "superbly atmospheric, deftly crafted horror", adding, "this superior chiller is both a satisfying genre exercise and a minute observation of the process by which young children acquire morality…in [Rakel Lenora] Fløttum's remarkably assured and self-possessed performance, Vogt finds a perfect avatar for his provocative yet persuasive ideas about the innocence (or otherwise) of children".
Arianna Bocco, President of IFC Films, said, "Eskil Vogt is one of the most exciting filmmakers working in Scandinavia today. He has developed a distinct voice through his many high-profile writing credits over the years, and it's with much excitement that we are now able to partner with him on his second directorial feature THE INNOCENTS. Although the film explores horror on a more supernatural level, there is a deeply rooted story of the complexities of morality layered in between, which makes this the perfect fit for IFC Midnight."
Director Eskil Vogt added, "I've been a long time admirer of how IFC Films have championed independent and genre bending cinema in an ever changing marketplace. They have such a great and innovative team and I couldn't be happier to work with them in unleashing THE INNOCENTS in the U.S." Dave Bishop, CEO of Protagonist Pictures, said, "THE INNOCENTS is a brilliant and deeply unsettling film from a master filmmaker and we have no doubt that it will land with a punch. Our long-time friends at IFC are the perfect partners to connect Eskil Vogt's stunning picture with U.S. audiences."
The deal for the film was negotiated between IFC Films with Protagonist's Chief Commercial Officer George Hamilton and Chief Operating Office James Pugh of Protagonist Pictures representing the filmmakers."