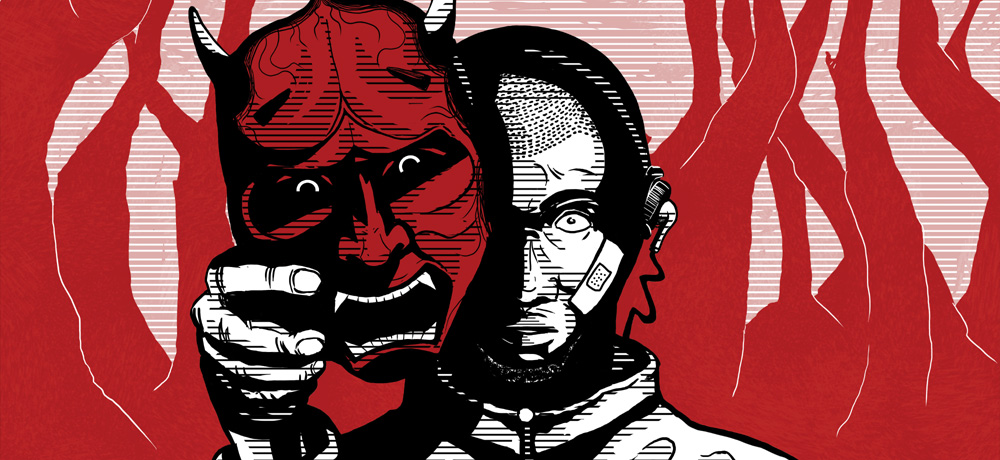 Watch the Trailer for DEMON: "Zersetzung are pleased to share the first look artwork and trailer for their debut film Demon.
Demon will be premiering online at the Oscar qualifying 31st Cinequest Film Festival, Cinejoy, from 20th to 30th March 2021.
When an unpaid train fine comes back to haunt him, office worker Ralph flees London to a forest motel where a temporary hideout becomes a nightmarish purgatory, and emerging ghosts of the past force him to confront the loss of his father.
Taking viewers on a winding road that blurs the lines of reality, when one man tries to escape his problems but instead finds himself faced with more anguish.
Demon is the debut feature from director and co-writer George Louis Barlett and stars Jemma Redgrave (Love & Friendship, Doctor Who), Gary Beadle (Mangrove, Summer of Rockets), David Schaal (A Call to Spy, The Inbetweeners), Rachel Jackson (Beats, The Party's Just Beginning) and introduces Ryan Walker-Edwards in his first feature role."
----------
George A. Romero's IRON CITY ASSKICKERS: "A TV pilot created by the legendary filmmaker George A. Romero (1940-2017) is finally receiving distribution nearly 22 years after the project wrapped production.
On April 3, 2021, Cryptic Pictures Distribution, in association with Image 987, will be releasing "Iron City Asskickers" (1998) on DVD and vintage VHS. Grab your piece of George Romero history.  CLICK HERE  and order today!
The George A. Romero Foundation (GARF) will be hosting a Reunion Party on Wednesday, evening March 3, 2021 via the organization's webcast network, featuring the original cast and crew. Visit GARF for updates!
Created long before professional wrestling embraced the moniker sports entertainment, and filmed nearly 15 years after the airing of John Stossel's 20/20 TV special which debated the profession's authenticity, this male soap opera explores professional wrestling's sensationalism, and foreshadows the television genre now referred to as Reality TV.
The six time World Heavyweight Champion Sid Eudy (ring name Sid Vicious/Sycho Sid) of WCW and WWE fame, will be joining the webcast to share his reflections on the realities and demands of life in the ring during the sport's heyday.
----------
Film submissions now open for Joe Bob's Drive-In Jamboree: " Mutant Fest will be the first day of Joe Bob's Drive-In Jamboree, July 16-18, to be held at the Mahoning Drive-In. Mutant Fest is a celebration of low-budget exploitation films made outside the financial support systems of Los Angeles and New York. Joe Bob Briggs is making an open call for films, both features and shorts, and promises no entry fee.
"The purpose of the festival," said Briggs, "is to bring attention to films that have no marketing budget. Some of these guys mortgage their homes to make the film, then discover they can't get into the major festivals without spending several thousand dollars on the various fees charged—fees required simply for 'consideration,' guaranteeing nothing. We have a team set up to screen films continuously right up until the film submission cut-off date of May 1. We also have an educational component, with industry professionals conducting practical seminars on filmmaking with impossibly low budgets. These are basically 'how to get stuff free' classes."
Virgil Cardamone, partner and chief programmer for the Mahoning Drive-In, added, "We are thrilled to be able to showcase incredible indie talents and support young filmmakers with Mutant Fest each season! What could be cooler than seeing your work presented by Joe Bob Briggs and splashed on the legendary Mahoning screen!?"
Two winning feature films and ten winning shorts will all be screened at the Mahoning on the night of July 16th, with Briggs hosting and presenting the awards. Runner-up films will be screened throughout the day at a location to be announced later.
Filmmakers can learn more and submit their films via Film Freeway at https://filmfreeway.com/MutantFest. Submissions will remain open until May 1.
Joe Bob's Drive-In Jamboree will run July 16-18, 2021, at the Mahoning Drive-In in Lehighton, PA. In addition to Mutant Fest on July 16, the other days will include a live double-feature version of Briggs' popular televised format, a family-friendly event with live zombies and monsters, and days filled with bands, contests, vendors, sideshow attractions, and much more. Further information about the Mahoning Drive-In can be found at MahoningDIT.com."