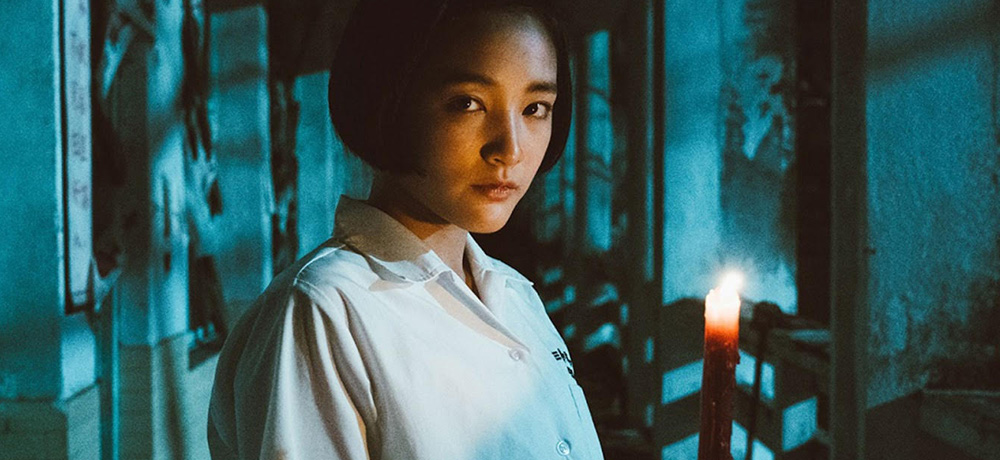 Dekanalog Acquires Taiwanese Horror Movie DETENTION: "Gotham-based distributor Dekanalog has added the acclaimed Taiwanese festival favorite DETENTION to their bustling 2021 slate, with plans to release the award-winning film in theatres and virtual cinemas nationwide on October 8th. The film, from director John Hsu, marks the distributor's second genre release following the Tunisian horror favorite DACHRA, which Dekanalog will bow on July 9th.
Set in 1962 Taiwan during the White Terror martial law period, DETENTION tells the story of Fang Ray Shin (Golden horse Award nominee Gingle Wang), a female student at the hillside Greenwood High School and, attending counselling with teacher Mr. Chang (Meng-Po Fu), they gradually fall in love. It was a dangerous period where sensitive books were banned and free speech were restricted, but Mr. Chang has secretly organized a study group for banned books.
One day, Mr. Chang disappears without explanation, and only Ray-shin and her fellow student Chong-ting seem to remember that he ever existed. The two agree to work together to find their missing teacher, but soon find that their school is no longer the familiar world they remember. The building has become an alien land of ghosts and demons, and the two students will be forced to confront a terrible, secret truth if they hope to escape with their lives.
The pic, which Fangoria Magazine called "One of the best horror films of 2020", won an unprecedented five trophies at The 56th Golden Horse Awards and "Best Film" at Fantasporto. Based on the celebrated 2017 video game of the same name, it has already been hailed by critics at one of Taiwan's all-time great horror films.
Dekanalog, co-founded earlier this year in New York City, has placed a focus on acquiring new titles from both virtual and conventional festival markets - with an emphasis on presenting international titles for U.S. audiences - as well as releasing restored classics from around the world.
Additional details on the acquisition can be found below:
DETENTION / d. John Hsu / 2019 / Taiwan
Logline: Set against Taiwan's White Terror martial law period of 1962, a pair of quick-thinking students must face off against a school filled with legions of ghosts and demons in order to save their missing teacher and themselves.
Stars: Gingle Wang, Meng-Po Fu, Jing-Hua Tseng, and Cecilia Choi
Laurels: Busan; Rotterdam; Fantasia; Golden Horse Film Festival (Winner of New Director, Adapted Screenplay, Original Song, Visual Effects, and Art Direction); Udine; New York Asian Film Festival; and Fantasporto (Special Jury Award Winner)
Sales Agents: Desmond Yang, MandarinVision"
----------
JOE BOB'S DRIVE IN JAMBOREE: "April 21, 2021—Joe Bob Briggs and the Mahoning Drive-In announced  today that tickets for the inaugural Joe Bob's Drive-In Jamboree, a three day celebration of movies and Americana scheduled for July 16-18, will go  on sale April 23 at noon EDT. 
Each day of the Jamboree is a separate event on the grounds of the iconic  Mahoning Drive-In, situated in the Appalachian foothills, which has become  a destination for genre film fans from all over America. Besides the movie  events each night, daytime activities will include live music, sideshow acts,  vendors, merchandise tables, "tent screenings," meet-and-greets with  celebrity guests, photo ops, and special seminars for low-budget  filmmakers. 
"The Mahoning was born out of pure fandom and an undying love and  appreciation of drive-in culture," said Virgil Cardamone, Partner at the fan favorite venue in Lehighton, PA. "For the Mahoning team to join forces with  The Last Drive-In crew is purely a match made in Mutant Heaven. We are  honored to be the meeting ground for like-minded fans to come together  and experience this once-in-a-lifetime drive-in event with the king of the  drive-in, Joe Bob Briggs." 
Briggs added, "The American drive-in is a special institution that's one-half  about watching movies, and one-half about having a communal  experience. So our Jamboree is a combination film festival, TV show,  haunted house attraction, concert, horror convention, campout and summer  barbecue staged in honor of that tradition. We hope the Jamboree is also a  sanctuary for our fans who have been cooped up for a year, waiting to be  released from the Plague. We may not be able to shake hands yet or to  hug one another, but we will at least be able to hoot and holler." 
Joe Bob's Drive-In Jamboree is divided into three parts: 
Friday, July 16: Joe Bob's 1st Annual Mutant Fest
Honoring his long-standing commitment to guerrilla filmmakers, Joe Bob  will host two feature films and ten shorts, the winners of an ultra-low-budget  competition that attracted hundreds of entries from across the globe. 
Winners will receive the coveted Drive-In Academy Award, better known as  the "Hubbie" because it's engraved on a Chevy hubcap. Joe Bob will also  present the Lifetime Achievement Hubbie. Past winners of the Hubbie  include Roger Corman, Stephen King, and Arnold Schwarzenegger. 
Entries for Mutant Fest are still being accepted through May 1 at  FilmFreeway.com/MutantFest. The festival is devoted to transgressive films  financed outside traditional distribution networks. 
Saturday, July 17: The Last Drive-In Live! 
For fans who have asked to be on the set of Joe Bob's hit streaming show,  this day may be their one and only chance. 
Joe Bob, Darcy, and the rest of the gang who appear regularly on  Shudder.com will be onstage to host a classic double feature in The Last  Drive-In style, with the entire show projected onto the massive Mahoning  screen. Which celebrity guests will show up for the festivities? There's only  one way to find out, because nothing will be announced in advance. 
Sunday, July 18: Joe Bob's Drive-in of Dread 
For the final day of the Jamboree, the Mahoning will be transformed into a  landscape with set pieces that come alive with ghouls, zombies and  monsters. While Joe Bob hosts two iconic 1950s horror classics from the  projection booth, undead redneck mutants and other sinister creatures will  attack the cars and frighten the festival-goers (in a Covid-aware family friendly way). 
Further details will be released in coming weeks as daytime events are  added. 
COVID-19 SAFETY PRECAUTIONS 
Although drive-in fans are a hearty and robust group, safety is key at  the Jamboree, so a number of precautions are in place to ensure  compliance with all local and state COVID protocols. There will be a full 
mask requirement for all three days for common areas, restrooms, vendor  areas, concession areas, and meet-and-greet tables. Masks will be  available for anyone needing one. Attendees will not be required to wear a  mask within their own vehicle. 
Additionally, the Mahoning staff will be regularly sanitizing common areas,  and hand sanitizer will be available for all attendees at all key locations. 
Joe Bob's Drive-in Jamboree tickets will go on sale at noon EDT April  23 at https://mahoningdrivein.ticketleap.com/joebobsjamboree/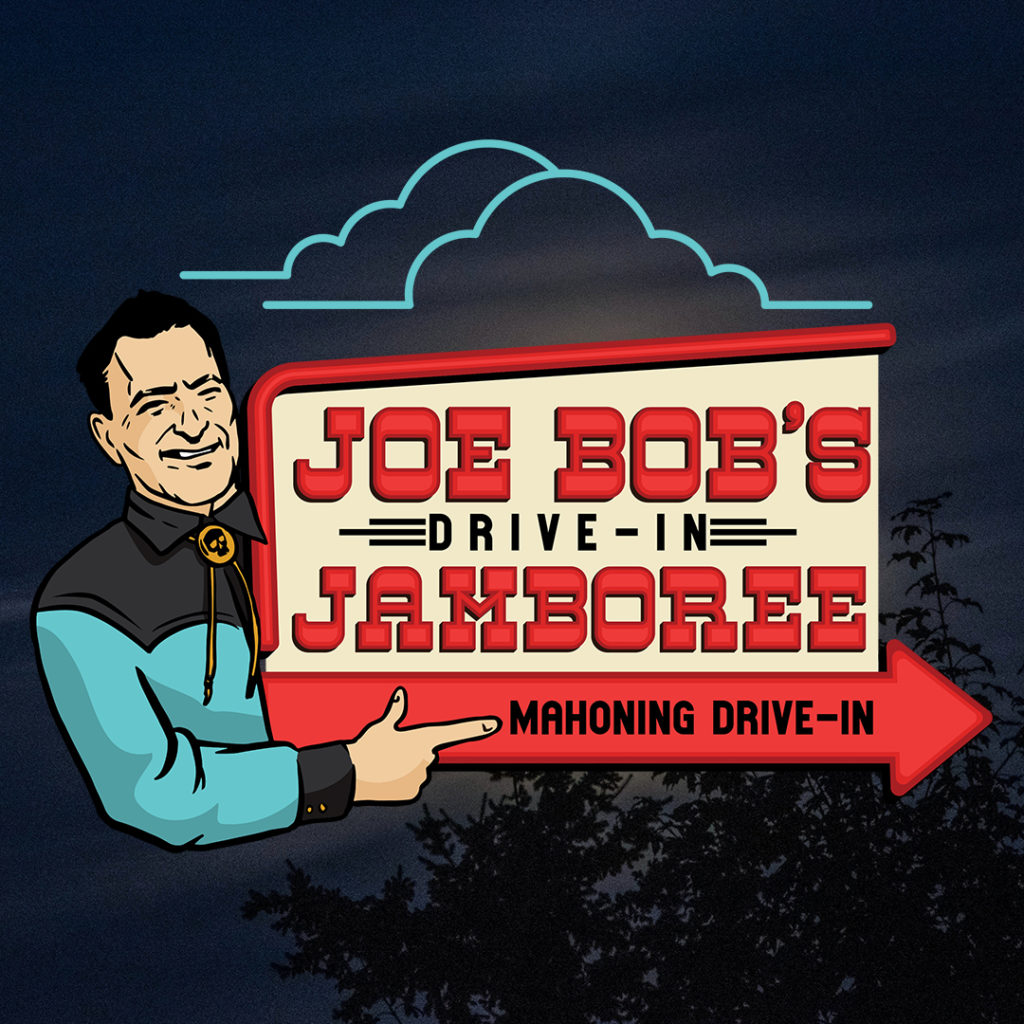 ----------
DEMENTIA PART II Release Details: "Dark Star Pictures and Bloody Disgusting will release the midnight horror film DEMENTIA PART II in theaters on May 21, 2021, and on VOD, Digital HD and DVD on June 1, 2021.
DEMENTIA PART II was produced from conception to its world premiere screening at Cinepocalype Film Festival by the writer/director team Matt Mercer and Mike Testin (The Salesman, Dementia) in just 5 weeks.  The film stars Matt Mercer (Contracted, Bliss, Beyond the Gates), Graham Skipper (Almost Human, Sequence Break, VFW), Najarra Townsend (Contracted, The Stylist), and Suzanne Voss (The Lords of Salem, Dementia).
Wendell (Matt Mercer) receives a threatening phone call from his parole officer Reggie (Graham Skipper)… if he doesn't find a job immediately, he will face serious legal repercussions.  Wendell wrangles some home maintenance work for a seemingly benign older woman, Suzanne (Suzanne Voss), who persists in giving him increasingly absurd tasks to complete around the house.  As the workday progresses, Wendell is thrown into an ever-escalating nightmare, and comes face to face with an unexpected evil.  Suzanne hides a dark secret.  And it's up to Wendell and Suzanne's daughter, Sheila (Najarra Townsend) to put an end to her madness."