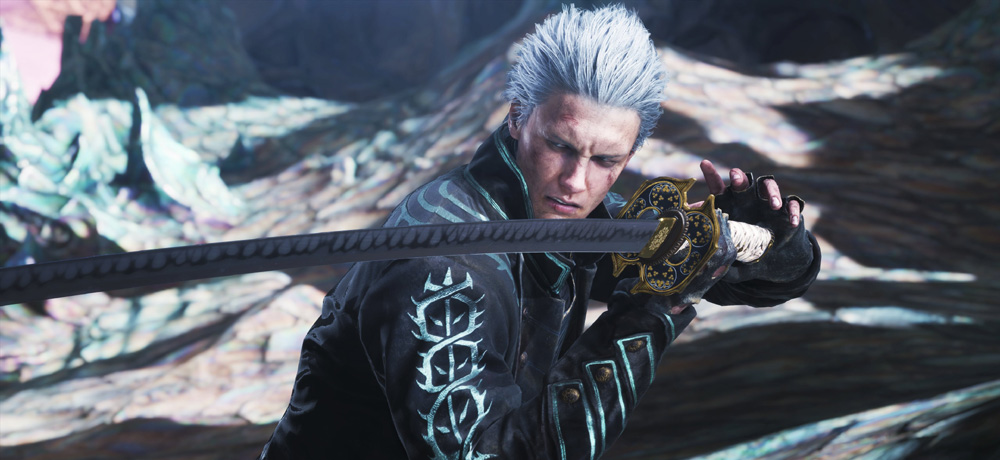 In today's Horror Highlights: Devil May Cry 5 heads to new consoles, Loot Crate offers Mr. Kramp, and Saban picks up the reboot of Wrong Turn.
DEVIL MAY CRY 5 Launches on Next-Gen Consoles: "It's time to fight like hell, as Devil May Cry™ 5 Special Edition has arrived with all-new features and the by-fan-demand playable Vergil. The digital version of Devil May Cry 5 Special Edition arrives today for Xbox Series X|S, and on November 12, 2020 for PlayStation® 5. The physical versions for all consoles will be available starting December 1, 2020 and both the digital and physical versions of the game will be available for MSRP $39.99.
Devil May Cry 5 Special Edition ups the ante on the award-winning stylish action with next-gen features that enhance visuals, audio and performance. Players can enable increased frame rates of up to 120 fps, play in stunning 4K fidelity on supporting consoles, and battle amid the life-like reflections, pooling shadows, and vivid lighting created using ray tracing* technology. Enhanced 3D audio helps players maintain their Smokin' Sexy Style through the frenetic action and pulse-pounding score by allowing players to hear enemy movements above, below, and to any side of their character with pin-point precision. Devil May Cry 5 Special Edition also includes all Deluxe Edition and EX Color Pack content from Devil May Cry 5.
* While ray tracing will be available as a downloadable title update on Xbox Series X, Devil May Cry 5 Special Edition will not support ray tracing on Xbox Series S.
The power of next-gen consoles allows players to experience the added challenge of the fan-favorite Legendary Dark Knight difficulty, which adds a Crazy amount of enemies to each encounter, and the increased speed of Turbo Mode for maximum stylish combos. Finally, Devil May Cry 5 Special Edition introduces playable Vergil to the latest installment in the Sons of Sparda saga, allowing players to tackle all Devil May Cry 5 missions in Vergil Mode, and the Bloody Palace challenge mode as the infamous Dark Slayer.
Starting December 15, 2020 all Vergil content will also be made available as DLC for current owners of Devil May Cry 5 on the PlayStation®4 computer entertainment system, Xbox One and Steam for MSRP $4.99."
---------
Celebrate the horrific holiday season with Mr. Kramp and Loot Crate: "Loot Crate is bringing more than chestnuts with November's 'Roasting on an Open Fire' themed Fright crate. Unbox devilishly good collectibles and gear featuring an exclusive Alex Pardee designed Mr. Kramp figure.
The November Loot Fright crate includes an exclusive Mr. Kramp figure, the first figure in a new Loot Fright exclusive Monster Season series by artist Alex Pardee. Also included is a Devil Scarf, Krampus Ornament, and more items to make the family scream with delight during the holidays.
Only a few days left before this crate sells out! To unbox this horrific holiday-filled crate of fright be sure to order by November 15 at 9:00pm PST. Loot Fright crates start at $28.95 plus shipping and handling.
The holidays will be roasting on an open fire when you subscribe to the Loot Fright crate! https://www.lootcrate.com/crates/loot-fright"
---------
Saban Films Acquires WRONG TURN and TIDES: "LOS ANGELES (November 10, 2020) – Saban Films announced today that they have acquired rights to two titles from Munich-based Constantin Film, including North American and UK rights to Tim Fehlbaum's epic Tides [previously Haven: Above Sky] starring Nora Arnezeder ("Mozart In The Jungle"), Iain Glen ("Game Of Thrones"), Sarah-Sofie Boussnina (Mary Magdalene), Sope Dirisu (The Huntsman: Winter's Tale), Sebastian Roché ("The Man In The High Castle") and Joel Basman (Land Of Mine); and North American rights to Mike P. Nelson's horror reboot Wrong Turn with Charlotte Vega (The Lodgers), Matthew Modine ("Stranger Things", 47 Meters Down), Damian Maffei (The Strangers: Prey at Night, Haunt), and Bill Sage ("Hap and Leonard"). Mister Smith Entertainment is handling worldwide sales on both Constantin Film productions this week out of the AFM, where they will be screening for buyers.
From Executive Producer Roland Emmerich, Tides is set in the near future and follows a female astronaut, shipwrecked on the long-decimated Earth, who must decide the fate of the wasteland's remaining populace. Producers are Thomas Wöbke and Philipp Trauer for BerghausWöbke Filmproduktion, with Ruth Waldburger for Vega Film, and Constanze Guttmann for Constantin Film. Martin Moszkowicz, Christoph Müller and Emmerich are Executive Producers.
Wrong Turn follows a group of friends hiking the Appalachian Trail, who are confronted by 'The Foundation', a community of people who have lived in the mountains for hundreds of years. The franchise reboot was written by Alan B. McElroy, the writer of the original film. Robert Kulzer, Constantin Film, in association with James Harris, Tea Shop Productions, produced.
Saban Films' Bill Bromiley said, "We love the team at Constantin Film and Mister Smith, and have always admired their work and taste. Tides is a sci-fi epic that we know our audiences will love, and Wrong Turn is a much-anticipated reboot that will not disappoint."
Bromiley negotiated the Tides deal for Saban Films along with Mister Smith Entertainment's David Garrett on behalf of filmmakers.  Bromiley and Ness Saban negotiated the Wrong Turn deal for Saban Films along with Producer Robert Kulzer, and Nick Hanks, Senior EVP Business & Legal Affairs and Operations at Constantin Film.
Saban Films recently announced that it has entered the UK market via a partnership with Altitude Media Group. The company continues to grow its presence in the industry, remaining active in the acquisition, production and distribution space.  Successes have run the gamut from critically acclaimed theatrical films such as The Homesman starring Hilary Swank, to two of the biggest Fathom events with horror icon and heavy metal mastermind Rob Zombie's 3 From Hell last year and Kevin Smith's Jay and Silent Bob Reboot, the sequel to the 2001 comedy Jay and Silent Bob Strike Back which the company partnered on after coming onboard at script stage.
Its upcoming slate includes:  Dennis Dugan's Love, Weddings & Other Disasters starring Diane Keaton, Jeremy Irons, Maggie Grace, Jesse McCartney, Chandra West, Diego Boneta, Andrew Bachelor, and Veronica Ferres; Seth Savoy's directorial debut Echo Boomers starring Patrick Schwarzenegger, Alex Pettyfer, Oliver Cooper, Lesley Ann Warren and Michael Shannon; Jamie Babbit's The Stand In with Drew Barrymore in a dual lead role alongside Michael Zegen, T.J. Miller, and Holland Taylor; Josh Duhamel's directorial debut Buddy Games; the Alicia Silverstone wedding comedy Sister of the Groom; John Suits' Breach starring Bruce Willis, Cody Kearsley and Callan Mulvey; and Twist starring Michael Caine, Lena Headey and Rita Ora."