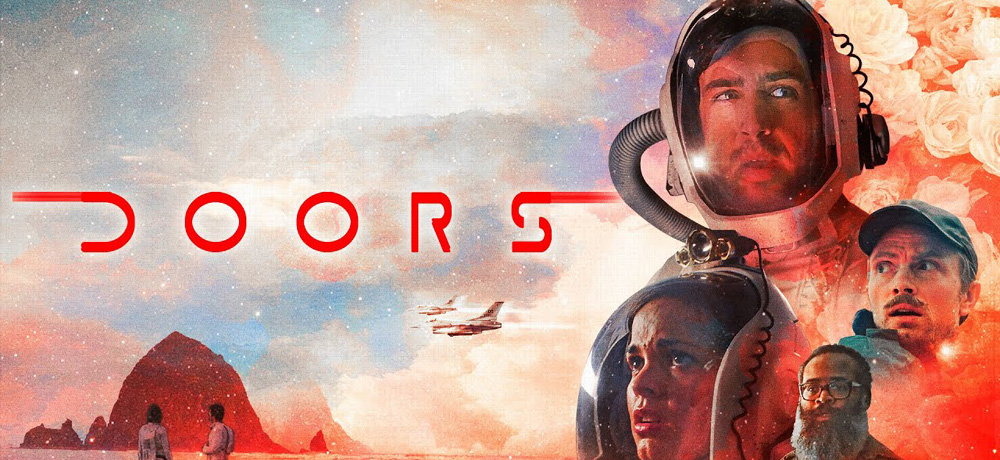 Watch the Trailer for DOORS: "Without explanation or warning, a number of mysterious, alien "doors" suddenly appear in every corner of the globe. While many of those that encounter these sentient visitors feel the strange urge to interact with them – never to be seen again – others stay behind to face the potential threat of what their ultimate agenda towards mankind is. In a rush to determine the reason for the arrival of these cosmic anomalies, the government enlists volunteers to brave the journey to enter the doors so that we might learn more about their origin or purpose. But even these brave volunteers are not prepared for what lies beyond the threshold. The story of the doors is told through multiple perspectives: a ragtag band of high school students discover a door for the first time, volunteers explore the parallel reality beyond the threshold, and a lonesome hermit manages the seemingly impossible: establishing communication with a door."
Directed by: Saman Kesh, Jeff Desom, and Dugan O'Neal
Created by: Chris White
Written by: Saman Kesh, Jeff Desom, Dugan O'Neal, Chris White, and Ed Hobbs
Produced by: JD Lifshitz, Raphael Margules, Brad Miska, Chris White, Saman Kesh, and Kimberly Stuckwisch
Cast: Josh Peck, Lina Esco, Wilson Bethel, Kyp Malone, Dugan O'Neal, Kathy Khanh, Julianne Collins, Aric Generette Floyd, Rory Anne Dahl, Kristina Lear, Bira Vanara, Bailee Cowperthwaite, Darius Levanté, and David Hemphill
Genre: Sci-Fi
Run Time: 81 minutes
Rating: Not rated
Distributor: Epic Pictures
In Select Theaters on March 19 and On Demand on March 23 + DVD/Blu-ray on April 6

----------
Watch the Trailer for SACRILEGE: "Distributor and World sales company Devilworks picked up North American rights and will be releasing Sacrilege across both the USA and Canada March 16th. The film will receive a full home entertainment release, with a DVD and Premium TVOD day-and-date on March 16th, followed by a full VOD release.
The pagan cult horror follows a group of young women during celebrations for the Summer solstice, as they are offered up as a sacrifice to a mysterious pagan goddess, who has the ability to sense their greatest fears. Using this power against them, she turns their nightmares into a horrifying reality. Lead cast include Tamaryn Payne (Stalled, Vendetta), Emily Wyatt (Mission of Honor, Rise of the foot soldier: The Heist), Naomi Willow (NSR: The Jade, Bonded by Blood 2), Emma Spurgin Hussey (The Curse of Hobbes House, A Werewolf in England), Rory Wilton (An English Haunting, Fisherman's Friends) and Sian Abrahams (Listen, Complete Strangers).
The film was written and directed by David Creed, produced by Mark Kenna for British production company Bad Blood Films. Executive producers include both Creed and Kenna, alongside Robin Holder and Layan Nourouz."
----------
Watch the Trailer for BEAST WITHIN: "Los Angeles, CA - Actor and producer Steven Morana makes his directorial debut with Beast Within, a lycanthropic whodunit centered around a gaming app launch party that takes a sudden turn when a murder is discovered. Morana stars in the lead role as August, the tech wonder turned action hero who must protect his guests when a mysterious predator crashes his big night. Beast Within will be available February 23 on DVD from Stonecutter Media, following a smash success as a cable and digital release in the fall.
Beast Within features a talented cast including Colm Feore ("The Umbrella Academy", Thor) Ari Millen ("Orphan Black", The Oak Room), Holly Deveaux ("Shadowhunters", "The Mist"), Art Hindle (Black Christmas, Invasion of the Body Snatchers), Alysa King ("Slasher", The Dwelling), Supinder Wraich ("The 410", "Guidestones"), and Katie Boland (The Bet, We're All In This Together). Morana shared directing duties with Chris Green (Zombie Werewolves Attack!).
A new gaming app Werewolves Awaken is being launched at a VIP event hosted by an eccentric billionaire at his country estate. Beast Within tells the story about a lead gaming developer, August (Morana), who is looking forward to finally meeting his online girlfriend, Cheyenne (Deveaux), at a launch party of the gaming app he developed. The festivities are interrupted by a priest (Feore) who condemns the party guests as "marked for the beast." Convinced it's a publicity stunt, the party-goers disregard the protest until a dead body is found. August and Cheyenne, along with the remaining guests, become players in a deadly version of the game. All are questioning who within the group could be the ferocious killer, as everyone is a suspect."
---------
AREA 5150: "UFO mega-enthusiast Samuel wants to take his Sci-fi Sam podcast show to the next level by shooting exclusive video at the border of Area 51, the top- secret military base. It's supposed to be a fun desert roadtrip with his girlfriend Ashley, his buddy Kid and Azuza, a crazy hot hitchhiker they picked up along the way…
They soon discover that the base's notorious private security guards aren't the only ones roaming the lonely desert perimeter – they've wandered into a private hunting ground and they're the prey. Now they might just discover the real truth about aliens and Area 51 – if any of them can survive!
Written by Mark Cerulli & Sean Haitz
Directed by Sean Haitz
Cast: Matthew Lucero, Clair Brauer, Jenna Curtis, D'shae Beasley, Mark Cerulli, Aaron Prager, Rob Wight, Eric Alegria & Jed Rowen.
Director's comment: This movie is a love letter to some of my favorite movies like the original Alien and The Hills Have Eyes. I wanted to blend both worlds together! We are super excited to be able to start principal photography in March. My current film Cannibal Comedian is in it's final stages of post and hope to have a release late this year!"