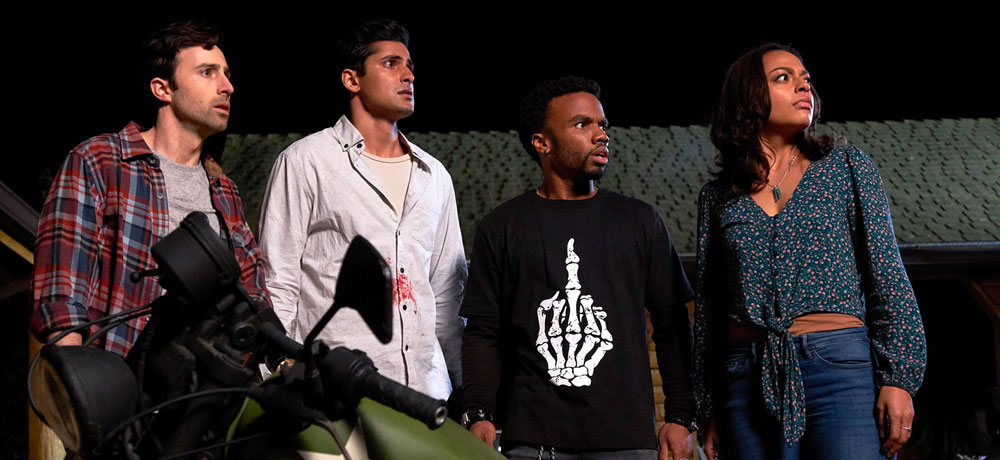 We're back with a new installment of Horror Highlights! In today's feature, we have an exclusive clip from Useless Humans, a look at the trailer for Slaxx, and an interview with All Hail to the Popcorn King's Hansi Oppenheimer:
USELESS HUMANS Exclusive Clip: "A thirtieth birthday and the fate of humanity are left hanging in the balance when a ruthless alien crashes the party, forcing these four friends to save the world."
Release Date: July 14, 2020
Distribution Company: Quiver Distribution
Directed by: Stephen Ohl
Written by: George Caine, Stephen Ohl, Kevin Hamedani & Travis Betz
Story by: Ryan Scaringe
Produced by: Ryan Scaringe, Jon Bloch, Amy Lippens & Max J. Silver
Starring: Josh Zuckerman, Rushi Kota, Davida Williams, Luke Youngblood, Edy Ganem, Maya Kazan, Joey Kern, Kevin Michael Martin & Iqbal Theba
Runtime: 77 Minutes
---------
Watch the Trailer for SLAXX: "Produced by The Horror Collective's parent company Entertainment Squad, SLAXX will be making its world premiere at this year's prestigious Fantasia Film Festival. SLAXX is the latest collaboration between Anne-Marie Gélinas and Shaked Berenson, who brought the world 2015's cult hit TURBO KID. FilmOption International, the Canadian distributor, has released a full festival trailer.
"A possessed pair of jeans comes to life and terrorizes the staff of a trendy, vapid clothing boutique."
SLAXX was directed by Elza Kaphert, who co-wrote the film alongside Patricia Gomez. Gomez produced with Anne-Marie Gélinas with Shaked Berenson acting as executive producer.
The film stars Romane Denis (TRUE NORTH), Brett Donahue (TOTAL RECALL, LIZZIE BORDEN TOOK AN AX), Sehar Bhojani (THE HANDMAID'S TALE), Kenny Wong (TRANSPLANT, TOM CLANCY'S JACK RYAN), Tianna Nori (LETTERKENNY), and Hanneke Talbot (READY OR NOT, RABID)."
----------
ALL HAIL THE POPCORN KING INTERVIEW with Hansi Oppenheimer:
With Squee Projects' All Hail the Popcorn King, filmmaker Hansi Oppenheimer paints a vivid picture of award-winning author and screenwriter Joe R.Lansdale ("Bubba Ho-Tep", "Cold in July") in what's been described as a "five star" film (GrimdarkMagazine). Chronicling the life and career of the Lone Star State's "writer of the purple rage" (The Austin Chronicle), the acclaimed documentary also features new interviews with the likes of Bruce Campbell, James Purefoy, Joe Hill, Don Coscarelli, Mick Garris, Del Howison, Amber Benson, novelist David J. Schow and former Fangoria editor Tony Timpone.
All Hail The Popcorn King has been touring the country and will be released wider over the coming months.
What inspired this rather unique – and very fun - particular biography, Hansi?
Well, I'd been a fan of Joe R. Lansdale's works since the 80's. When I interviewed him for my Youtube two years ago, I thought " Man, everyone should be able to sit and talk with Joe" He's one of the best storytellers ever. So the film is basically an opportunity to "hang out with Joe" with some pretty crazy detours into his work and if you know his work, it can get pretty wild.
Did you sit down and both watch and read all of Joe's written material and films before tackling the project?
He writes them too fast for me to keep up! I've read many of his books and stories over the years but I have a whole shelf of them hat I haven't gotten to yet. That's not a complaint! I love knowing there's so many books I will get to enjoy eventually.
I've seen almost all of the adaptations of his work including Bubba Ho-Tep, Hap & Leonard and Cold in July as well as his segments of Masters of Horror and the recent Creepshow. Love them all!
Where does one start with a documentary? Seeing who they can interview… before structuring the piece, I imagine?
Yes I reached out to people that knew Joe or had worked with him for interviews. Joe helped me to reach some of the celebrities, like Bruce Campbell. We interviewed about 35 people in all.
Some actors were only available via phone -but it still works nicely. Was that a worry at first though, that it mightn't work as well with some of the bigger talent only on phone?
Honestly, I was so thrilled to be able to get those interviews at all! I got to tell you I was nervous as hell talking to a few of them. Bruce was a little stand-offish at first but then we got chatting and he was so funny and I was just cracking up and once I started laughing, he got even funnier.. You can hear me losing it in the film or the extras.
For a film with a ridiculous $7,000 budget we got some A List talent and I'm super grateful to everyone that participated.
In terms of working with just audio, I didn't see it as an issue. I love playing with multimedia and I knew how we'd make it work. I think it's a really pretty film.
Anyone you wanted to get for the movie that you didn't?
Oh sure, I would have loved to talk with Michael K. Williams who played Leonard so perfectly in Hap & Leonard. I'm sure there's a few more that I couldn't schedule but hey, I got to talk with James Purefoy, Don Coscarelli, F. Paul Wilson, Joe Hill, Christopher Golden, Del Howison, Amber Benson, Mick Garris and meet other writers I was unfamiliar with who are wonderful. I don't have a single complaint.
We ended up with way too much content so I had to cut some big names and add portions of their interviews to Extras!
The graphics in the film are wonderful – and very fitting. Who designed those?
It was a joint effort between myself and my Co-Executive Producer/Editor Brian Harrison Mack. Some of them were designed and created by other artists. Yoshi Vu and Daniel Keyless created the animated drive-in fever dream sequence.
How hard is it to write a documentary?!?
I'm a pantser. I don't outline. I get obsessed with an idea- in this case it was the popcorn story and then I start talking to people on camera or audio. At some point I realize I have more than enough footage and I start organizing the media, figuring out what's missing, getting those done, refining, refining, refining. Take it on the road for a few screenings and refine it after every screening till it's done. I think every filmmaker figures it out as they go and every film is different. It's really fun but it helps to be obsessed. You have to want it. It's a lot of work. There's always a moment on every film that I swear to never make another one but that passes. Anyway, I'm getting better at it, my first feature took me ten years and my last two took about a year and half each.
Have you a favorite scene or interview in this movie?
It's hard to separate my experience making the film and what you see on the screen but my favorite scenes are with Joe in the car. We were in Nacogdoches and Galdewater, where Joe grew up and he is telling me stories about his life and the history of the West. After 40 years of being a fan of someone's work and then having this opportunity to just relax and hang out with them was very special. I feel like you can see that on the screen, too.