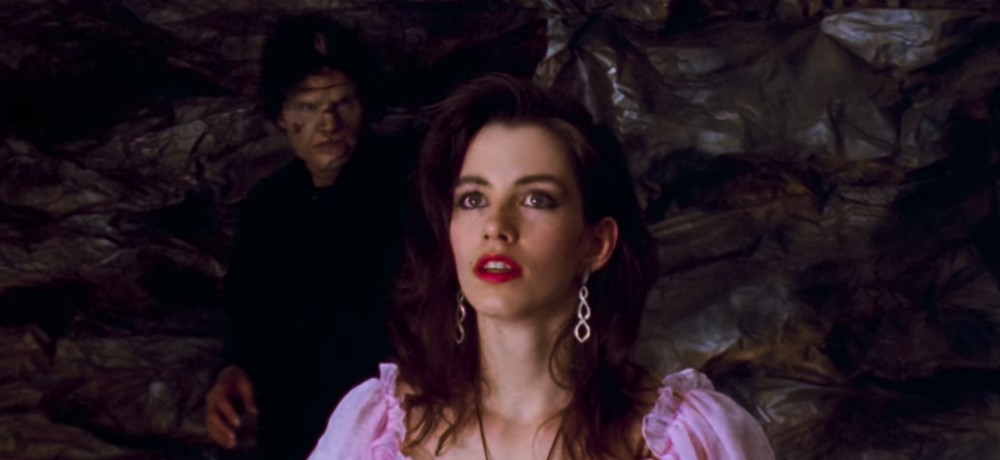 Watch the 1993 Short Film FRANKENSTEIN REBORN: "A HD version of a 1993 horror short entitled FRANKENSTEIN REBORN was quietly placed on YouTube yesterday after being unreleased for thirty years. It's a period Frankenstein story in the vein of Hammer, made by a bunch of young Long Islanders at The New York Institute of Technology."
"Shot on 16mm film, FRANKENSTEIN REBORN was directed by George Reis (THE BLOODY APE), produced by Alex Kuciw (SHATTER DEAD, SIXTEEN TONGUES), and stars Joseph Parda (EVIL STREETS), Kristine Strong, Debbie Rochon (TROMEO AND JULIET), John Baszanda, and Joe Zaso (5 DEAD ON THE CRIMSON CANVAS, BARRICADE)."
---
Exclusive Clip from THE DEAD HOUR: "Terror Films are getting into the horror television business, premiering a new 12-episode horror series titled THE DEAD HOUR on digital platforms in the spring.
Creators Daniel B. Iske & Scott Coleman say classic The Twilight Zone was their key inspiration for the limited series, which premieres May 12 globally.
It's an anthology series featuring a creepy tale each episode bookended by a twisted radio announcer (Melissa Holder) introducing each episode.
"We created our setup, a delightful yet twisted radio DJ in a dark booth late at night telling her audience creepy tales. We would start each episode with her opening setup monologue and then we'd jump into the story as it plays out on screen. For over a year we would come up with hundreds of short story ideas before finally narrowing it down to the dozen or so that we wanted to do first.
Each episode has a different cast which gave us an opportunity to work with a vast array of talent. Our stories definitely are rooted in our commentary on today's world and culture. We have our external monsters but also, we delve into the monsters inside us as well."
Iske and Coleman wrote and directed the low budget horror film Fields of the Dead which enjoyed a run-on Redbox and OnDemand before turning their sights to the episodic realm."
PREMIERING ON TUBI, AMAZON, KINGS OF HORROR and more MAY 12
---
CTHULHU: THE MUSICAL: "Puppeteers for Fears, Oregon's only dedicated puppet musical horror troupe, will bring its original show, Cthulhu: the Musical!, on the road to cities throughout the NW for performances on the company's "Back From the Dead," 2023 summer tour.
"We're really excited to be back in action after Covid," says the company's Artistic Director, Josh Gross. "So we are bringing our biggest production yet, on our biggest tour to date. We are holding nothing back on this one."
Far from the lo-fi puppet show stereotype, the production features a full cast of five actors with elaborate custom-made hand-and-rod (Muppet style) puppets, a full-rock band, and projected multimedia backgrounds. It has sold out entire runs in Oregon, Washington, and Los Angeles, and has earned rave reviews from publications like from SyFyWire, Bloody Disgusting, Broadway World, Jefferson Public Radio, The Seattle Times, and more.
The play is adapted from the 1929 short story, The Call of Cthulhu," by horror icon, H.P. Lovecraft, and tells the story of his most famous creation: Cthulhu, a giant, malevolent, octopus-faced elder god who hibernates beneath the ocean, communicating to humans through their dreams, slowly driving them mad. Though Lovecraft is not as much of a household name as writers like Stephen King or Edgar Allen Poe, he is widely considered to be the creator of the genre of gothic horror, and the creatures and themes he created are highly influential on modern literature of all genres. The story PFF chose to adapt is dark, disturbing, and totally unfit for musical comedy—all qualities that make it a perfect fit for their irreverent style.
"We are always looking to turn classic themes on their head instead of rehashing tired storylines," says Gross. "So when thinking about what our next piece might be, I sometimes add the words, 'the musical,' to different phrases in conversation to see how people react, if it has that magic combination of familiar hook, and new twist. When I said, 'Cthulhu: the Musical,' for the first time, a bunch of heads immediately turned in my direction, and strangers started asking where they could see it. So I knew we had to do that as a show, even though the challenge of turning something so dark into musical comedy was pretty daunting. It was definitely worth it though. There was a lot of comedy to be found and this show is so much fun to perform."
Cthulhu: the Musical! will be directed by Katy Curtis, and with a script and original songs from playwright Josh Gross.  Performances will feature live puppetry, a full rock band, and multimedia backgrounds courtesy of visual artist and Production Designer, Aubry Hollingshead. It stars Hunter Prutch, Alyssa Marie Mathews, Alex Giorgi, Jake Raiter, and Forest Gilpin.
Run time is approximately two hours with an intermission.
Tickets for all performances are available at www.PuppeteersForFears.com."
COMPLETE TOUR DATES
7/6-7/8 - Ashland, OR, Local 31
7/9 - Dunsmuir, CA, The Wheelhouse
7/13 - Brookings, OR, Chetco Pelican Players
7/14 - Eureka, CA, North Coast Repertory Theater
7/15 - Redding, CA, The Dip
7/16 - Sacramento, CA, Harlow's
7/17 - Nevada City, CA, Nevada Theatre
7/19 - Reno, NV, Good Luck Macbeth
7/20 - San Francisco, CA, Bottom of the Hill
7/21 - Mt. Shasta City, CA, Jefferson Center for the Arts
7/22 - Medford, OR, Johnny B's
7/27 - Redmond, OR, High Desert Music Hall
7/27 - Myrtle Creek, OR, The Grand Victorian Theatre
7/28 - Eugene, OR, Whirled Pies
7/29 - Portland, OR, private event
7/30 - Astoria, OR, Labor Temple
8/2 - Seattle, WA, Chop Suey
8/3 - Baker City, OR, The Churchill School
8/4 - La Grande, OR, La Grande HQ
8/5 - Boise, ID, Visual Arts Collective
8/9 - Portland, OR, Holocene
8/10 - Salem, OR, Infinity Room
8/11 - Corvallis, OR, The Whiteside Theater
8/12 - Klamath Falls, OR, Linkville Playhouse
8/17 - 8/18 - Coos Bay, OR, The Dolphin Playhouse
8/19 - Roseburg, OR, The Sunnyside Theater
8/20 - Ashland, OR, The Black Sheep