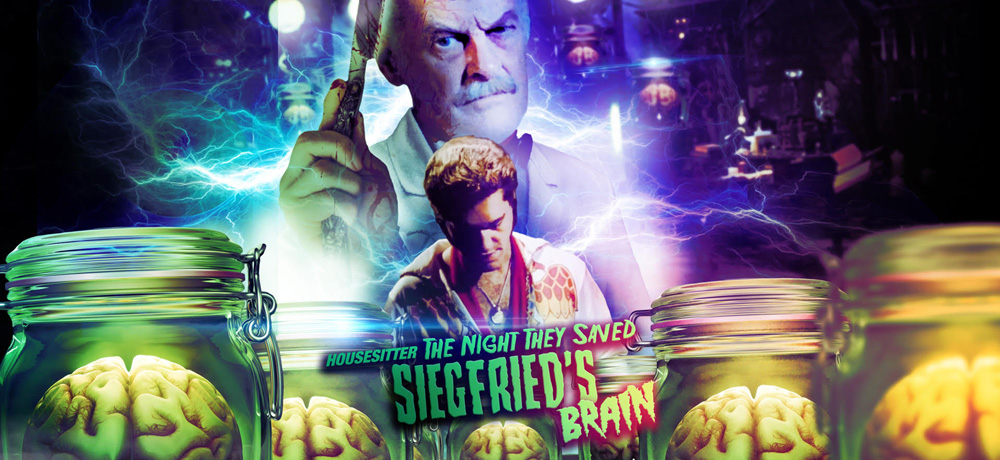 We're back with another installment of Horror Highlights! In today's feature, we have an exclusive clip from Housesitter: The Night They Saved Siegfried's Brain, details on the Blair Witch table-top experience, and a clip from The Wolf of Snow Hollow!
Exclusive Clip from HOUSESITTER: THE NIGHT THEY SAVED SIEGFRIED'S BRAIN: "Filmed entirely in 1987, Housesitter...The Night They Saved Siegfried's Brain sat unfinished for thirty-two years. Now, with post-sound from Skywalker Sound and final picture from Paramount Pictures color department, it is at last completed.
Combining 1980's horror and 1950's sci-fi, it is the story of Andy, an idealist medical student with a serious Elvis obsession, who is determination to perfect his rat-to-rat brain transfer to "help mankind and change the face of modern science". After his final experiment fails and blows up, Andy loses his chance to travel abroad and study at the prestigious Reinhardt Institute. With his future in doubt, and with no place to live, his future looks bleak. Little does Andy know that his beloved professor and mentor, Doc Crosby, is actually a mad scientist who has been murdering people and stealing their brains for experiments in his makeshift "black and white" laboratory. When Doc realizes that his own brains so severely damaged from experimenting on himself, and that he will be dead in a matter of hours without a successful brain transfer, he hatches a scheme to acquire the thirteen human brains needed for his "brain pyramid". Knowing that Andy is homeless and that college kids can't resist having big parties, Doc invites Andy to housesit while he goes away on "business". After he frees his deranged lab assistant from the insane asylum, and with his house now full of healthy unsuspecting college kids, Doc's trap is set. When the party begins, so does the deadly game of cat and mouse. Will Andy save his friends from the scalpel of a madman, or will Doc succeed in his murderous plot to save his own life by completing the first even human brain transference procedure?
From Robin Nuyen, and written and produced by Richard Gasparian and Robin Nuyen, Housesitter : The Night They Saved Siegfried's Brain stars Holly Kaplan (''American Crime Story'', Shocker), Robert Small (Flight of the Navigator, "Seaquest 2032"), and Stephen James Carver ("Star Trek : The Next Generation", "Star Trek : Deep Space Nine").
Available On Demand and on Blu-ray October 2 from Leomark Studios."
---------
Hunt A Killer partners with Lionsgate to release Blair Witch table-top experience: "Is Burkittsville still hiding the dark and mysterious secret of the Blair Witch? What is still lurking in those haunted woods? Now, a new game by Hunt A Killer, the makers of the popular mystery, sci-fi, and horror themed games, lets players discover the frightening history of the Blair Witch for themselves.
Hunt A Killer has partnered with global content leader Lionsgate (NYSE: LGF.A, LGF.B) to release the new Blair Witch table-top experience. This is Hunt A Killer's first time partnering with an entertainment company on a storyline, incorporating the iconic Blair Witch universe into their line of horror themed games. The game will be a part of Hunt A Killer's subscription-based offerings, granting players the opportunity to become Members in their gaming community.
"We are thrilled to partner with Hunt A Killer to continue expanding the world of Blair Witch into games," said Daniel Engelhardt, SVP of Lionsgate Interactive Ventures & Games. "Their creative approach and mechanics are a natural fit for a franchise defined by unique storytelling, and represents a special way for us to build upon the narrative of the video game we launched last year."
In this new season, players become detectives to solve a missing persons case near the infamous Black Hills Forest. The storyline begins with an introduction to Rosemary Kent, a woman who lives near the edge of the forest and is looking for help to find her missing son. Over the course of six boxed episodes, players will investigate the mysterious woods and learn about any disappearances, while finding out more about the powerful forces that reside there. From there they must piece together the clues, face the horror of the Blair Witch and those who serve her, and find out if they can survive the woods.
Each month, a new boxed episode will be delivered to the Member's doorstep, and they must work to unfold the story while sifting through a variety of cryptic documents, audio recordings, and unsettling puzzles. By the end of the season, enough horrific clues will have surfaced to help solve the case. Along the way players will have access to resources and can join the Hunt A Killer private Facebook community to ask for tips and socialize with others playing the game.
"We are excited to share this new season with our Members and the fans of the Blair Witch films," said Ryan Hogan, CEO and Co-Founder of Hunt A Killer. "Lionsgate is a great partner for us, and the hair-raising story we have created together is sure to provide the perfect immersive experience for a thrilling game night with friends or family."
Hunt A Killer worked with horror producers, Jason Egan and Patrick Rizzotti to broker the Blair Witch deal which was negotiated by SVP Business & Legal Affairs, Eva Feder, for Lionsgate.
Hunt A Killer Horror: Blair Witch is currently available for early access and officially releases October 1st, just in time for Halloween. For more information and to order please visit huntakiller.com/horror."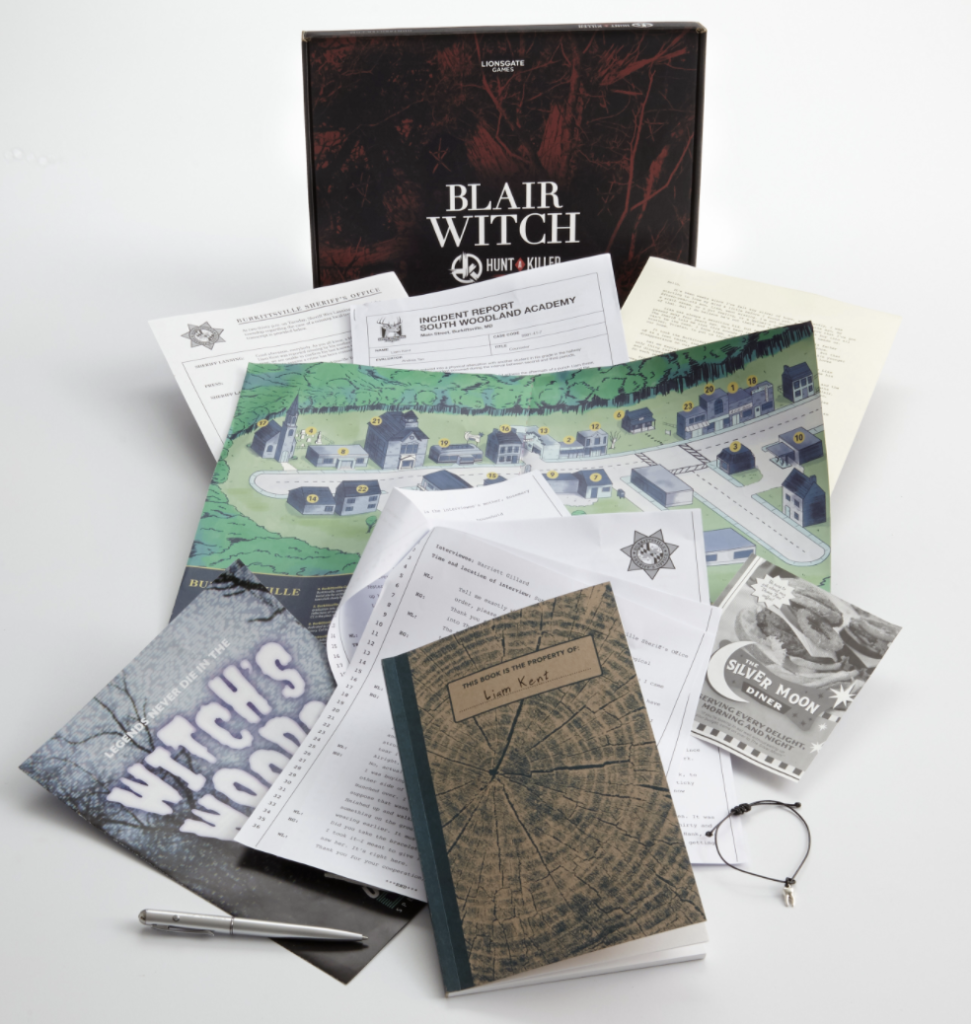 --------
Watch a Clip from THE WOLF OF SNOW HOLLOW: Written and directed by Cummings, who also stars in the film, The Wolf of Snow Hollow features a cast that includes Riki Lindhome, Jimmy Tatro, Chloe East, and the late Robert Forster in his final film role. The movie's soundtrack is composed by Ben Lovett and features vocals by Valen.
Orion Classics will unleash The Wolf of Snow Hollow in theaters and on VOD beginning October 9th.
Synopsis: "A small-town sheriff, struggling with a failed marriage, a rebellious daughter, and a lackluster department, is tasked with solving a series of brutal murders that are occurring on the full moon. As he's consumed by the hunt for the killer, he struggles to remind himself that there's no such thing as werewolves…"