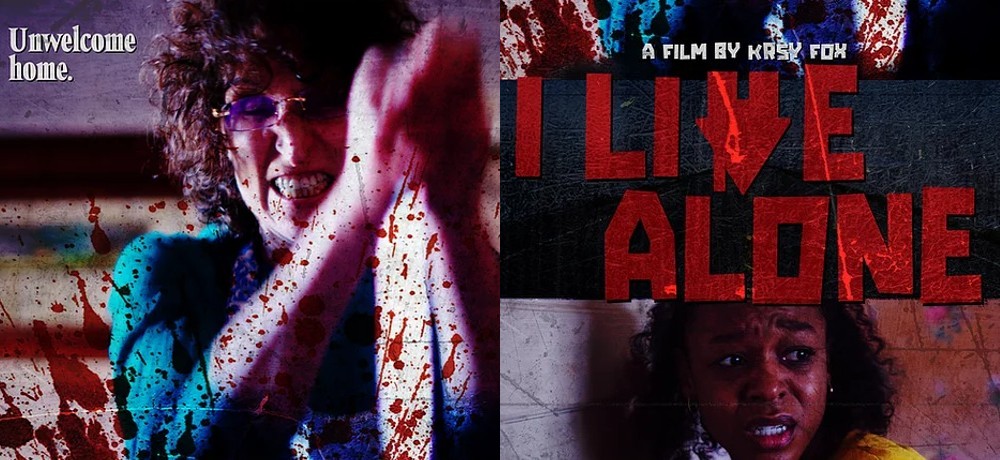 I LIVE ALONE: "Due for release December 21st 2021 to VOD through Gravitas Ventures, Krsy Fox's new film 'I Live Alone' promises tension, violence, and a huge twist you won't see coming.
Bonnie Aarons is brilliant as the paranoid and reclusive Aunt Len. A woman who has chosen to live in solitude for over 40 years due to her insane delusions. When her estranged sixteen year old niece Parker (played by Nyaling Marenah) has to come live with her because her Mother falls ill, Aunt Len is pushed outside of her comfort zone. Parker realizes fairly quickly that something may be very off with her Aunt as she rants about the dangers of people in the outside world, their neighbors start to go missing, and screams ascend from the basement. It doesn't take long before Parker confesses to her boyfriend Josh (Radek Lord) that she believes Aunt Len is a serial killer. Things only escalate from there building into a twist that will leave you shocked and terrified to your core.
The film also stars Krsy Fox (Underworld Evolution, FRANK), Radek Lord (Ballers, The Resident), Mark Kelly (Jakob's Wife, Fear The Walking Dead), Sonya Eddy (Those Who Can't), and Fawn Irish (Insidious: Chapter 3)."
To pre-order the film, visit: https://itunes.apple.com/us/movie/i-live-alone/id1593063028
Ahead of the film's release, it will have its premiere screening (including a cast and crew Q&A) at L.A. Comic Con on Sunday, December 5th! To learn more, visit: https://www.comicconla.com/event/world-premiere-i-live-alone-with-cast-and-crew-qa-presented-by-horrible-imaginings/
---------
ACHOURA: "IT meets THE BABADOOK in director Talal Selhami's ACHOURA, premiering on DVD and Digital this December from Dark Star Pictures.
Following raves at Cinepocalypse, Brussels Fantastic Film Festival, Bucheon Fantastic Film Festival and more, North America gets to now witness the terrifying tale of a Moroccan legend
Four friends reconnect when one of them, who disappeared 25 years ago, suddenly comes back into their lives. Together, they will have to confront the terrifying events of their youth and fight a monstrous creature born of a horrible legend.
Of ACHOURA, Franco–Moroccan filmmaker Selhami says : "It is sociologically proven that fantasy and horror cinema has always enjoyed a renewed interest from audiences and critics in times of social and economic turmoil.
Fear cinema is therefore a kind of outlet for the viewer, unfortunately today too used to seeing atrocities through the media. Stories of ghosts, vampires, creatures hidden under the bed, allow us to transpose our fears into something unreal. The best way to play to scare yourself without taking risks.
The times we are living in are going through a terrible period, between economic crisis, terrorism, disease, natural disasters and the Arab world is unfortunately not spared. Far from it.
That is why I think that the Arab world also has today, and more than ever, its own fantastic stories to tell. Fantasy cinema makes it possible to bypass taboos, to expose facts, to stimulate the unconscious layers of the spectator, it is therefore, for authors, a wonderful tool for expression. When done well, this cinema uses allegories and metaphors to express its words. Its spread is wide, because fear is a universal feeling.
The Arab world has its advantage to offer because of its current effervescence, but also because the culture is still rich in counts, myths and legends, for the moment,  not quite exploited.
Thus, Achoura tells the story of a Djinn, who during a religious festival, very specific to the country (the celebration of childhood), seizes the youngest in order to devour them.
In a way, it is a way of evoking the troubled future of future generations of adults. Because we may not give enough importance to childhood, too concerned about our adult problems.  In Achoura children try to survive, thus preserving their innocence.
In this sense, the creature of Ashura is none other than the allegory of adulthood that devours childhood and thus generates troubled beings. Childhood and the loss of innocence are subjects that haunt almost all of my  projects.
Achoura is therefore a way for me to exorcise this fear."
Younes Bouab, Sofia Manousha, Moussa Maaskri, and Omar Lotfi star in ACHOURA, which the distrib has skedded for a DVD and Digital bow December 14."
------
AUTUMN ROAD: " Gravitas Ventures and The Last Motel have announced the VOD release of Riley Cusick's Autumn Road. The Halloween-flavored horror drama follows a young woman who returns to her hometown ten years after her sister vanished trick-or-treating and becomes wrapped up with two brothers who run a haunted house. Autumn Road will be available in North America November 23rd, on a number of digital and cable platforms, including iTunes, Amazon, Vudu, Google Play, Comcast, Dish and Shaw.
Cusick, who previously directed a number of shorts and appeared as an actor in Chelsea Stardust's Satanic Panic and Joe Begos' VFW, makes his feature directorial debut in Autumn Road and headlines as twins Charlie and Vincent. He is joined onscreen by a cast including Lorelei Linklater (Boyhood, Bomb City), Justin Meeks (Kill Or Be Killed, Butcher Boys) and Lar Park Lincoln (Friday The 13th Part VII: The New Blood).
Autumn Road was produced by Xander McCabe under his new The Last Motel banner while Eric Floyd and Mark Schultz served as executive producers. Riley Cusick directed from his own script."
----------
REYKA: "Reyka follows a flawed but brilliant South African criminal profiler, Reyka Gama (Kim Engelbrecht, The Flash, Dominion) who is haunted by her past. Having been abducted as a child by a farmer named Angus Speelman (Iain Glen, Game of Thrones), Reyka is traumatized by the experience - but this also helps her enter the minds of the world's most notorious criminals and turn them inside out. In the drama, she returns home to investigates a string of brutal murders committed by a serial killer in the sugar cane fields of Kwa-Zulu-Natal. "
The Mystery Thriller Premiers All at Once on BRITBOX November 16