We're back with another edition of Horror Highlights! In today's installment, watch the short film Insecticide, learn more about the new comic book series Black of Heart, watch the trailer for The Last Exorcist, and read an interview with the director of Cruiser!
I wanted to channel what I was feeling and inject the anxious, paranoiac claustrophobia of right now into a short work by setting myself ground rules -
I really wanted to push myself out of my comfort zone (which wasn't easy as I feel predominantly outside of that ever since this pandemic started)... ...I even disregarded colour which my work generally relies heavily on - I wanted to challenge myself to not hide behind the colours or mise-en-scène, strip everything back and raw vulnerability. Alex Mackay of the band Mogwai was kind enough to allow me to use music from his upcoming album to put against the visuals and I feel his soundscapes really compliment and amplify the anxiety of the film."
BLACK OF HEART Comes to Source Point Press: "'Black of Heart' is the latest mini-series from Source Point Press, releasing Wednesday, Nov. 25. This murder/mystery is written by Chris Charlton and illustrated by David Hollenbach, and is currently available for pre-order from Diamond Comic Distributors. 
In 'Black of Heart,' Charlton has imagined a world of teeth-rattling cold which Hollenbach has rendered in flashes of hyperrealism against a nightmare scape of black, white, and often… red. 
"Black of Heart brings noir fully into the spotlight in horrific and beautiful detail.
David Hollenbach's style is incredibly unique and he brings Chris Charlton's vision to life in the most exciting way. No other book looks like this," says SPP Art Director Joshua Werner.
An untraceable killer. A detective on the edge. A city that never sleeps. 1949.  A depraved serial killer stalks the streets in a yellow taxi, dumping ravaged bodies in the back alleys of New York City. Homicide Detective, Drake Harper, is condemned to pick up the pieces, but as the body count rises, Drake's life spirals out of control and no amount of booze can silence the voices of his past.
"Even though I tend to deal with heavier emotional issues in my work, I think deep down I am drawn to action and "'Black of Heart' does a great job of balancing that.  The turmoil of the detective's personal life pushed up against these big set pieces in 1949 New York City, intense chases and the horror of the serial murders - all of it propped up on David's artwork, which is just cinematic and beautiful and really pulls you in even closer," says Charlton. 
Source Point Press is a division of Ox Eye Media, publishing books, comics, and graphic novels. 'Black of Heart' is available to pre-order now and will be released Wednesday, Nov. 25."
---------
THE LAST EXORCIST: "Internationally-recognized action and horror superstar Danny Trejo (Machete, From Dusk Till Dawn,3 From Hell) stars in The Last Exorcist, scaring up spites this October on DVD and Digital.
After every priest trained in exorcisms die in a terrorist attack, Joan Campbell must battle a demon from her past that, this time, possesses her sister.
From writer/director Robin Bain, and starring Terri Ivens ("The Bay"), Danny Trejo, Rachele Brooke Smith (Cold Moon) and Cate Jones (Camp Cold Brook), The Last Exorcist is available on DVD and Digital October 13 from Uncork'd Entertainment."
--------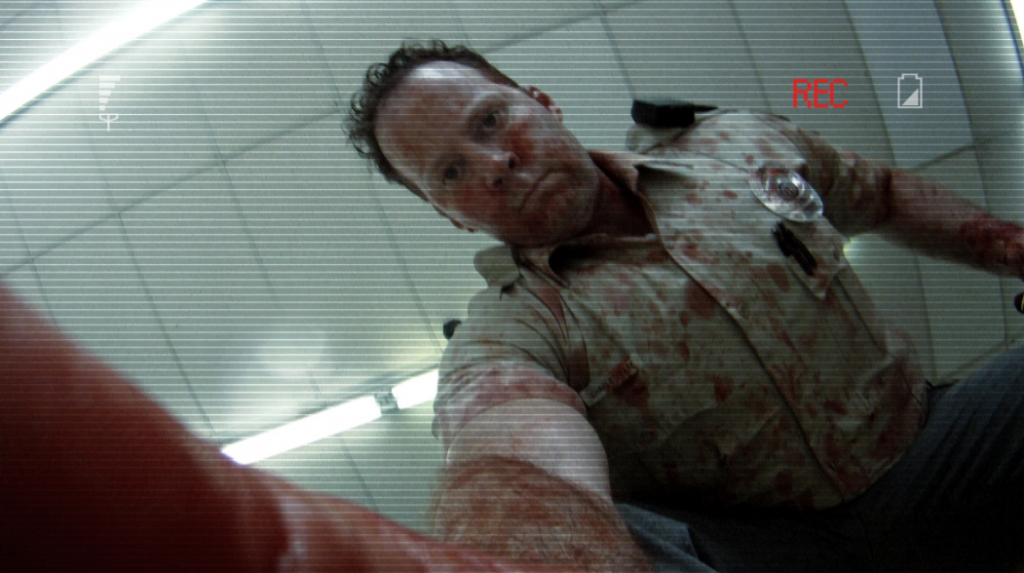 Interview: Director Randy Ser Discusses Gravitas Ventures' Cruiser: Director Randy Ser has a very long history with horror to say the least. He served as the production designer on Sam Raimi's Darkman, starring Liam Neeson and Frances McDormand, which is now celebrating it's 30th anniversary. This year is also very special for Ser because his horror directorial debut, Cruiser, was just released by Gravitas Ventures. In case you aren't familiar with the film, the plot reads: "After murdering a police officer and stealing his patrol car, a mysterious, hulking figure begins a night of carnage and terror in a small Georgia town, pulling over innocent victims until a shocking final confrontation reveals the killer to be even more monstrous than anyone imagined. The terror is recorded in a uniquely cinematic found footage style, all captured through police cruiser car cams, cell phones, and surveillance cameras." To celebrate the recent release, we conducted the below Q&A with Ser and talked both Darkman and Cruiser.
-For people who haven't seen the trailer or movie yet, can you tell them why they should see Cruiser?
It is a relentless, terrifyingly real encounter with carnage and a new timely leap forward in the found footage genre. The film will linger long after having seen it.
-Can you talk about Cruiser himself. Does he have special powers? Is that why he is so strong? He seems superhuman.
Cruiser's strength comes from his dogged beliefs. He has accepted why he is here, what he must do, and how all must recognize the importance of his mission. The pursuit of what might seem as a form of insanity or possession to those who observe his actions is of no consequence. Rational thinking is in the eye of the beholder. In some ways he is superhuman. He has attributes that can be considered to be powers. The first is his unwavering strength in his conviction. Is this what gives him the unbridled compulsion to carry out acts of unimaginable violence… or is there something else at work here? His second is his calm, unsettling tranquil demeanor as he goes about "what must be done." It could be that unearthly stillness in his being that unleashes an uncanny force.
-What was your favorite part of Shuler Hensley playing Cruiser?
It is the terror that one will inevitably experience while having to look into Cruiser's soul as he stares at you in the rear-view mirror and how he goes to a timeless place as he soothes his victims with his angelic singing as he dismembers them. 
-We are not giving away any spoilers because it is in the trailer, but some limbs get cut off of people in the movie. One in particular is pretty graphic. How much preparation needs to happen for these scenes? What is the key to making this look real?
A good deal of planning and preparation goes into an effective decapitation sequence. The most important element is hiring an extremely talented SFX makeup designer. We were exceptionally fortunate to have Matt Silva and his team on board to create the production design, make-up design, and all the exceptionally real and gruesome decapitated heads and extremities. 
Once the actors are in place, they need to have casts taken of their respective body parts that are to be dismembered. Those casts are used to generate molds, which will be used to produce a likeness of the head, hand, etc. At this point clay can be added, molded, and sculpted to the generated body part so as to add any additional elements, such as in Cruiser's case, torn flesh that has been hacked to bits by an axe. During this process tubes, which may be needed to pump blood to spray profusely from the appendage may be incorporated. 
Prior to beginning this process, I will have choreographed and orchestrated the scene so that all involved will know what will be required for each shot in order to take the audience on a journey of horror, blood, and gore.
I like to approach these types of sequences like a magician does when creating an illusion. First, I determine, within the story, what do I want the audience to experience in this moment. Using cuts, pardon the pun, I can decide what to show the audience and when and how to distract by cutting away to a different shot not directly involved in the violent act. Do I shoot the moment of impact of the blade cutting through the flesh, or do I shoot it in such a way so the illusion created allows the viewer to fill in that final horrific moment in their mind's eye and then reveal the bloody aftermath. Many times, this can be most effective, as the viewer's imagination will create an incredibly gruesome vision.
In the end it is all story telling. Cruiser afforded me the opportunity to create some on screen realities and some illusions. I wanted to confound by overloading and depriving the audience's senses during the mayhem adding to the unsettling nature of what it must be like to know that your time has come.
-There is a big explosion scene in Cruiser. How many times did you all have to do that scene?
One time, and one time only. Fortunately, our amazing special effects and camera departments, along with the film Gods smiling down upon us, brought some movie magic to the one take.
-Was there a scene in Cruiser that had to be altered last minute and that's what is shown in the final? If so, can you explain how it changed?
There wasn't one scene in particular so much as needing to alter the script at the last minute after we had learned what an ambitious goal we had set for ourselves. On our first day of shooting a storm tore through our location and destroyed our base camp. We knew then what a challenging 16-day shoot we were going to experience, especially since the remainder of our schedule was to be filmed totally at night. We realized that we needed to trim the script due to our tight shooting schedule, so we cut some scenes that didn't add to the momentum on the story. I think that left us with a movie that is almost unremitting in its pacing, which just adds to the terror that our audience experiences. The result is a horrifying ordeal that could actually happen to any of us.
-What other horror subgenres would you like to work in? Supernatural? teen slasher?
I would be very interested in trying my hand at supernatural. It is a subgenre that as a viewer has given me many a sleepless night. The first time I saw The Exorcist I was in college. After seeing it I returned to my apartment and decided to take a shower before turning in. I had my eyes closed while washing my hair when the ceiling exhaust fan sucked the shower curtain on to me. I completely ripped the curtain free from all of its hooks. I would like to give horror fans the opportunity to have a story like that to tell for many years to come.
-You were also the production designer on Sam Raimi's Darkman, which is celebrating its 30th anniversary.  Do you have a favorite memory from set?
One of my favorites involved a simple yet effective solution for incorporating a moving element to add energy and detail to a scene. It is during the nighttime battle atop the City of The Future between Strack and Darkman. This sequence was shot on a built set in the hangar where they built the Spruce Goose. The actual steel girder set was backed by a translite, which was created specifically for the film. During a portion of the sequence, I wanted to add a helicopter flying by in the background. We achieved this by hanging a scale model helicopter, with battery operated rotors, on an angled monofilament fishing line at the appropriate downward angle and distance from the actors and the lens. As the camera rolled, we simply allowed gravity to slide the helicopter on the line to enter one edge of frame and to then exit the other. We added battery-operated miniature flashing lights to the helicopter as would be required for night flight. This minute, but energetic detail heightened the sense of reality of our "fly by." 
-If you were to do the production design on Darkman today, would you design anything differently?
I don't know that I would necessarily design anything differently. I do know that my approach in accomplishing the design would be different and I would be completely free to expand the scope of the look of the film in using today's readily available CGI tools.
The biggest challenge in creating Darkman's world was that VFX and set extensions generated in post via computers as used by today's CGI artists didn't exist at that time. I purchased my first computer during that production. Its primary use was for developing budget spreadsheets. 
We did everything by hand and figured it all out the old-fashioned way by using our mind's eye, drawing with paper and pencil, and math. We would design and plan to execute the sequences needs so they could be shot and go together principally in the camera.
It is very challenging and exciting to create movie magic this way. I still love it and try to apply those skills whenever possible to this day.