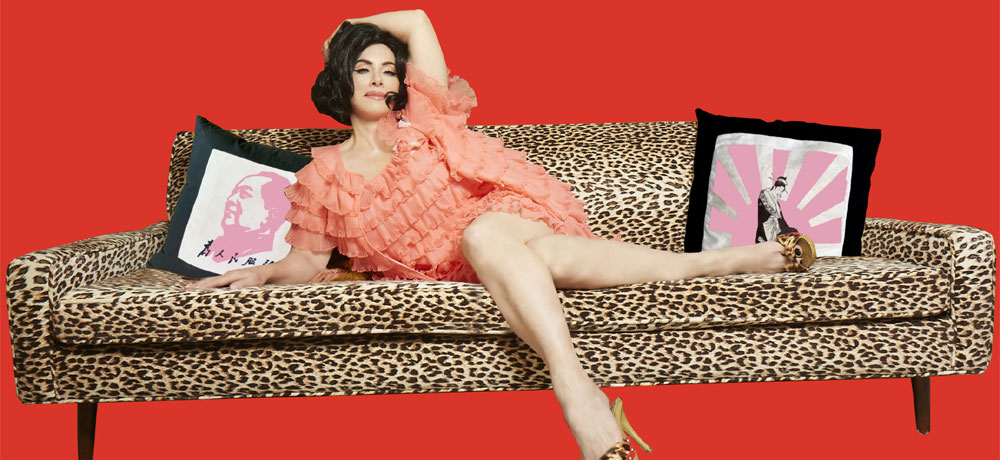 We're back with another jam-packed edition of Horror Highlights! In today's installment, we give you a preview of Josie Cotton's upcoming album Invasion of the B-Girls, there's an exclusive Q&A with Tiffani Fest, and we have details on a new book called Screaming for Pleasure, a new horror podcast called The Scaredy Cats Horror Show, a deal between Gunpowder & Sky and Circle of Confusion, and Legion M's pop culture face masks:
Josie Cotton's Invasion of the B-Girls: 
From the Press Release - "JOSIE COTTON makes the unlistenable unforgettable," wrote legendary filmmaker/actor/artist John Waters about the New Wave icon's upcoming album INVASION OF THE B-GIRLS on which she covers the theme songs of campy cult films. When you have a quote like that from the supreme King of Cult Classics, you pretty much don't need to do anything else in life but dig a hole and lie in it. Thankfully, however, the illustrious and gorgeous Josie Cotton has other plans.
Instead of grabbing a shovel and heaving soil, Josie Cotton is prepping her upcoming album, scheduled for release on May 1, 2020 via her label Kitten Robot Records. Originally released on CD only (no vinyl, no digital, no downloads, no streaming, no cassette, no nothing!) in 2007, Invasion of the B-Girls has been meticulously remastered and includes, for the very first time, the single "Female Trouble" from John Waters' infamous and celebrated 1974 cult classic of the same name. The single will be released to DSPs for purchase and streaming on April 18th in advance of the album's release.
Along with new artwork and packaging, Invasion of the B-Girls finds Josie revisiting the themes from obscure and ofttimes subversive midnight movies like Russ Meyer's 1970 camp classic Beyond The Valley of the Dolls ("Days of Now And Then"), "Green Slime" from Kinji Fukasaku's 1968 film of the same name, and Koji Hashimoto/R.K. Kizer's 1985 creature feature reboot Return of Godzilla ("Goodbye Godzilla").
"I was obsessed with science fiction movies since childhood, a lot of which you could call B-movies, but seeing Faster, Pussycat! Kill! Kill! as an adult was a kind of Come-to-Jesus moment for me," explains Josie about her inspiration to cover these forgotten "classics." "The whole world of B-movie culture opened up...  the demented humor and in-your-face irreverence toward society all spoke to me. And the best ones all seemed to be from the 1960s and 1970s for some reason."
Produced by Josie Cotton, punk legend Geza X (Black Flag, Dead Kennedys), and Bill Rhea (Del Rubio Triplets), Invasion of the B-Girls includes liner notes written by John Waters. Among the guest performers on the album are David Kendrick (Devo, Sparks), Paul Roessler (Screamers, Twisted Roots), Geza X, Kenny Lyon (Spain), and Tower of Power's horn section which appears on the single "Female Trouble."
As an artist who experienced a huge surge in popularity with such massive international singles "Johnny Are You Queer?," "Jimmy Loves Maryanne," and "He Could Be The One", Josie saw the exciting potential in digging deep into these annals of pop culture cinema and pulling out some fun covers for Invasion... "You kind of have to abandon your idea of what is 'good' or 'bad' in this genre. The acting and writing and cinematography are horrendous yet wildly entertaining. It's the same feeling I got watching bad science fiction when I was a little girl... minus the sex and violence. It's an acquired taste if ever," she laughs.
From the built-for-hot-rod-cruising first track "Get Off the Road" from She Devils on Wheels (1968, dir. Herschel Gordon Lewis) to the slinky noir of "Who Killed Teddy Bear?" from the film of the same name (1965, dir. Joseph Cates), to the psychedelic and trippy "Shiawaseo Yobo" from Ghidorah, the Three-Headed Monster (1964, dir. Ishiro Honda), Invasion of the B-Girls is immersive in its cinematic glory.
"I first got the idea one night when I was watching Ghidora the Three-Headed Monster," she recalls. "I had seen that movie so many times, but there is a moment in that movie when these tiny twin princesses who live in a flower are singing the most heartbreakingly beautiful song to Mothra... pleading with her to save the world. It was strange and beautiful and funny and sad all at the same time." From a Godzilla-sized seed grew a sprout that eventually turned into Invasion of the B-Girls.
"It suddenly occurred to me that I could do a whole record of theme songs from B-movies," she says excitedly. "So I went on a search and watched an insane amount of movies for about a year. That's the time frame I was indoctrinated into the cult of Russ Meyers. My criteria was it had to be a 'great' song from a 'bad' movie… 'bad' meaning 'good' and 'great' meaning it was a fantastic 'song'."
Re-emerging last Fall with the release of a critically-acclaimed new single "Ukrainian Cowboy," Josie reignited a music scene that had been in the dark for too long. Medium.com praised, "Subtly reminiscent of Nancy Sinatra's 'These Boots Are Made For Walkin',' the song blends flavors of country, pop, and new wave, along with tints of traditional Russian folk music, into a tasty sonic confection." The Tinnitist chimes, "Uncork the new sounds of Josie Cotton" and says of the fun technicolor video that is  "set against a twangy spaghetti-western backdrop and a colourful video to match. Saddle up." Essentially Pop adds, "Josie Cotton's vocals betray her new wave roots, and her devotion to film noir; the melody meanwhile harks back to girl groups, Nancy Sinatra…and the Bolshoi Ballet. It's a true merger of east and west, and crosses cultural boundaries as much as musical ones."
Her previously unreleased album Everything Is Oh Yeah! likewise received thunderous applause which had All Music Guide raving, "Cotton's voice is a thing of wonder that's alternately heartbreakingly sincere and gum-snappingly playful, the songs are endlessly frothy and fun." Boing Boing added, "[Everything Is Oh Yeah! is] both a time capsule and a time-travel fantasy that bounces from new wave to surf to girl group to neo-rockabilly… there are some fun, mid-'80s gems in here for sure."
So slip on your white go-go boots, your polka dot shift dress, stack your hair up in a Brigitte Bardot beehive, and get that popcorn ready… This B-Girl is going to invade your space!
Invasion of the B-Girls will be released on May 1, 2020 via Kitten Robot Records.
---------
S.A. Bradley's Screaming for Pleasure: How Horror Makes you Happy and Healthy:
Official Synopsis: "Horror has the gripping ability to captivate…and enthrall. It hooks you with unnerving stories of dread and evil, pushes your limits and pokes every phobia. Audiences love to be scared but behind every muffled scream is something deeper and even more fascinating.
In Screaming for Pleasure, S.A. Bradley takes you on a wild journey exploring horror, where you'll discover what is so tantalizing about terror, including:
Rare insights about some of the greatest fright directors of all time, like David Cronenberg, Guillermo Del Toro and John Carpenter, culled from hundreds of interviews.
An in-depth look at 6 of the most impactful horror films by women directors, plus a list of over 15 women directors you should be watching now.
Relive the most terrifying and shocking moments in horror film history with detailed breakdowns of over 100 films.
Plus, you'll uncover how horror lets you peek in at what may be lurking within yourself.
Screaming for Pleasure thrills you with the beauty and depth of the horror genre, dissecting films, literature and music that reveals how horror constantly reinvents itself and reflects the anxieties of each generation.
Whether you're frightened to watch scary movies alone or a horror obsessive, Screaming for Pleasure is the entertaining guide to help cinephiles of all types fall in love with horror again."
Learn more at: https://hellbentforhorror.com/book/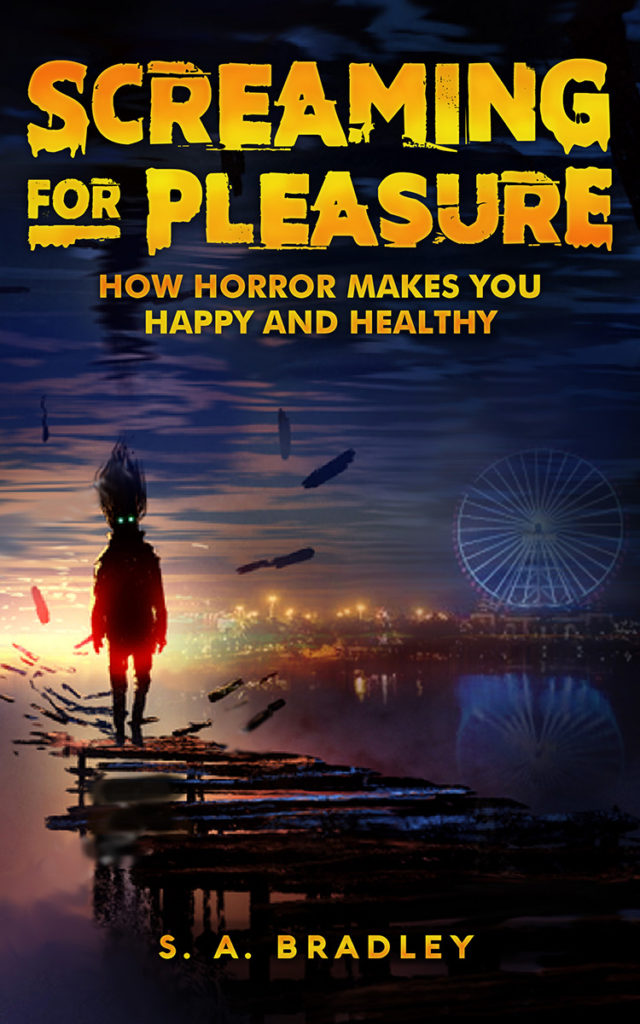 ---------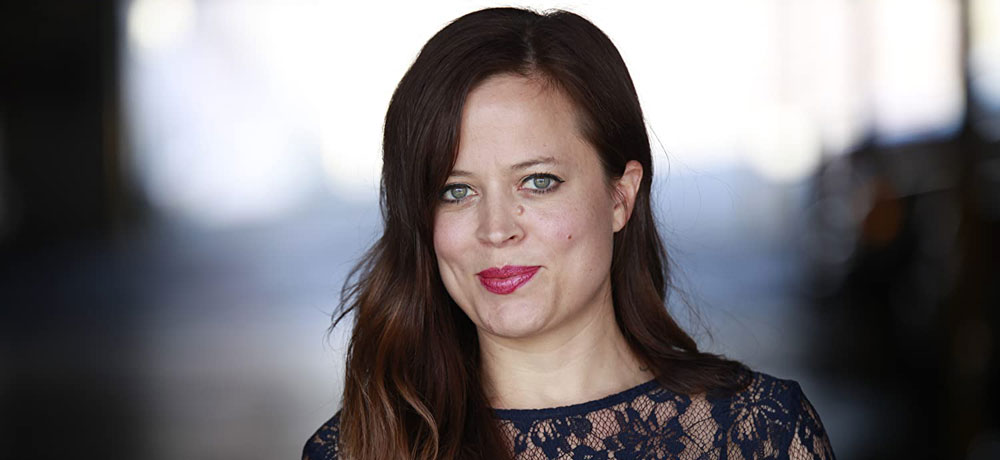 Exclusive Interview: TIFFANI FEST ON HER FAVORITE HORROR FILMS, WORKING WITH THE LONG-TIME MANAGER OF THE COMEDY STORE ON A NEW HORROR FILM, AND FOUND FOOTAGE MOVIES!
Your latest film is For Jennifer, which is available on Demand. Were you a fan of the previous Jennifer films, Tiffani?
Yes. Actually, I saw the second film first, being a friend of Hunter Johnson's & hearing good things about it in the horror community. At the time all I knew is they were found footage style films, shot using only iPhones. I was definitely intrigued, especially learning there was no intention for the film to become a series of spinoffs. Hunter just really liked James' original film, and contacted him regarding creating and starring in a follow-up. And that's how the Jennifer series was born.
How does this one differ from the previous films in the series, in your opinion?
I think one of the main differences in our film is the use of comedy. Jody Barton is well-connected in the stand-up comedy world, being a long-time manager of the acclaimed Comedy Store on the Sunset Strip. He cast a lot of comics in Cameo roles, as well as added a comedic undertone to the film in general, which contrasts nicely with the horror elements.
I also feel like our film really ties the 3 previous films together in a way that had never been done before in the Jennifer movies. We bring back the original killer from James film (spoiler!), as well as bring back Hunter to reprise his character's role, and several other characters who come back to close out the series with us. Personally, I think the finale that comprises the last 30 minutes of our film is epic & just about as perfect an ending to the quadrilogy that you could ask for!
With so much of the film mirroring real life in a smart, very meta-way, how similar would you say you are to Jennifer?
I think we were all definitely bringing ourselves to the forefront of these characters. Keeping it natural, very grounded & real. I think this goes hand in with any found-footage style movie, where the audience should feel like they're watching real people in real life, not a movie. Even more so with our film being "a movie about making a movie," so the audience should feel like they're watching the "behind the scenes" moments, what's really happening in between takes. So, if it seems like Jennifer isn't a character, she's just "me" playing myself, then I did my job perfectly. 😉
What's your favorite horror movie of all time?
That's always a hard one for me to answer! I'd say favourites include: the original Alien (1979), and more recently I adored A Girl Walks Home Alone at Night (2014), & The Eyes of My Mother (2016).  I like a good arthouse horror film, with depth & tragedy & devastating cinematography. 
And of the film's you've been in, do you have a favorite?
Of course, in some ways, I love every film I've ever had the opportunity to work on, because it's taught me something or encouraged me to stretch & grow. But favorites would be Circus of the Dead, the film which launched me into the horror circuit in 2014, starring Bill Oberst Jr. Even though in some ways it's just a brutal slasher, the cinematography is stunning, the score is haunting, and it very much homages the original Texas Chainsaw Massacre and A Clockwork Orange, two of director Billy Pon's favorite films. It has a very 60s killer clown throwback vibe that I love. 
Another favorite would have to be Ugly Sweater Party, which has such a ridiculous level of 80s throwback Slasher elements, it's almost too cheesy to watch. And I mean that as a direct complement! Director Aaron Mento has a Troma background and an extensive collection of B horror VHS at home, & this movie is nothing less than love story to that. Both incredibly sick & twisted movies to watch. 
Follow Tiffani on Instagram! https://www.instagram.com/tiffanibrookefest/?hl=en
---------
The Scaredy Cats Horror Show on Spotify: The internet culture podcast Reply All "...are trying something new, launching a spin-off Spotify/Gimlet podcast called The Scaredy Cats Horror Show, a new podcast about scary movies for people who are too scared to ever watch them. Each week Alex Goldman, avowed horror fan, screens a scary movie for avowed scaredy cat PJ Vogt. Together, along with a surprise celebrity guest each episode, they try to find out if it's possible to become a person who enjoys fear."
Upcoming movies will include:
The Exorcist
The Invitation
Pulse
Evil Dead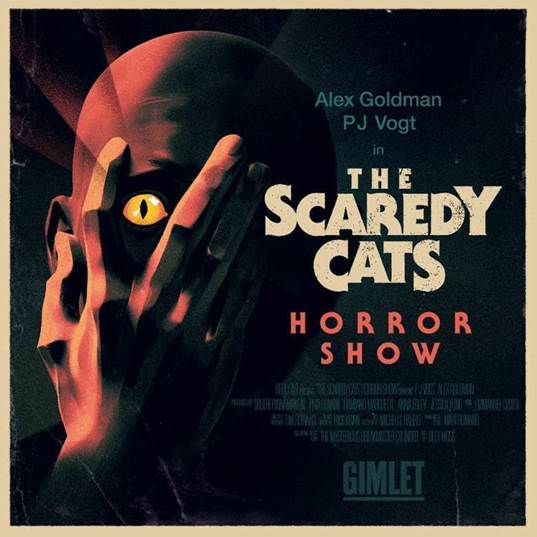 ---------
GUNPOWDER & SKY AND CIRCLE OF CONFUSION ANNOUNCE JOINT-VENTURE TO DEVELOP AND PRODUCE SCI-FI AND HORROR FILMS AND SERIES
[Press Release] LOS ANGELES, CA - April 28, 2020 - Gunpowder & Sky, a fast-growing independent entertainment company, announced today that they have teamed up with Circle of Confusion, a leading management and production company, to develop and produce feature films and series. Projects will be sourced from writers, directors and producers who have had their work released on DUST or ALTER, Gunpowder & Sky's sci-fi and horror brands, respectively. DUST and ALTER filmmakers will now also have fast-track access to Circle of Confusion's list of esteemed managers and their clients.
"Championing the next generation of filmmakers has always been part of our DNA, and since launching DUST and ALTER a few years ago, we have curated, produced and showcased more than 500 films on our channels," said Floris Bauer, Gunpowder & Sky President. "We are thrilled to be partnering with Circle, further developing DUST and ALTER IP, and unearthing breakthrough talent from our network of diverse global creators. With their track record of discovering the creators behind films and series like The Matrix, The Walking Dead, John Wick and Black Panther, we hope that together we are lucky enough to build an iconic franchise or two".
In addition to collaborating with creators to develop feature films and TV series based on the spectrum of IP coming out of DUST and ALTER, this joint-venture will also focus on nurturing new talent who will have the opportunity to be represented by Circle of Confusion's managers. Jody Wilson (director and writer of Indigo, which was first released on DUST) is an example of a newly signed Circle of Confusion client, joining their roster which includes some of Hollywood's hottest creatives including Lana and Lilly Wachowski (co-writers and co-directors of The Matrix), Derek Kolstad (writer of John Wick), Joe Robert Cole (writer of Black Panther), Daniel Minahan (director of "Deadwood"), Brian Duffield (writer of Insurgent), Doug Jung (writer of Star Trek Beyond), Lulu Wang (writer and director of The Farwell), Rachel Morrison (cinematographer for Mudbound), and Chad and Carey W. Hayes (writers of The Conjuring) to name a few.
"We couldn't be more excited about our collaboration with Gunpowder & Sky on their DUST and ALTER brands. DUST and ALTER are premier channels for the kind of cutting edge sci-fi and horror IP and creators that Circle has been successful with fostering for decades. Working with the Gunpowder & Sky team to launch these talented filmmakers and create exceptional film and television is a strategically seamless and powerful step for both our companies," said  the Circle of Confusion partners.
This news follows DUST announcing its global expansion of the DUST OTT channel to the UK, Germany, Austria and the Netherlands after being already available in more than 50 million U.S. households through a range of MVPD and internet bundles. DUST also recently released its second narrative podcast, "Flight 008", which, in less than 15 days, climbed Apple's "Top 50" Podcasts" charts and has held the #2 position on Apple's "Top Fiction Podcasts" and "Top Science Fiction Podcasts" list for the past three weeks. DUST also just brought audiences the ultimate at-home experience with the first live stream premiere of filmmaker Neasa Hardiman's critically-acclaimed Irish sci-fi/thriller, Sea Fever. And, on April 13th, Quibi premiered ALTER's "50 States of Fright", an anthology series Executive Produced by Sam Raimi.
---------
Legion M Pop Culture Face Masks: "Fan-owned entertainment company Legion M has launched a special pop culture-themed face mask program, with 100% of its net proceeds going to The Actors Fund, a national human services organization that provides a safety net for performing arts and entertainment professionals. Since March 18th, The Actors Fund has distributed nearly $6 million to more than 5,000 people in need due to the COVID-19 pandemic, more than triple the amount the organization normally distributes in a year.
Many of the unique face mask designs come directly from Legion M projects, including Kevin Smith's JAY AND SILENT BOB REBOOT, Nicholas Cage's MANDY, and the incredible feature documentary MEMORY: THE ORIGINS OF ALIEN.
These and other colorful film-themed and Legion M branded protective face masks (16 designs in total) are available now for $14.95 at the Legion M Shop (https://shop.legionm.com/collections/face-masks)."