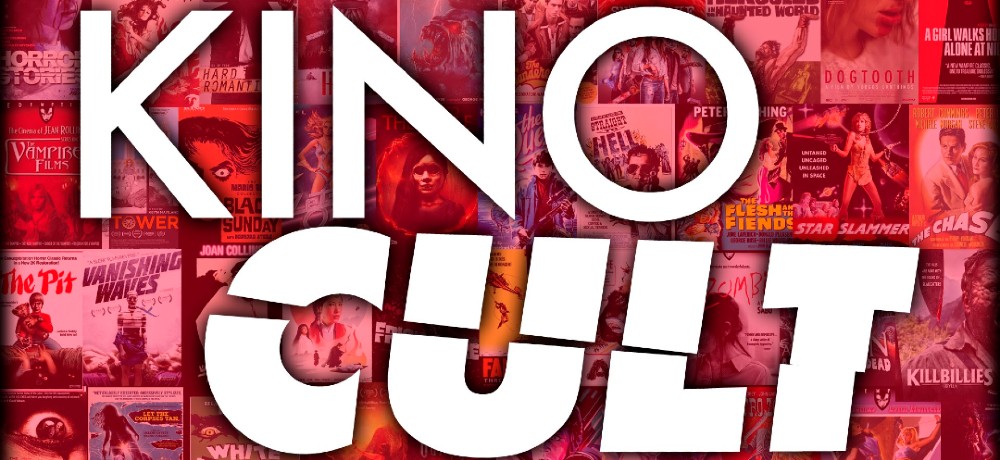 KINO LORBER AND GIANT PICTURES MELT MINDS WITH NEW FREE STREAMING AVOD CHANNEL "KINO CULT" BRINGING THE MIDNIGHT MOVIE EXPERIENCE HOME: "Kino Lorber is excited to announce that they have partnered with Giant Pictures to launch Kino Cult, the new free ad-supported streaming destination for genre lovers of horror and cult films. Featuring hundreds of hours of curated, theatrically released films all in High Definition, with new titles added monthly, Kino Cult launches widely in the U.S. and Canada on October 1, 2021 across web, mobile devices and connected TVs, with VOD apps on all major devices such as Roku, Amazon Fire, Apple TV, Google TV, iOS, Android, and more. From the art house to the haunted house, the channel will dive deep into unapologetically weird genre cinema, blending recent art house discoveries fresh from cinemas with high quality restorations of notorious grindhouse gems.
Kino Lorber brings 40 years of experience as a leading theatrical and home entertainment distributor of award-winning international and American indie films to Kino Cult, where the focus will be on the wild and the weird of genre cinema. Horror consistently ranks among the top VOD genres, serving a fanbase that is strong, loyal and engaged. Kino Cult plans to super-serve this audience with a deep catalog of hundreds of relevant titles, many of which are streamable for the very first time, all in HD and all completely free for genre fans. The channel will offer the best in cult cinema across action, horror, comedy, and sci-fi, both new and rare vintage hits of genre cinema, and ensuring that adventurous movie fans will have access to films that have not been easy to find in the streaming age.
Giant Pictures, a leader in the Free Ad-Supported (FAST) channels space, is the technology partner for Kino Cult, responsible for the device apps, channel distribution and ad-tech in the new venture.
"Kino Cult will stream the darkest thrills of visionary midnight cinema to fans at home," says Kino Lorber CEO Richard Lorber. "With our vast library built over 40 years and key partner labels in many genre specialties, we have enormous potential to hyper serve genre audiences, the most passionate of all film lovers, with a selection of both new and rare films that they can't find anywhere else, in incandescent HD. You no longer need to live in a big city with a great repertory theater to have access to the kind of curated cult gems we're able to offer now for free!"
"Kino Lorber has been steadily assembling a massive library of deliciously strange cinema, and we are delighted to unveil it in one destination," says Kino Cult curator and Senior VP Bret Wood, "And this is only the beginning. Playfully curated and continually expanding, Kino Cult is a cinematic funhouse where both devoted genre fans and curious viewers will find the films they love, while getting the chance to expand their palettes toward something more exotic."
Among the recent cult treasures, Kino Cult is excited to offer theatrical hits like director Ana Lily Amirpour's visionary black-and-white vampire film A Girl Walks Home Alone at Night; Academy Award®-nominated Dogtooth, a bizarre and absurdist comedy directed by Yorgos Lanthimos (The Favourite); Lynchian occult nightmare Welcome To The Circle; South Korean neo-noir crime thriller Beasts Clawing at Straws; Guy Maddin's phantasmagoric ode to lost cinema The Forbidden Room; the heartfelt and oddball comedy Chained for Life starring Jess Weixler (Teeth) and Adam Pearson (Under the Skin); and weird and stunning Western Let The Corpses Tan, all available to stream free without a subscription for the first time.
Those looking to add some European flavor to their horror this Halloween season can dive into the films of macabre master Mario Bava, like A Bay of Blood, Black Sabbath and Black Sunday; the vampire films of Jean Rollin; as well as the strange obsessions of filmmaker Jess Franco in films like Daughter of Dracula, The Erotic Rites of Frankenstein (previously unavailable!), Female Vampire, and more. Examples of curated categories include Golden Age of Exploitation, '60s espionage films in Crime & Suspense, '70s and '80s Flashback, witchcraft and devil worship in Occult. Nearly all of these titles are streaming for the first time free without a subscription, with some making their streaming debuts on Kino Cult.
Following the launch of the VOD apps, before year end, Kino Cult will also launch as a linear channel experience, with its free ad-supported programming running 24/7 across multiple streaming devices. An expansion to the library is also planned, to include more genre greatness from other venerated cult labels like American Genre Film Archive, Code Red, Scorpion Releasing, Severin Films, Something Weird, and Vinegar Syndrome, in addition to the current offerings from Kino Lorber partners Artsploitation Films, Palisades Tartan, Raro Video, and Redemption Films.
Download the Kino Cult app in the U.S. and Canada and watch free on Roku, Amazon Fire, Apple TV, Google TV, iOS, Android and at http://www.kinocult.com."
-----------
Dolby Cinemas' HALLOWEEN KILLS Poster: "In 2018, David Gordon Green's Halloween, starring icon Jamie Lee Curtis, killed at the box office, earning more than $250 million worldwide, becoming the highest-grossing chapter in the four-decade franchise and setting a new record for the biggest opening weekend in history for a horror film starring a woman.
And the Halloween night when Michael Myers returned isn't over yet... Halloween Kills will be released on October 15th at Dolby Cinemas nationwide.
Dolby Cinema
Dolby Cinema offers guests the complete Dolby movie experience. Dolby Cinema unlocks the emotional impact of every film, allowing you to see the subtle details and ultravivid colors of Dolby Vision, and hear the immersive sound of Dolby Atmos. Dolby Cinema is specially designed to elevate every type of movie experience - and Halloween Kills will be no exception."
To learn more and purchase tickets, visit: https://dolbylabs.co/HalloweenKills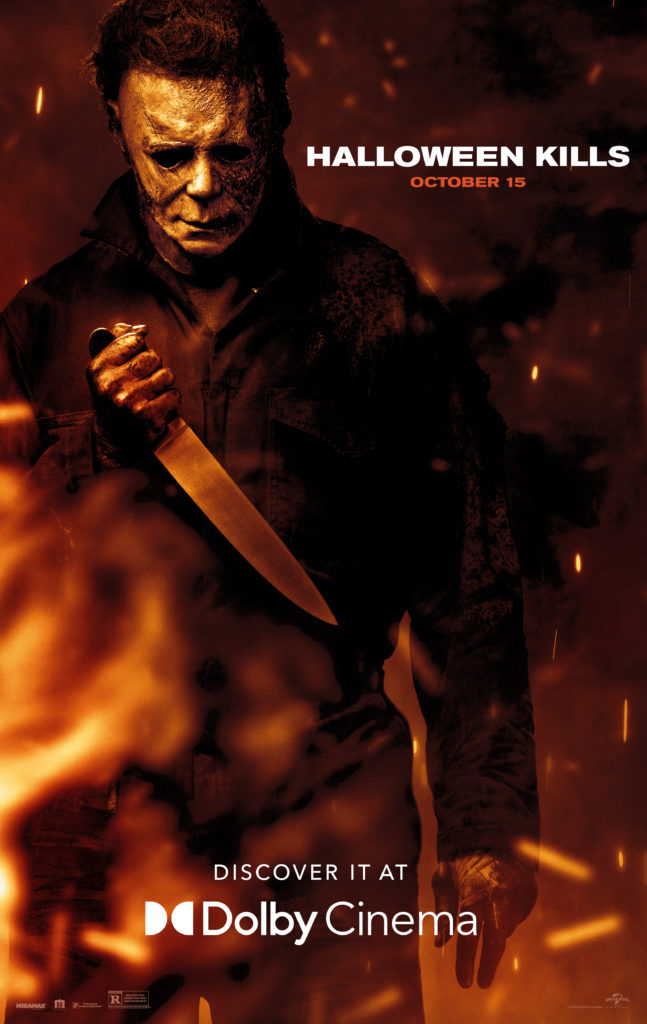 --------
TEXAS CHAINSAW MASSACRE's EDWIN NEAL JOINS FELLOW TOBE HOOPER ALUM IN SEAN HAITZ's HORROR COMEDY 'CANNIBAL COMEDIAN': "In April, it was announced that 'The Texas Chain Saw Massacre' actor Allen Danziger who  played "Jerry" in Tobe Hooper's seminal slasher classic, now celebrating its 47th anniversary, would  join the cast of 'Cannibal Comedian', a horror epic with an undertone of dark comedy written and  directed by Sean Haitz ('Big Top Evil', 'Area 5150'). Well now Danziger will be joined by fellow  Leatheface legacy Edwin Neal, most known for his unforgettable role as The Hitchhiker (A.K.A.  Nubbins Sawyer) in the original 1974 cannibal classic. 
Set in the modern-day American west, the film meshes over-the-top humor and rampaging  horror at full throttle. It combines the pure terror of hearing Leatherface's chainsaw with the gut busting laughs of a classic Jim Carrey film. Littered with scary, grotesque, and wildly energetic  characters, the film is a love letter to horror and stand-up comedy. 
Neal will be voicing the role of Skelly, boney sidekick to the cannibal comedian character,  Charlie (Aaron Prager). 
Actor quote: "Hey! There was NO way I was turning down work on a film as cleverly constructed as Cannibal  Comedian! The concept alone is worth the price of admission if all they had was 2 guys sitting at  a table pitching the project. This is fun stuff indeed. Few years from now, I'll be sitting with my  grandchildren [...] going 'and THEN I was the voice of a skeleton. Good times.' 
Synopsis: A psychopathic cannibal is fed up with his lack of ambition. So he tries his hand at  standup comedy in an attempt to satay his appetite for normalcy. 
The film, produced by Haitz and Ryan James ('Time's Up,' 'Dark Circles') also stars Robert  Dunne and Austin Judd."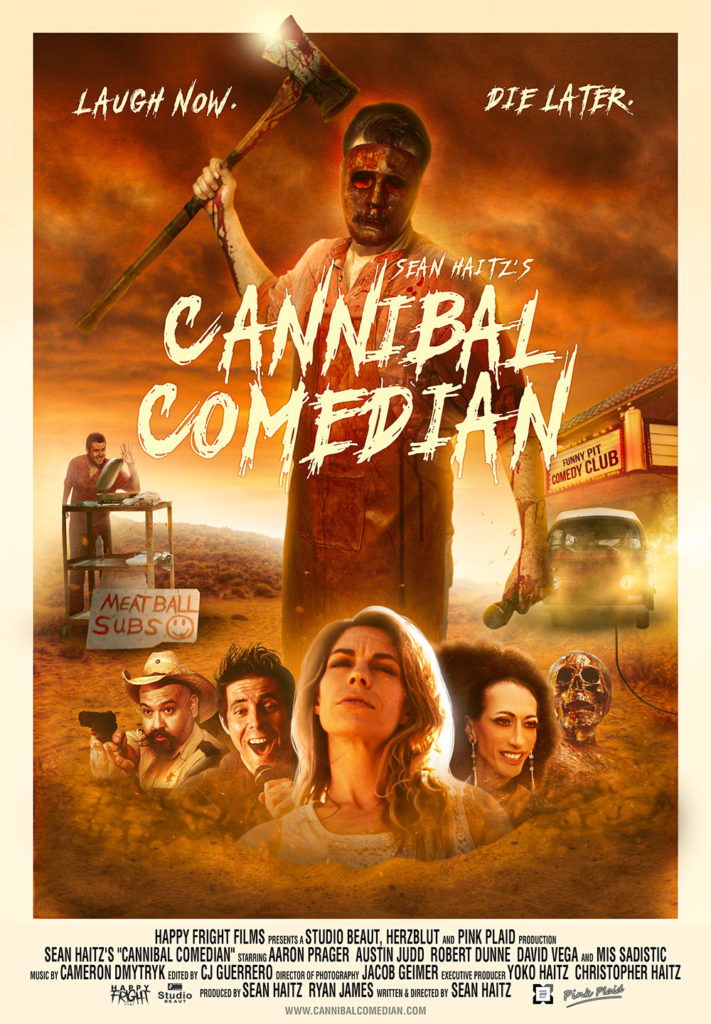 ----------
Shout! Factory TV & Scream Factory Present 31 Nights of Horror: "This October, Shout! Factory TV and Scream Factory proudly present 31 Nights of Horror. Fans can tune in each evening throughout the entire month for a frightful film that's sure to satisfy cravings for all things creepy. As a bonus, an episode of Elvira's Movie Macabre will follow each feature film.
Each night of the stream will feature a genre favorite such as Night of the Living Dead, Brain Dead, Sorority House Massacre, Clive Barker's Nightbreed: Director's Cut and many more.
Stream and scream live every evening this October, as 31 Nights of Horror begins Friday, October 1 at 6 p.m. PT/9 p.m. ET and continues at the same time nightly through October 31. The livestream can be viewed on ShoutFactoryTV.com; Shout! Factory TV's Roku, Amazon Fire, Apple TV, and Android apps; and the following digital streaming platforms: Twitch, Samsung TV Plus, Comcast Xfinity, Xumo, Vizio, Redbox, IMDb TV and STIRR.
All films featured in 31 Nights of Horror will also be available for viewing on demand on ShoutFactoryTV.com; Shout! Factory TV's Roku, Amazon Fire, Apple TV, and Android apps; and on various Shout! Factory TV branded channels including Tubi TV, Amazon Prime Channels, and the Roku Channel.
31 Nights of Horror Schedule
October 1: Nosferatu the Vampyre, Elvira's Movie Macabre: The Satanic Rites of Dracula
October 2: The Devil Bat, Elvira's Movie Macabre: Frankstein's Castle of Freaks
October 3: Ben, Elvira's Movie Macabre: The Manster
October 4: Vampiro: Night Warrior, Elvira's Movie Macabre: Hercules and the Captive Women
October 5: The Company of Wolves, Elvira's Movie Macabre: The Werewolf of Washington (1981)
October 6: Galaxy of Terror, Elvira's Movie Macabre: They Came from Beyond Space
October 7: The Brain that Wouldn't Die, Elvira's Movie Macabre: The Brian that Wouldn't Die
October 8: Day of the Dead, Elvira's Movie Macabre: I Eat Your Skin
October 9: King of the Zombies, Elvira's Movie Macabre: Eegah
October 10: Brain Dead, Elvira's Movie Macabre: Attack of the Giant Leeches
October 11: The Terror Within, Elvira's Movie Macabre: The Giant Gila Monster
October 12: Carnival of Souls, Elvira's Movie Macabre: Count Dracula's Great Love
October 13: House on Haunted Hill, Elvira's Movie Macabre: Beast from Haunted Cave
October 14: Hell Night, Elvira's Movie Macabre: The Devil's Wedding Night
October 15: Inseminoid, Elvira's Movie Macabre: Teenagers from Outer Space
October 16: Jack's Back, Elvira's Movie Macabre: Monstroid
October 17: The Ninth Configuration, Elvira's Movie Macabre: The Doomsday Machine
October 18: The Bat, Elvira's Movie Macabre: The Killer Shrews
October 19: The Stepfather, Elvira's Movie Macabre: A Bucket of Blood
October 20: Forbidden World, Elvira's Movie Macabre: Maneater of Hydra
October 21: A Bucket of Blood, Elvira's Movie Macabre: Manos: The Hands of Fate
October 22: The Brain (1988), Elvira's Movie Macabre: Santa Claus Conquers the Martians
October 23: The Crush, Elvira's Movie Macabre :The Terror
October 24: Dementia 13, Elvira's Movie Macabre: The House that Screamed
October 25: The Cat O' Nine Tails, Elvira's Movie Macabre: Scared to Death
October 26: The Last Man on Earth, Elvira's Movie Macabre: Tormented
October 27: White of the Eye, Elvira's Movie Macabre: Legacy of Blood
October 28: Sorority House Massacre, Elvira's Movie Macabre: Don't Look in the Basement
October 29: Horror Express, Elvira's Movie Macabre: The Werewolf of Washington (2010)
October 30: White Zombie, Elvira's Movie Macabre: Lady Frankenstein
October 31: Night of the Living Dead, Elvira's Movie Macabre: Night of the Living Dead