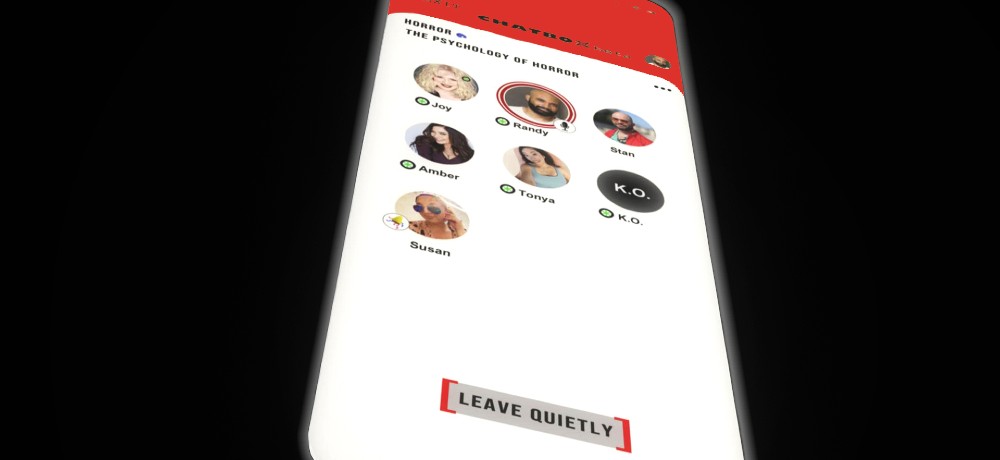 Exclusive: First Details on New Streaming Series LEAVE QUIETLY: "New streaming series Leave Quietly is set to deliver echoes of terror.
When a group of friends on an Audio-Chat App confront a mysterious stranger, they get more than they bargained for. That is the premise of Leave Quietly, a new suspense packed streaming series written and directed by Curt Wiser (Cam-Girl).
This chilling, limited series features an ensemble cast which includes genre favorites Victoria De Mare (the Killjoy franchise), Brooke Lewis Bellas (iMurders), Susan Lanier (The Hills Have Eyes) and Jackie Dallas (Stranger Things – TV Series), alongside Preston Butler III (The Face of Evil), Doug Penikas (Glee – TV Series), Michael Ruesga (Talons) and Elena Dizon (Shooter – TV Series). Close attention was paid to the group dynamic of these actors while casting.
Here is what Brooke Lewis Bellas had to say about working on this project:
"This pandemic has brought some challenging times for us creatives. When Curt reached out to my talent reps with an offer for me to act in his virtual web series, Leave Quietly, I was absolutely thrilled! He afforded us actors the opportunity to do what we love from the safety of our homes. I am a fan of Curt's writing talents, so when I read the script, I fell in love with my sassy role of Amber and was fortunate to work opposite another incredibly talented cast, and had fun having Curt Direct me for the first time!"
With social media being more pervasive now than ever, Curt Wiser wanted to explore a Horror narrative set in this new type of chat platform we see today. There is a growing popularity of Audio Chat apps such as Clubhouse and Greenroom.
Here is what the Writer/Director had to say about Leave Quietly:
"I find this story to be a timely echo of the anxiety driven by our tech-heavy culture today. It was a thrill to work with this tremendous cast which includes some Horror icons. Leave Quietly was the right project to produce during the pandemic while also making use of my Visual Effects Background."
Curt Wiser takes note of a few influences like the Apple TV Plus series Calls (2021) and the captivating found footage hit Host (2020).
Leave Quietly is now in Post-Production and is expected for release in the festival and streaming markets in 2022."
----------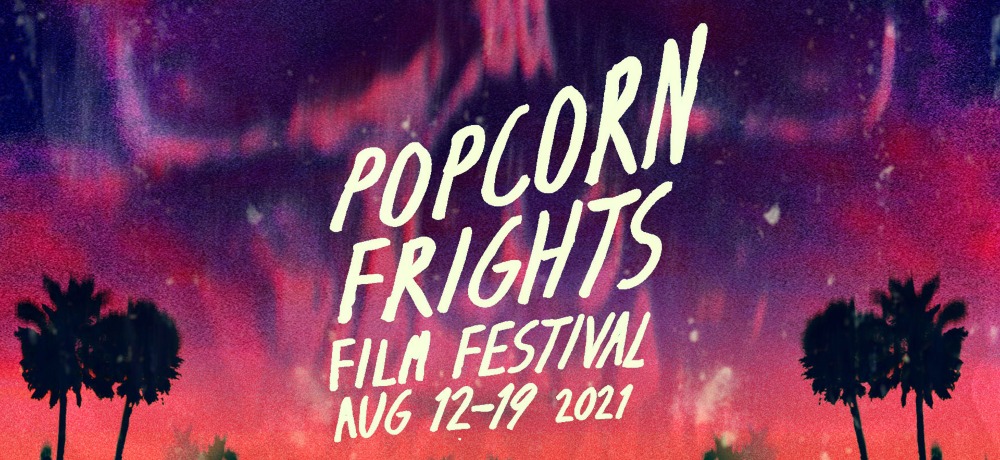 Popcorn Frights Announces Award Winners: "As its seventh edition comes to a close after eight nights of in-person and virtual programming, Popcorn Frights Film Festival is proud to announce its juried and audience awards that were selected from its lineup of 68 films (31 features and 37 short films from 13 countries) in 10 categories. This year's Jury consisted of South Florida journalists and notable genre enthusiasts, who chose to honor Brandon Christensen's SUPERHOST with the Jury Prize for Best Feature Film. In announcing the Feature Film Prize for the film, the jury said the following: "We found Superhost to be a highly entertaining film, headlined by one of the best performances of the festival by Gracie Gillam. After terrifying us in years past at Popcorn Frights with Still/Born and Z, Brandon Christensen made the most enjoyable film of this year's festival. We indeed wanted to 'smash that like button' and 'click that little bell' while watching Christensen's movie, and as such, this is our pick for the top prize of the best feature film."
Accepting his award, Brandon Christensen said, "In a time where our normal has been stripped away from us, Popcorn Frights gave us a glimpse of the old normal by hosting their festival last week. The Popcorn crew moved heaven and earth to have both virtual and in person screenings this year, and I was fortunate to have SUPERHOST world premiere with them. The screening was fantastic, and felt just like old times, and I'm incredibly honored to be awarded with the Jury Prize. With the release of the film coming up, I'm thrilled that I was able to show it off to Popcorn's awesome crowd early and get a taste of what it used to be like to screen at a festival."
This year's Scariest Feature Film Prize was given to Ju-On director Takashi Shimizu's latest horror HOWLING VILLAGE, and receiving the Special Jury Prize was Erik Bloomquist's NIGHT AT THE EAGLE INN, which was entirely produced during the COVID-19 health crisis. In its effort to shine a brighter spotlight on first-time filmmakers, Popcorn Frights launched its New Nightmare Prize this year celebrating filmmakers making their feature film debuts. Winning the inaugural New Nightmare Prize was Gia Elliot for her trenchant social critiques and gripping thrill ride TAKE BACK THE NIGHT, which received its world premiere at the Festival to great acclaim. Gia said the following in accepting the award: "Premiering my film in front of such a thoughtful audience at Popcorn Frights, and having it recognized with this award is an honor. And to every survivor out there – I believe you."
Winning the Jury Prize for Best Short Film was the French animated short LE CRI, one of 37 films competing for the prize in five shorts blocks. Receiving the Scariest Short Film Prize was THE WHEEL, a twisted tale about a toy Ferris wheel, demonic entities, and a ride to hell.
The festival also celebrated Florida horror with a dedicated program featuring 10 films spotlighting the cream of Florida's homegrown crop. The award for Best Florida Feature Film went to Mickey Keating's southern gothic horror story OFFSEASON starring Jocelin Donahue, and TECH SAVVY won Best Florida Short Film. 
In total, Popcorn Frights saw nearly 10,000 films and events attended in-person and uniquely viewed in all fifty U.S. states. Every audience member in every one of those hybrid screenings was able to vote online during the festival, and for as many films as they wanted – but only once per film. Crowned as Popcorn Frights' Audience Award for Best Feature Film was Kier-La Janisse's WOODLANDS DARK AND DAYS BEWITCHED and winning the award for Best Short Film was Anthony Cousin's EVERY TIME WE MEET FOR ICE CREAM YOUR WHOLE F*CKING FACE EXPLODES. It is the first time in Popcorn Frights' history that a feature film directed by a woman has won the Audience Award.
In receiving the prize, Kier-La Janisse shared the following statement: "I'm thrilled beyond belief to hear that Woodlands Dark and Days Bewitched has won the Audience Award at Popcorn Frights, where the last film I produced, David Gregory's Tales of the Uncanny, was also so enthusiastically received. I'm so grateful to the Popcorn Frights audience for coming along on that three-hour journey with me, and I'm excited at the possibility of them now seeking out all the fascinating films that formed the basis of the doc. Thank you to everyone who voted for the film!"
The festival, which proudly celebrated 26 World Premieres, 3 North American Premieres, 3 US Premieres, 8 East Coast Premieres, 5 Southeast US Premieres, and 12 Florida Premieres, featured 68 scheduled in-theater and virtual screenings and events, in addition to its first-ever virtual reality world experience. Proceeds from the festival will be distributed to local charities supporting the victims of the Surfside building collapse.
Popcorn Frights' virtual program will remain up through the end of day on Thursday, August 19, and several of the winning films, including TAKE BACK THE NIGHT and NIGHT AT THE EAGLE INN, will be available to stream nationwide as part of the festivals extended on-demand programming, which will continue through Sunday, August 22, allowing fans to catch up on films they may have missed. To see the complete list of films still available for streaming nationwide, visit popcornfrights.com
Popcorn Frights began with the sold-out premiere of Searchlight Pictures' haunting thriller THE NIGHT HOUSE directed by David Bruckner on opening night on August 12, and continued until the 19th with a mix of live events, parties, premieres, and more. Festival highlights included the special presentation of Alex Proyas' new film "Mask of the Evil Apparition," which also featured an epic conversation between Proyas and director Joe Lynch where it was revealed a Dark City series was being developed. Other memorable events included the festival's Homegrown: 100% Pure Fresh Squeezed Florida Horror celebration of local talent, as well as the 35th anniversary presentation of FRIDAY THE 13TH PART VI: JASON LIVES on Friday the 13th featuring a special introduction by director Tom McLoughlin. 
The full list of the festival's award winners can be found below:
Jury Prize for Best Feature Film: Superhost, dir. Brandon Christensen
Jury Prize for Best Short Film: Le Cri, dirs. Charlotte Chouisnard, Ninon Dodemant, Baptiste Leclerc, Solène Michel, Justine Parasote, Anouk Segura-Diaz
Scariest Feature Film Prize: Howling Village, dir. Takashi Shimizu
Scariest Short Film Prize: The Wheel, dir. Nikhil Bhagat
Special Jury Prize: Night at the Eagle Inn, dir. Erik Bloomquist
New Nightmare Prize for Best Debut Film: Take Back the Night, dir. Gia Elliot
Best Florida Feature Film: Offseason, dir. Mickey Keating
Best Florida Short Film: Tech Savvy, dir. Scott Vasey
Audience Award for Best Feature Film: Woodlands Dark and Days Bewitched, dir. Kier-La Janisse
Audience Award for Best Short Film: Every Time We Meet for Ice Cream Your Whole F*cking Face Explodes, dir. Anthony Cousins"
---------
ZOMBLOGALYPSE - YORKSHIRE ZOM-COM RECEIVES UK PREMIERE: "Homemade horror-comedy feature Zomblogalypse will receive its UK premiere at Dead Northern Film Festival - in association with Fangoria and Shudder - at City Screen York on 26 September. The film follows the chaotic misadventures of an unlikely trio who decide to make a film celebrating a decade of surviving the zombie apocalypse: they soon realise that making movies at the end of the world is even harder than usual.
The feature is an expansion of the original web series Zomblogalypse, begun in 2008 when local filmmaking trio Hannah Bungard, Tony Hipwell and Miles Watts teamed up to make something armed only with a laptop, a York flat and a tub of green face paint. The series went on to clock up over a million views across various platforms, collecting legions of international fans along the way, and ran for four seasons before the team used their 'filmmaking bootcamp' of the web series to move onto independent features.
The film adaptation of Zomblogalypse was a labour of love for the filmmaking trio, who share producing, writing, directing and acting duties. Development began in 2012 with Hollywood studio involvement before going into hibernation for several years. The idea however, like the zombie menace, refused to stay dead.
"A film always felt like unfinished business for us," notes Tony, who also served as director of photography and editor. "The trick was breaking the story: it needed to justify a feature while being manageable on a very tight budget. I'd always loved films about filmmaking, like Ed Wood and American Movie, and this is our contribution to that oeuvre."
"It's our way of making an independent film while simultaneously sending up both the process and the genre," adds Miles. "Filmmaking brings out the best and worst in people and it's funny seeing that writ large onscreen, against an apocalyptic backdrop, which only heightens the desperate nature of it all."
Dead Northern will be a welcome homecoming for the film, which was shot and produced almost entirely in York in 2018 and 2019, completing the lengthy postproduction process just weeks ahead of a certain real-life pandemic.
"The film is our ode to the delights and frustrations of filmmaking," concludes Hannah. "We're really proud of what we've managed to make with the help of a great cast, crew and team of zombies."
As well as the Dead Northern screening, and having won awards and laurels from several other international film festivals including Best Picture, the filmmakers are booking in more independent cinema screenings. There will also be more festival announcements and news on streaming and physical distribution for the movie very soon. Pandemic or no."