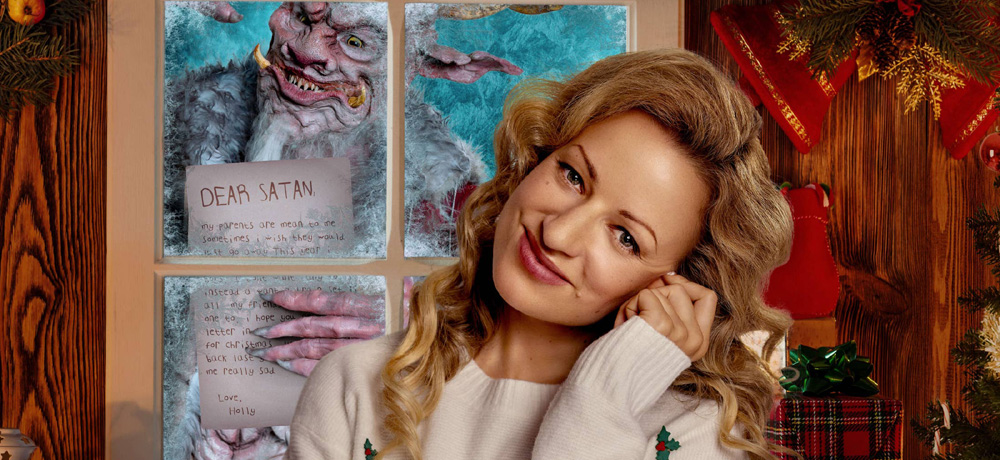 In today's Horror Highlights: the trailer for Letters to Satan Claus, a release date for Rot, details on The Mark of the Bell Witch, and a December release for Songbird!
LETTERS TO SATAN CLAUS: "Letters to Satan Claus revolves around Holly who, after returning to her hometown of Ornaments as a big-city news reporter, faces off with the demon of her past following a simple typo made in her letter to Santa. It's a harmless mistake that summons Satan to kill her parents. Yikes! We guess there is a worse gift than receiving a lump of coal on Christmas."
A horror comedy parody of the Hallmark Christmas movies, Letters to Satan Claus airs on Syfy on December 19th!
---------
Release Date Announced for ROT: "Genre distributor The Horror Collective is excited to announce that it will be distributing Andrew Merrill's nightmarish horror/thriller ROT. The film will be released on November 19, 2020 exclusively through Amazon, as announced this morning by Deadline.
ROT on Amazon: https://www.amazon.com/Rot-Kris-Alexandrea/dp/B08H5GCPSP/
Hailed by Film School Rejects as "especially chilling" and called "a powerful new independent horror" from Scariest Things, ROT is sure to take viewers into uncomfortable depths, culminating in a practical FX-driven climax that is sure to deeply unsettle audiences!
Writer/director Andrew MerrilI says of the experience of making ROT that "I'm incredibly proud of what our team pulled off, and so grateful that everybody stuck with me through all the late nights, cramped apartments, and general craziness of independent filmmaking. I'm excited for ROT to find it's audience, and I hope it will resonate with them as much as it has with me."
Shaked Berenson, CEO of Entertainment Squad, the parent company of The Horror Collective, says, "The Horror Collective's mission is to uplift new and exciting voices, to help create the next generation of horror masters. ROT is one of those movies that is a perfect example of the kind of people and content we want to work with and we're proud to add to our slate."
The Horror Collective's Heidi Honeycutt adds, "ROT goes places only Cronenberg has dared to tread thus far. It's an incredibly effective and shocking picture that horror fans are going to enjoy as they shiver."
The film stars Kris Alexandrea (Gothic Springs),  Johnny Kostrey (Kidding, Aquarius, The Good Place), McKale Jude Bingham (Betrayed), Adam Burch (Nazis at the Center of the Earth), and Eileen Dietz (The Exorcist, 100 Acres of Hell, Halloween 2).
Written and directed by Andrew Merrill (Warm Insides), ROT was produced by Beth Crudele (The Gift, Fuller House)."
---------
THE MARK OF THE BELL WITCH: "Wadsworth, OH -- Small Town Monsters has announced the Digital HD, Blu-ray and DVD release of their latest investigative docudrama, The Mark of the Bell Witch. Noted urban legend documentarian Seth Breedlove (The Mothman Legacy) describes the film as a dramatized retelling of the entire sordid tale of the merciless spirit who tormented the Bell family from 1817 to 1821 in Adams, Tennessee. The Mark of the Bell Witch arrives just ahead of the 200th anniversary of John Bell's death, whose mysterious passing in December 1820 cemented the legend of the Bell Witch in American folklore. The Mark of the Bell Witch will be available to rent or own on Amazon Instant Video, Vimeo OnDemand, DVD and VIDI Space starting December 15th. Blu-ray and DVD copies will be available exclusively from the STM Shop.
The Mark of the Bell Witch is the first attempted documentary of the famed piece of Appalachian folklore. The story of the Bell family who encountered mysterious sounds in their home, eventually becoming a full-blown apparition who terrorized them for almost five years, is still taught in Tennessee schools today. Considered to be one of the only known cases of murder committed by a "ghost" in American history, the story of John Bell's poisoning at the hands of the witch has been the subject of numerous television shows, books, songs, and even a horror film.
However, previous filmed interpretations of the events left out large portions of the legend, or simply adapted the events to their needs. In the hands of Small Town Monsters, there will be a historically minded approach to the telling of the case, as well as a dive into how the haunting has affected the local culture of Adams, Tennessee.
The Mark of the Bell Witch is directed by Seth Breedlove and produced by Adrienne Breedlove. Narration is covered by genre actress Lauren Ashley Carter (Darlin', Pod), with Zac Palmisano in the role of director of photography. Santino Vitale and SRV Films supplied VFX and Brandon Dalo (The Mothman Legacy) provided an original score. Amy Davies and Thomas Koosed headline the film in the lead roles of Elizabeth Bell and John Bell Sr, accompanied by Aaron Gascon, Sue Matzke, Grayden Nance and Mark Matzke. Adrienne Breedlove appears as the Bell Witch.
The Mark of the Bell Witch tells the terrifying, true story of the Bell family of Adams, Tennessee. A family who, for nearly five years, were haunted by an apparition bent on destroying their lives, and murdering the patriarch of the family, John Bell. Beginning in 1817 as a disembodied voice before eventually manifesting into numerous entities and showing her power through horrifying encounters, the Bell Witch has since become a folk legend.
Now, for the first time, learn the truth behind what actually took place during one of the most famous hauntings in American history."
---------
SONGBIRD Release Details: "Douglas, ISLE OF MAN and Burbank, CALIFORNIA, November 16, 2020 - Eros STX Global Corporation (NYSE:ESGC) ("ErosSTX"), a global entertainment company, announced today that the highly anticipated upcoming thriller Songbird, produced by Michael Bay and the first film to shoot in Los Angeles entirely during the pandemic, will premiere in the US as a premium video on-demand (PVOD) release on all transactional platforms beginning Friday, December 11. The film will be available for $19.99 for a 48- hour rental. The announcement was made today by Adam Fogelson, chairman, STXfilms Motion Picture Group.
Following its transactional home entertainment run, the film will premiere on a major streaming service in 2021.
Said Fogelson, "The pandemic has affected every aspect of our business, from production to release, but Songbird demonstrates that a nimble studio like STX can find effective and profitable ways to make their movies work, as we have similarly with Greenland and My Spy during these challenging times. The show must go on. Songbird is a thrilling movie that will speak to audiences in this moment as it keeps them on the edge of their seats."
Songbird is a sci-fi thriller about fighting for love at the end of the world from producer Michael Bay, who previously brought audiences such worldwide hits as A Quiet Place and The Purge. Songbird brings audiences a new saga about the resilience of the human spirit and our ultimate desire for connection and safety.
Directed by Adam Mason (Into the Dark), who also wrote the script with Simon Boyes (Misconduct), the film features an all-star cast including KJ Apa, Sofia Carson, Craig Robinson, Bradley Whitford, Peter Stormare, Alexandra Daddario, Paul Walter Hauser, and Demi Moore. Also joining Bay as producers are Invisible Narratives' Adam Goodman, Andrew Sugerman and Eben Davidson and Catchlight Studios' Jeanette Volturno, Jason Clark, and Marcei Brown."