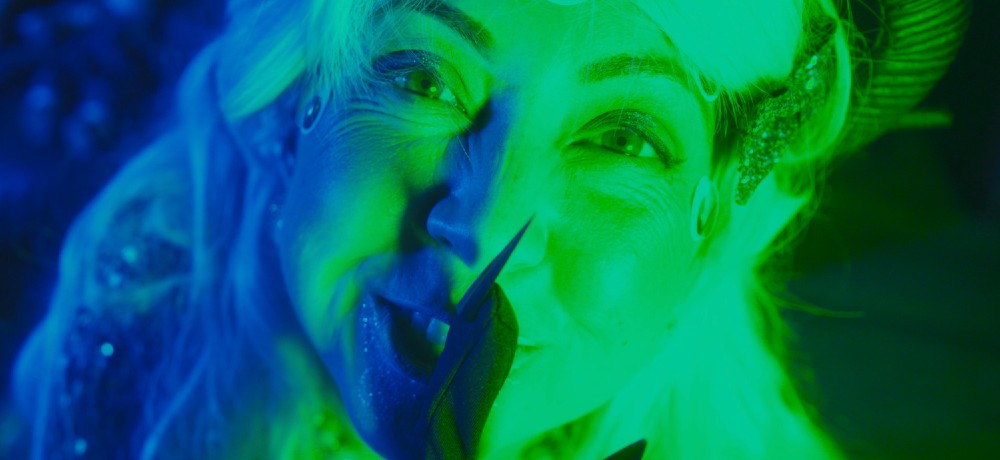 SPOOKY PUNK ROCK MUSIC VIDEO DIRECTOR RAE MYSTIC COLLABORATES WITH BAND HALF PAST TWO ON FANTASTICAL 'MAGIC DANCE' MUSIC VIDEO: "Rae Mystic is a renowned queer photographer whose work has been featured in Fangoria, Spin Magazine, & Alternative Press, among other noteworthy publications. After finding success as the photographer for multiple alt rock artists, including The Suicide Machines, We Are The Union, Eve 6, and Skatune Network, Rae went on to release their first physical photo collection, a magazine called "31 DAYS." After selling out of the entire printing in a few short weeks, Rae quickly began looking forward to new projects. This search led them to a brand new music video collaboration with Half Past Two.
Half Past Two is a band from Orange County, California. Their decade-and-a-half long career spans numerous releases, including several music videos with Rae Mystic behind the camera. Their collaborations aim to bring together Rae's colorbomb-esque visuals with the band's horn-driven, catchy songs. One of Half Past Two's mainstays is releasing seasonally appropriate covers, which led them to ask Rae to collaborate on a Halloween-time video for their cover of 'Magic Dance' from the soundtrack to cult classic film The Labyrinth.
The 'Magic Dance' music video concept came together somewhat unintentionally, according to Rae Mystic. "I wanted to do a short film based on an actual labyrinth. Not like the movie, but an actual maze," says Rae. Unusually, the idea was inspired by a location - Matter Music in North Hollywood, CA. Rae was drawn to the space because "it's a dark, pretty location that matches my aesthetic." When Half Past Two reached out to ask Rae about the project, Rae thought it would be a perfect opportunity to bring this short film to life.
In tailoring the original short film to become a music video inspired by The Labyrinth, Rae Mystic opted to make some not so subtle references to the film. "There are parts in the movie where puppets are sort of popping out and singing or shouting and then hiding again," Rae recalls, "so I decided to have our main character do that in the video." They also opted to include a singing door because it felt puppet-like but, most directly, Rae had the main character take a bite out of a peach to begin their transition arc from human to goblin. These easter eggs, paired with Rae Mystic's signature aggressively vivid, colorful lighting, are intended to deliver an experience both nostalgic and overwhelmingly satisfying on the eyes."
For streaming links for Magic Dance and more, visit: https://distrokid.com/hyperfollow/halfpasttwo/magic-dance
Video By Rae Mystic
Music Produced by David Irish
Music Performed by Half Past Two
Styling by Tabby Khorouzan
Corpse/Body Props by Lo Espinosa
---
SHUDDER ACQUIRES BLOOD FLOWER (HARUM MALAM), AN OFFICIAL SELECTION OF FANTASTIC FEST AND SITGES: "Shudder, AMC Network's premium streaming service for horror, thriller and the supernatural, has acquired rights to the Malaysian horror Blood Flower (Harum Malam) from director Dain Said (Interchange, Bunohan, Dukun). The film, an official selection of Fantastic Fest and the Sitges Film Festival, will be available exclusively on Shudder in the US, Canada, the United Kingdom, Ireland, Australia and New Zealand in 2023.
"One of next year's most frightening films, Blood Flower (Harum Malam) is a special kind of haunter. We're thrilled to bring the bold voice of director Dain Said to the service, and to make Blood Flower (Harum Malam) our first Shudder Original from Malaysia."
Added director Dain Said, "My ghost in Blood Flower (Harum Malam) needs a place to haunt, and in Shudder it has found a home to spill blood and do its evil deeds."
Blood Flower (Harum Malam) tells the story of Iqbal, a 16-year-old apprentice faith healer and exorcist, tormented by visions of the dead and spirits from other dimensions. When a malicious spirit begins to wreak havoc around him, Iqbal is forced to harness his supernatural gifts to save his family and friends.
Written by Said, Nandita Solomon and Ben Omar, Blood Flower (Harum Malam) stars Idan Aedan, Bront Palarae and Remy Ishak and is produced by Apparat in collaboration with Skop Productions and D'Ayu Pictures. The film was also produced with support from the Malaysian National Film Development Board (Finas). Reel Suspects is handling sales for the rest of the world.
The deal was negotiated by XYZ Film's Pip Ngo on behalf of the filmmakers, and Emily Gotto, VP, Global Acquisitions & Co-Productions on behalf of Shudder."
---
A SAVANNAH HAUNTING: "A SAVANNAH HAUNTING delivers a dread-filled supernatural drama about a mother grappling with her guilt stemming from the tragic drowning of her youngest daughter. When the family moves to Savannah to distance themselves from the tragedy, the mother slowly grows to believe she is being haunted by her dead daughter."
Director: William Mark McCullough
Writer: William Mark McCullough
Producers: Alexis Nelson, William Mark McCullough
Cast: Gena Shaw, Dean J. West, Tommi Rose