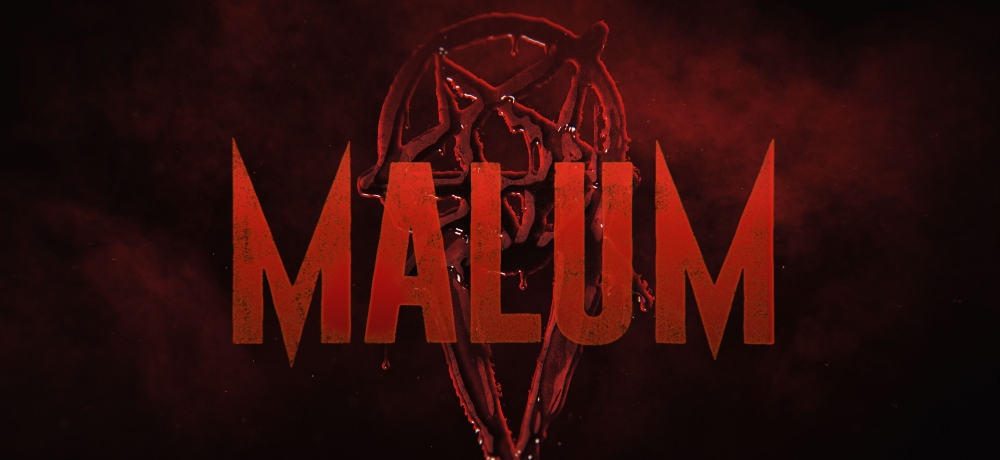 Welcome Villain Films' MALUM: Available On Demand and Digital - Tuesday, May 16: "Welcome Villain Films' invites you to #FeedTheDemon when MALUM releases On Demand and Digital tomorrow - May 16, 2023."
MALUM will be available 5/16 on the following platforms:
iTunes
Amazon Video
VUDU
Google Play
"MALUM is a bold and expanded reimagining of the 2014 horror cult classic, LAST SHIFT. On a search to uncover the mysterious circumstances surrounding her father's death, a newly appointed police officer, Jessica Loren (Jessica Sula) is assigned to the last shift in a decommissioned police station where a notoriously vicious cult saw their demise years prior. The lone officer at the station, she soon finds herself barraged by terrifying paranormal events, and in the process, is taken on a journey during which she learns the shocking truth behind her family's entanglement with a demented cult leader. MALUM takes the premise of the 2014 festival hit and flips it on its head, thrusting viewers into an unrelenting, adrenaline-fueled, bloody cult nightmare."
Director: Anthony DiBlasi
Screenwriters: Anthony DiBlasi, Scott Poiley
Producers: Scott Poiley, Dan Clifton
Executive Producers: Mary Poiley, Luke LaBeau, Eric Kleifield, Bonner Bellew, Justin Brown
Special Effects: RussellFX
Composer: Samuel Laflamme
Cast: Jessica Sula, Candice Coke, Chaney Morrow, Clarke Wolfe, Morgan Lennon, Valerie Loo, Monroe Cline, Eric Olson, Sam Brooks, Kevin Wayne, Danielle Coyne, Natalie Victoria, Christopher Matthew Spencer and Britt George
Genre: Horror
Run Time: 92 Minutes
Rating: Not Rated
Distributor: Welcome Villain Films
---
DSTLRY PARTNERS WITH LUNAR DISTRIBUTION: "Lunar Distribution is pleased to announce that it has signed a distribution agreement with new publisher DSTLRY to distribute their products to the comic book specialty market.
DSTLRY is a next-generation comics publisher and collectibles company that redefines creator-owned comic books for consumers worldwide. Founded by comiXology veterans David Steinberger and Chip Mosher, DSTLRY aims to revolutionize the creator-publisher relationship by giving their founding creators an equity stake in the company, in addition to retaining ownership of their characters and concepts.
"In a few brief years, Lunar has emerged as one of the most dependable and professional distributors in the industry," says DSTLRY Chief Creative Officer Chip Mosher. "We're excited to partner with an organization as trusted and aligned with the needs of the direct market as Lunar."
"I couldn't be more excited to partner with DSTLRY to bring their titles to our direct market accounts," says Lunar Distribution co-founder Christina Merkler. "Chip and David have a reputation for being innovative and exploring novel approaches to increase industry growth. The creators behind The Devil's Cut are truly outstanding, hinting at the books to come. We can't wait to get this line into retailers' hands."
DSTLRY's debut title, The Devil's Cut, compiles unfiltered stories from the most fearless creators, offering a distinct taste of the quality to come. The title offers 72 oversized pages printed on premium paper, featuring a flight of high-proof work from Founding Creators Mirka Andolfo, Brian Azzarello, Marc Bernardin, Elsa Charretier, Becky Cloonan, Lee Garbett, Jock, Joëlle Jones, Tula Lotay, Jamie McKelvie, Junko Mizuno, Stephanie Phillips, Scott Snyder, James Tynion IV, and Ram V; edited by Founding Editor Will Dennis."
----
AGE OF THE WITCH Video Game: "Set during the clash between Christianity and the religion of the old gods, AGE OF THE WITCH is a retro-style adventure game that combines the aesthetics of the 1990s with modern gameplay sensibilities. A visceral and unique retelling of the classic story of King Arthur and the Knights of the Round Table, told from the point of view of Morgana. Often portrayed as a deceitful witch, this story casts her as someone who must do what she can to survive. A victim of circumstance in a harsh world of politics, intrigue, duplicity and ever-changing allegiances, Morgana must master the forbidden arts of the occult if she hopes to prevail."
Learn more at: https://ageofthewitch.com/