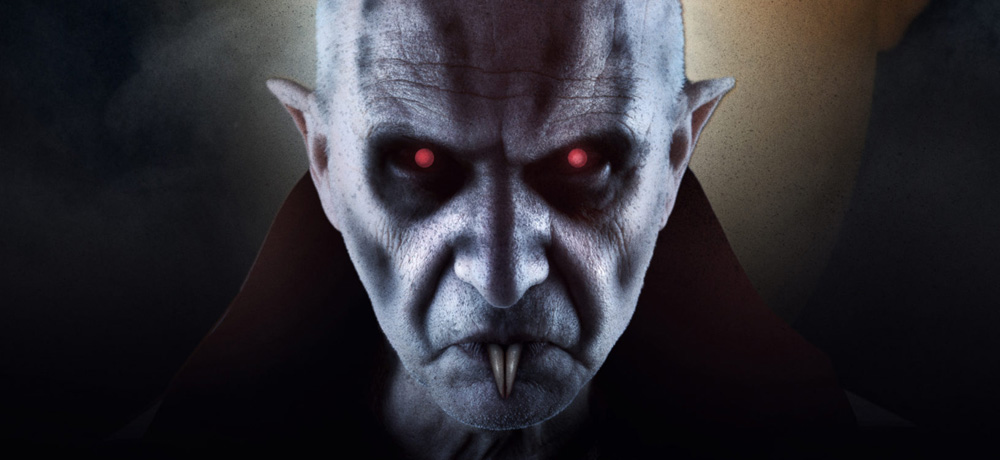 We're back with another edition of Horror Highlights, giving you release details and the trailer for Mimesis: Nosferatu, the trailer for Threshold ahead of its Salem Horror Fest premiere, details on the Icons of Darkness event in LA, a look at the Tourist Trap "Vintage VHS" Blu-ray release, and the trailers for Bullets of Justice and LX 2048!
MIMESIS: NOSFERATU: An October 13th digital and DVD release has been announced for Mimesis: Nosferatu, Douglas Schulze's follow up to Mimesis: Night of the Living Dead. Here's the full press release and trailer:
"Finding inspiration from one of the most frightening cinematic "monsters" put on film by F.W. Murnau's Nosferatu, the students at the arts academy are just dying to be part of their school's vampiric rendition. With MIMESIS: NOSFERATU, Douglas Schulze continues his modern tribute to the myth of the vampire.
The Mimesis films center on a subculture of extreme horror fans who engage in deadly role-playing games based on classic movies from the genre. In Mimesis: Night of The Living Dead, Schulze paid homage to George Romero's Night of the Living Dead following gamers who took their love of zombies to a new level complete with flesh eating. MIMESIS: NOSFERATU centers on vampirism as new recruits are lured to play a real-life version of F.W. Murnau's Nosferatu.
"My intention with the Mimesis franchise is to pay homage to horror classics," said Director Douglas Schulze.  "I wanted to find a way to celebrate classic horror and explore what makes some of us so passionate about our love for the genre and with MIMESIS: NOSFERATU, do that by exploring what drives some horror fans to the extreme and how cults are born."  
Schulze goes on to note that MIMESIS: NOSFERATU is not a sequel in the traditional sense. "I consider each film a kind of homage and this film stands alone while also including nods to many versions of vampire films from every era, including Bram Stoker's novel to German Expressionism, the 70's era Hammer horror and even the Twilight series."  
When the curtain falls, the body counts rise in MIMESIS: NOSFERATU. At Harker Arts Academy, the chance to star in the school's upcoming play is something any student would kill for, unfortunately this year that might be the price. When it is announced the drama club will adapting FW Munau's vampire classic NOSFERATU, no one realizes that they have unwittingly been pulled into their own horror film. With opening night approaching fast approaching, the blood begins to spill, and it is unclear if anyone will still be alive by the time the curtain rises. 
The film stars Golden Globe Nominee Lance Henriksen ("Millennium", Aliens, Alien vs. Predator), Allen Maldanado (Straight Outta Compton, "Black-ish"), Connor Alexander (C.R.T., The Golden Realm) and also features Kristy Swanson (Buffy the Vampire Slayer). MIMESIS: NOSFERATU will be available on Digital and DVD on October 13. 
"Douglas Schulze found a way to celebrate classic horror and explore what makes many so passionate about their love for the genre," said Josh Thomashow, Cinedigm's Director of Acquisitions. "With this film he explored what drives some horror fans to the extreme and how cults are born."  
The producers are planning a series of special Drive-In event screenings to celebrate the release of the picture.
MIMESIS: NOSFERATU was directed by Douglas Schulze and written by Schulze & Jeff Meyers. Producers include Kurt Eli Mayry, Kathryn J. McDermott and Nandan Shah, with Harper Shecter acting as Associate Producer. Executive Producers are Crystal Lucas-Perry, Allen Maldonado LaVal Perry and Amrit Pal Singh, with Tejeshwar Singh Bawa as the Assistant Producer."

---------
THRESHOLD: "Improvised, shot on two iPhones over the course of a 12 day road trip, THRESHOLD follows a sister, claiming to be cursed, as she persuades her brother to embark on a cross country road trip to break her spell. Convinced she's using drugs, he agrees to the trip with one caveat: if there's nothing at their destination, she goes straight to rehab.
Threshold will make its North American premiere at Salem Horror Fest on Oct. 2nd as part of the festival's first weekend. Early reviews have called it "a cathartic brother and sister road trip movie" with a "genuinely bonkers" ending.
Threshold is the 2nd feature from directors Powell Robinson and Patrick R Young. Their first feature, BASTARD, was part of After Dark's 8 Films to Die For 2015. Madison West (Mank, Precious Cargo) and Joey Millin (Parker and the Crew) star. Lauren Bates (Future World, Desolation) produced. The movie is seeking distribution."
Threshold will have it's North American premiere at Salem Horror Fest on October 2nd.
--------
ICONS OF DARKNESS: "This fall, beheaded beasts, blood-gushing villains, 14-foot aliens, and the world's most beloved blockbuster heroes will converge on Los Angeles for an immersive entertainment experience.
Icons of Darkness (IOD) will premiere at The Montalbán in partnership with TV actor, writer, producer, and director Richard "Rich" Correll.
One of the most extensive, privately owned collections of its kind, IOD will offer cinematic buffs, sci-fi fans, cosplay enthusiasts, and horror aficionados a walking tour of props, artifacts, and memorabilia from movies spanning almost 100 years of Hollywood history.
Hundreds of films will be represented, including Frankenstein, The Exorcist, Star Wars, Iron Man, Jurassic Park, Spiderman, Joker, and Harry Potter.
In the past few months during the Coronavirus pandemic, The Montalbán has undertaken a massive pivot by transforming the lower level of its interior space from traditional theatre seating to an open floor plan. The new configuration allows for plenty of social distancing and is perfectly suited for IOC's stunning exhibition.
Contingent on public health updates, the exhibit will be open five days a week, starting in late September 2020, with Coronavirus safety measures in place.
Located at 1615 Vine Street, Hollywood, CA 90028, the classic venue now accommodates new forms of entertainment.
Reservations are required in order to limit the number of guests allowed in at one time. Tickets will be on sale by September 1st. Please call the box office at 323-461-6999 or visit https://www.themontalban.com.
*ADA access: Please note while our main floor ICONS exhibition will have ADA access,
unfortunately our historic theatre is not equipped with an elevator. Therefore any Mezzanine level and Rooftop levels are ONLY accessible via stairs.
A sample of what patrons will be able to see include:
The original Xenomorph costume from Alien (1979), which features the designs of the (then-unknown and now influential) designer, H.R. Geiger.
The full-sized Queen Alien from Aliens (1986), which solidified the sci-fi career of one of Hollywood's most notable film directors, James Cameron.
Michael Keaton's original Batsuit from the Tim Burton classic, Batman (1989), which led to the birth of the modern-day superhero film.
Original items from Terminator 2 Judgement Day (1991) and Stephen Spielberg's dinosaur classic Jurassic Park (1993), which employed early CGI.
Work from famous horror authors, Stephen King's It (1990), Clive Barker's Hellraiser (1987), and William Peter Blatty's The Exorcist (1973).
Hugh Jackman's battle arena Wolverine suit from X-men (2000).
Work from the eight-time Academy Award-winning makeup artist Rick Baker, from films How the Grinch Stole Christmas (2000), Planet of the Apes (1997), and An American Werewolf in London (1982).
A stable of props, figures, and costumes including life casts of Bela Lugosi, Lon Chaney, Jr., and Boris Karloff representing "Dracula" (1931), The Wolfman (1941), and Frankenstein (1931)."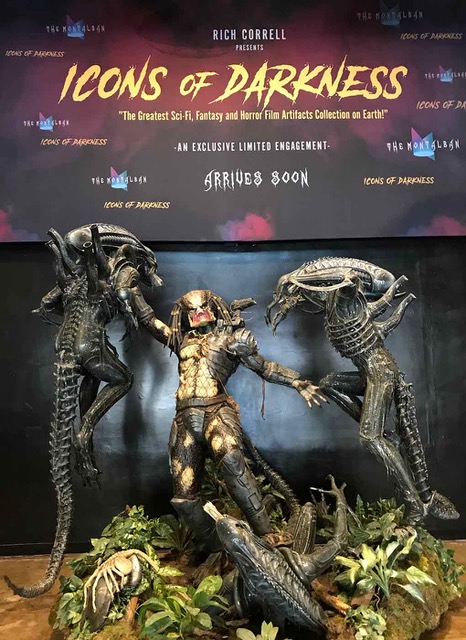 ---------
TOURIST TRAP "Vintage VHS" Blu-ray Release: "Tourist Trap, The 1979 masterpiece directed by David Schmoeller (Little Monsters, Puppet Master), is one of the most talked-about horror cult classics in the Full Moon Features library. Widely recognized as one of the scariest and strangest horror movies of the 1970s, the film is championed by none other than Stephen King who praised the film in his book "Danse Macabre" as one of his favorite horror films, wielding "an eerie, spooky power".
In celebration of this iconic film, Full Moon Features is running a limited release of the "Tourist Trap Vintage VHS" box set – a stunning, totally uncut, digitally remastered transfer on both Blu-ray and DVD and packaged in a deluxe, faux Vintage VHS case with a custom made Mr. Slausen mini-action figure, complete with removable mask!"
-------
BULLETS OF JUSTICE: "Emerging genre distributor The Horror Collective is releasing the intense and awesome action/horror hybrid BULLETS OF JUSTICE, out on VOD on October 15th, as revealed this morning on Bloody-Disgusting.
In the post-apocalyptic aftermath of World War 3, an army of half-human half-pig super-soldiers takes over the world. It is up to a group of human rebels to destroy them and liberate humankind.
Bullets of Justice stars Danny Trejo, Timur Turisbekov, Yana Marinova, Dessy Slavova, Doroteya Toleva, and Ester Chardaklieva. It's directed by Valeri Milev and was written by Milev and Timur Turisbekov."
-------
LX 2048: "It is 2048.  Mankind has by now destroyed the ozone layer to such a degree that normal human beings cannot be out in daytime.  People spend their waking hours at night and almost everything is done inside the virtual realm.  From work to school to socializing, most people just stay home and conduct their affairs from their Virtual Reality designated spaces.  Mental depression has become so prevalent that the entire population is required to take the state issued pill 001LithiumX.
In this new world order, Adam Bird is a rare breed.  Adam insists on waking up during the day.  He insists on leaving his house and going to work in a physical office.  He has 3 kids in a time when most people barely breed, and he adamantly refuses to take 001LithiumX, fighting to stay human in a world that is rapidly transforming into the artificial.
But things change when Adam discovers his heart is mysteriously failing.   With no possibility for an organ transplant, Adam is now scheduled to be replaced by a cloned upgrade - an improved version of himself that will be supplied to his estranged wife as part of the Premium 3 government insurance plan.  Spiraling out of control, Adam starts living on borrowed time, seeking to find a solution before his replica will be sent to raise his kids and replace his existence across the board."
LX 2048 will be available to rent or own September 25th on Amazon, iTunes, Comcast, Spectrum, Dish, DirecTV, Vudu and more in the US and Canada.