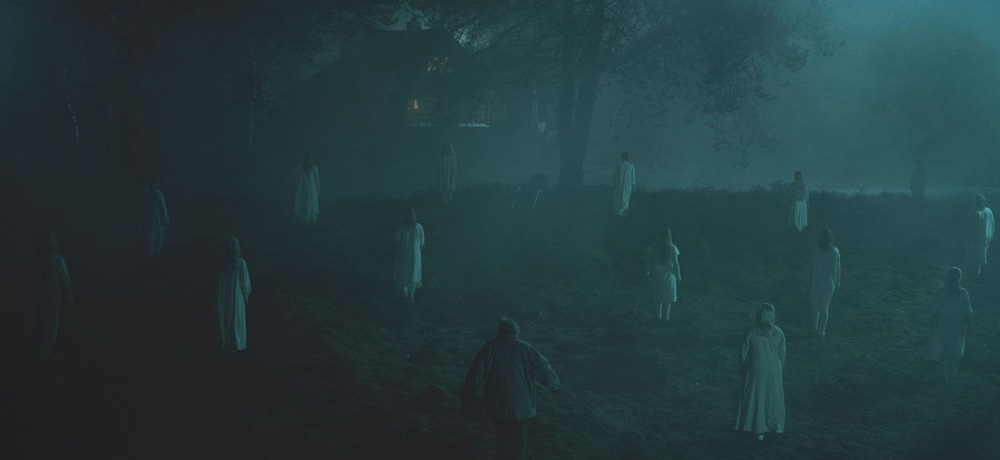 First look at Nico van den Brink's horror-thriller MOLOCH: "Production is underway in the Netherlands on director Nico van den Brink's horror-thriller MOLOCH. With a screenplay by van den Brink and Daan Bakker, from a story by Nico van den Brink with additional support from Jaap Peter Enderle, MOLOCH is produced by Sabine Brian and Ronald Versteeg for NL Film (Amsterdam). Todd Brown and Maxime Cottray are executive producing for XYZ Films. MOLOCH will be released theatrically throughout the Benelux by Splendid Film with XYZ Films representing worldwide sales outside of Benelux.
In the film, 38-year-old Betriek lives at the edge of a peat bog in the North of the Netherlands. When she and her family are attacked by a random stranger one night, Betriek sets out to find an explanation. The more she digs, the more she becomes convinced that she is being hunted by something ancient.
MOLOCH is the debut feature film from Nico van den Brink, who rose to prominence on the international festival circuit thanks to a string of acclaimed short films. One of those shorts - The Burden, also produced by NL Film - is currently in development as an English-language feature that will be van den Brink's second film, with James Wan and Sam Raimi producing.
XYZ's recent slate of sales titles include the completed STOWAWAY starring Anna Kendrick and Toni Collette, which will be released as a Netflix Original on April 22, 2021. Other titles include Netflix original THE TRIP starring Noomi Rapace and Aksel Hennie, CUS AND MIKE starring Anthony Hopkins, current production NOCEBO with Eva Green and Mark Strong, Sion Sono's PRISONERS OF THE GHOSTLAND, starring Nicolas Cage and Sofia Boutella, which premiered at the 2021 Sundance Film Festival, and SXSW horror-thriller GAIA, which was recently acquired by Decal. XYZ is also in post-production on DUAL starring Karen Gillan, Aaron Paul and Beulah Koale."
---------
Onyx The Fortuitous and The Talisman of Souls: "Onyx the Fortuitous and the Talisman of Souls follows fledgling Satanist Marcus J. Trillbury (Onyx) as he attends a once-in-a-lifetime ritual at his idol BARTOK THE GREAT'S dark mansion. Once there, Marcus meets a group of other worshippers. As the group is led by Bartok and his assistant Farrah in a series of rituals meant to "better them," it becomes clear that their intentions are more nefarious. As his new friends are losing the battle to keep their souls, a question of great destiny looms over Onyx's head: is he doomed to be a nobody or is he the only one who can defeat Bartok and save his friends from damnation?"
Onyx The Fortuitous and The Talisman of Souls is raising funds on Kickstarter and recently recorded a live script reading with Rachel Ancheril (Star Trek: Discovery), Olivia Taylor Dudley (The Magicians, Dude Bro Party Massacre III), Jayma Mays (Glee), Xander Barkley (The Walking Dead), Jason Marsden (Hocus Pocus, Young Justice), and more.
The project is fully funded, but you can still back it at: https://www.onyxthemovie.com​
----------
AT NIGHT COMES WOLVES: "A sheltered housewife abandons her marriage and her misogynistic husband, only to learn that he used to be the leader of a doomsday cult that she is about to join.
In this unnerving tale about misogyny, fate, and sexism comes a story about a woman who is about to change the world forever. After Leah Shaffer finally leaves her emotionally manipulative husband, she finds a friend in a drifter whom she quickly feels a deep connection with. The drifter introduces Leah to a prodigal chemist, and Leah learns her new friends are all that is left of a doomsday cult that disbanded years earlier. Together, the new trio is about to change the world, but before they can reveal their secrets, they have to tie up loose ends with Leah's husband-- and their ex-leader.
AT NIGHT COMES WOLVES was written and directed by Thomas T.J. Marine. The film stars Gabi Alves, Jacob Allen Weldy, Vladimir Noel, and Sarah Serio. It has a running time of 77 minutes and will not be rated by the MPAA. Gravitas Ventures will release AT NIGHT COMES WOLVES on digital platforms including iTunes, Google Play, Fandango Now and all major cable/satellite platforms on April 20."