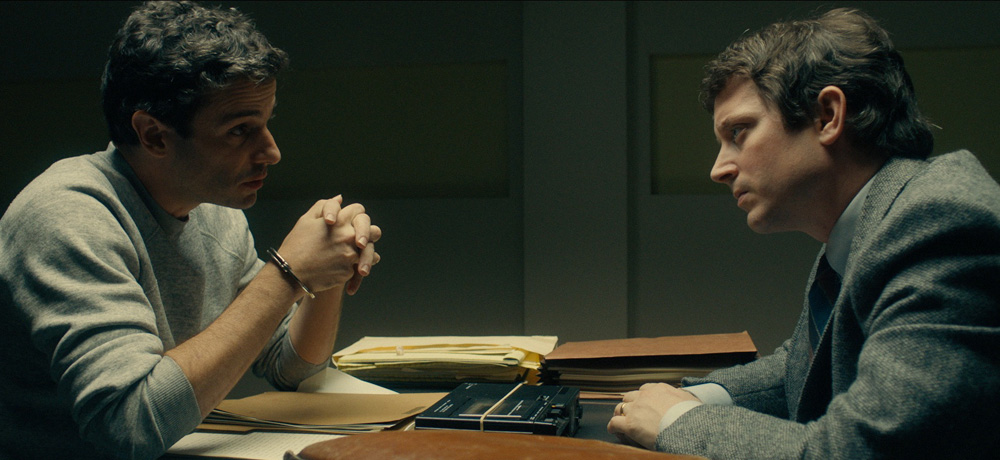 Watch the Trailer for NO MAN OF GOD: "In 1980, Ted Bundy was sentenced to death by electrocution. In the years that followed, he agreed to disclose the details of his crimes, but only to one man. NO MAN OF GOD is based on the true story of the strange and complicated relationship that developed between FBI agent Bill Hagmaier and an incarcerated Ted Bundy in the years leading to Bundy's execution."
Starring:
Elijah Wood, Luke Kirby, Aleksa Palladino, Robert Patrick
Directed by:
Amber Sealey
Written by:
Kit Lesser
In Theaters, On Demand and Digital - August 27, 2021
----------
STABBY SATURDAYS on Shudder: "On July 10th and July 17th, author Grady Hendrix is celebrating slasher cinema in honor of the launch of his new novel, "The Final Girl Support Group." The two-week event, called Stabby Saturdays, sees the novelist team up with collaborator Ted Geoghegan (WE ARE STILL HERE, MOHAWK) to screen slasher double features on Shudder alongside a wide variety of female voices in the genre community.
The tweet-a-long events, which begin on ShudderTV at 8PM EST, can be followed on Twitter via the #StabbySaturdays hashtag.
On Saturday, July 10th, it's sleepover time as Grady and Ted screen THE SLUMBER PARTY MASSACRE and SLUMBER PARTY MASSACRE 2 with Clarke Wolfe (actress, entertainment host, and producer), Danishka Esterhazy (director of the upcoming SLUMBER PARTY MASSACRE remake), Molly Henery (film critic for The Blogging Banshee), Megan Navarro (lead critic for Bloody Disgusting), Alisha Grauso (features editor for Screen Rant), Zena Dixon (co-host of Bloody Disgusting podcast), Kelly Nugent and Lindsay Katai (co-hosts for the TeenCreeps podcast), author April Snellings, and many more.
On Saturday, July 17th, Grady and Ted head to college with SORORITY HOUSE MASSACRE and PLEDGE NIGHT, and will be tweeting alongside Roxanne Benjamin (director of BODY AT BRIGHTON ROCK), Gigi Saul Guerrero (director of Hulu's CULTURE SHOCK), Jenn Wexler (director of THE RANGER), Jill Gervargizian (director of THE STYLIST), Heather Buckley (producer of THE RANGER), illustrator Sister Hyde, BJ Colangelo and Harmony Colangelo (co-hosts for the This Ends at Prom podcast), and many more!"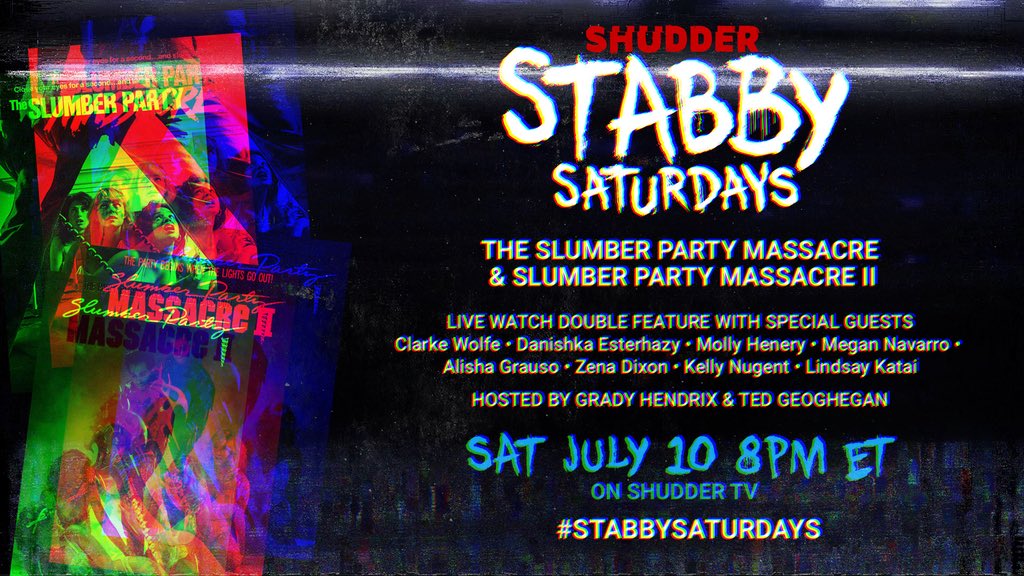 ---------
Photos from DEMONIC: "From the director of DISTRICT 9 and ELYSIUM, a young woman unleashes terrifying demons when supernatural forces at the root of a decades old rift between mother and daughter are revealed."
DIRECTED AND WRITTEN BY:
Academy Award nominee Neill Blomkamp
(DISTRICT 9, ELYSIUM, CHAPPIE)
STARRING:
Carly Pope (POPULAR, ELYSIUM)
Chris William Martin (SUPERGIRL, THE VAMPIRE DIARIES)
Michael Rogers (SIREN)
In Theaters, On Demand and Digital August 20th
--------
FRIEND OF THE WORLD: "The simple and seemingly small-scale story is of a young filmmaker who awakens amidst the interminable carnage of a war, which seems to have decimated most of the population. She tries to piece together the origins of this nightmare (in addition to staying alive) with the help of an infuriatingly eccentric, ideologically opposed figure of the U.S. military who begins to grow on her over time... in more ways than one.
It's basically a two-person play on film that is a tribute to and expansion of themes from the body horror subgenre of sci-fi and horror: Samuel Beckett and Jean-Paul Sartre meet John Carpenter and David Cronenberg. This grotesque element of the movie underscores the arc and ultimate fates of the two main characters, Diane (Alexandra Slade) and Gore (Nick Young). Additionally, there are elements of comic absurdity and social satire to make this elephant-sized pill of a twisted morality play a tad easier to digest.
Structured like an episode of Black Mirror or The Twilight Zone with influences from The Thing, La Jetée and Dr. Strangelove or: How I Learned to Stop Worrying and Love the Bomb – it's something compact that, with the right audience, could unlock for them a creepy and thought-provoking experience in a series of 10-minute sections that answer questions while building tension."
Written and directed by Brian Patrick Butler (Hemet, or The Landlady Don't Drink Tea)
Executive producer Kerry Rossall (Apocalypse Now, They Live), Co-Producer Luke Anthony Pensabene (Fruitful Mold)
Starring Nick Young (The Vagrant), Alexandra Slade (We All Die Alone), Michael C. Burgess (Hacksaw), Kathryn Schott (South of 8), Kevin Smith (Hatred)
Cinematography by Ray Gallardo (At the Frontera)
Special effects makeup by C.J. Martinez (Mike & Fred vs The Dead)
Visual effects and sound by Daniel N. Butler (The Phantom Hour)
Charybdis Pictures, Gray Area Multimedia
Friend of the World is streaming now on Plex TV and Vimeo on demand.
https://watch.plex.tv/movie/friend-of-the-world
https://vimeo.com/ondemand/342605
---------
INTERVIEW : Mike McMurran – THE FINAL RIDE: 'Canadian horror anthology THE FINAL RIDE, from writer/director Mike McMurran , will be released on digital this July.
An Anthology with three tales including the ghost of an 80's fitness guru, a Tattoo that won't stop spreading, and an Uber Driver that picks up her final customer for the night, not knowing that she's in for the ride of her life, THE FINAL RIDE stars Keegan Chambers (AGE OF THE LIVING DEAD), Annette Wozniak (SAFE HOUSE) and Matthew Chisholm (SECRET SANTA).
The Final Ride will be released on digital July 14 from Wild Eye Releasing.
I have to know, have you had a run-in with an Uber driver like the one from the film?
That's a really good question! I haven't actually. I had already shot The Workout and was about to start filming The Tattoo and I had absolutely no idea how I was going to connect the stories. One of my actors; Matthew Chisholm, suggested the concept of an Uber Driver. The Driver would drive the other characters in the film and cut away to their segment and then seamlessly cut back to the framed narrative. I'm glad it turned out the way it did. I think it worked well.
Why do you think Uber rides lend itself so beautifully to horror these days?
I think being an Uber driver or passenger is a very vulnerable situation to be in. You are getting into a vehicle with a complete stranger. It's very close quarters inside the car and you have to trust your driver, in hopes that they will take you to your proper destination. The same goes for being a Uber driver. You have to hope the person you are picking up isn't shady. It can make for great tension in a horror film.
Was there any version of that script where it was a Taxi driver?
There wasn't. I had contemplated it but it felt more appropriate in 2021 to make it an Uber. Plus, in the many Uber rides that I've had in my life, a lot of my drivers were people just looking to make a few extra bucks and not necessarily as experienced as many seasoned cab drivers are. I think that made for better character development. Jean was new to the job, just trying to make some extra cash, and had no idea the danger she was about to be put into.
How hard is it to make an anthology over a traditional feature? What are some of the challenges?
In many ways it was easier to film an anthology instead of a typical feature. And in other ways, it was much more difficult.
The aspects that made the process easier was that we were able to split up the filming days and not shoot the whole thing in one lengthy chunk. That gave me and the crew some time to breathe in between segments. Actor and crew availability was easier because you are asking them to commit to 5 or 6 days of filming, instead of 14-16. 
What made filming an anthology more difficult in our case, was that we needed 3 of everything. Instead of finding one or two primary filming locations, we had to find 3 to 6. We had to cast triple the amount of actors for 3 different stories. And we had to do our best to make sure that all 3 segments had a flow between them and felt interconnected, even when segments were filmed 6 to 8 months apart from each other.
Is there a subplot that links all the segments?
The only true connection to all of the segments is Jean and the Uber. We had tried to put little Easter eggs in for the other segments but we just didn't have the shooting time to make those
ON DIGITAL JULY 14