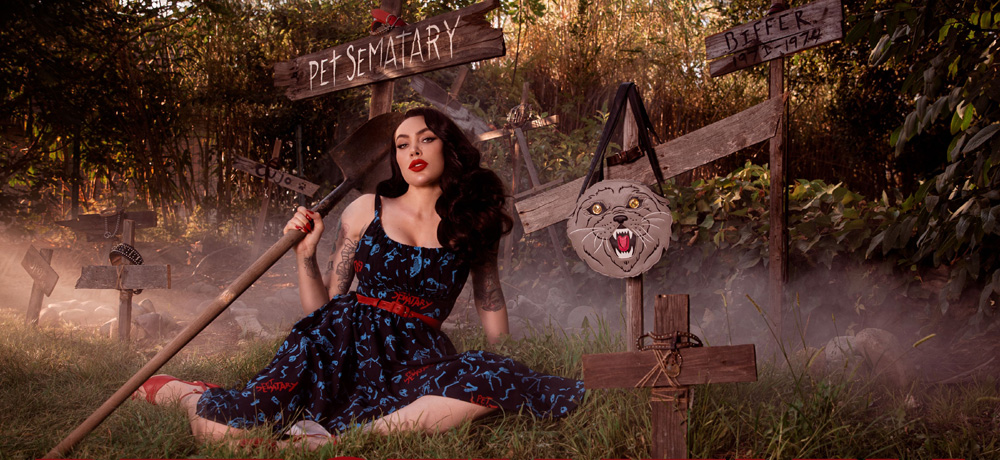 In a second helping of today's Horror Highlights, we have details on the Pet Sematary collection from Vixen by Micheline Pitt and the trailers for Shorcut and Anonymous Killers:
Pet Sematary Collection from Vixen by Micheline Pitt: Paramount Pictures and Los Angeles-based apparel company Vixen by Micheline Pitt have announced a licensing partnership for Stephen King's Pet Sematary property for apparel and accessories, which kicks off today with an exclusive collection.
"We have an amazing collection of apparel and accessories inspired by both of the feature films which are based on the iconic 1983 Stephen King novel Pet Sematary," said Vixen CEO & Designer Micheline Pitt. "Each collection, like the films on which they are based, has its own story to tell, and its own style, and as the first female owned horror/genre company to have ever licensed a horror property, we're excited to celebrate Pet Sematary through fashion."
"Both collections, for 1989's Pet Sematary and the 2019 film, features distinct color stories pulled from the characters in them," continued Pitt. "For the 1989 film, the character of Gage and his blue outfit have been used as the core color in the novelty print for the collection, and for the 2019 release, we employed the colors and stories from the film's promotional art. I really loved the idea of making something graphic, but also quite haunting, and as a fan of the franchise I think we successfully created pieces authentic to both films, but also entirely original."
As for the continued expansion of Vixen my Micheline Pitt, an apparel company with a global consumer base which has grown exponentially since its founding in 2016, Pitt offered, "This is just the beginning of several collaborations with not only the illustrious Paramount Pictures and Lourdes Arocho's amazing team, but with other prestigious studios which we will be working with in the future. Our sister brand La Femme en Noir, which I co-own along with Lynh Haaga, will also be announcing some fantastic film franchise collections coming soon that are absolutely incredible."
For more information, visit Vixen by Micheline Pitt at their official website here: https://www.michelinepitt.com/
---------
Watch the Trailer for SHORTCUT: "Gravitas Ventures, a Red Arrow Studios company, has acquired the North American distribution rights to the horror adventure film SHORTCUT.  Directed by Alessio Liguori and written by Daniele Cosci, SHORTCUT stars Jack Kane, Zak Sutcliffe, Andrei Claude, Sophie Jane Oliver, Terence Anderson. The film is produced by Simona Ferri, Marco Tempera and Robert Cipullo. SHORTCUT will open nationwide across North America (USA/Canada) at drive-in's and indoor theatres on September 25th (with Thursday night previews), followed by a VOD & digital release on December 22nd.
SHORTCUT follows a group of five classmates trapped inside their school bus after a mysterious creature invades the road. Every passing minute decreases their survival chances against the constant threats of that unknown entity.
The deal was negotiated on behalf of Brett Rogalsky on behalf of Gravitas Ventures and by Monica Ciarli on behalf of Minerva Pictures International.
"Gravitas is thrilled to be able to share with audiences SHORTCUT. This is a film that audiences are sure to be drawn to as it will not only be an exciting theatrical experience, but should also be an iconic entry into the horror genre for years to come." – Brett Rogalsky, Gravitas Ventures Acquisitions"
---------
Watch the Trailer for ANONYMOUS KILLERS: "ANONYMOUS KILLERS was conceived by writer and director A.R. Hilton as an indictment of society for its hypocrisies - from its jury system to the death penalty to the American Dream - from the perspective of someone who's been persecuted by the system.
In the film, four seasoned killers and one hapless professor awake in chains to discover they are part of a demented experiment orchestrated by a maniacal, mysterious captor. To decide their fate, they must share the motives behind their crimes as they face the judgement of their peers. The rules are non-negotiable and the outcome is clear: live or die. The moral compass spins frantically as all fight to justify their lives before the final vote is cast.
This new horror thriller premieres October 6, with a limited "Theater At Home" experience and a wider streaming release later in the month. In addition to featuring a talented and diverse ensemble cast, KILLERS moves beyond typical slash-and-kill horror movie plots to reveal social justice story arcs for each character. Those stories, combined with its surprising finale, will prompt viewers to contemplate and examine their own prejudices.
Instead of digital, Hilton chose to shoot on 35mm film to give KILLERS a more natural, grainy look than using filters applied to digital film would result in. This artistic choice also made Hilton eligible for the Panavision First Time Filmmaker Grant, which rewards first time filmmakers with up to a million dollars in Panavision cameras and gear. Panavison loved the script, and stuck with the crew through the entire four years it took to complete."