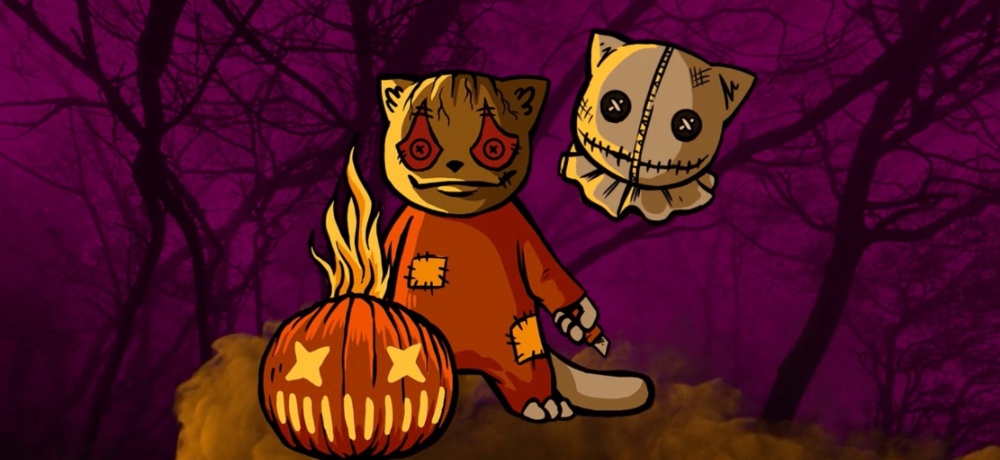 We're back with another edition of Horror Highlights! In today's installment, we're featuring Pixel Elixir's Terror Kitties 2 enamel pin collection Kickstarter, the trailer for Homewrecker, clips from The Luring, ArcLight Cinemas' drive-in screening of The Rental, release details for A Deadly Legend, and Nima Fakhrara's soundtrack for Becky.
Pixel Elixir's Terror Kitties 2 Enamel Pin Collection Kickstarter: "A cute-yet-terrifying enamel pin project, featuring even more of your favorite horror movie villains, in cat form! Starring Camp Killer Kitty, Candycat, Lost Kitty, Xenocat, Clown Kitty, Saw Kitty, Tricky Kitty, Cat Torrance, Lo Cat, Cat-thulhu and Scary Movie Kitty!
Backer Rewards:
Highly detailed, deluxe 2" soft enamel pins with dual rubber clutches, logo backstamp and glossy, embossed backer cards
Retro-style Terror Kitties puffy stickers - perfect for decorating your Trapper Keeper
Crocheted Terror Kitties mini dolls - fully poseable and 100% handmade by master stitcher and crochet expert Tales From the Stitch!
...plus more exclusive surprises yet to come!
NOTE: you can modify your pledge at any time to include more pins, sticker sheets or dolls!"
To learn more about the Terror Kitties 2 enamel pin collection, visit its official Kickstarter page.

---------
Red Band Trailer for HOMEWRECKER: "The critically acclaimed festival hit Homewrecker hits select theaters, digital and DVD this summer.
From Uncork'd Entertainment and Dark Star Pictures, Alex Essoe (Doctor Sleep) and Precious Chong (L.A Confidential) star in director Zach Gayne's "hilarious, dark view of modern loneliness" that has "the energy of a Jane Fonda workout tape" (Rotten Tomatoes).
Michelle is an interior designer and newlywed to Robert. Linda lives alone and fills her days with painting and exercise classes. Seeking a new friend, Linda coerces the reserved, deferential Michelle into visiting her home for a spontaneous interior design consultation. Once inside, it quickly becomes clear that Linda has something far more sinister on her mind than throw pillows.
Scripted by Precious Chong, Alex Essoe and Zach Gayne, Homewrecker is "a delightfully twisted tale of obsession that is full of surprises" (Cinema Axis) with "a pair of great lead performances at its center" (TheCriterionCast).
Homewrecker in select theaters June 26 and on digital/DVD July 7"
---------
Clips from THE LURING: "New York, NY -- Writer/director Christopher Wells has unleashed a new look at his unsettling feature debut, The Luring. The psychological thriller follows Garrett (Rick Irwin), a young man who returns to the scene of his childhood to confront a nightmare he can't remember yet has plagued his entire life. The filmmakers have released new clips from the feature ahead of its debut. Summer Hill Entertainment will release the film on Digital and DVD June 16th.
A veteran of surreal shorts, Wells directed and produced The Luring from his own script, alongside producer Brian Berg. Rick Irwin stars alongside Michaela Sprague, Molly Fahey and Dan Berkey.
Garrett tries to recover a lost memory that took place at his family's vacation home in Vermont on his tenth birthday, when he was found in a non-responsive state by his parents and institutionalized. But revisiting the past sometimes calls the darkness as well, and Garrett will soon learn that some memories are best left lost and buried forever.
The Luring will premiere on Digital and DVD June 16th."
----------
ArcLight Cinemas Announces Pop-up Drive-in Experience in Partnership with IFC FILMS' THE RENTAL: "ArcLight Cinemas will host a one-night only pop-up at the Vineland Drive-In movie theater. While ArcLight Cinemas' doors remain closed, the brand will bring its diverse film community together for a special advance screening of IFC Films' THE RENTAL the directorial debut of Dave Franco featuring an all-star cast including Alison Brie, Dan Stevens, Sheila Vand and Jeremy Allen White on Thursday, June 18th at 8:30PM. This will be an exclusive advanced screening prior to the film's July 24th release and will feature a live post-screening Q&A with Director Dave Franco. ArcLight selected this title as a celebration of independent filmmaking and chose the Vineland location in order to capture the magic and nostalgia of the classic drive-in experience. Moviegoers can expect to see some of their favorite ArcLight Hollywood staff and to receive a complimentary popcorn and signature ArcLight Caramel Corn to enjoy alongside the film.
"Given the current climate, now, more than ever, ArcLight continues to believe in the importance of community and the power of storytelling through film," said Vince Szwajkowski, Chief Marketing Officer, ArcLight Cinemas. "We are thrilled to be able to bring moviegoers together for this special experience."
"IFC Films is proud to join forces with the team at the ArcLight to present a special sneak screening of THE RENTAL at The Vineland Drive-In next week. Over the last few months, IFC Films has focused on the rich moviegoing tradition of drive-ins, which provide a safe and unique space to enjoy films right now. It's an utterly singular experience to watch films with an audience under the stars and we couldn't think of a more perfect film than THE RENTAL to celebrate the storied history of the Vineland Drive-In," said Arianna Bocco and Lisa Schwartz of IFC Films.
In THE RENTAL, two couples on an oceanside getaway grow suspicious that the host of their seemingly perfect rental house may be spying on them. Before long, what should have been a celebratory weekend trip turns into something far more sinister, as well-kept secrets are exposed and the four old friends come to see each other in a whole new light. Alison Brie, Dan Stevens, Jeremy Allen White, and Sheila Vand star in this unnerving and sophisticated debut thriller from Dave Franco (NEIGHBORS, IF BEALE STREET COULD TALK, THE DISASTER ARTIST).
Opened in 1955, Vineland is one of the longest running drive-in movie theatres in California and one of only two remaining drive-ins in Los Angeles County. For this special event, gates will open at 6:45PM. Showtime is at 8:30PM. Vineland Drive-In is located at 443 Vineland Ave., City of Industry, CA 91746, an approximately 30-minute drive from ArcLight Hollywood.
Each $55 ticket package includes entry for one car. There is no passenger limit for this event. A signature ArcLight Caramel Corn and a regular popcorn will also be complimentary. Vineland's concession stand will be closed for this event; however, moviegoers are invited to bring their favorite movie pairings with them.
Safety protocols will be in place in order to protect our guests, employees, and community. Each car must ensure that there is one space held between their car and the next.  Guests will be asked to practice social distancing at all times
Event tickets can be purchased at:
https://www.eventbrite.com/e/arclight-at-the-drive-in-tickets-109025865298 "
---------
A DEADLY LEGEND Acquisition: "Gravitas Ventures, a Red Arrow Studios company, announced today that the company has acquired North American rights to REMCYCLE MEDIA's A DEADLY LEGEND, which will be available on digital and On Demand on Friday, July 10th.
Joan Huntar, a real estate developer, buys an old summer camp. However, the property has a dark history of supernatural worship and human sacrifice. A celebration weekend turns deadly when construction uncovers the mythical Stonehenge of America. Deadly spirits are awakened and kill to gain control of this supernatural gateway.  Unable to escape, Joan and her family must fight for survival and defeat the spirits from beyond.
"We're excited about working with Gravitas on our upcoming release," said REMCYCLE MEDIA's Eric Wolf. "A Deadly Legend is a unique film that will keep you riveted. Its fast-moving story will surprise you with twists and turns and take you on a suspenseful, smart campy ride that pays homage to the horror greats of the past."
A DEADLY LEGEND, a REMCYCLE MEDIA Film, stars Kristen Anne Ferraro, Corbin Bernsen, Lori Petty and Judd Hirsch and is directed by Pamela Moriarty in her feature directorial debut. Eric Wolf wrote and executive produced the film, produced by Kristen Anne Ferraro.
Franklin Weinrib Rudell & Vassallo PC negotiated the film on behalf of the filmmakers. HIGH OCTANE PICTURES is serving as the film's international sales agent."

---------
BECKY Soundtrack: "Music.Film Recordings & Varèse Sarabande Records have digitally released the Original Motion Picture Soundtrack to the indie thriller Becky from director-duo Jonathan Milott and Cary Murnion (Bushwick, Cooties). The pulsing original score is composed by Nima Fakhrara, who is best known for his work on Detroit: Become Human and Crypto. The film was released on June 5th and is available On Demand and Digital, courtesy of Quiver Distribution.
Nima Fakhrara explains his process: "With this score, I took everything to its limits using children's musical toys, vocal screams, and deep vocal breathings to create the signature sounds you can hear throughout. I wanted Becky to feel like a superhero origin story, and for the audience to experience the emotions Becky feels throughout her journey. Directors Jonathan Milott and Cary Murnion kept pushing me to go wilder, and the score is the result of that."
Streaming/Purchase: