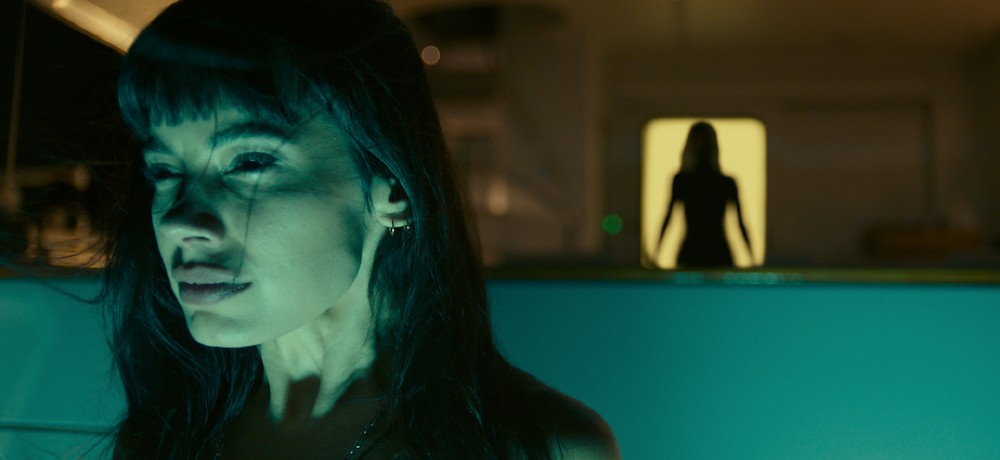 PRESENCE: "XYZ Films is proud to announce that Christian Schultz's PRESENCE will land on North American VOD on November 17th, following a thrilling festival run that included Popcorn Frights and Panic Fest.
After leaving New York after a mental breakdown, Jennifer (The Kominsky Method's Jenna Lyng Adams) is contacted by her best friend about good news concerning their joint business venture. Within the hour, Jennifer is boarding a private plane and walking down the dock to a billionaire's private yacht.
All seems well, except that Jennifer is plagued by violent, unsettling visions. Is her unchecked anxiety attempting to self-sabotage her once again... or has a sinister presence latched onto her?
Directed by Christian Schultz from a screenplay co-written with Peter Ambrosio, the film is produced by Donny Broussard, Thomas Johnston, Isaiah LaBorde, Murray Anthony Roth, and John Paul Summers. The ALLaBorde Films production stars Jenna Lyng Adams (The Kominsky Method), Dave Davis (The Vigil), and Alexandria DeBerry.
Says XYZ Films' EVP of US Distribution James Shapiro, "Presence is a smart and complex adult thriller that is perfect for date night. It'll have everyone at the edge of their seats and we're really excited to be partnering with Christian to get his film out to audiences!""
---
MINDCAGE: "In this spellbinding thriller, detectives Jake (Martin Lawrence) and Mary (Melissa Roxburgh) seek the help of an incarcerated serial killer named The Artist (John Malkovich) when a copycat killer strikes. While Mary searches for clues in The Artist's brilliant but twisted psyche, she and Jake are lured into a diabolical game of cat and mouse, racing against time to stay one step ahead of The Artist and his copycat."
DIRECTED BY
Mauro Borrelli
STARRING
Martin Lawrence
Melissa Roxburgh
John Malkovich
Robert Knepper
Aiden Turner
Jacob Grodnik
In Theaters and on VOD December 16th, 2022
----
DASH: "The crime-filled streets of Hollywood come alive as you've never seen them before in a groundbreaking, one-take thriller following Milly (Molina), a rideshare driver who leads a double life.
DASH follows Milly, your average everyday rideshare driver preparing himself for a night shift behind the wheel… by purchasing a massive amount of cocaine from a prostitute. On the perilous Hollywood streets, he attempts to sell the drugs to his unassuming passengers including: a homosexual thruple, some phone-obsessed gen Z'ers, and even an off-duty police officer.
His attempt to illegally fund his sinful actions takes a literal turn for the worse when he picks up a drug addict going through severe withdrawal. Desperately trying to take his nefarious, double-life to the grave, he continues on, only to keep digging a deeper grave for himself."
Written and Directed by: Sean Perry (The Homebodies, Saturday Night Live)
Country of Origin: USA
Language: English
Genre: Thriller
Distributor: XYZ Films
Run Time: 110 minutes
Cast: Alexander Molina (Evil, Afternooner), Shah Granville (upcoming Dark Arrows), Monette Moio (The Real Bros of Simi Valley, Midnight Texas, Insecure), Paige Grimard, Audra Alexander (All You Need is Me)
AVAILABLE ON VOD & DIGITAL ON NOVEMBER 29, 2022