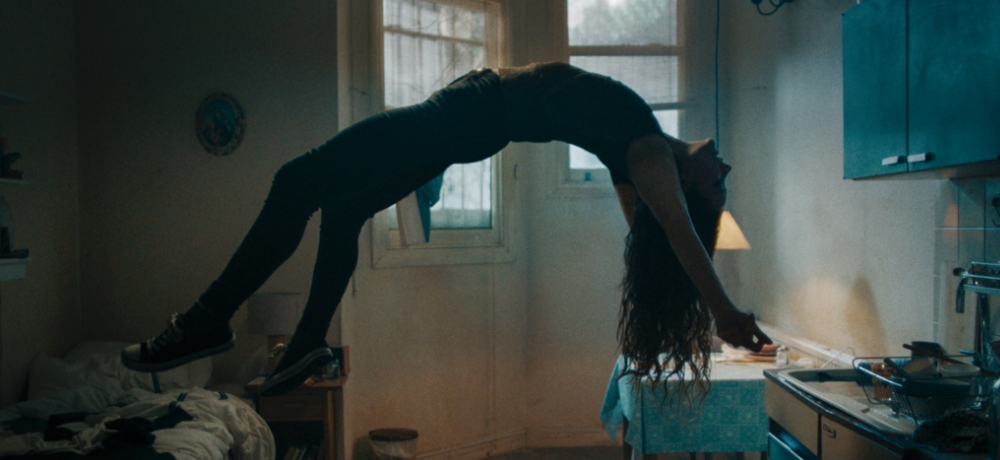 SAINT MAUD: "Experience the terrifying film that Esquire calls "a mesmerizing horror masterpiece" when Saint Maud arrives on Blu-ray™ (plus Digital) and DVD November 30 from Lionsgate. Saint Maud stars Morfydd Clark (Crawl, TV's "His Dark Materials," "Dracula") and Jennifer Ehle (Zero Dark Thirty, Vox Lux, TV's "The Looming Tower"). Saint Maud will be available on Blu-ray™ + Digital and DVD for the suggested retail price of $17.99 and $14.98, respectively.
OFFICIAL SYNOPSIS
The debut film from writer-director Rose Glass, Saint Maud is a chilling and boldly original vision of faith, madness, and salvation in a fallen world. Maud, a newly devout hospice nurse, becomes obsessed with saving her dying patient's soul — but sinister forces, and her own sinful past, threaten to put an end to her holy calling.
BLU-RAY / DVD SPECIAL FEATURES
Audio Commentary with Writer-Director Rose Glass
A Higher Calling: The Rapture of Saint Maud"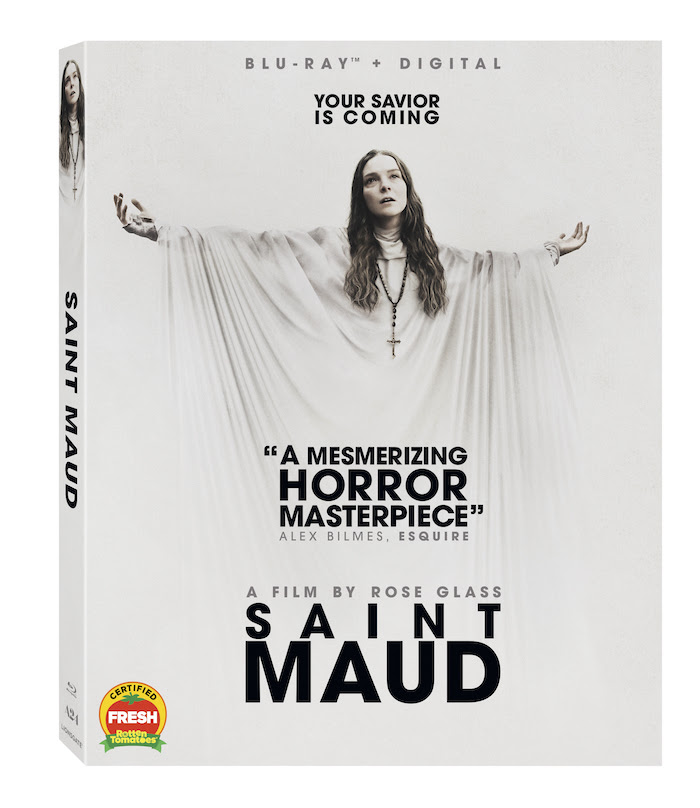 ----------
LAIR: "Synopsis: When Ben Dollarhdye is accused of murder, saying he was possessed by a demonic force, Steven Caramore investigates his friend's claims, setting off a chain of events that forces a young family into a terrifying battle for survival.
LAIR, which was completed in January 2021 during the global pandemic, is the feature debut from London-based writer/director Adam Ethan Crow following a series of celebrated and award-winning short films. The film is produced by ex-Fox VP Shelley Atkin, with an original score from Mario Grigorov (Fantastic Beasts) and SFX from Emmy-winning and Oscar-nominated Tristan Versluis.
A new twist on the classic haunting horror formula punctuated with strong female leads and inclusive, LGBTQ+ storylines, LAIR stars Alana Wallace, Kashif O'Connor, Corey Johnson, Oded Fehr, Anya Newall, Alexandra Gilbreath, Aislinn De'ath, and Sean Buchanan. The film World Premiered at FrightFest and screened at Salem Horror Fest this month."
LAIR is available on digital and VOD platforms in North America on Tuesday, November 9th
---------
NIGHT RAIDERS: "Samuel Goldwyn Films will release the sci-fi thriller NIGHT RAIDERS in Theaters, on Digital and On Demand on November 19, 2021.
NIGHT RAIDERS is written and directed by Saskatchewan-born Cree/Métis filmmaker Danis Goulet who received the TIFF Emerging Talent Award at this year's Toronto International Film Festival.  The film is executive produced by Oscar® winner Taika Waititi (Jojo Rabbit, "What We Do in the Shadows").
NIGHT RAIDERS stars Elle-Máijá Tailfeathers (Blood Quantum, The Body Remembers When the World Broke Open), Brooklyn Letexier-Hart ("Burden of Truth"), Gail Maurice ("Trickster"), Amanda Plummer ("Ratched" Pulp Fiction), Alex Tarrant ("NCIS: Hawai'i"), Violet Nelson (The Body Remembers When the World Broke Open), Shaun Sipos (Texas Chainsaw), and Suzanne Cyr ("Suits").
SYNOPSIS: A mother joins an underground band of vigilantes to try and rescue her daughter from a state-run institution."
---------
THE LOCKDOWN HAUNTINGS: "With the streets empty, free from activity of humans and machines, it is not just nature that takes advantage of global lockdown times. A notorious serial killer is back from the dead, with more potential victims than ever before."
Genre: HorrorVOD Release Date: October 19th, 2021
Written and Directed by: Howard J Ford
Cast: Tony Todd, Angela Dixon & Heather Peace
Distributor: Alliance Entertainment