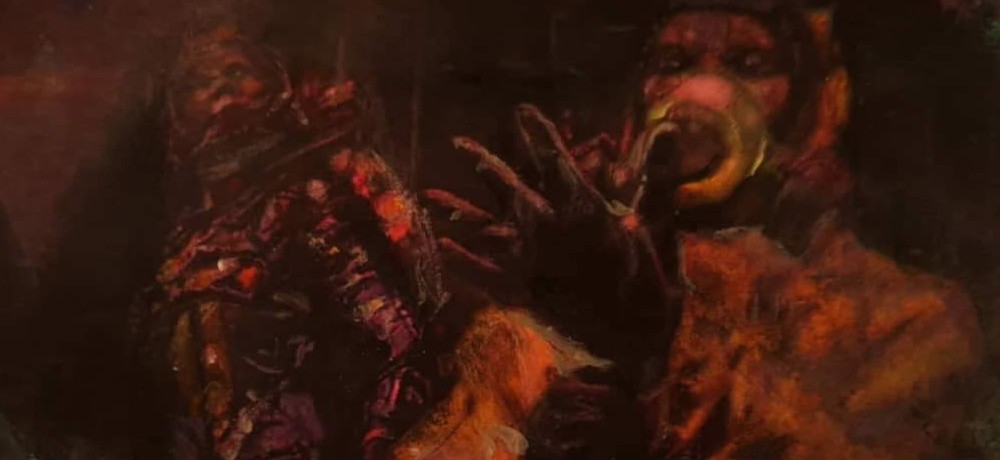 Launching this fall: SHOOK! A BLACK HORROR ANTHOLOGY: "Coming to Kickstarter November 1st, a dream team of Black comic writers presents a first-of-its kind horror anthology featuring stories from the biggest collection of award winning and  nominated Black creators in the comics industry. 
Recently announced by CEO of Second Sight Publishing, Bradley Golden, a joint venture  between his company and John Jennings Studio, LLC will be launched on the Kickstarter  platform in November. The venture, a 160 page horror anthology entitled SHOOK! A BLACK  HORROR ANTHOLOGY will feature some of the top Black writers in comics today, and is the  dream child of not only John Jennings, but Second Sight Publishing COO and Collection Editor  for the project, Marcus H. Roberts. Roberts states, "I remember the feeling I got when the first  Dream Team was announced" (referring to the original team of NBA players put together to play  in the Olympics) "and I felt like the Black comics community deserved their own version of such  a great team."  
"I've always wanted to do a Black horror magazine which would have interviews, short stories,  etc', says Jennings. One of the writers joining the super talented line up, Jennings states further,  "I've had my story ready since 2004, I have just been waiting on a publication such as this". "The lime up represents the largest collection of Glyph Comics Award winners and nominees to  ever be featured in a publication", confirms Yumy Odom, Founder and President of the East  Coast Black Age of Comics Convention (ECBACC) which sponsors the Glyph Comics Awards,  which recognizes the best in comics made by, for and about people of color.  
The heavy weight line up of writers include: 
∙ Rodney Barnes- Eisner Award nominee (Killadelphia) 
∙ Kevin Grevioux- Eisner Award nominee (Brothers Bond)  
∙ David Walker- Multiple Eisner Award Winner (Bitter Root, Black Panther Party), Eisner  Award nominee (Naomi); Glyph Comics Award winner (Shaft) 
∙ Alverne Ball- 2 time Glyph Comics Award winner (One Nation #1, One Nation: Old  Druids); Luminarts Graphic Novel Writing Award 
∙ Marcus H. Roberts- 2 time Glyph Comics Award nominee (The Protector, Hedge  Hollow) 
∙ Bradley Golden- Glyph Comics Award nominee (Leave on the Light) 
∙ John Jennings- 2 time Eisner Award winner (Kindred, The Blacker the Ink) 2 time Eisner  Award nominee (After the Rain, Parable of the Sower, Hugo Award winner (Parable of  the Sower), Ignyte Award winner (Parable of the Sower), Bram Stoker Award winner  (Kindred), 2 time Glyph Comics Award winner (The Hole: Consumer Culture, Blue  Hand Mojo) 
Also included along with the stellar cast of writers is newcomer and first time comic book  contributor Evan Parke. Evan, as fans may remember, starred in the 2005 remake of the classic  King Kong, and had a role in 2014's, Captain America and the Winter Soldier. 
The main cover for the anthology will be done by superstar artist Canaan White and features the  talents of such artist as Eisner and Glyph Comics Award winning artist David Brame among  others."
The Kickstarter goes live Nov 1st and will run for 30 days.. Click on link to learn more and to be notified when the Kickstarter officially launches: https://www.kickstarter.com/projects/1513753746/shook-a-black-horror-anthology"
---
MISTY GRAVES' BOOK OF FATES: "A new, creator-owned, full-color, 45+ page HORROR ANTHOLOGY COMIC from writer & artist Misty Graves (Co-creator of holiday horror comic X-Maschina) featuring artists Elena Morton, Old Goat Easel Works, and Delia Gunderson, with cover art by Little Paper Boats and Poster art by Jim Terry.
THE HUMAN WORLD IS ON THE BRINK OF DESTRUCTION.
THE ERA OF THE WORMS...  ..IS ARRIVING.
BUT THEN- MISTY GRAVES FINDS THE BOOK OF FATES... ..AND GAINS THE POWER TO WARN PEOPLE OF THEIR DREADFUL DESTINIES BEFORE THEY HAPPEN.
CAN HER FRIGHTENING FORETELLINGS CHANGE THEIR FUTURES... ...OR SAVE HERS?
BUGS AND KISSES
Misty Graves' Book of Fates was inspired by 1940's - 1970s Golden and Silver Age horror anthology titles like Tales From the Crypt, The Witching Hour, and Ghostly Haunts! This time, both the host and her book have stories to tell...
MISTY'S STORY
Misty is riding out the last few days of life on earth at her favorite place - the antique store - when she finds an ancient, magical book that gives her the power to visit any chapter in the history of the world, ensnare anyone with her hypnotic gaze... and potentially...change any fate!
Can Misty figure out how to use this book to save her world from certain doom?
"I am absolutely smitten with horror comics from the golden and silver ages… My goal was to keep the spirit of those classics alive. The stories in this book are for a modern audience, but the sense of humor and even some of those beloved retro visual elements are still there. I want the readers of this book to have fun, be entertained, and hopefully- get a little bit spooked!" - Misty Graves
Follow This Project On Kickstarter Today! Stay tuned for the launch on Halloween!"
To follow the project and learn more, visit: https://www.kickstarter.com/projects/m1stygraves/misty-graves-book-of-fates
----
Q&A: Composer Émoi Discusses Creating Music for Screen Media's The Accursed
In horror films, does anything ever good happen while staying at a remote cabin in the woods? The short answer, no.  This is the premise of Screen Media's latest horror film, The Accursed, starring Mena Suvari, Meg Foster, Sarah Dumont and Sarah Grey. The official synopsis reading: Elly (Grey) is asked by a family friend (Suvari) to look after an elderly woman (Foster) living in a remote cabin for a few days. She agrees, but soon discovers there is a demon hiding in the woman just waiting to break free.
We conducted the below Q&A with Émoi and had him discuss everything from the songs he did vocals for in The Accursed to collaborating with director Kevin Lewis. 
The Accursed is now available on VOD.
-When you begin working on a new film, what is one of the first things you do?
Typically, a composer boards a film when there's a locked cut - meaning the edit of the film is not going to change. In both cases for me (The Accursed and Willy's Wonderland) I had the unique opportunity to come aboard before they even started filming; because both films required music that would be used within the film. So the first thing I did in both cases was read the script, then conduct a very in-depth discussion with the director (Kevin Lewis) about his vision and approach. I then sat at the piano and started finding ideas that matched what I was envisioning in my head.  After that, I fired up the computer and started sculpting tones and instrumentation, building out templates, creating mock arrangements, and waiting patiently for the rough edit assemblies to start coming in.
-How did you begin to write the music that serves the story in The Accursed?
I'm a firm believer that the film writes the music. The composer is a conduit between mediums. So to serve the story, you start by paying great attention to what is going on - the performances, the colors, the environment, etc. And then you let your hands find the notes that resonate with the picture. When you find the right notes, you'll know, because you can feel the synergy between the music and the picture.
-You have said that the opening and closing of a film are the most important, score wise. Because of this, do you spend a lot more time on these two sequences?
Yes and no. I spend a lot of time thinking about how to make the opening and closing of a film as impactful as possible, but that doesn't necessarily mean the writing will be the most complicated. In fact, often times, openings and closings can be quite sparse and simple. For instance, in The Accursed, the opening music is choir with solo strings. Where I spent a lot of time was in finding the right emotion; figuring out how to set the tone of the film to convey depth and tragedy. On the other hand, in the shower sequence, the arrangement is much more of an obvious direction- it's a standard in-your-face confrontation piece. So I spent minimal time conceptualizing, but lots of time writing the intricate arrangement of it.
-You have worked with director Kevin Lewis a few times now. Why do you think you have such a great partnership?
Kevin and I both have very open minds, as well as very similar tastes in both film and music — so we are almost always on the same page, and that is extremely important to a productive workflow.
-Were there any scenes in The Accursed you scored that didn't make it into the final cut? Can you talk about those and the music you created for them?
In the opening scene, there was originally music over Ms. Ambrose's dialogue, "He is real. He is imagined. He is stationed at the seal." Kevin wanted that scene to feel very serious, so he decided to remove all music and sound effects, making it dead quiet except for her lines. It was a great call, and it really gave weight to her dialogue and what was happening in the scene. 
-You have mainly scored horror projects. Was this on purpose?
Before I got into feature films, I scored hundreds of commercials. Commercial music is almost always aspirational/optimistic/cheerful, but macabre is in my DNA - big time - and it's something I'm extraordinarily passionate about. So I have always felt that if I was going to take on something as ambitious as scoring a feature film, then I would have to be writing in a style that comes from the heart and is very naturally to me. 
-Can you talk about the song with vocals you created for the film? How did you find the vocalist?
I created two songs with vocals for The Accursed. The first is "You Are My Baby Girl", which was written in a 50's style and is the theme of Elly and her mother's twisted relationship. The singer of that song is a good friend of mine named Sydney Ember. I always wanted the opportunity to work with her because she is so talented, and has amazing energy and dedication in everything she does. It was an amazing experience. The second song is "Alone I Wait" which is a song Elly plays from Dorothy Ambrose's record collection. That one was written in a 90's fashion and I sang that one.
-Do you have a go-to signature sound that you find gets you the job?
It all really depends on what the film calls for. I think you can have a go-to signature sound - but it will be the go-to signature sound of just that particular film. When I think of signature sounds, I think of patterns and approaches. For instance, no matter what instrument you give me, my brain is wired in a certain way to make certain choices that are unique to how I think and what affects me emotionally. Each composer has their own unique patterns of doing things. I think that's what creates a signature style. Which is why it is so important in life to never try to adopt to another person's style. If you do, then you are likely losing the most effective tool you have in your arsenal - your instinct. Every musician is inevitably inspired by the music they grew up listening to, and that's ok, because every artist that ever lived is an amalgamation of those who came before them. Always be yourself, and whatever happens after that will be magic.
-Has there been a recent horror film score that has particularly stuck out to you?
I would consider 'Blonde' to be a horror film, and the score Nick Cave and Warren Ellis did was very haunting. Their score really augmented the chaos, and the disturbing, unsettling nature of the film. It helped make that whole world feel like a very bad dream. And at the same time, it had great beauty. That approach is very reminiscent of Angelo Badalamenti's score on the Twin Peaks series. Which is one of my favorite scores of all time. 
-Any parting words you would like to say to horror fans out there?
Willy Weasel says "Have an amazing Halloween season kids!"