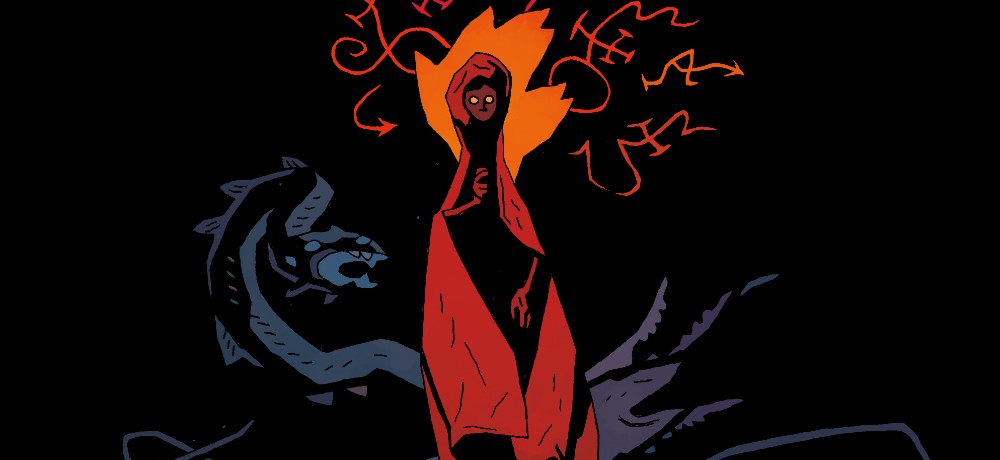 Dark Horse Comics to Publish Sir Edward Grey: Acheron, The Next Chapter in the Hellboy Universe: "For the first time in five years, legendary Hellboy creator Mike Mignola is both writing and illustrating a full length comic book, one which provides the next chapter in the fabled Hellboy Universe. Titled Sir Edward Grey: Acheron, the one shot story is set following the events of B.P.R.D.: The Devil You Know, in which the Bureau for Paranormal Research and Defense managed to fight off the monsters on earth long enough for humanity to barely escape underground. The story is Mignola's first full length comic book since Dark Horse Comics published Hellboy in Hell in 2016; here he reunites with award-winning colorist Dave Stewart, as well as letterer and longtime collaborator Clem Robbins. Dark Horse Comics will publish Sir Edward Grey: Acheron this winter, featuring a main cover by Mignola and Stewart and a variant cover by acclaimed artist Ben Stenbeck and Stewart.
"I've been saying I've been semi-retired for years, but I keep coming up with new stories anyway" said Mignola. "In Sir Edward Grey: Acheron, Hellboy is dead and gone and the B.P.R.D. are underground. And so it turns to Edward Grey to return to Hell to confront a familiar foe and finish what needs to be done to truly save the world."
"The mysterious Edward Grey has long been in the shadows of the Hellboy Universe," said Katii O'Brien. "The Victorian occult detective's ghost made repeated appearances in Hellboy in Hell, but now he's front and center. If the original weird investigator can't save the world, no one can."
Sir Edward Grey: Acheron will be published by Dark Horse Comics on December 1, 2021. For more information about the Hellboy Universe, follow Dark Horse Comics on Twitter, Facebook and Instagram."
-----
LOUNGEFLY CELEBRATES THE SPOOKIEST TIME OF YEAR WITH LATEST HALLOWEEN COLLECTION: "Loungefly, the fan-forward lifestyle brand from Funko, Inc. ("Funko," or the "Company") (Nasdaq: FNKO), announced a festive lineup of Halloween fashion accessories from the season's most iconic films and franchises. Fans can pick from a variety of seasonal favorites, including Hocus Pocus, The Nightmare Before Christmas, Beetlejuice, Friday the 13th, Child's Play, Halloween II and classic Universal Monsters, and celebratory accessories featuring beloved Disney characters Mickey Mouse, Minnie Mouse and Stitch.
For the first time ever, Loungefly honors horror titans from Halloween II, Friday the 13th and Child's Play, in addition to classic Universal Monsters. Inspired by last year's wildly popular Mickey Mouse Glow-in-the-Dark Ghost design, the 2021 lineup now features a Minnie Mouse version, as well as a fan-favorite mini backpack with Mickey ear storage.
Available on Loungefly.com, the full signature collection includes mini backpacks (MSRP: $80.00) and wallets (MSRP: $40.00) for fans to flaunt their favorite styles at Halloween haunts. Made with Loungefly's high-quality and durable vegan leather (PU), the collection features brand new designs, custom linings and signature Loungefly logo metal plaque on each item. No matter how fans celebrate Halloween, the latest collection has something for every ghost and ghoul.
The Loungefly brand intricately designs backpacks, wallets, totes and crossbody bags to apparel, collectible enamel pins and other small accessories to tell wearable stories inspired by the most beloved properties in the world. Crafted with care and precision - leaving no detail overlooked - fans find value in every stitch as bag zippers to printed linings showcase their authentic passion for the fandom that they proudly wear.
Since becoming part of the Funko family in 2017, Loungefly has also expanded with Stitch Shoppe, the brand's first high-end apparel line that launched in 2020 to promote body positivity (offers sizes XS to 4XL), and Loungefly Apparel, a casual apparel line for fans, in May 2021.
Get inspired and stay up-to-date with the latest Loungefly products and trends by following the brand on Facebook, Instagram and Twitter at @Loungefly."
To learn more, visit: https://www.loungefly.com/
----------
THE LONDON HORROR FESTIVAL 2021: "The UK's original and largest festival of live horror performance is celebrating its tenth anniversary edition.
The London Horror Festival was spawned in 2011 with the aim of championing the genre on stage, and in 2021 it returns with more in-the-flesh frights and continues to demonstrate that horror has well and truly proven its worth with theatre audiences.
The festival will take place at two accessible venues, re-joining forces with The Pleasance Theatre in Islington, and expanding its reach down to the Isle of Dogs as it welcomes The Space, a former gothic church turned theatre, as a suitably spooky new host venue.
With support from sponsors Royal Ten Clothing, The Scent Coven, Dean of the Dead, and Sonar Red Music, the festival presents 28 spine-tingling productions and over 60 performances across two weeks, including both in-person and online events, finishing on the annual holy grail of the spooky season: Halloween.
This year's edition includes a number of world premieres, as well as critically-acclaimed productions and award-winning companies, adopting a variety of performance styles from artists at all levels of their craft.
The festival launches on The Pleasance Main Stage on the 18th October with its annual playwriting competition presented by Danse Macabre Productions and hosted by Fred Strangebone, where three finalists battle it out with plays written to the theme Your Worst Nightmare. Winner of the 2019 Queer Horror Playwriting Competition and HallowQueen Lady Aria Grey returns the following night with the haunting Grey Widow.
The macabre carnival of creativity creeps across the city to take over The Space from the 19th October, where audiences can expect to meet unhinged characters from Edgar Allan Poe's most terrifying tales in Threedumb Theatre's captioned performances of One Man Poe, the ghost of the man who inspired Dracula – Henry Irving – in James Swanton's Irving Undead, and even find themselves trapped inside an abandoned immersive show, surrounded by actors who have well and truly lost their minds, where they must desperately find some way to Stop It.
LGBTQIA+ stories thrive in all forms, from cosmic romantic comedy SUCKER 4 U by Reece Connolly, to cabaret, drag, clowning, ventriloquism, and a new stage play from Distracted Rat Productions: To be a bat by Ariella Como Stoian, centring on a queer coming of age story fractured by loss.
If it's psychological bone-chillers you're seeking, Miranda's Barrett's new one act play Birdwatching presented by Anarchy Division is an account of gendered violence that is bound to disturb its witnesses to the very core, and Adwoa-Alexsis Mintah Presents Gabrielle MacPherson's Offie-nominated Outside: a gruesome revenge tale of a woman who has slipped through the cracks of society that will prey on your mind for some time.
There's ghost stories galore with Spirit Box by George Rennie and Sarah Gain Productions, a two-hander exploring digital identities and isolation, and David Alnwick's part play, part magic show – Nightmare Magic – combines supernatural findings with elements of cosmic horror.
Feminist figures from the past come screaming back into the spotlight as Frankenstein's author is resurrected by House of Macabre in a comedy-punk-rock retelling of her life, Mary Shelley: Muthamonster, and Catherine Montvoisin – the professional poisoner and suspected sorceress – lives again to tell her tale in Paprichoo's La Voisin.
Online offerings include selected livestreamed shows and an immersive audio experience – Blind by Ryots Productions – that will unsettle audiences far and wide via their headphones, using binaural sound and sensory effects, while they sit at home in a dark room.
Join fellow thrill-shriekers this spooky season and envelop yourself in dazzling live horror entertainment as you count down the days to Halloween.
www.londonhorrorfestival.co.uk"
---------
JENNIFER HILLS RETURNS WITH A VENGEANCE IN 4K THIS HALLOWEEN: "In 1978, one film changed the face of cinema forever. Now, 43 years later, the original and notorious I SPIT ON YOUR GRAVE (aka Day of the Woman) is back and still refusing to be buried! In this new limited edition 4K UHD 3 disc set, you can re-experience the phenomenon that shocked and divided the world - and influenced an entire genre and generation of filmmakers - in Ultra High Definition. Featuring a brand new 2021 4K HDR Remaster done by Ronin Flix on 4K Ultra HD Blu-ray, the 2020 4K scan and restoration of director Meir Zarchi's uncut 35mm original camera negative and restored original mono soundtrack including Joe Bob Briggs and Meir Zarchi commentary on Blu-ray, a bonus Blu-ray including the feature length documentary Growing up with I Spit on Your Grave (2019) and all of the historical Ronin Flix special features, this landmark 4K Ultra HD set belongs in every cinephiles collection."
To learn more and purchase, visit: https://roninflix.com/