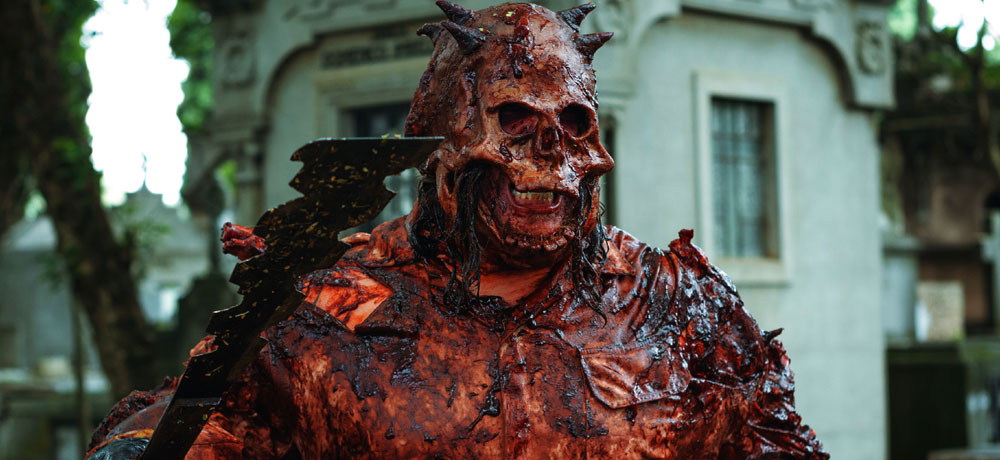 We're back with another edition of Horror Highlights! In today's installment: Brazilian horror at CFF, details on quarantine-filmed The Dark Offerings, and first word on an upcoming Christmas-themed slasher:
SKULL: THE MASK and THE PANDEMIC ANTHOLOGY at CFF: "Brazil's Fantaspoa Fantastic Film Festival not only celebrates the boldest and best in weird world cinema, they also produce it! That's right, South America's biggest genre festival makes movies, too!
And a double-header of Fantaspoa Productions' latest will be celebrating their World Premieres at this weekend's digital edition of The Chattanooga Film Festival - happening Friday, May 22nd through Monday, May 25th. These films, as well as dozens of others, will be available to watch at any time while the festival is happening.
Additional details, ticket info, and more can be found at www.chattfilmfest.org
First up is the creature feature/slasher hybrid SKULL: THE MASK, from directors Armando Fonseca and Kapel Furman. In the year 1944, the military attempts to use The Mask of Anhangá, the executioner of Tahawantinsupay, a Pre-Columbian God. The experiment fails. In the present day, the Mask arrives in Sao Paulo, possesses a human body, and begins to commit insanely violent sacrifices in the name of its God, initiating a city-wide bloodbath. Policewoman Beatriz Obdias is in charge of the crimes, and is forced to challenge her beliefs as she hunts down this supernatural killer who is painting every corner of the city red.
Also World Premiering is THE PANDEMIC ANTHOLOGY, a thirteen-part omnibus made out of creepy short films submitted to Fantaspoa's recent "Fantaspoa at Home" filmmaking competition. Each terrifying segment, conceived and shot while social distancing, embraces an amazing "can-do" spirit that proves, even while quarantined, creativity is a monster that will never die."
-------
Poster & First Details on THE DARK OFFERINGS: "My name is Marcus Slabine and I am reaching out to you regarding our new film THE DARK OFFERINGS. TDO is the FIRST legit socially distant virtual quarantined shot feature that abides 100% by all social distancing guidelines. We have casted some genre favorites such as Felissa Rose (SLEEPAWAY CAMP, VICTOR CROWLEY), Terry Alexander (George A. Romero's DAY OF THE DEAD), Tamara Glynn (HALLOWEEN 5: THE REVENGE OF MICHAEL MYERS) Shawn C. Philips (GHOST SHARK, DEAD ANT), Eileen Dietz (THE EXORCIST) Michael Leavy (TERRIFIER, FEAR CLINIC, PENANCE LANE), Jason Leavy (ABNORMAL ATTRACTION, TERRIFIER)  and so many more.
I am wondering if you could do an article on our film THE DARK OFFERINGS to help get it out there. Our goal is to spread some positive and exciting news out there as opposed to all death and horrible things circulating. We want to bring joy to people's threads and give the horror community something to look forward to and an entertaining distraction from the real world.
I'm an award winning filmmaker who's latest film THE LAST CALL has been touring film festivals and winning awards and gaining praise for the past year which also stars Terry Alexander and Lori Cardille (DAY OF THE DEAD) I have been a life long horror fan since I first saw Army of Darkness in the theaters. I've been making films almost all of my life and have a passion for telling stories and creating worlds.  I also have a non horror feature coming out called NICK AND NICKY starring Sean Young (Blade Runner) and am directing THE DARK OFFERINGS as well as being one of the writers
This script was written together with Elizabeth Piper S. who is an award winning actress, producer and special effects make up artist/beauty make up artist who has worked on shows and films like EVIL, ORANGE IS THE NEW BLACK, THE ENEMY WITHIN and THE LAST CALL. She has her own line of FX Blood product called CINE BLOOD: TYPE O (That comes out of everything!) Which can be seen in films like EVIL, BURN, ALTERSCAPE, and the new Barbara Crampton film JAKOB'S WIFE. We both set out to prove that just because the industry is shut down, doesn't mean our creativity has to as well.
I've attached our poster as well as the cast list and plot synopsis here and will gladly send any other information you require to post. We truly appreciate any help we can get to get this out there!
The Dark Offerings (2020)
Cast: Elizabeth Piper S.(The Last Call) Clifton Dunn (The Paper Store), Felissa Rose (Sleepaway Camp, Victor Crowley), Terry Alexander (Day of the Dead, Conspiracy Theory), Paul Sheehan (SuperCapitalist, 4 Assassins), Michael Leavy (Terrifier, Penance Lane) Jason Leavy (Abnormal Attraction, Terrifier) Lydia Kalmen, Tina Nikolova, Benjamin Frankenberg (Living with the dead) Eileen Dietz (The Exorcist), Shawn C. Phillips (Ghost Shark, Dead Ant) and Tamara Glynn (Halloween 5: The Revenge of Michael Myers) 
Plot Synopsis: Sophia Hapgood is thrust into a horrifying world after her brother James brings her into a fatal situation. He passes a demon to her that she must spread to others within 6 days or else they both die. Sophia must make a choice to save her brother or find a way to end the curse in the this terrifying film called The Dark Offerings"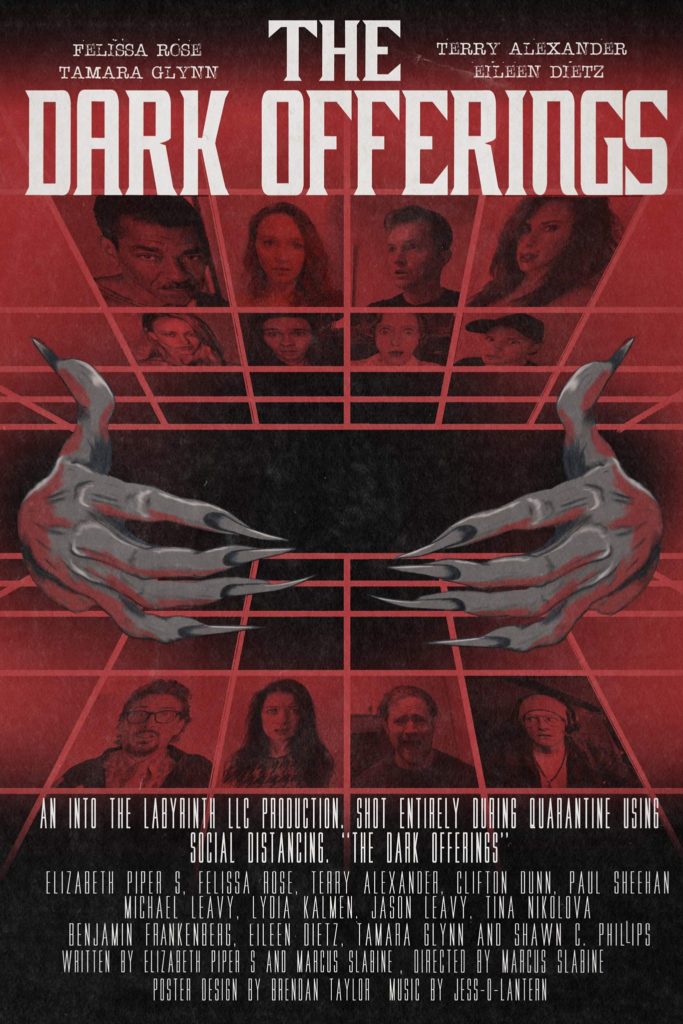 -------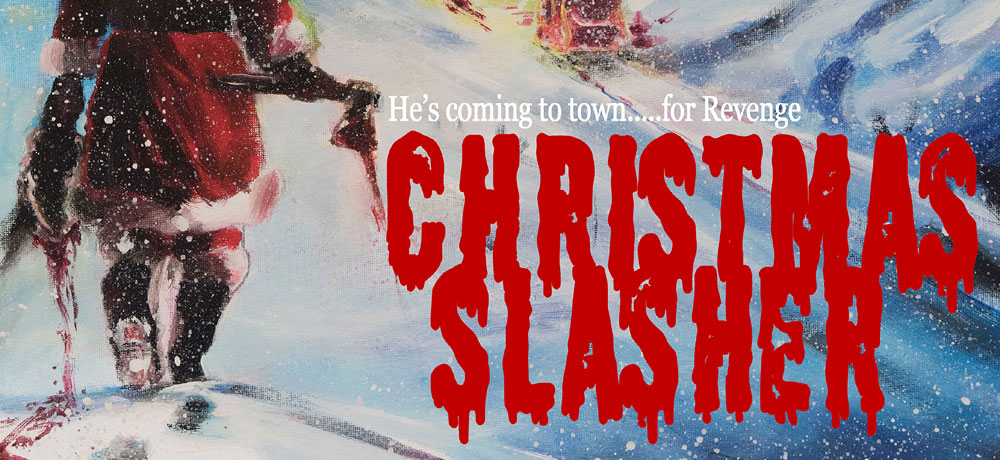 First Details on CHRISTMAS SLASHER: Destiny Soria with Lady Destiny Productions is working on Christmas Slasher, a film she has written, will be directing and also stars in. We have first details on the project, which includes Andrew Kai and Felissa Rose:
"Up and coming film company, Lady Destiny Productions is set to release their first official film, and it has just been upgraded to a feature.  The Christmas Slasher is currently in production.
The Christmas Slasher brings a horror twist to classic characters including Santa Claus, Rudolph, and Mrs. Claus while also adding a psychological element into the mix. The main character, Alita Claus, becomes not only the sole witness but also a murder suspect and the audience are left questioning exactly how much of what they see is real.
When a group of college decide to spend Christmas break in the woods, at an old childhood hangout, they have no idea that this may be their last Christmas. As Alita Claus and her friends settle down for a weekend of hunting, drinks, and games, things quickly go awry. 
Not only is there a murderous zombie reindeer on the loose. But someone has angered Mr. and Mrs. Claus and now, the jolly couple who bring the spirit of Christmas to millions are out on a murderous rampage- with the entire group on the hit list. Can Alita save her friends before it's too late? 
The Christmas Slasher is set to be released before Christmas 2021 and, with some luck, the film will be available to enjoy just in time for some holiday chills."