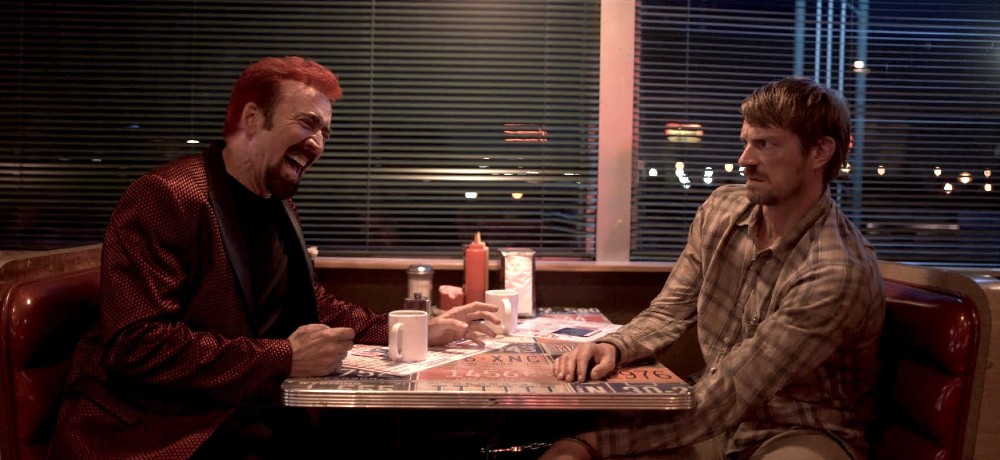 RLJE FILMS NABS THE PSYCHOLOGICAL THRILLER "SYMPATHY FOR THE DEVIL": "RLJE Films, a business unit of AMC Networks, has acquired the North America, UK, Ireland, Australia and New Zealand rights to the psychological thriller, SYMPATHY FOR THE DEVIL from Christian Mercuri's Capstone Global, which is handling worldwide sales for the film. 
Directed by Yuval Adler (Bethlehem, The Operative), SYMPATHY FOR THE DEVIL is the feature screenwriting debut of Luke Paradise.  It stars Nicolas Cage (Mandy, The Unbearable Weight of Massive Talent) and Joel Kinnaman (The Suicide Squad 1 & 2, Silent Night). The film will be released on July 28, 2023.
"This is our eighth collaboration with Nicolas Cage, which includes MANDY - a critically-acclaimed film that has a huge cult following," said RLJE Film Chief Acquisitions Officer Mark Ward.  "Once again, he doesn't disappoint.  In this film, Cage and Joel Kinnaman bring to life a suspenseful tale on screen that will keep audiences guessing."
In SYMPATHY FOR THE DEVIL, after being forced to drive a mysterious passenger at gunpoint, a man finds himself in a high-stakes game of cat and mouse where it becomes clear that not everything is at it seems.
Cage also produced the film along with Alex Lebovici (Barbarian), Allan Ungar (Bandit) and Stuart Manashil (Pieces of a Woman).  It is executive produced by Paradise, Christian Mercuri (Out of the Furnace), David Haring (The Old Way), Marc Goldberg (Final Score), David Sullivan (The Rise of the Krays), Tim Moore, Jason Soto, Courtney Chenn (Come Away) and Waylen Lin (Bill & Ted Face the Music).
Ward negotiated the deal with Mercuri's Capstone Global on behalf of the filmmakers."
---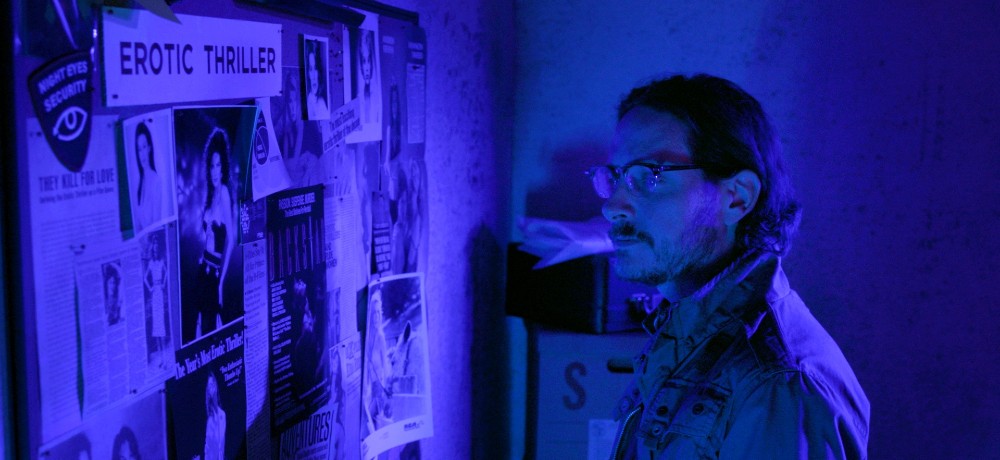 Yellow Veil Pictures Acquire Erotic Thriller Doc WE KILL FOR LOVE Ahead of Overlook Film Festival Premiere: "Yellow Veil Pictures has announced that they have acquired worldwide rights for the erotic thriller documentary We Kill for Love ahead of the world premiere at the Overlook Film Festival. The company is planning a domestic release later this year and will represent the film for international sales with a launch at the upcoming Marche Du Film this May.
Written, produced, and directed by Anthony Penta, the doc goes in search of the lost and misunderstood world of the direct-to-video erotic thriller, an American film genre that once dominated late night cable television and the shelves of neighborhood video stores.
Balancing film art with scholarship, We Kill For Love pulls back the curtain to reveal the heart and soul of a forgotten and often maligned film movement.
Joe Yanick Co-Founder of Yellow Veil Pictures said: "We Kill For Love is a home run for erotic thriller fans. It's one of the most in-depth looks at genre cinema and serves as more than just a love letter but pushes the conversation and spotlights films that have often often lost out to their more glamorous theatrical counterparts.
Director Anthony Penta shared, "We Kill for Love is part film essay, part documentary, and part casefile. It's a record of my prolonged investigation into a forgotten but once lucrative film movement -- the direct-to-video erotic thriller -- as well as a fantasia on its themes. For six years I tracked down the prime suspects of these films and I recorded their stories. I travelled the country to interview the academics and film writers whose books and articles explored its mysteries. I'm very happy to be partnering with Yellow Veil Pictures on the release of this film, and I'm sure it will serve as a permanent monument to not only a lost film subgenre, but a bygone era of American cinema."
We Kill for Love stars filmmakers Andrew Stevens, Jim Wynorski, Fred Olen Ray; film stars Monique Parent, Amy Lindsay, Kira Reed Lorsch; film scholars Linda Ruth Williams, Abbey Bender and more. Yellow Veil Pictures will present the film for international buyers at the Marche Du Film later this year."
---
KNOCK AT THE CABIN arrives on Digital March 24 and 4K, Blu-ray™ and DVD May 9: "Critically acclaimed filmmaker M. Night Shyamalan returns with his seventh #1 movie debut, KNOCK AT THE CABIN, yours to own on Digital March 24 and 4K Ultra HD, Blu-ray™ and DVD on May 9 from Universal Pictures Home Entertainment. Based on the book "The Cabin at the End of the World" by Paul Tremblay, the suspenseful apocalyptic thriller is "a relentlessly gripping winner" (The Playlist) that "commands your attention at every reveal" (Comicbook). KNOCK AT THE CABIN comes home with more than 40 minutes of exclusive bonus content, including deleted scenes and featurettes that dives deep into the film's layered and multi-dimensional themes, Shyamalan's visionary filmmaking process, and more.
KNOCK AT THE CABIN is a thriller about a tight-knit family who are taken hostage by four armed strangers while vacationing at a remote cabin. The visitors, led by Dave Bautista (Guardians of the Galaxy franchise, Dune), demand that the young girl and her parents make an unthinkable choice: to save their family or save humanity.
Showcasing outstanding performances from a talented and diverse ensemble cast alongside Bautista, KNOCK AT THE CABIN stars Jonathan Groff (Hamilton, "Mindhunter"), Ben Aldridge ("Fleabag," "Our Girl"), Nikki Amuka-Bird (Old, "Avenue 5"), Abby Quinn (Little Women, "Mad About You"), Rupert Grint (Harry Potter franchise, "Servant"), and Kristen Cui in her feature film debut.
With the purchase of KNOCK AT THE CABIN on disc or digital, fans are eligible to earn points towards digital movies via the Universal All-Access Rewards program. Members can redeem their points for digital movies, swag and more!  For registration and details please visit www.MyUniversalRewards.com.
The film is also available to stream on Peacock on March 24, 2023.
BONUS FEATURES ON 4K ULTRA HD, BLU-RAYTM, DVD AND DIGITAL:
Deleted Scenes

They Need Some Time
Going to Church
Enjoying the Sun
Leonard Explains

Chowblaster Infomercial - Enjoy an extended cut of the TV informercial from the film that features an appearance by M. Night Shyamalan himself.
Choosing Wisely: Behind the Scenes of KNOCK AT THE CABIN - Examine what drew M. Night Shyamalan to adapt this terrifying story, and how the relationships between characters were unlike any this ensemble cast had ever played before.
Tools of the Apocalypse - Explore the creation of some of the film's most terrifying props and learn why they play such an important role in the story.
Drawing a Picture - See how M. Night Shyamalan envisions his shots in advance of ever turning on the camera, through his extensive use of storyboards.
Kristen Cui Shines a Light - Take a closer look at actress Kristen Cui's dynamic performance as Wen in her film debut."