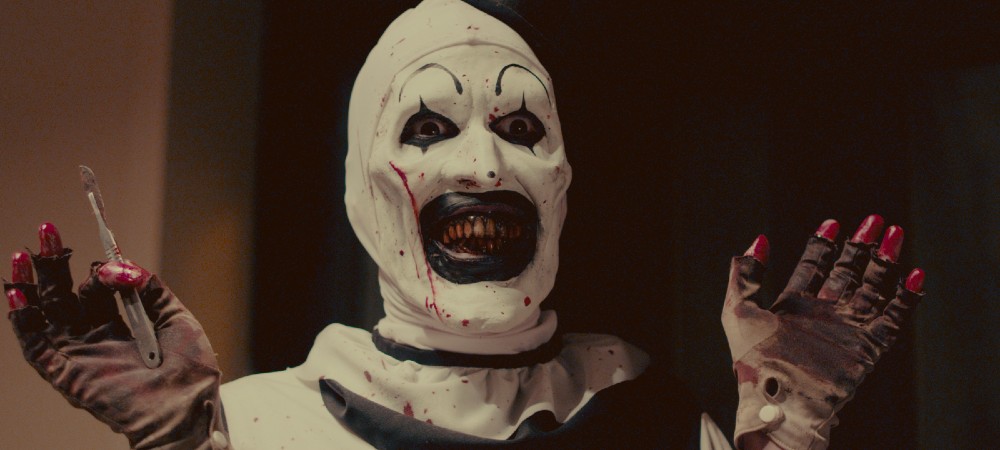 DREAD and Iconic Events Releasing Strike Deal for Theatrical Re-Release of TERRIFIER: "DREAD, the L.A.-based distribution and financing company Epic Pictures' specialty horror label, announced today plans to re-release TERRIFIER, Damien Leone's 2016 slasher horror — that would lead to the smash box-office hit TERRIFIER 2 — nationwide in theaters with Iconic Events, who handled the explosively successful rollout of the sequel last year. TERRIFIER will return to the big screen on July 19, 2023 and play in over 700 theater locations across the U.S.
Following a string of earlier films that first introduced Leone's now-iconic villain Art the Clown to audiences, TERRIFIER saw the role first taken by David Howard Thornton, who took up the mantle once again in the film's breakout sequel, cementing the character's place in horror canon legacy.
TERRIFIER stars Thornton alongside Jenna Kanell (RENFIELD), Samantha Scaffidi, and Catherine Corcoran (RETURN TO NUKE 'EM HIGH VOLUME 1), with all four reprising their roles in the sequel. The film takes place on Halloween night as Tara Heyes (Kanell) finds herself as the obsession of a sadistic murderer known as Art the Clown.
After playing genre film festivals around the globe, including London's FrightFest, IMAGINE Film Festival in Amsterdam, and the Telluride Horror Show Film Festival, TERRIFIER earned praise for its over-the-top gore and passionate resurrection of the beloved slasher flick and was acquired by Epic Pictures for their Dread Central label. The film saw an initial limited theatrical release followed by digital and home video in 2018.
"When Damien Leone and his team brought Terrifier to Dread Central years ago, we knew that the film was something incredibly special and astoundingly terrifying in the best way possible.  Now, six years later, with millions of Terrifier fans worldwide, we are excited to once again unleash on the big screen this blood-soaked homage to old-school horror and the insanity of Art the Clown," said Epic Pictures and DREAD CEO and owner Patrick Ewald.
Added Damien Leone: "I am thrilled to announce that Terrifier is officially getting its long overdue release in nationwide theaters this July! Let's see if you can stomach Art the Clown's notorious "hack saw scene" on the big screen! Be sure to bring your barf bags."
"Every once in a while, a film genre spawns a generational talent who breaks the mold," said Steve Menkin, President & Co-Founder, Iconic Events. "Damien Leone is such a visionary director.  Iconic Events is excited and proud to present the original Terrifier in theatres for fans who have been waiting to see it the way it was meant to be seen in all its "gory" — on the big screen!"
In addition to writing and directing the feature, Leone also edited and did special effects make-up on TERRIFIER. Phil Falcone and George Steuber also produced.
To celebrate the re-release, Dread Central will be hosting an Art the Clown contest and looking for all forms of art that feature the villain. Submissions can be in the form of photos and videos of your TERRIFIER-inspired art, tattoos, and cosplays, and more details on the contest, prizes, and how to apply can be found on the website HERE."
---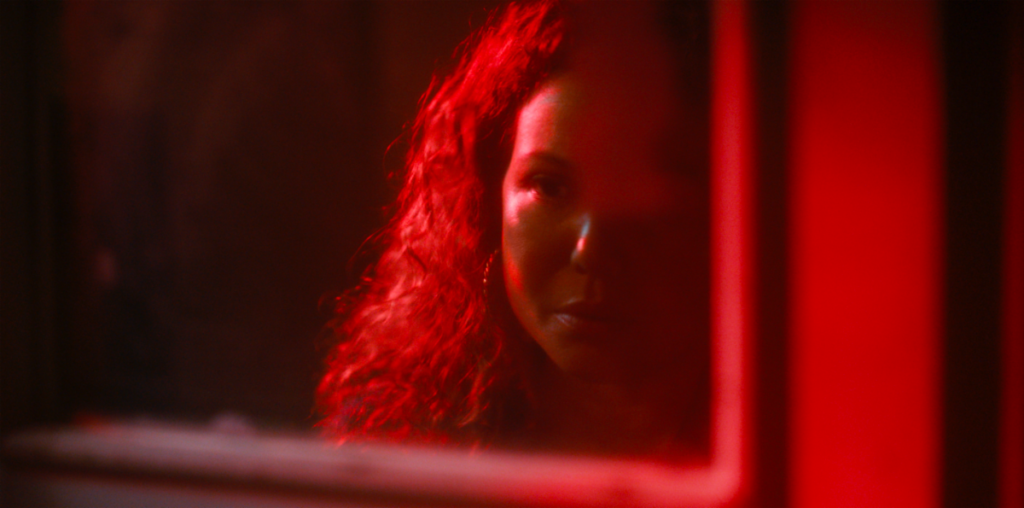 THE HORROR OF DOLORES ROACH: "Prime Video announced that the new horror dramedy series The Horror of Dolores Roach, from Blumhouse–producers of M3GAN– Spotify, and GloNation, based on the hit podcast of the same name, will premiere all eight episodes on July 7, with the official first-look images out now. The eight-episode Amazon Original series will be available exclusively on Prime Video in more than 240 countries and territories around the world. On July 7, The Horror of Dolores Roach will be a part of the savings, convenience and entertainment that Prime members enjoy in a single membership.
The Horror of Dolores Roach, based on the hit Spotify podcast series of the same name, is a contemporary Sweeney Todd-inspired urban legend of love, betrayal, weed, cannibalism, and survival of the fittest. Dolores Roach (Justina Machado) is released after an unjust 16-year prison sentence, and she returns to a gentrified Washington Heights. Dolores reunites with an old stoner friend, Luis (Alejandro Hernandez), who lets her live and work as a masseuse in the basement under his empanada shop. When the promise of her newfound stability is quickly threatened, "Magic Hands" Dolores is driven to shocking extremes to survive.
Originally created by Aaron Mark as a one-woman play, Empanada Loca, Mark created, wrote, and directed the original podcast and penned the series pilot script. The new series comes from Mark, who also serves as co-showrunner and executive producer with Dara Resnik, alongside executive producers Daphne Rubin-Vega; Jason Blum, Chris McCumber, Jeremy Gold, and Chris Dickie for Blumhouse Television; Dawn Ostroff, Mimi O'Donnell, and Justin McGoldrick for Spotify; Gloria Calderón Kellett for GloNation Studios; and Roxann Dawson, who also directed the pilot.
The Horror of Dolores Roach series stars include Justina Machado, Alejandro Hernandez, Kita Updike, and K. Todd Freeman."
FOLLOW THE HORROR OF DOLORES ROACH
Instagram: @TheHorrorofDoloresRoach | @PrimeVideo | @AmazonStudios | @LaughTrackPV
Twitter: @PrimeVideo | @AmazonStudios |@LaughTrackPV
TikTok: @PrimeVideo | @LaughTrackPV
Facebook: @PrimeVideo | @AmazonStudios
#DoloresRoach
---
Totem Chaser from director George Tsouris makes New York debut at Alpine Cinema on May 3rd, 2023: "Totem Chaser, the first feature by director George Tsouris, will have a preview screening at Alpine Cinema in Brooklyn on Wednesday May 3rd, 2023.
The camp horror movie has an ensemble cast, starring Catherine Parish (Japanese Borscht), Marquevias Turner (Pause With Sam Jay), and Cody Michalowski (Love Sick) as tv ghost hunters. Arielle Hope (Theresa And Allison) and Charmien Byrd (Rock of Gibraltar) play counterpoints of the cast as members of the Totem Cult. Also starring in the thriller are Daniel Alatorre (FBI on CBS) and Briana Brown (Love Sick).
George Tsouris is also the writer and producer of Totem Chaser. Inspiration for the story began from early cosmic horror writer Algernon Blackwood, as well as Grand Guignol playwright Maurice Level. Following his many award winning shorts and music videos, George led the production as soon as the pandemic lock down ended in the summer of 2020 on a shoestring budget. The cast and crew united over their love of filmmaking and horror.
The story follows a video crew seeking the truth of the paranormal. The cult priestess lures them to be unwitting sacrifices, while they believe this is the haunted house that will bring them fame and fortune. When they find themselves in too deep, it is a race against time for video crew to stop the embodiment of a demonic god, or feed their flesh to the Totem Cult.
Brooklyn's oldest movie theater, the historic Alpine Cinema will host the preview screening of Totem Chaser at the beginning of the summer blockbuster season. Alpine Cinema is located at 6817 5th Avenue, Brooklyn, NY 11220."
For more information, visit: http://totemchaser.com/