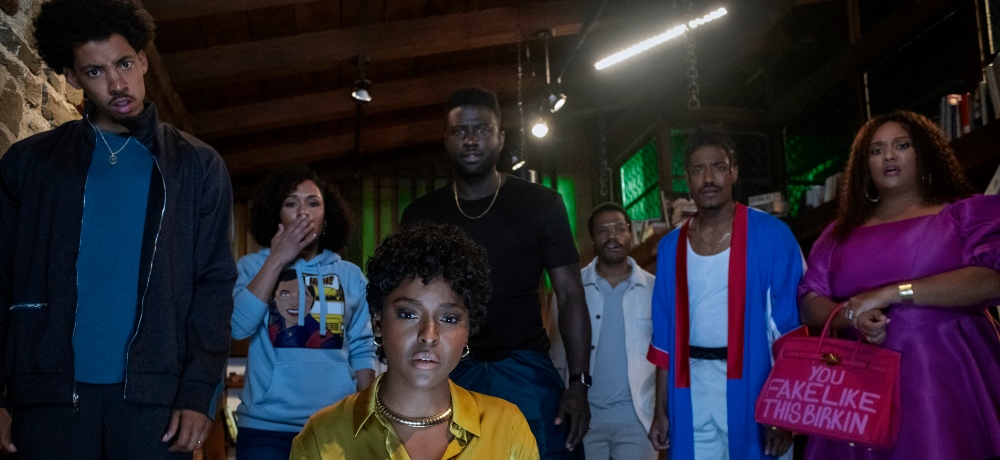 New Trailer for THE BLACKENING: "The Blackening centers around a group of Black friends who reunite for a Juneteenth weekend getaway only to find themselves trapped in a remote cabin with a twisted killer. Forced to play by his rules, the friends soon realize this ain't no motherf****** game. Directed by Tim Story (Ride Along, Think Like A Man, Barbershop) and screenplay and screen story by Tracy Oliver (Girls Trip, Harlem) & Dewayne Perkins (The Amber Ruffin Show, Brooklyn Nine-Nine), The Blackening skewers genre tropes and poses the sardonic question: if the entire cast of a horror movie is Black, who dies first?
Lionsgate and MRC present, a Story Company / Tracy Yvonne / Artists First / Catchlight Studios production.
Starring Grace Byers, Jermaine Fowler, Melvin Gregg, X Mayo, Dewayne Perkins, Antoinette Robertson, Sinqua Walls, with Jay Pharoah, and Yvonne Orji."
---
LEGENDARY CREATOR J. MICHAEL STRACZYNSKI, SUPERSTAR ARTIST ACO, AND AWA SET ORIGINAL PSYCHO-THRILLER WITH 'THE MADNESS': "What happens when a young woman gifted with great powers breaks bad after her family is wiped out on orders from the government because she has become too "inconvenient?" Artists, Writers, and Artisans (AWA), the independent developer of bold and relevant stories from the world's most outstanding creators, answers that question with THE MADNESS, an original, complex, psychological revenge thriller, launching on Wednesday, August 9. Teaming up with superstar artist, ACO (THE AMAZING SPIDER-MAN, WONDER WOMAN), legendary comics creator and writer, J. Michael Straczynski (BABYLON 5, THE AMAZING SPIDER-MAN, THE RESISTANCE) returns to AWA with this original, 6-issue series that brings readers an emotionally-charged story featuring intense action and mind-bending visuals.
Straczynski's well-known AWA work includes THE RESISTANCE - the modern universe comprising multiple titles from him and other popular creators like Kaare Andrews (E-RATIC), Gregg Hurwitz (KNIGHTED), and more. THE MADNESS is a stand-alone superhero story that shows the lengths a person will go to get their revenge. To amplify each issue, popular comic artist, Chris Ferguson (BLACK TAPE) collaborated with other AWA creators and artists to design special punk rock variant covers that pay homage to iconic punk bands that inspired the artistic design of THE MADNESS. With a shared attitude between the series' protagonist and the anti-establishment music genre, a special punk rock variant will be available with each issue.
"I love writing stories about atypical heroes," said J. Michael Straczynski. "I wanted to play with the idea that we all have another side of us deep within that isn't comparable to what we show people in everyday life. And - when that part comes out - how destructive it can really be, regardless of intent. It was a joy to develop Sarah, a complicated and passionate lead character seeking accountability, in the world that is THE MADNESS, especially working with a talented artist like ACO to bring it all to life."
In THE MADNESS, Sarah Ross has been using her power as a thief, stealing from the rich and…well, keeping it.  Until the day she stole from the wrong person, a highly placed official who pressures the government to assassinate her.  The plot, aided by so-called "good" superheroes sponsored by the government, misses her but wipes out her family.  Driven mad by grief, and laser-focused on revenge for the murder of her family, Sarah and a hidden side of her personality – an imaginary friend who may be more real than she believes – goes after these superpowered operatives determined to take her revenge, at any cost.
"An adrenaline-pumping page turner with artwork so eye-catching that readers will be forced to linger on those pages that they're so desperate to turn, THE MADNESS brings a deeply psychological take to superhero comics," said Axel Alonso, Chief Creative Officer of AWA. "We're thrilled that Straczynski has taken on an all-new superhero story at AWA and can't wait for readers to join Sarah and the  friend she imagines on their quest for revenge."
In addition to creating numerous titles with AWA, Straczynski is also a member of AWA's Creative Council alongside Reginald "Reggie" Hudlin (BLACK PANTHER), Gregg Hurwitz (Sweet Girl, Orphan X), Laeta Kalogridis (Avatar), Joseph Kosinski (Top Gun: Maverick, Chariot), and Al Madrigal (PRIMOS). The Council's guidance benefits AWA's roster of writers and artists by helping unleash the full potential of their characters and stories, providing a diversity of contemporary storytelling perspectives and putting projects in the best position to be scaled across the entertainment ecosystem.
THE MADNESS is created and written by J. Michael Straczynski, illustrated by ACO, inked by David Lorenzo (AMERICAN RONAN), colored by Marcelo Maiolo (TEEN TITANS), and lettered by Sal Cipriano (DETECTIVE COMICS), with covers by ACO, Brandon Peterson (X-MEN), Marcelo Maiolo, and Dalibor Talajić (BLACK TAPE), and variant covers by Chris Ferguson, Dalibor Talajić, Danielle Otrakji (HELLBOY), and Axel Alonso. Issue #1 will be available Wednesday, August 9, both digitally and in stores wherever comic books are sold. For more information on THE MADNESS and other content, visit AWA Studios on Facebook, Twitter, Instagram, YouTube, and AWAStudios.net."
---
Source Point Press Announces MURDER BY MAIL, an Immersive Comic Book Series That Challenges Readers to Solve Murder Cases: "Source Point Press, a leading independent comic book publisher, is excited to announce the debut of its latest ongoing comic book series, "Murder by Mail," set in the Curse of Cleaver County universe. This groundbreaking new series offers readers a unique and immersive storytelling experience that challenges the reader to solve murder cases within this newly launched horror-verse.
Created by Joshua Werner, "Murder by Mail" places readers in the shoes of a private investigator working for Illicit Investigations, tasked with solving a series of brutal murders. Using evidence and clues provided throughout, readers must conduct their own interviews with witnesses and suspects to piece together the truth.
"We're thrilled to be bringing readers a new level of immersion with 'Murder by Mail'," said Travis McIntire, CEO of Source Point Press. "Josh Werner and Garrett Gunn have created a world that's both haunting and thrilling, and this new series lets readers become a part of that world in a way that's never been done before."
As the reader uncovers clues and solves puzzles, the cases they solve will have real effects on the ongoing story of the Curse of Cleaver County universe. With each issue, the stakes will grow higher as the reader gets more immersed in the dangers of Cleaver County, and must work harder to bring killers to justice.
"Imagine reading an issue of 'The Curse of Cleaver County', and seeing a character that is only alive because of a 'Murder by Mail' case that the reader had solved," said Joshua Werner. "The readers' actions have ripple effects, forever making them a part of this world. With 'Murder by Mail', we're taking readers on a journey unlike any other throughout the Cleaver County universe, and I can't wait for them to dive in."
"Murder by Mail" issue one will be available in comic book stores everywhere on June 21st, 2023. Don't miss your chance to become a part of this horror-verse and solve these thrilling murder mysteries."