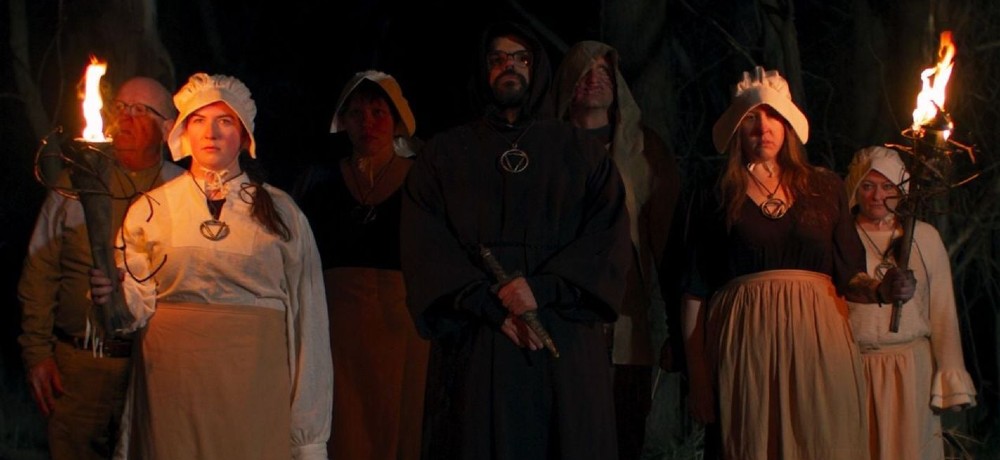 THE BURNED OVER DISTRICT: "After a fatal car accident causes him to lose his wife. Will is left to pick up the pieces in his new small-town home. The grieving man soon becomes overwhelmed by a dark presence that surrounds him, and he soon discovers that the seemingly quiet town he and his wife fell in love with is hiding a very terrifying dark secret. Now he must find a way to overcome his grief and fight back against the darkness that has consumed the town and its people before it consumes his soul.
The Burned-Over District refers to a large area in Western and Central New York. During the 19th century religious revivals and the formation of new religious movements took place during the Second Great Awakening. During this time evangelical religious fervor swept the country, and found its way to the Burned-Over District via the Erie Canal. From this movement came the Oneida Community, the Spiritualists, the Shakers and the Mormons. The movement grew by the thousands and people traveled for hundreds of miles to hear these new "prophets" speak. The effect of this era is still prevalent today in Western and Central New York."
Directed by James & Vincent Coleman, and starring: Jon Sheedy, Amy Zubieta, and Michael Chase. Learn more at: https://www.colemanfilms.com/films
---
GLORIOUS FIENDS: "When infamous hot mess vampire Roxanne resurrects her deceased best friends, she's confronted by a dream-dwelling Guardian of the Underworld, who demands that she replace them in his afterlife with three equally nefarious creatures—or he'll drag her there instead.
Reunited with Medusa and Mx. Hyde, Roxanne and her macabre girl gang must become monster hunters themselves and fight for the future of their friendship.
Gory, sexy, silly, touching—Glorious Fiends asks who the real monsters are, and if the bonds that we think are solely human are really ours alone. This Hammer-inspired odyssey is a nostalgic trip through '80s horror tropes—with modern sensibilities."
Pre-Order:
Learn more at: https://bonniejostufflebeam.com/glorious-fiends/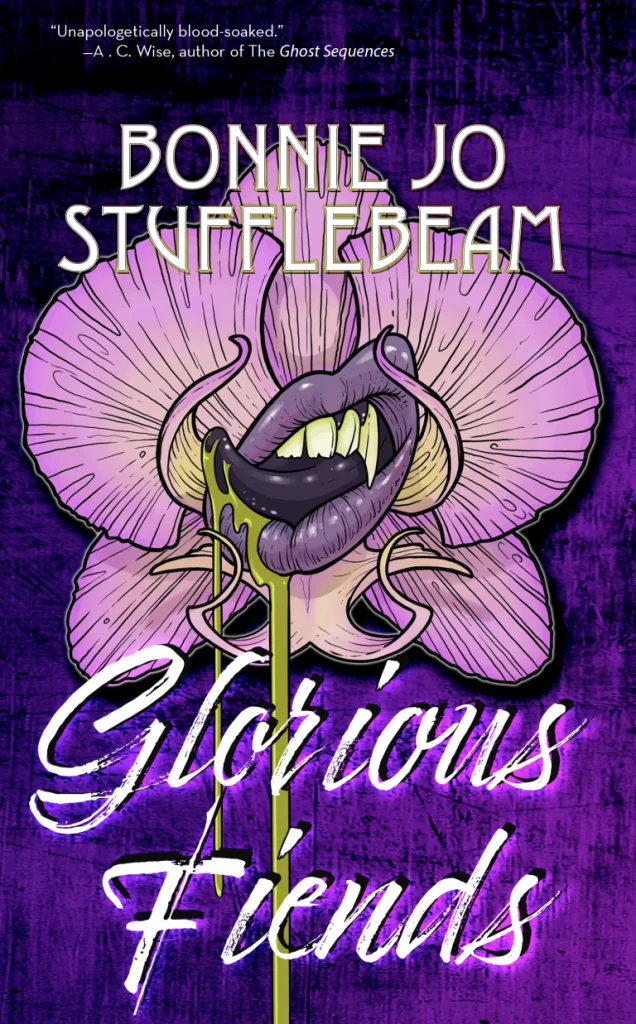 ---
Shipwrecked Comedy Breathes New Life into a Literary Classic with the Premiere of Headless: A Sleepy Hollow Story: "Today, Shipwrecked Comedy, known for their historical, visually striking storytelling and their Streamy Award-nominated Edgar Allan Poe's Murder Mystery Dinner Party, turns the Washington Irving classic short story "The Legend of Sleepy Hollow" on its head with the premiere of Headless: A Sleepy Hollow Story.
Starring Sean Persaud (Mank, Gaslit), Mary Kate Wiles (The Lizzie Bennet Diaries, The Fairly Oddparents: Fairly Odder), Sinead Persaud (The Only Podcast Left - Daybreak), Joanna Sotomura (Barry), Curt Mega (Glee), Krystina Arielle (Star Wars: The High Republic), Parvesh Cheena (Mythic Quest, Shining Vale), Kim Whalen (Being Mary Jane), John Rubinstein (Being the Ricardos, Chilling Adventures of Sabrina) and more, this ten episode modernized, comedic update on the literary classic follows awkward science teacher Ichabod Crane (Sean Persaud) as he finds himself roommates with the legendary Headless Horseman and must embark on a journey to find his new friend's old head while discovering himself along the way.
"With Headless, we wanted to find a way to keep the story fresh and interesting with each episode while staying true to the original mysterious nature of the titular character. We wanted to answer the question of 'who is the Horseman and what is he like when he's not chopping off heads?'" said star and creator Sean Persaud. "We decided to explore this with the storytelling device of the Horseman trying on different heads in each episode. This allows us and the audience to meet numerous versions of the Horseman, each played by a different notable and talented guest actor providing their own take on the character."
Each episode of the series is centered on the Horseman magically trying on a different head provided by a star-studded roster of guest actors in the hopes that this new persona will help our intrepid gang of townsfolk figure out the mystery of the Horseman's true identity. Guest stars include Matthew Mercer (Critical Role, Attack on Titan), Jimmy Wong (Mulan, The Command Zone), Lee Newton (SourceFed), Lauren Lopez (Team StarKid), Dan Mintz (Bob's Burgers) and Ryan Garcia (Big Nate) all providing their own take on the classic character, with Audrey Grace Marshall (The Fairly Oddparents: Fairly Odder, The Flight Attendant) and Julia Cho (The Lizzie Bennet Diaries) rounding out the guest star cast in as of yet announced supporting roles. Additionally, Shipwrecked Comedy is bringing in two more unannounced guest stars to be revealed around the show's finale that will delight fans of horror, comedy, fandom and everything in between.
The first installment of the 10-episode series is available now on Shipwrecked Comedy's YouTube channel (youtube.com/shipwreckedcomedy), with new episodes airing every Monday, culminating with the finale on Halloween answering the show's penultimate question of the Horseman's identity."
---
JOE DANTE'S FILM INFERNO: "On September 3rd, legendary filmmaker Joe Dante (Gremlins, The Howling, Innerspace) will be curating a day of monstrous mayhem from the vast list of Scream Factory titles! Watch along with an all-time horror master as he provides new intros for each pick and explains why these devilishly diabolical films are near and dear to his heart. 
Simulcast on Scream Factory TV, your home for cult horror, through the Shout! Factory TV app and Shout! Factory TV, available on most streaming platforms."
SCHEDULE
12:00pm PT
Attack of the Crab Monsters (1957)
1:30pm PT
The Hitch-Hiker (1953)
3:00pm PT
House on Haunted Hill (1959)
4:30pm PT
How to Make a Monster (1958)
6:00pm PT
King of the Zombies (1941)
7:30pm PT
The Last Man on Earth (1964)
9:30pm PT
The Sadist (1963)
-----
TOHO INTERNATIONAL AND HUF WORLDWIDE COLLABORATE ON EPIC GODZILLA-INSPIRED APPAREL AND SKATEBOARD COLLECTION, AVAILABLE AT URBAN OUTFITTERS: "Toho International, the Japanese studio's U.S.-based subsidiary that has brought classic Godzilla to life, along with HUF Worldwide, the Los Angeles-based premium footwear and apparel brand, today launched a limited-edition capsule collection inspired by Japanese cinema's world-famous "King of the Monsters," Godzilla.
Available today exclusively at Urban Outfitters and HUF retail and ecommerce stores, the apparel and skateboard collection features artwork by contemporary graphic artist Kosuke Kawamura. Ranging in price from $34 - $85, the premium design HUF x Godzilla x Kosuke Kawamura collaboration embraces the fierceness of the unstoppable Godzilla, and incorporates unique artwork into a must-have line of streetwear.
"The Godzilla brand continues to thrive and resonate within the cultural landscape, especially within the skateboard community.  We're so excited to partner with HUF, Urban Outfitters, and the incredible artist Kosuke Kawamura to bring the monster-sized influence of Godzilla to this stylish collection," said Lora Cohn, managing director of international licensing, Toho International.
Included in the collection are five singular designs including long and short sleeve cotton tees, a pullover hoodie, and a skate deck, each including expressive artwork and designs by Kawamura. The artwork seen throughout the line pays homage to "Godzilla in Hollywood" with a bold collage design in Kawamura's signature artistic style.
"It was an honor to work with both Toho International and HUF Worldwide on this collection. The unique collage design seen on each item was inspired by Godzilla being a global pop-culture icon, and I hope fans enjoy this new perspective brought to this well-known classic character," said Kosuke Kawamura.
Fans can go to urbanoutfitters.com/huf-godzilla-collaboration or in stores at Urban Outfitters to purchase the collection starting today."