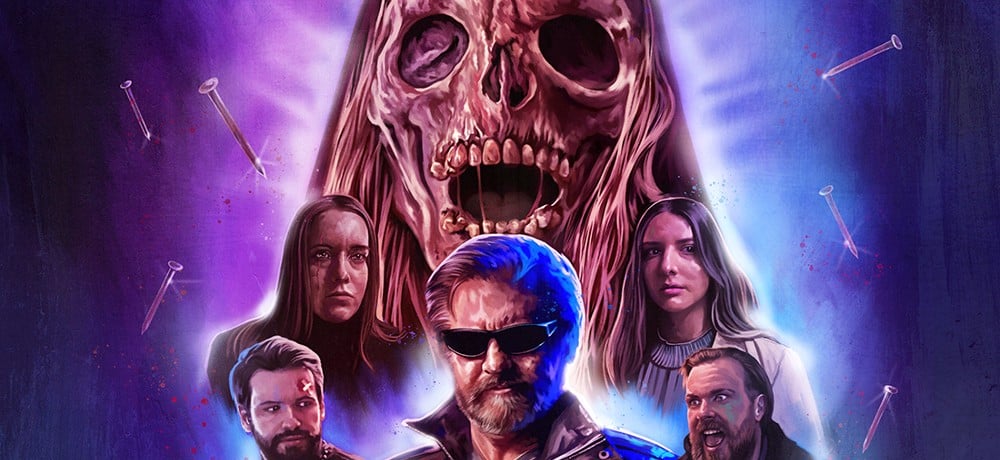 THE CHAMBER OF TERROR TV Spot: "Nash Caruthers is on a deadly collision course with the people that tore his world apart...along with something unexpected. Something far more sinister.
This feature film's ensemble is led by Timothy Paul McCarthy (Psycho Goreman, ABCs of Death 2), Jessica Vano (The Demolisher, Deadsight), Ry Barrett (The Heretics, The Hoard) and Derek Gilroy (HBO's Jett, Elysium).
Written, Produced and Directed by Michael Pereira (Zandavi Lives, Spookslayers). Produced by Craig Lobo (Dangerous Rumors, Zandavi Lives) and Berge Karageusian (Spookslayers, The Resurrections of Clarence Neveldine).
Lensed by award-winning Cinematographer Michael Jari Davidson (SuperGrid, Berkshire County). Practical Makeup Effects created by The Butcher Shop Makeup Effects Studio (Spare Parts, Resident Evil: Afterlife)."
The Chamber of Terror is on the festival circuit and will be heading to NOOGA Underground Film Festival and Panic Fest.
-----
JOE BOB'S JAMBOREE Moves to Memphis' Malco Summer Drive-In for Second Annual Event on July 8-10, 2022: "The second annual Joe Bob's Jamboree, a three-day genre-film celebration that includes the World  Drive-In Movie Festival, a fan convention with celebrity guests from the genre film world, and two nights  of "Joe Bob's Drive-In Live" with the cast and crew of the hit Shudder show The Last Drive-In with Joe  Bob Briggs, moves to Memphis, Tennessee, this year. 
The convention, festival and live events will run from July 8 to July 10, with daytime events at the Hilton  Memphis and night-time events at the historic Malco Summer Drive-In. 
"I love Tennessee and I love Memphis," said Briggs, the festival founder. "It's the city of great music,  great festivals, great barbecue and the most hospitable people in the world. It's also centrally located,  which is important for us since we had so many people drive vast distances last year to get to eastern  Pennsylvania." 
The 2021 Jamboree was held at the fan-favorite Mahoning Drive-In in Lehighton, Pennsylvania, where  "we were bulging at the seams," said Briggs. "When they called it the drive-in Woodstock, that included  the mud! It was a wonderful event but there were so many fans who tried to buy tickets and couldn't  get in. We're adding screens, adding capacity, and adding a convention element in the daytime. And I  couldn't be happier about partnering with Malco Theatres, people who have been exhibiting movies all  over the South for 107 years." 
The four-screen Summer Drive-In, with a capacity of 970 cars, is legendary in Memphis and the South as  a classic 1960s venue, although its history really goes back to 1948 when its original single-screen  namesake, a few blocks to the west, opened with the Yvonne de Carlo movie River Lady. The original  Summer Drive-In was the first drive-in in Memphis, and the Malco drive-in that replaced it in 1966 is the  last drive-in in Memphis. 
Briggs is also partnering with Gregory Hallows, director of the fan convention, who has ten years' experience running both comics and horror events throughout the South. The fan convention will be  held at the Hilton Memphis, which is two exits away from the Malco Summer Drive-In on Interstate 240. 
Tickets for the 2022 Joe Bob's Jamboree go on sale May 2 via the event website. 
Submissions for the World Drive-In Movie Festival, which is dedicated to honoring filmmakers who work  outside the traditional financing systems of Los Angeles, New York and London, will be accepted  beginning April 11. The ten winning filmmakers will receive the coveted Hubbie Award, engraved on a  Chevy hubcap, and their films will be shown on all four big outdoor screens the evening of Sunday, July  10, 2022. More information can be obtained at https://filmfreeway.com/WorldDriveInMovieFestival. 
Saturday night, July 9, will feature a recreation of Joe Bob's show on Shudder.com, with a double feature  and guests.
Opening night, Friday, July 8, will be a special one-time-only event with a cast reunion of a movie being  honored on its anniversary, programmed by Darcy the Mail Girl and hosted by Joe Bob, with a meet and-greet with cast and crew honorees. Details will be announced in late April. 
The fan convention will be open all three days at the Hilton Memphis, with vendors, guest celebrities,  photo ops and panels. 
Further programming details and guests will be released in the upcoming weeks."
Official Jamboree site: https://joebobsjamboree.com/ 
---
Watch the Trailer for Human Factors: "Dark Star Pictures has set Sundance entry HUMAN FACTORS for a May theatrical and Digital release.
Directed by Ronny Trocker, the psychological thriller played Berlin, Cleveland IFF, Sao Paulo IFF, & more after its debut at Sundance in 2021. Sabine Timoteo, Mark Waschke, Jule Hermann, and Wanja Valentin Kube star. The pic, a German-Italian-Danish production, features "intelligent performances and an unnerving, tense mood" (The Guardian) that "succeeds at all the genres it tackles" (AwardWatch).
At the advertising agency they co-own, French-German couple Nina and Jan have signed a new politically charged client, forcing them to confront their clashing priorities. To escape mounting tensions at work, they whisk their kids, Max and Emma, away to their seaside vacation home. But what's meant to be an idyllic off-season retreat turns sinister when a mysterious home invasion sets everything off balance. Though at first the aftermath brings the family closer, as they try to put the incident into perspective, their accounts of what took place begin to unravel alongside the couple's faith in each other.
HUMAN FACTORS will hit theaters (in NY and LA) May 6, followed by a digital release May 24."