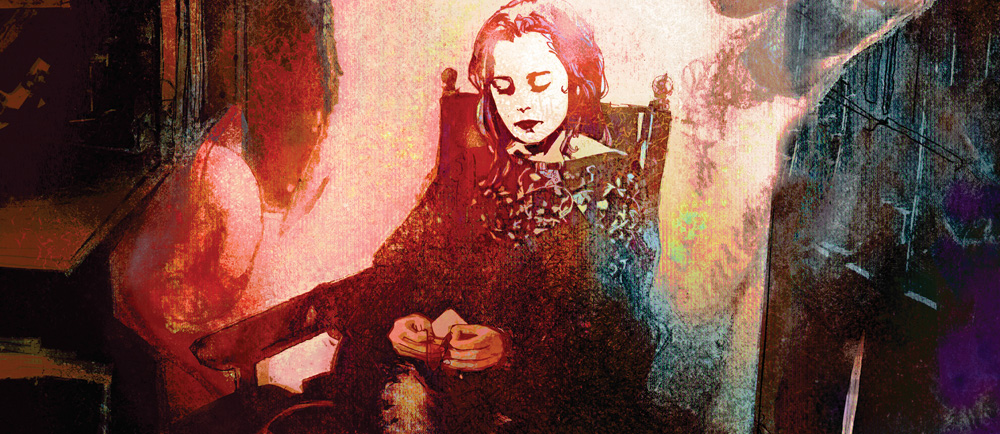 DC Reveals First Look at DC HORROR's The Conjuring: The Lover #2: "Dark and haunting adventures continue when DC HORROR, the all-new 17+ imprint from DC and Warner Bros. Consumer Products, launches THE CONJURING: THE LOVER #2, available digitally and at participating retailers on July 6! The second installment of this five-issues limited series is part of the prelude to the fan-favorite New Line Cinema film, The Conjuring: The Devil Made Me Do It, currently available in theaters and exclusively on HBO Max.
Co-Written by David L. Johnson-McGoldrick (Screenwriter, The Conjuring 2, Orphan) and New York Times best-selling author Rex Ogle (Free Lunch, Teen Titans) with series artwork by Garry Brown (Catwoman), the first look at some of the spine-tingling interior pages from issue #2 is available now.
In this second installment, Jessica's life begins to take a turn for the terrifying as she finds herself experiencing increasingly disturbing events at her college. Most troubling of all, she begins to suspect that the phenomena she's experiencing could have an unsettling origin—her own psyche.
Each issue of THE CONJURING: THE LOVER will also feature a backup story exploring the tales behind the objects collected in Ed and Lorraine's dreaded artifact room. In Issue #2, Tales From the Artifact Room: The Bloody Bride, from writer Che Grayson (Pigamo) and artist Juan Ferreyra (Green Arrow), looks at the story behind a wedding dress—and the curse it passes on to new brides. Issue #3, available on Tuesday, August 3, will also feature a backup story from New York Times best-selling writer Tim Seeley (Nightwing) and Eisner Award-winning artist Kelley Jones (Swamp Thing).
THE CONJURING: THE LOVER #2 will be available online and at participating comic book stores on Tuesday, July 6. The 22-page issue sells for $3.99, with the card stock variant available for $4.99.
For more information on the DC HORROR imprint and THE CONJURING: THE LOVER, visit the website at www.dcomics.com and follow on social media @DCComics and @thedcnation."
----------
Watch the New Trailer for ANIMOSITY: "Wild Eye Releasing has unearthed Velocipastor director Brendan Steere's first film, Animosity!
Releasing on Digital July 20, the stars Tracy Willet and Marcin Paluch as two newlyweds that discover a sinister presence in the woods.
A newlywed couple moves into a house in the middle of woods only to discover that the surrounding forest is host to sinister supernatural powers which turn them against each other.
Steere's The Velocipastor, also released by Wild Eye Releasing, was a feature-length adaptation of a 2010 grindhouse trailer by the same director, which was made as a film school project, and went viral.
A sequel is currently in development."
----------
Headless - A Sleepy Hollow Story: "Production company Shipwrecked Comedy, the literary comedy troupe best known for Edgar Allan Poe's Murder Mystery Dinner Party, a web-series with more that 2.1M views, is launching a Kickstarter campaign to fund production of Headless: A Sleepy Hollow Story, a new, episodic, scripted web series. Headless will be a whimsical single camera comedy fusing goofy sitcom humor with the dark stylings of Washington Irving's ghostly tales to create a high-concept horror/comedy/mystery mashup."
To learn more and support this project, visit: https://www.kickstarter.com/projects/shipwrecked/headless-a-sleepy-hollow-story?ref=discovery_staff_picks