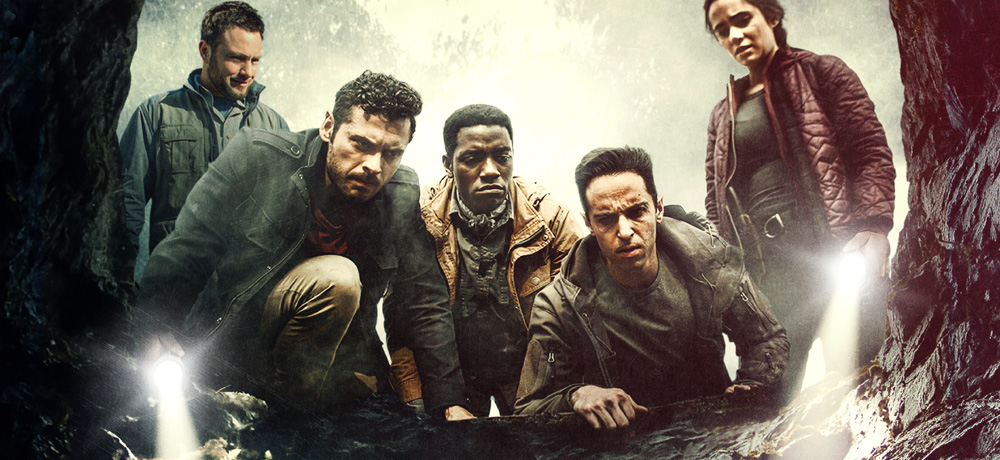 Watch the Trailer for THE DEVIL BELOW: "There is an abandoned place nestled deep in Appalachian country where underground coal mines have been ablaze for decades. When a team of researchers try to find out how the fires started, they soon discover something more startling than the mystery that sent them there: they're not alone."
Distributed By:
In Select Theaters, On VOD & Digital
Directed By:
Written By:

Eric Scherbarth, Stefan Jaworski

Produced By:

Julio Hallivis, Diego Hallivis, Andres Rosende, Alejandro de Leon

Starring:

Alicia Sanz, Adan Canto, Zach Avery, Chinaza Uche, Jesse Latourette, with Jonathan Sadowski and Will Patton
----------
STATE OF SURVIVAL: SURVIVE THE ZOMBIE APOCALYPSE: "It's been six months since the zombie apocalypse began. The virus has infected the city. Six months of terror, horror, survival and fighting against zombies. You are a survivor and your friends are in a brave fight against monsters. Build a city that survives the constant waves of zombies. Welcome to the State of Survival. Ready for a strategy survival game!
The zombie infection has ripped across the country taking all of civilisation with it. Now it is survival time, as the surviving military and government have gone underground. The world belongs to the infected now. It is time to build a city with a strategy to survive zombies and monsters. The plague is expanding faster, and the people need a hero! They need a survivor, since the only goal is to survive!
In this adventure, you can make friends or fight against other survivors. Shoot zombies with your sniper gun in fps mode. Death is coming and the battlefield is just for heroes, so build an army!
Do whatever you can to survive this horrible war. It won't be easy to win the battle. The infected are everywhere and you have a war against the zombie army on your hands! Resources are scarce and you must salvage what you can from the carcass of society. Build a new city, squad and strategy to survive in this MMORPG. Become a zombie hunter! It's time for survival.
It's a new world out there. A new shooting survival multiplayer! Build a strategy and create your own story. You can plant a bomb or shoot the zombies in this strategy survival game! Gather gold, coins and anything necessary to survive in this destructive time. Shooting is not always an option, you must build a PVP army! Target the zombies, end the horror and survive the war! This game is quite unlike other war games.
Rebuild
In the absence of the military, build up your settlement to form a safe haven for your survivors and the foundation for your post-apocalyptic zombie world. It is time for your tactics to become real! Fight against this virus of the walking dead! It's combat time and you need to fight the invasion! Survive if you can!!
Rescue
In this survival game, you get to save survivors from the battle to increase your numbers and strength to fight each infected zombie. Locate those with special abilities, as they will be the heroes of the plague war! Shooting time!
Research
The zombie army disease is mutating rapidly. As a survivor, you need to learn whatever you can to understand it and build your strategy before the invasion of the zombies. Whoever can control the infection controls the world! There's a war out there and it's all about survival! Stop the apocalypse!
Socialise
There is strength in numbers. Make allies and forge strategic partnerships to survive the horrors of the infected wilderness in this strategy survival game. Join armies to pulverise anyone who tries to take advantage of you in the battle and be ready for the war against the zombies and the apocalypse. Your survival is at stake!
Rip up the Rulebook
It's humanity 2.0. Rewrite the rules on how you want humankind to survive and defeat the invading army. This is a survival strategy versus zombies shooter game and there's no military to rescue you. It's quite unlike other military war games."
----------
CRUCIFIED: "Claudio Lattanzi's Italian horror hit Crucified, which premiered to rave reviews at Sitges, releases in North America March 9 on digital.
In a dungeon, five people struggle for their survival: three women, a theologian, and a young doctor. Outside this hideout reigns the APOCALYPSE. The Evil has been generated by a patient zero, and a group of former soldiers, The Exterminators, crucify any person they meet to find the source of this evil. Cinzia Monreale, Giovanni Lombardo Radice, Marina Loi, Veronica Urban, Lorenzo Lepori, Nina Orlandi, Sergio Stivaletti, and Francesca Orsini star. Distributed by Uncork'd Entertainment."