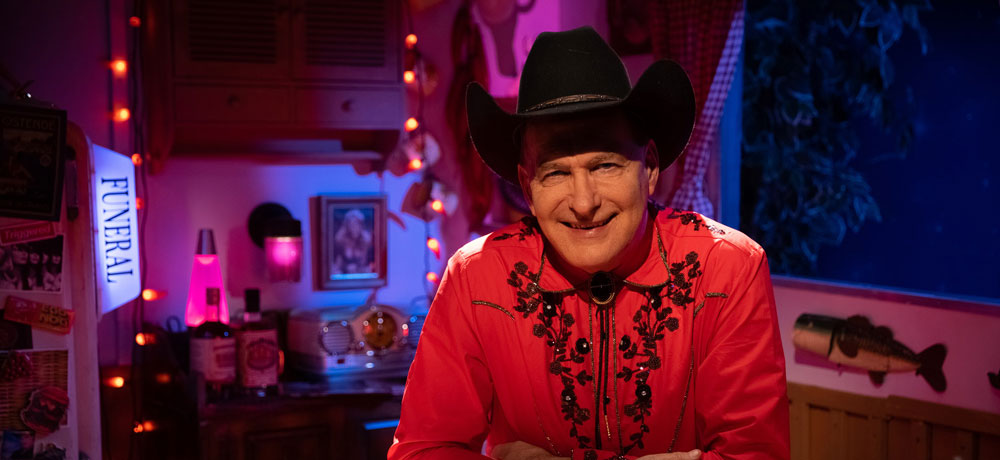 In today's jam-packed horror highlights: Details on the season premiere of The Last Drive-In, a Q&A with the director of Ouijageist, an interview with the composer of Behind You, the trailer for The Jack in the Box, and a relaxing video release from DUST.
Chris Jericho to Guest Host 'The Last Drive-In with Joe Bob Briggs' Season Premiere:
From the Press Release: "APRIL 14, 2020 — Shudder, AMC Networks' premium streaming service for horror, thrillers and the supernatural, announced today that AEW "Le Champion" and Fozzy singer Chris Jericho will co-host the upcoming season premiere episode of The Last Drive-In with Joe Bob Briggs, streaming Friday, April 24 at 9PM ET.
"When Joe Bob Briggs asked me to come watch a movie featuring butt darts, brain sucking, backgammon for digits, a maniacal mini-Oates AND a dick dog, I said: what time and what trailer park!" said Chris Jericho.
"Chris Jericho is the most exciting wrestling personality to befriend horror since Rowdy Roddy Piper co-hosted They Live! with me on TNT years ago," said The Last Drive-In host Joe Bob Briggs. "In fact, Jericho may be the most famous wrestler in the world right now, not to mention lead singer for a metal band that charted on Billboard with an anthem that thousands of arena fans know by heart. I'm gonna share the hosting chair with Chris so that he can go wild on a seventies horror classic he's been crazy about since high school. He's a world class athlete, podcaster, actor, musician—he's really a one-man bundle of pop-culture fun—and on April 24th he's gonna prove that he's also a drive-in kind of guy."
A short while ago, Jericho shared the following video announcing his appearance to his @IAmJericho Twitter account: https://twitter.com/IAmJericho/status/1250116710281158656
On The Last Drive-In, Joe Bob Briggs, the world's foremost drive-in movie critic, presents an eclectic horror movie double feature, interrupting the films to expound upon their merits, histories and significance to genre cinema. Episodes of The Last Drive-In first stream on the Shudder TV live feed in the U.S. and Canada before being made available on demand. The show's hashtag, #TheLastDriveIn, has trended on Twitter during the premiere of every episode in season one and across four holiday specials, including Joe Bob's Halloween Hootenanny and A Very Joe Bob Christmas. New episodes will premiere on Shudder Friday nights through June 26.
The Last Drive-In with Joe Bob Briggs series is produced by Matt Manjourides and Justin Martell and directed by Austin Jennings.
The new season of The Last Drive-In is part of April's "Halfway to Halloween" Month on Shudder. Other highlights this month include the new series Cursed Films, a new season of Australian slasher Wolf Creek and a special collection of the first eight Friday the 13th movies."
---------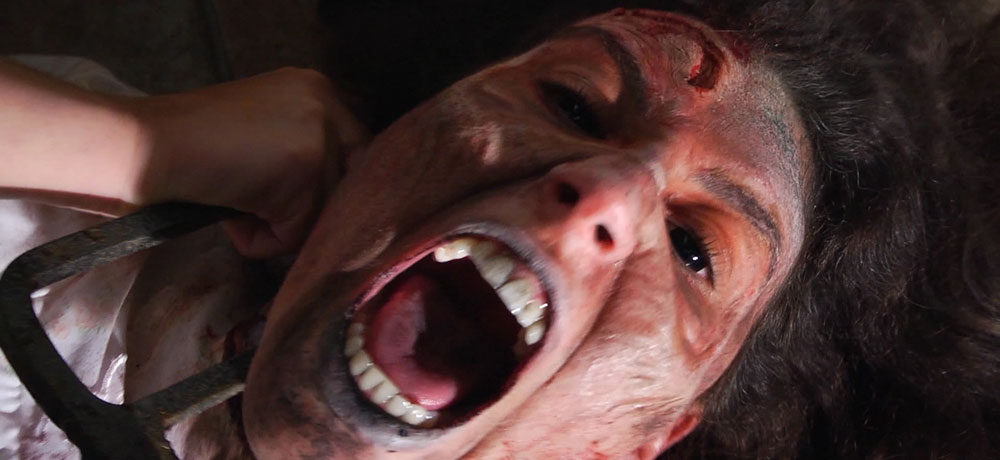 Q&A with John R.Walker, Director of Ouijageist:
After renting a new apartment, a single mom finds a spirit board buried in the backyard, which conjures the spirits of a group of evil entities who haunt her and her family. A local priest is enlisted to help her put these souls to rest forever.                  
Lois Wilkinson, Lesley Scoble, Roger Shepherd, Gabriella Calderone, Nathan Head, and Kristofer Dayne star in a frightening new supernatural spooker in the tradition of The Conjuring.
Directed by John R.Walker, and written by Darrell Buxton and Steve Hardy, Ouijageist is available on digital and DVD now from Wild Eye Releasing.
What does Ouijageist, as a title, refer to?
Ouijageist. Geist is German for Ghost so it's an Ouija Ghost.
But then again, Ouija is French for Yes and Ja is German for yes… so it actually translates as YesYesGhost!! Random!
In the initial brief I gave the writers it was Ouija Vs Poltergeist as there was a Poltergeist out to kill a girl as she tried to solve the mystery of a death but the Ouija Spirit helped guide her.. You can see how much my writers listened to me.
Have any films or filmmakers from your youth -heck, even now – influenced this one? How so?
Witchboard 1, 2 and 3 ..but that's a tad obvious. I love those films so very much and you'll see a Poltergeist2 reference in the film but that was one of the writers who put that in.
I kinda influenced myself I guess. I read the reviews on Amityville Playhouse and few things stuck out to me.
I saw the negative reviews as constructive criticism and was able to build on that. For a start it didn't matter where I filmed it as shooting in Canada didn't make for a better film so I stayed local. Very local.
I wanted it to be so much simpler in story. I don't think a person yet has figured the Amityville story out as it's buried deep in there.
This was a very simple premise. 
A board appears in different countries with a guardian. It chooses you and kills anyone (ish) who touches it and finally steals it's victim away with the blame of the deaths being pinned on them (That's pretty much it) 
I love films with the Catholic church involved so there's still a little Amityville horror in there and maybe some Exorcist (again, it's referenced in the film).
I wanted an ending in a confined area so I took that idea from Evil Dead remake
Growing up, did you have a favorite or go-to scary movie? 
Amityville 2 was (and still is) the best horror movie I know. The scariest thing is that its from the safest place you can be. Family in the home. With these two elements turning against you, you haven't anywhere that's safe.
Prom night 2 – Hello Mary Lou is another go to movie I used to love.  I've seen those two films so many times and I guess finally it was Evil dead 2.
CGI or practical effects. Preference?
That's not even a question. I was so looking forward to Mama as it was produced by Guillermo Del Toro but I was so let down by the CGI. It killed that film for me and I never went back to watch it again. I cant see past CGI.
It should be used in moderation alongside practical effect.
Give me a badly made practical effect anytime over CGI
They say horror is the 'easiest sell'. Has that been your experience with Ouijageist?
Five years ago I sold Amityville Playhouse. I had several distributors asking for it so I imagined this would be easy to sell but the DVD market has died a death, especially here in the UK.
Even once I got the 2 distributors on board, only the USA one has actually released it. The ROW (Rest of World) distributor has been sitting on it for well over a year. Once you have a distributor, all you can do is wait. They don't give you a time frame and will release when they think it's the best time.
It's getting more difficult to sell films for DVD market and even the VOD is getting silly with the likes of Amazon giving you next to nothing per view and taking it down if it gets too many bad reviews.
Saying that, Wildeye have been amazing with me and kept me in the loop for the last few months. 
If the movie were part of a double feature at a drive-in theatre, what would make the perfect support/second movie?
The character of Karen was the same character as Amityville Playhouse. There's a flashback from 5 years ago that Lesley Scoble (From Village of the Damned 1960) plays Karen the barmaid. It's a minor scene but this is her story continued so that would have to be the perfect support but as I think you're talking about someone else's film…um…
Witchboard 3 the Possession!! Though I'm fully aware I'm not even close to that level of film.
Ouijageist is now on DVD and Digital from Wild Eye Releasing
---------
Composer Christian Davis Discusses His Two New Horror Films, Behind You and The Voices:
Many people associate October with new horror releases, but that's definitely not the case anymore. In April and May there are many new horror films coming to VOD, two of those being Vertical Entertainment's Behind You on April 17th and Cinedigm Entertainment Group's horror/thriller The Voices on May 12th. What do these two movies have in common? Composer Christian Davis. Out of Davis's vast resume, nine of his titles are horror films, so it's safe to say he knows the genre very well. We decided to learn more about Davis, so we talked to him below about everything from using hissing tea kettles and chainsaws for the Behind You score to the impression Scream made on him.
-You have 2 horror films being released in the next few weeks, The Voices and Behind You. Would you consider yourself a "horror composer"?  
Sometimes : )  As a movie fanboy I just love to score it all.. Horror, Dramas, Thrillers, Comedies, etc. But of the 30+ films I've been part of, 9 of them have been solidly in the Horror camp. I really love to score horror films because there's so many things to you get to do that you can't do in any other genre.  Lots of dissonance, distortion and strange effects. As a composer, you get to really draw outside the lines.
-Why do you think your work resonates so much with this genre?
Tough question. I'm good at twisting sounds and just love to play with dissonance which works well for Horror films, but I think for me it always comes back to storytelling. It doesn't matter what genre I'm scoring, I'm always asking myself and the director, "what do we want our audience to feel"?  That's the trick, figure out the tone of scene and never to give too much away musically, especially in a horror film, save it for the jump scare!  
-How would you describe your score for Behind You?
I would describe it as a hybrid, orchestral score with bite!!  The foundation is very much the orchestra then I used a bunch of gnarly, effected sounds to sprinkle on top.  At times I even ran the orchestra through some distortion, just to give it some edge.
-We read that you used hissing tea kettles and chainsaws for your Behind You score. Were you not getting the sounds you wanted, so you turned to found objects?
In our first meeting, Andrew Mecham (one of the co-directors) talked a lot about how the house, which is inhabited by a demon, needed to have a voice in the score.  So, I started thinking about how to use objects around my house in the score. We have hissing tea kettles, chainsaw engine, kitchen percussion and bowed wood. All this really gave the house a voice and also gave a unique color to the score.
-Do you use non instrumental objects like this in a lot of your scores or is this a rare thing?
Not often, which (like I said earlier) is what makes scoring Horror so much fun.  You can do weird stuff like this and get away with it!
-At the beginning of Behind You there is a music box playing. Did you compose this score too or was that from an actual music box?
Yes! The music box was composed by me. It's actually very important to the score.  It's where we establish the "Demon's Theme." Later the house/demon will use that same melody to lure Claire (the younger sister) down to the basement, where he possesses her body. This theme gets played throughout the film by different instruments and gets more and more twisted sonically the deeper and darker we go.
-You co-composed The Voices with Reuven Herman. Did each of you have different strengths for this score?
Yes, this was my second time collaborating with my good friend Reuven.  He's got a really strong classical background and I'm a bit more rock n' roll.  It's really cool, because we just think about music differently, so when I get to see what he comes up with and try to understand it through my own prism, it makes me a better composer and also makes the score more interesting.
-The Voices is a psychological horror film whereas, Behind You is more of a demonic horror film. Do each of these subgenres tend to have a different musical playbook?
Yes and no.  It really just depends on the story and the director's vision.  I could see a scenario where you could flip these scores and put the "Behind You" score on a psychological horror and vice versa.  "The Voices" is a much more intimate film, so we went with a smaller sound. But you could have a Psychological Horror that was just a big in scope as Behind You.
-Do you have a favorite horror film?
Not a single favorite, but I remember the first horror film I saw, it was "Scream".  What campy fun! I remember being super scared and looking over my shoulder for days.  More recently I think "Get Out" was pretty amazing. 
*Christian Davis's Behind You score is going to be released digitally on April 21, 2020.
 ---------
The Jack in the Box Trailer: "When a museum is donated a vintage Jack-In-The-Box, it's not long before staff member Casey starts to think that the creepy clown doll inside has a life of its own. As he discovers his colleagues are dying, one by one, Casey realizes it's up to him to find a way to end the nightmare or become another victim of the box's curse. Jack In The Box is a heart stopping horror that will fuel your fear of clowns."
The Jack in the Box is coming to VOD and DVD May 5, 2020.
---------
"DUST Flow | A Meditative Experience" is a meditative feature film that harnesses the power of ambient music and imagery crafted to calm your senses and increase mindfulness. Utilizing cutting edge research in the fields of sensory aesthetics and cognitive science, DUST Flow is designed to send you into a state of digital relaxation and help you to escape the constant stream of modern distractions. Tune in to tune out.