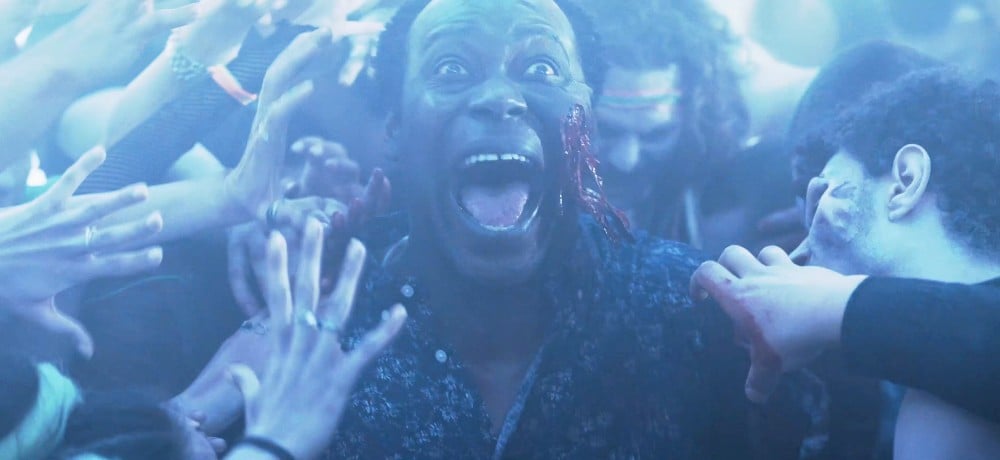 Exclusive Behind-the-Scenes Look at THE QUANTUM DEVIL: "Crazed House ltd. is proud to announce the Texas Premiere of The Quantum Devil at Texas Frightmare Weekend. Saturday May the 27th at 8:00 pm. They will also also host a special live Q&A with Director Larry Wade Carrell (The Quantum Devil, The Darkside of Society, Girl Next, Jacob), Writer and Producer Zeph E. Daniel (Society, Bride of ReAnimator, Silent Night Deadly Night IV, Dementia, Girl Next, The Darkside of Society) and actor Tyler Tackett (The Quantum Devil, Dragon Ball Z: Light of Hope, Daisy Jones and the Six Renfield the Undead). Additionally, they will be available all weekend for autographs at the Crazed House booth #507.
As part of Texas Frightmare Weekend, the Quantum Devil will screen inside the Irving Convention Center's fourth floor Grand Ballroom. Renamed "the Alamo Drafthouse Screening Room". Screening Saturday evening at 8:00 pm. All screenings are complimentary with a convention pass at the convention center. For tickets and info, please visit texasfrightmareweekend.com."
COMING SOON FROM 1091 PICTURES: THE QUANTUM DEVIL
"An international team of scientists are summoned by ominous invitation to a remote location in Eastern Europe to conduct clandestine experiments in an effort to breach the quantum barrier and travel to another dimension. The four scientists, each with a dark secret, must confront the sins of their past while facing the dangerous consequences of journeying to the other side, into the realm of The Quantum Devil."
From Talking Wolf Productions, 1091 Pictures and Crazed House Ltd. - With Neil Dickson, Tyler Tackett, Tamara Radovanović, Edward Apeagyei, Mehmet Cerrahoğlu, and Robert Englund as Barada
Directed By Larry Wade Carrell
Exclusive BTS:
Trailer:
----
DSTLRY ANNOUNCES THE DEVIL'S CUT, THE DEBUT PRINT AND DIGITAL RELEASE FROM THE CREATOR-OWNED COMICS LABEL: "Today, DSTLRY, the next-generation publisher redefining creator-owned comic books and collectibles, announced its first-ever, limited-edition print and digital release, The Devil's Cut. Featuring stories from DSTLRY's Founding Creators, the print release will include 72 premium, oversized pages and will hit comic book shelves worldwide this August, available to be ordered by retailers now through either Diamond Comic Distributors or Lunar Distribution. Fans will also be able to purchase a digital version of The Devil's Cut via www.dstlry.co the same day as the print release.
In the aging process, the whiskey that evaporates is called the Angel's Share, but the most potent spirits are captured in the wood—the Devil's Cut. DSTLRY's The Devil's Cut features a flight of high-proof work and unfiltered stories from the most fearless creators. Edited by the legendary Will Dennis (Y: The Last Man, Snow Angels), The Devil's Cut is a one-shot offering with stories crafted by the most innovative pioneers in comics, including the Founding Creators of DSTLRY:
Mirka Andolfo (Sweet Paprika, Mercy)
Brian Azzarello (100 Bullets, Joker)
Marc Bernardin (Adora and the Distance, Star Trek: Picard)
Elsa Charretier (Love Everlasting, November)
Becky Cloonan (Wonder Woman, Batgirls)
Lee Garbett (Spider-Man, Skyward)
Jock (Batman: One Dark Knight, Wytches)
Joëlle Jones (Lady Killer, Catwoman)
Tula Lotay (Barnstormers)
Jamie McKelvie (The Wicked + The Divine, Captain Carter)
Junko Mizuno (Pure Trance, Ravina the Witch?)
Stephanie Phillips (Grim, Harley Quinn)
Scott Snyder (Batman, Wytches)
James Tynion IV (Something Is Killing the Children, The Joker War)
Ram V (Detective Comics, The Many Deaths of Laila Starr)
The Devil's Cut also features a host of incredibly talented artists including:
Francesco Francavilla (Detective Comics, Night of the Ghoul)
Ariela Kristantina (InSEXts, Deep State)
Eduardo Risso (Batman: Broken City, 100 Bullets)
Christian Ward (Invisible Kingdom, Aquaman: Andromeda)
"The Devil's Cut is the perfect debut from DSTLRY, with our Founding Creators and friends delivering an amazing collection of completely self-contained stories. It's a prime example of the ambition and skill that you can expect from top-flight creators when they're given the canvas, freedom, and support to create the next generation of comics," said DSTLRY co-founders Chip Mosher and David Steinberger in a joint statement.
Cover A will feature stunning artwork from three-time New York Times best-selling artist Jock. Five additional variant covers are planned for DSTLRY's debut issue, which will be revealed on a later date.
The Devil's Cut will be available at local comic book stores and digitally via www.dstlry.co on Wednesday, August 30. Following the original release, physical copies will not be reprinted in this format again, and digital copies will be accessible via DSTLRY until September 6, 2023. Digital owners can resell their copies on the DSTLRY marketplace at a price of their choosing, benefiting fans' favorite creators with a percentage of resale value going directly back to creators.
For more information on The Devil's Cut, DSTLRY's founding creators, and to sign up for news regarding the publisher's upcoming drops, visit www.dstlry.co and follow the publisher on social media via @DSTLRY_Media"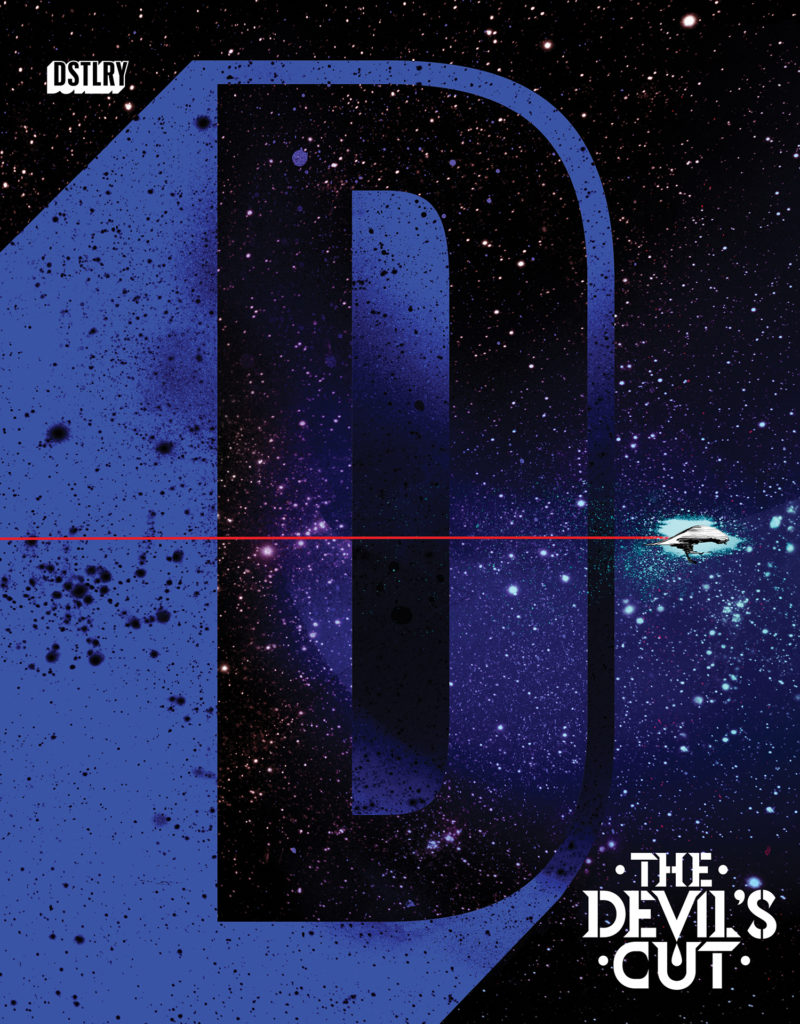 ---
Raven Banner and Fathom Events Bring Swissploitation Grindhouse MAD HEIDI To Theaters Across North America June 21: "Fathom Events, Raven Banner Releasing and Swissploitation Films are excited to present the premiere of the modern grindhouse epic Mad Heidi coming to theaters nationwide for a special one-night engagement on Wednesday, June 21 at 7:00 p.m. local time.
This wicked odyssey of blood and cheese puts a new spin on the classic tale of "Heidi," finding our heroine (Alice Lucy) all grown-up and living an idyllic life in the Swiss Alps with her beloved grandfather (David Schofield) far above an increasingly-dystopian landscape presided over by Our Very Swiss Leader (Casper Van Dien) - a ruthless dictator bent on world domination through dairy. But when her goat-herding lover (Kel Matsena) is brutally murdered by government thugs for distributing illegal cheese, Heidi embarks on a wild quest for vengeance that will bring her toe-to-toe against fierce female prison inmates, cheese-fueled Swiss super-soldiers, ninja nuns, and more, as she fights to take down the tyrannical regime and restore freedom to Switzerland.
Exclusive to the Fathom event is an introduction from stars Casper Van Dien and Alice Lucy as well as co-directors Johannes Hartmann and Sandro Klopfstein.
Mad Heidi initially made waves for its innovative crowdfunded approach, bypassing traditional financing tactics to ensure that the film's original vision was preserved while placing profits back in the hands of the creators and backers. Boasting elaborate sets, impressive practical makeup and gore effects, and unhinged ingenuity helmed by first-time filmmakers Johannes Hartmann and Sandro Klopfstein, Mad Heidi is the ultimate tribute to grindhouse cinema and the latest fresh twist on a classic favorite to hit theaters through Fathom Events, following the distributor's popular screenings of the indie horror hit Winnie-The-Pooh: Blood And Honey in February.
Mad Heidi will open on screens across the United States from Fathom Events. The film will also be available across Canada at select Cineplex locations."
North American Theatrical Release:
Wednesday, June 21, 2023
7:00 pm Local Time
---
A New Psychological Horror Feature Film, INNER CHILD, to Be Featured on Hourglass 24 on June 11th:
"Our team just wrapped an Indiegogo campaign and now, our project will be featured on Hourglass 24! For 24 hours ONLY, our project will be part of Hourglass 24 on Sunday, June 11, 2023 (ending @ 9:24 am on Monday, June 12, 2023) Stay tuned for further details!"
**RSVP here if you would like to watch the team chat: https://fb.me/e/4nNmj0vRx
Inner Child, a new psychological horror feature film. Starring Scout Taylor Compton and Co-Starring Felissa Rose, Hannah Fierman, Christine Heneise, and Elias Koteas.
"A young woman discovers the harrowing truth of her past through her sleep paralysis"
Written By and Soon to Be Directed by Natalie Rodriguez
Executive Produced by Peter M. Olsen
Produced with Larry Minion, Daniel O'Brien, Natalie Rodriguez, and Alex Sarkissian
Co-Produced by Paul Wiley, who will also compose the film score
Associate Produced by Sylvia Valdez
Marketing & PR Intern: David Flores