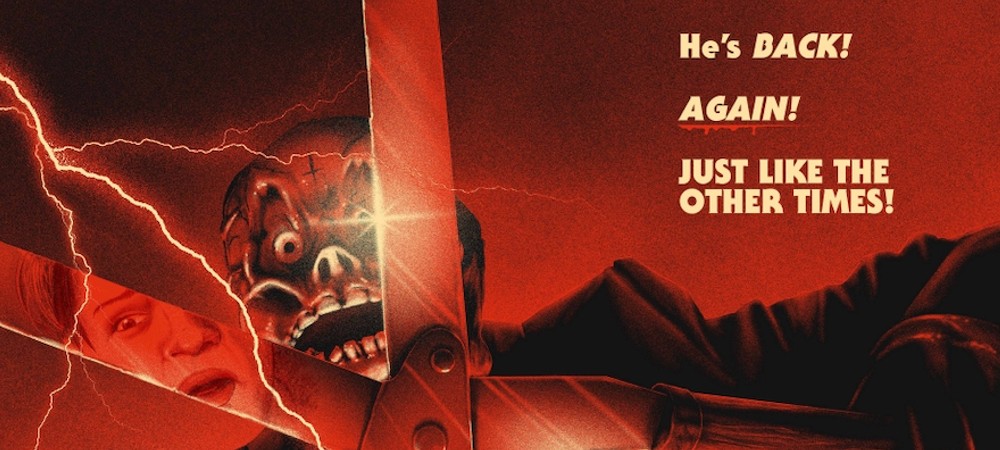 Dark Sky Films Brings THE THIRD SATURDAY IN OCTOBER PART V + PART I to Digital/VOD May 5th: "What if a lost horror franchise made during the peak of the slasher genre was unearthed today, but only two of the films could be restored? Filmmaker Jay Burleson imagined just that with THE THIRD SATURDAY IN OCTOBER: PART V and THE THIRD SATURDAY IN OCTOBER: PART I coming to VOD + Digital Platforms May 5th from Dark Sky Films.
A double feature of terror, THE THIRD SATURDAY IN OCTOBER Part V sees unstoppable killer Jakkariah Harding once again stalking and butchering the football-loving residents of a small Alabama town, this time finding a treasure trove of victims after he chances upon a football watch party. And then get ready to see how the horror began in THE THIRD SATURDAY IN OCTOBER Part I, which tells the story of Harding's death row escape and ensuing slaughter as two survivors of his initial attack hunt him down.
Aiming to recreate the by-gone video store days when horror fans might have had to watch a franchise out of order, the filmmakers intended for viewers to start with Part V and then go back to Part 1.
Twice the scares, twice the laughs, and a world-building start of a franchise that's as outlandishly clever in its deception as every gore set piece it throws on screen, THE THIRD SATURDAY IN OCTOBER films are a red-blooded American slice of southern gothic infused with a deliciously twisted sense of humor."
---
WELCOME VILLAIN FILMS ACQUIRES DOMESTIC RIGHTS TO AUSTRALIAN SHOCKER "BEATEN TO DEATH" AHEAD OF PANIC FEST PREMIERE: "Emerging genre studio Welcome Villain Films has announced their latest acquisition, the Australian shocker BEATEN TO DEATH, ahead of the film's Panic Fest premiere. New stills have been unveiled for the film, along with plans for a Summer 2023 release.
Directed by Sam Curtain and co-written by Curtain and Benjamin Jung-Clarke, BEATEN TO DEATH unfolds after a desperate choice leads a man named Jack down a path that leaves him beaten and bruised as he struggles against man, nature, and his own insanity. Stranded in the middle of nowhere after barely surviving a horrific assault, Jack encounters one local after another and quickly learns that a sick game of cat and mouse is about to begin. Battling the deranged country psychos and the harsh landscape, Jack must go to extreme lengths to survive.
BEATEN TO DEATH world premiered at Australia's A Night Of Horror International Film Festival and has become a subject of controversy and curiosity due to the film's extreme violence. Touted as a welcome return to the Outback horror subgenre, which includes renowned titles such as the WOLF CREEK franchise, THE LOVED ONES, THE SNOWTOWN MURDERS and more, BEATEN TO DEATH has only been seen by a few select audiences but is already being called "a dark powerful horror film that will drag the audience through the dirt" (SodaAndTelepaths.com) and "a genuinely great bit of Aussie horror" (DreadCentral.com).
"From the initial story inception, I wanted to achieve two things," says filmmaker Sam Curtain. "I knew I wanted to create a visceral and violent experience, but I also wanted to find beauty in the frame. This is partially the reason why I decided to shoot it myself, to capture everything in the moment, in a hands-on tactile way, connecting the direction between the actor, the lens, and myself. The violent scenes are designed to shock and disturb, and I embrace the ride of emotions the audience experiences alongside Jack."
"BEATEN TO DEATH is an absolute beast of a film, and is the type of boundary-pushing gut punch that the genre needs right now - it floored us." says Luke LaBeau, Welcome Villain's Head of Development. "Not only is it loaded with extreme, unrelenting violence, but it is just an incredibly well-made film on virtually every level. And in speaking with Sam and Ben, it was clear we were on the same wavelength from the start, which made this partnership even more exciting." Eric Kleifield, Welcome Villain's Head of Creative adds to that sentiment, saying "We love Outback horror, and this film lives up to its name and then some. Our motto is to be 'a safe space for dangerous films,' and this, most certainly, is a very dangerous film that will stick with viewers long after the credits roll. We're proud to have BEATEN TO DEATH as part of the Welcome Villain family."
BEATEN TO DEATH will screen at Panic Fest on Tuesday, April 18 as well as the Fantastic Film Festival Australia on April 28. Following its festival run, Welcome Villain Films will distribute the film domestically this Summer.
BEATEN TO DEATH was directed by Sam Curtain, who also co-wrote the film with Benjamin Jung-Clarke. The film was produced by Libby Jessup, Sam Curtain, Benjamin Jung-Clarke, and Thomas Roach, featuring gruesome SFX makeup work from Danica Hadolt. BEATEN TO DEATH was shot on location in the Derwent Valley and Central Midlands, predominantly in southern Tasmania, Australia. Thomas Roach stars in the lead role of Jack with David Tracy as the film's main antagonist and Justan Wagner and Nicole Tudor in supporting roles."
For more information on Welcome Villain:
Website: welcomevillain.com
Twitter: @welcomevillain
Instagram: @welcomevillain
Facebook: @welcomevillain
---
YOUR LAST SUMMER: "A not-for-profit queer horror fan film celebrating the 25th anniversary of the I Know What You Did Last Summer franchise, following the events of the original 1997 film (with a nod to the 1998 sequel). It's July 4th at Dawson's Beach, and Jesse shows Hank an ominous note he received from someone who knows their romantic secret. The Southport Slasher Ben Willis sent a similar note to Julie James 25 years ago before wreaking havoc on the town, but that's just an old story. Is this some anniversary prank, or are they really in trouble? They and their girlfriends realize too late that they're in the wrong place at the wrong time..."
Written, directed, and edited by Mark J. Parker
Story by Mark J. Parker & Tom Ciuba
Produced by Mark J. Parker, Greg Clements, Tom Ciuba
Directors of Photography Zachary Tyler Wheaton & Henry Riley
Sound Mix & Design Zachary McCallion & Ryan David Rogers
Music by Matthias Fluor
Special Effects Makeup by Laney Filieo
Starring Ian MacGillivray, Ryan Spies, Olivia Barberian, Laura Kathleen McLaughlin, with Elizabeth Freeman, and Stephen Sarrasin
Assistant Director Van Wile
Gaffer Tom McPherson
Colored by Tom McPherson & Tom Bell
---
AURORA: "A psychic has a premonition of the death of her clients and realizes she must save them or suffer the same fate. But she soon finds herself in a confusing world where her dreams and reality become difficult to distinguish."
Written and directed by Dimitri Morantus. Starring Stephanie Chalares, Kelsey Fordham, Chris Lous, & Kalon Jackson. To learn more, visit: http://www.aurorahorrormovie.com/
---
INNER CHILD: "INNER CHILD is an upcoming feature film drama-thriller with horror elements. The story is based on a novella and a short screenplay of the same day, both written by Natalie Rodriguez.  The short film screenplay version of Inner Child placed in the top twenty of Hollyshorts, an Academy Award-Contender film festival. The novella/short story was independently published in Stray Books. The story was also featured on the Scary Stories podcast.
The feature film adaptation will follow a college freshman named Cassie and the aftermath of cutting ties with her toxic family. Cassie has been battling with a lot of self-doubts with her choices; however, it is this same reoccurring nightmare every morning that keeps her on edge. When this particular nightmare becomes too real, taking over her physically, she reaches out to her therapist, Dr. Reid. Cassie hopes to find some answers and put an end to her night terrors.
Only, it is Cassie who must confront the truth herself when she comes to terms with reality. Cassie realizes that her reoccurring nightmare is, in fact, body memories from a traumatic event from her past. Reopening unresolved wounds, Cassie only reflects upon her one-time toxic environment, involving a mother who refuses to address the elephant in the room and her drug-addict relatives. Cassie fears that she will become a stigma of her dysfunctional family and repeat the cycle of abuse, addiction, and violence. But her greatest fear is to permanently become the terrified little girl that she once was by confronting a particular relative—her perpetrator.
Like Nancy from "A Nightmare on Elm Street" and Grace from "Short Term 12", Cassie has the choice to cave into her past and relieve her childhood trauma or break the cycle and stand up for herself."
To learn more and support this project, visit: https://www.indiegogo.com/projects/inner-child-a-new-thriller-horror-feature-film/x/30757099#/