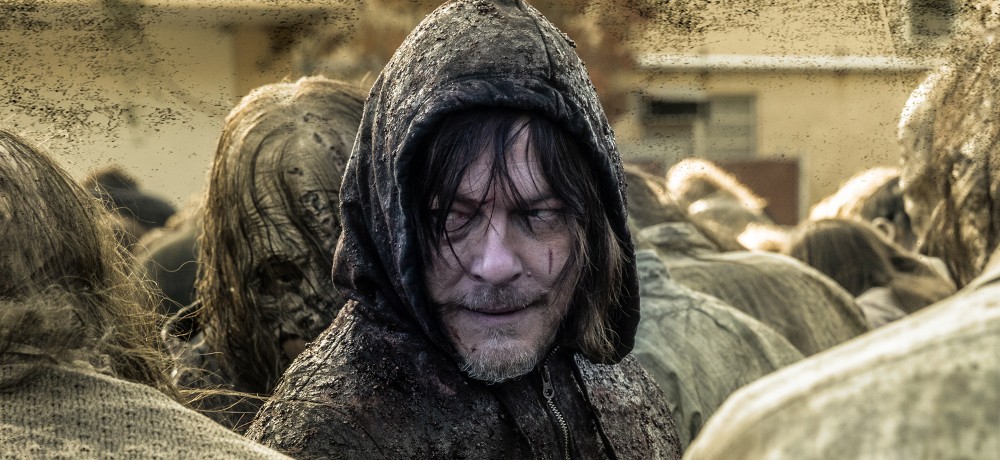 THE WALKING DEAD Season 10 Home Media Release: "The Whisperer war is upon us when Season Ten of "The Walking Dead" arrives on Blu-ray™ (plus Digital) and DVD July 20 from Lionsgate. "The Walking Dead" Season Ten, containing 22 episodes, stars Norman Reedus (The Boondock Saints, Triple 9, Blade II), Danai Gurira (Black Panther, All Eyez on Me, Avengers: Endgame), Christian Serratos (TV's "The Secret Life of the American Teenager" and "Selena: The Series," Twilight franchise), Golden Globe® winner and Academy Award®/Primetime Emmy® nominee Samantha Morton (Golden Globe®: 2008, Best Supporting Actress – Television, Longford; Academy Award®: 2003, Best Actress, In America; Primetime Emmy®: 2007, Outstanding Supporting Actress in a Miniseries or a Movie, Longford), and Jeffrey Dean Morgan (Watchmen, TV's "Supernatural" and "Grey's Anatomy"). Certified Fresh on Rotten Tomatoes, "The Walking Dead" Season Ten Blu-ray and DVD will be available for the price of $80.99 and $70.98, respectively.
 
BLU-RAY / DVD SPECIAL FEATURES
IN MEMORIAM
AUDIO COMMENTARIES
 
OFFICIAL SYNOPSIS
Winter has turned to spring, and the collected communities are grudgingly respecting the new borders imposed upon them by the ever-brutal Alpha. But having organized themselves into a militia-style fighting force, our group of survivors is prepared for battle – though they're keenly aware that the Whisperers, and the horde of dead they mingle with, pose a threat unlike any they've ever faced. Paranoia, propaganda, secret agendas, infighting – all of these will test the group, individually and collectively, with the survival of civilization in a world filled with the walking dead hanging in the balance.  
 
Featuring the six additional episodes of the extended 10th season, including Negan's long-awaited backstory, "Here's Negan."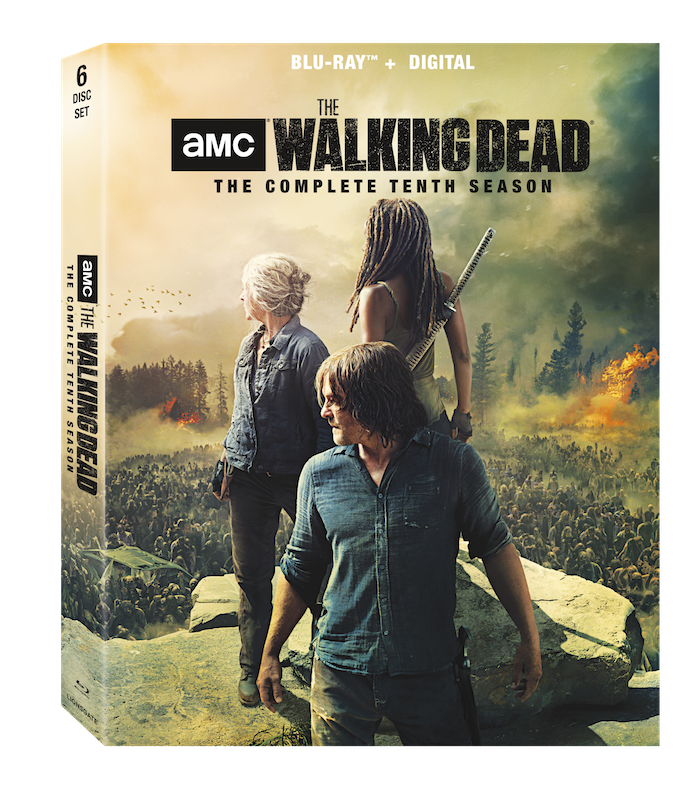 ----------
SHE BURNS IN HELL: CHAPTER 2: "Since 2011 we have been creating some of the most popular genre content out there, including Don't Fuck in the Woods, the Midsummer Nightmares series, and the upcoming Mr. Buzzkill. In 2018, we released a fan-film based on Stephen King's Carrie to much acclaim and love: She Burns in Hell: Accounts from Chamberlain, Maine. The story centered around survivors of Carrie's wrath and the telling of their encounters with her; set in 1979 and featured era costuming & verbatim moments from King's novel that often get cut from mainstream adaptations. Wanting to create more free content for our YouTube viewers, I put a second fan-film into development in late 2020.  She Burns in Hell: Chapter 2 returns to the town of Chamberlain for more stories ripped from the pages of the novel! We've gone deeper, bringing a richer & more faithful look at the source material. Our hope is to feature many book-accurate moments including a ten gallon blood dump at Carrie's prom! However, I've lost the ability to self-produce this film any further & am asking for your help to finish, dear horror lover!"
To learn more and support this campaign, visit: https://www.indiegogo.com/projects/she-burns-in-hell-chapter-2
---------
IMMORTELLE: "Off Limits Press is excited to announce the upcoming release of Catherine McCarthy's Immortelle!
SYNOPSIS: When Elinor's daughter, Rowena, is found poisoned and dead in an animal trough, Elinor is sure the local parish priest is to blame. A ceramic artist by trade and influenced by her late grandmother's interest in supernatural magic, Elinor crafts an immortelle for Rowena's grave and attempts to capture the girl's spirit in the clay model of a starling. Soon she is inundated with requests for immortelles and the more immersed in the craft she becomes, the greater her powers grow. As the dead share their secrets with grieving Elinor, she learns the sordid truth of what happened to her beloved daughter and plots a revenge so hideous, it must be kept a secret forever."
Catherine McCarthy's Immortelle will be released on July 15, 2021 and is available for on Amazon!