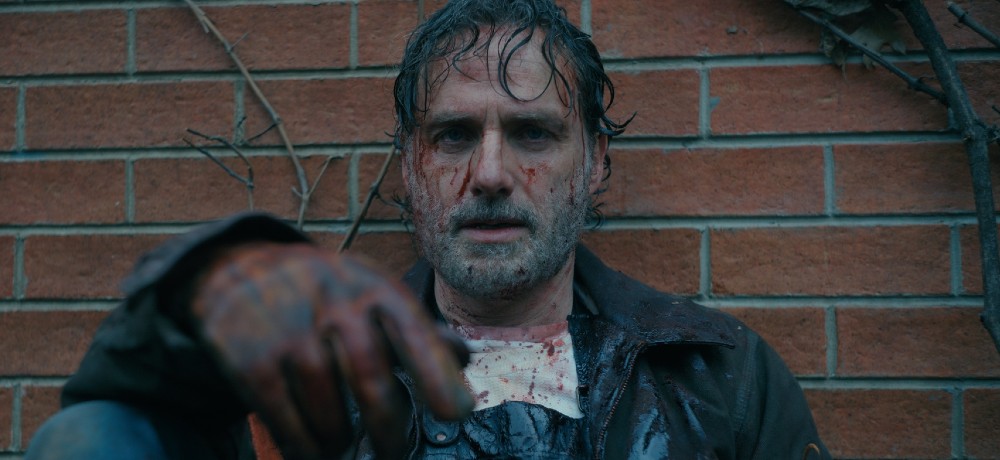 THE WALKING DEAD: THE ONES WHO LIVE: "AMC Networks announced tonight that The Walking Dead: The Ones Who Live, the highly anticipated next series in the Walking Dead Universe, will premiere Sunday, February 25, 2024 on AMC and AMC+. A new teaser for the series, which stars Andrew Lincoln and Danai Gurira as beloved TWD characters Rick Grimes and Michonne, was also released during tonight's series finale of Fear the Walking Dead.
The Walking Dead: The Ones Who Live presents an epic love story of two characters changed by a changed world. Kept apart by distance. By an unstoppable power. By the ghosts of who they were. Rick and Michonne are thrown into another world, built on a war against the dead... And ultimately, a war against the living. Can they find each other and who they were in a place and situation unlike any they've ever known before? Are they enemies? Lovers? Victims? Victors? Without each other, are they even alive -- or will they find that they, too, are the Walking Dead?
The Walking Dead: The Ones Who Live is executive produced by Showrunner Scott M. Gimple, Lincoln, Gurira, Denise Huth and Brian Bockrath."
---
THE CELLO: "Like many musicians, accomplished Saudi cellist Nasser (Samer Ismail) has aspirations for greatness, though he feels like he's held back by the old, dilapidated instrument he's forced to play. When Nasser is offered the chance to take possession of a gorgeous red cello by a mysterious shop owner (Tobin Bell), he finds new inspiration both for his playing and for his composing. What Nasser doesn't realize is that this cello has a nefarious past. As he prepares for an important audition with a prominent philharmonic, that past shows itself in the form of an ancient conductor (Jeremy Irons) and the suffering and death of those close to him. Nasser must now decide if achieving his dreams is worth the horror that comes with playing such a perfect instrument. THE CELLO is directed by horror icon Darren Lynn Bousman (Saw II, Saw III, Spiral)."
Directed by DARREN LYNN BOUSMAN
Written by TURKI ALALSHIKH
Starring SAMER ISMAIL, MUHANAD AL HAMDI, ELHAM ALI, SOUAD ABDULLAH, MILA AL ZAHRANI, BARAA ALEM, GHASSAN MASSOUD, BASHEER AL GHONAM, MOHAMMED ALTOYAN, with TOBIN BELL and JEREMY IRONS
Produced by LEE NELSON
Executive Produced by SULTAN AL MUHEISEN, NIKO RUOKOSUO, and DAVID TISH
Co-Produced by RAHUL TALWAR and PHILIP DAY
Edited by HARVEY ROSENSTOCK, A.C.E. and ZEBORAH TIDWELL
Cinematography by MAXIME ALEXANDRE
---
"OH MOTHER, WHAT HAVE YOU DONE?": "Horror icon and filmmaker Tom Holland returns to the world he envisioned in 1983's critically acclaimed feature film Psycho II in the all-new 176-page book Oh Mother, What Have You Done? now available from Holland House Entertainment. 
Authored by Tom Holland and containing unpublished memoirs by late Psycho II director Richard Franklin and conversations with the film's editor Andrew London, Oh Mother, What Have You Done? offers fans a unique glimpse into the continuation of the beloved Psycho film franchise, which created nightmares for millions of people showering worldwide. 
Created using never-before-seen production materials and photos - many from Holland's own personal archive – Oh Mother, What Have You Done? abounds with rare hand-written development and production notes, early budgets, personal Polaroids and more, all set against fascinating conversations with the film's writer, director and editor which document the development, filming, and reception of the much-celebrated Psycho II.  
Says author Holland of writing Oh Mother, What Have You Done? (which contains an afterward by Bates Motel producer Anthony Cipriano), "I wrote Psycho II, the first sequel that began the Psycho legacy, forty years ago this past summer, and the film was a huge success in the year 1983, but who remembers? To my surprise, apparently, they do, because on the film's fortieth anniversary love from fans began to pour in, much to my amazement and pleasure. And then (Psycho II director) Richard Franklin's unpublished memoirs arrived unexpectedly. I'd had no idea he'd written them before he passed in 2007."
"Reading them," continues Holland, "was like being transported back in time, and I had to share them, along with my memories and personal archives with the fans of Psycho, the sequels, and the excellent Bates Motel. I hope they enjoy reading the book as much as I did in putting it together. My thanks to Andrew London, who edited, and to Mr. Hitchcock, without whom none of this would have existed."
"So, step back with me forty years and let's see how it happened."
Oh Mother, What Have You Done? is available now in both hardback and paperback through Amazon and at Terror Time (for copies autographed by Tom Holland)"