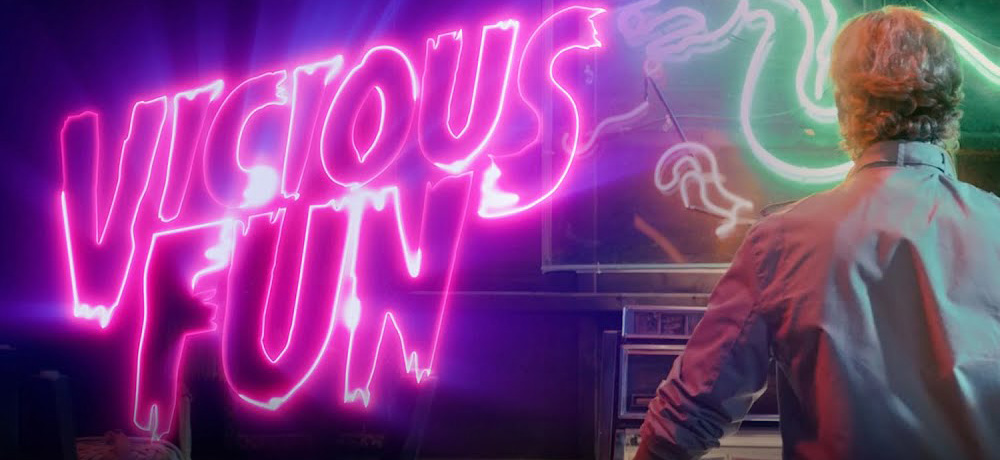 We're back with another installment of Horror Highlights, bringing you the trailer for Vicious Fun, details on the Salt Lake Horror Festival, the trailers for Remothered: Broken Porcelain and 8ight After, information on ShortsTV's Halloween programming, and news of The Chattering Hour YouTube show and podcast:
Watch the Trailer for VICIOUS FUN: "Life comes terrifyingly close to imitating art in Vicious Fun, the new horror-comedy from Breakthrough Entertainment and Black Fawn Films made in partnership with Particular Crowd, the original movie banner of WarnerMedia Entertainment Networks Latin America. The first trailer and poster for the exciting new project have just been released.
The film follows Joel (Evan Marsh), a caustic 1980's film critic for a national horror magazine, who finds himself unwittingly trapped in a self-help group for serial killers. With no other choice, Joel attempts to blend in with his homicidal surroundings or risk becoming their next victim. 
Shot in Hamilton, Ontario, Canada, Vicious Fun is directed by Cody Calahan, produced by Chad Archibald and Calahan and written by James Villeneuve. The film features an incredible ensemble cast that includes David Koechner (Anchorman, Cheap Thrills), Evan Marsh (Shazam!, Riot Girls), Amber Goldfarb (TV's Bad Blood), Ari Millen (TV's Orphan Black, I'll Take Your Dead), Julian Richings (TV's Supernatural, Man of Steel), Robert Maillet (300, Immortals), and Sean Baek (TV's Killjoys). The film is the first collaboration between Particular Crowd and Breakthrough Entertainment.
"Vicious Fun was hands-down the most entertaining set I've ever been on," explains director Cody Calahan. "It was an extremely collaborative process right across the board, from the talent on the screen to the talent behind the scenes. We wanted to make something nostalgic, hilarious, and a film that was just flat-out fun. I think we accomplished that."
Vicious Fun is set to have its much-anticipated world premiere at the Sitges Film Festival in Spain this October. The film will open up the festival's Panorama Fantastic section on opening night."
-
Salt City Horror Festival 2020: 
"Saturday, October 17th 2020 After Dark Presents
THE SALT CITY HORROR FEST 2020
*DRIVE-IN EDITION*
Screening 4 films! :"Escape From New York"
"The Exorcist"
"The Silence Of The Lambs"
"Basket Case"@ Fingerlakes Drive-In. Auburn, NY
Lot Opens at 6pm. Show at Dusk.
Advance Pricing : $20 Single Ticket or $40 per vehicle
Tickets are available now on www.saltcityhorrorfest.com*All patrons who previously purchased a ticket to the SCHF at The Palace Theatre will have their ticket honored at this event and at the 2021 Salt City Horror Festival (date TBD).*All films screened in digital format. This is a socially distant event. All patrons must wear a mask when they are outside of their vehicles."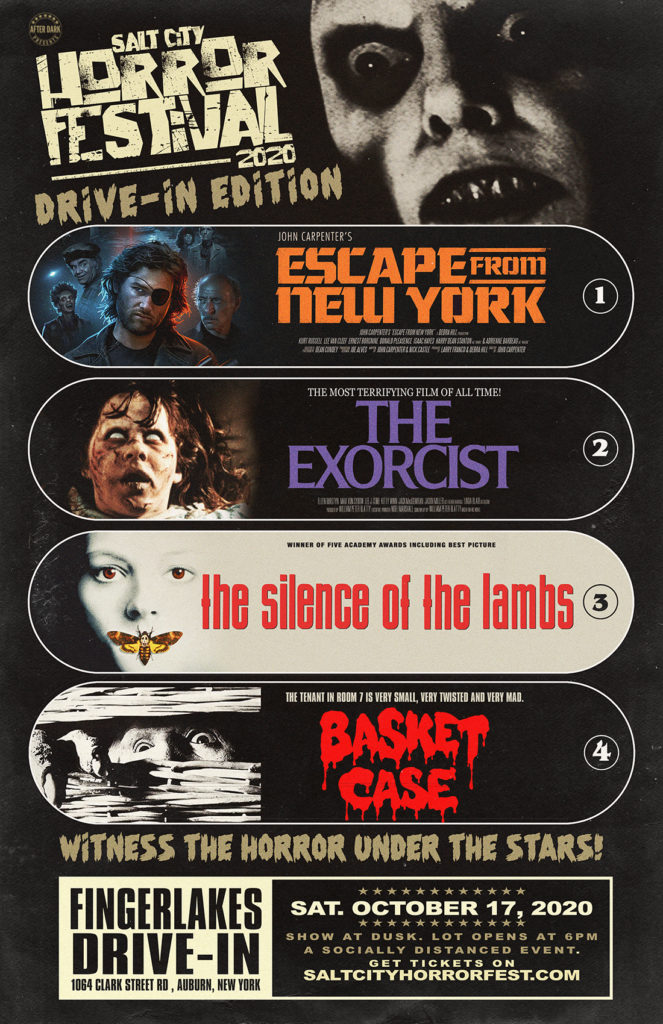 -------
REMOTHERED: BROKEN PORCELAIN: "Jennifer and Lindsay's bond has formed in the most unlikely of places, the horror-filled halls of the Ashmann Inn. That bond will be put to the test when Remothered: Broken Porcelain launches on October 20, 2020. Pre-order now: https://remothered.com/ "
---------
Watch the Trailer for 8IGHT AFTER: "Chronicling the true story of a demonic possession in 2019, reality television editor Vince Rocca kept a diary that focuses on his wife, Deanna, a zoo veterinary technician, who becomes increasingly possessed by a ghost. The loving couple never knew the prior horrors that occurred in their home - a man had once murdered his wife before taking his own life in their house. Vince must now rescue Deanna from her unspeakable fate, and the drama that ensues is gripping and unfailingly terrifying.
From acclaimed filmmaker/editor Vince Rocca comes the unholy hybrid of Modern Family and Paranormal Activity that blends family drama, unspeakable horrors, and undying love with a mix of social media into a pulse-pounding supernatural mystery.

Release Date: Midnight, October 15 on Amazon in US & UK
Directed by: Vince Rocca
Starring: Vince Rocca, Deanna Rocca"
---------
ShortsTV Unveils Shriek Week and Halloween Programming: "In honor of the upcoming season which calls for horror, thrills and gore, ShortsTV, the exclusive presenter of the Oscar® Nominated Short Films theatrical releases for the last 15 years, announced today their Halloween-themed programming lineup will debut today and continue throughout the duration of the month.
Throughout the month, ShortsTV will air "Midnight Hour," programming blocks from midnight to 6am on Fridays, which will feature short films of varying horror including thriller, suspense and more. "Midnight Hour" will run through October 23rd. Highlighted films include LAST ONE SCREAMING, directed by Matt Devino, THE STATION, directed by Patrick Ridremont and AKUJI DEVIL'S BOARD, directed by Nelson Ricardo, amongst many more.
Additionally, powered by Crimson Screen Horror Film Fest, ShortsTV is debuting "Shriek Week" on October 25 to air throughout the week leading up to Halloween through Saturday, October 31. In addition to airing more than 25 films that were previously featured at Crimson Screen Horror Film Fest, ShortsTV will air five filmmaker spotlights, showcasing award-winning filmmakers and providing a closer look inside of the processes of renowned creators.
Listed below, the following films and filmmakers will be highlighted on ShortsTV this Halloween season:
HIGHLIGHTED FILMS
Anniversary, Directed by Tommy Faircloth
A married couple, Richard and Etna, finds their relationship is in danger. Etna reaches her breaking point and from that moment on, their emotional tension only seems to rise.
Ens Rationis, Directed by Richard Blakewell
Ten years ago, Vivian struck a pact with a mysterious stranger who promised her something no one else could. Tonight she abandons the love of her life to make a dark rendezvous and settle her debt.
Eyecatcher, Directed by Jun Shimizu
Two young brothers tell each other scary stories of an urban legend - a creature lurking in the shadows of Koreatown - the Eyecatcher. When the brothers reunite years later, they find there may be truth to the legend…
Last One Screaming, Directed by Matt Devino
What happens to the Final Girl after a horror movie is over?
Lost In Buffalo City, Directed by Raymond Wallace
A reporter investigating a series of deadly encounters surrounding a long-forgotten ghost town uncovers sinister forces that may wind up costing him his life.
Lucid, Directed by Andrew Creco & James Cates  
A man is terrorized by an unseen force as he tries to finish a research paper alone in a cabin.  Presented in first person as one continuous take.
Trentside, Directed by Charlie Delaney 
After discovering a disturbing Super 8 film reel, a troubled skateboarder's world starts to fall apart as he becomes unable to differentiate reality from hallucination.
The Corner, Directed by Jayson Buterin
As far as babysitting jobs went, this one was about as routine as it gets. But when Jolie finally got a chance to sit down for some quiet time in front of the television, things didn't get dull...they got deadly.
The Mark Of Nefarious, Directed by Jason Ledford
A dark journey into the troubled mind of Justin Blake. His sister Tara thinks Justin's drug use is to blame. But Justin is convinced that "pure evil" is just outside...watching...waiting... and scratching at his window.
White Drift, Directed by Corey Norman  
Peter, a war torn US veteran, arrives in a small Maine town searching for a lost friend.
FILMMAKER SPOTLIGHTS 
Alanah Rafferty, director of Mutiny 
A young reporter researches a terrible virus that may spread through social media. As she delves into the story, and her anxiety takes over, she must decide whether the real danger is out there, or in her mind.
Eriabis Jennison, director of The Picnic
On a picnic in the woods a family is confronted with a horrific change of plans after crossing paths with a lone hiker. A rebirth of some inner demons is evoked and soon a struggle occurs to survive a broken past's most terrifying fears.
Matt Devino, director of Last One Screaming
What happens to the Final Girl after a horror movie is over?
Melanie Alexander & Mary Stark, directors of Full Moon
Amy, a self-proclaimed witch, invites friends over for a full moon ritual to bring magic into their lives, but the powers they summon are much more than they bargained for.
Jun Shimizu, director of Eyecatcher
Two young brothers tell each other scary stories of an urban legend - a creature lurking in the shadows of Koreatown - the Eyecatcher. When the brothers reunite years later, they find there may be truth to the legend...
Raymond Wallace, director of Nights of the Fluffet
When a little girl finds an abandoned Fluffet out in the woods, she has no idea of the ropey-limbed chaos she is about to bring down upon her loved ones.
For more information on ShortsTV and how to watch, please visit Shorts.tv."
---------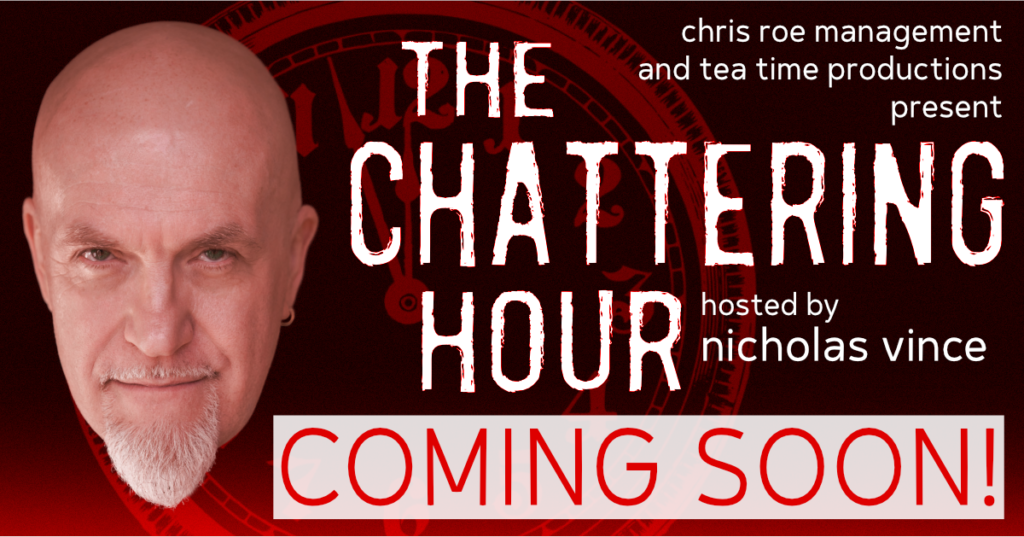 THE CHATTERING HOUR: "LOS ANGELES – Just in time for the best holiday of the year, Chris Roe Management and Tea Time Productions will launch The Chattering Hour Youtube show and podcast hosted by Nicholas Vince (Hellraiser, Nightbreed).  Each week, Vince will delve into entertainment in the horror and thriller genre and chat with special guests.  Initial guests will include Traci Lords (Excision, Cry-Baby), Malcolm McDowell (Bombshell, "Mozart in the Jungle", A Clockwork Orange), Kathleen Kinmont (Bride of Re-Animator, Halloween 4), Courtney Gains (Children of the Corn) and best-selling author Daniel Kraus.  The weekly Youtube show and podcast will debut this Thursday October 8, 2020.
"Podcasts are an excellent medium and have been in a growth mode for the past few years," commented Chris Roe, producer of The Chattering Hour and founder of Chris Roe Management.  "It is estimated that close to 50% of all U.S. homes are podcast listeners and with the horror and thriller marketplace having such devoted fans, we thought it would be an excellent way to entertain during and after this pandemic."
Host Nicholas Vince added, "I love interviewing other artists and getting their take on the craft.  The Chattering Hour podcast will give me a chance to connect with my fellow actors as well as the fans."
Nicholas Vince played The Chatterer Cenobite in Clive Barker's Hellraiser franchise and Kinski in Barker's Nightbreed.  At the end of 2019, he performed his autobiographical one-man show, I AM MONSTERS! at the Pleasance Theatre in London as part of the London Horror Festival and to a sell-out audience in Las Vegas.  He's written and directed three short films and starred in countless independent feature films as well as having written two collections of short stories. He was awarded a Lifetime of Torment Award by Texas Frightmare, the London Horror Society Award for Outstanding Contribution to UK Independent Horror and a Dedication to Horror Award from the Liverpool Horror Club.  He previously hosted a popular YouTube show dubbed Chattering with Nicholas Vince which featured indie filmmakers, actors, writers and artists.  The show ended in December 2018 and had 140 episodes. "