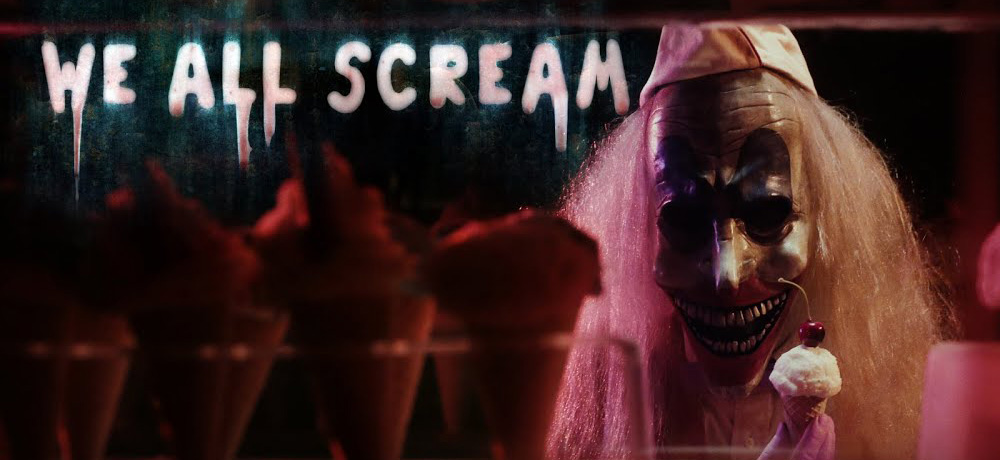 Watch the Short Film WE ALL SCREAM: "A neglected young boy with a sweet tooth gets more than he bargained for when he receives a special visit from the mysterious ice cream man, Mr. Sweetie, in the deliciously diabolical horror short WE ALL SCREAM, directed by Chris Lofing and Travis Cluff and written by Jener Dasilva. After leaving audiences melting in terror at ScreamFest, Indie Short Fest, Telluride Horror Show, the Popcorn Frights Film Festival (as part of NIGHTSTREAM), and Cinequest, this high-concept horror short is available for viewing today!"
----------
Behind-the-Scenes Trailer for the Making of THE MORTUARY COLLECTION: "RLJE Films just released THE MORTUARY COLLECTION on DVD for an SRP of $27.97 and Blu-ray for an SRP of $28.96.
Written and directed by Ryan Spindell ("50 States of Fright," The Babysitter Murders), THE MORTUARY COLLECTION stars Clancy Brown (The Shawshank Redemption, Thor: Ragnarok), Caitlin Custer ("Teen Wolf," "Swingtown"), Christine Kilmer ("Hollywood," "Shameless"), and Jacob Elordi (The Kissing Booth franchise, "Euphoria").
Set in the phantasmagorical town of Raven's End, nothing is as it seems.... In THE MORTUARY COLLECTION, a misguided young girl takes refuge in a decrepit old mortuary. There she meets Montgomery Dark, an eccentric undertaker with more than a few skeletons in his closet. Montgomery chronicles the strange history of the town through a series of twisted tales, each more terrifying than the last, but the young girl's world is unhinged when she discovers that the final story...is her own.
Bonus features on the DVD and Blu-ray include:
Director's Commentary
14 Extensive Behind-the-Scenes Segments Featuring the Cinematography, Costumes, Art Department, Locations, Props, Hair &
Make-Up, Special Effects, Sound, Stunts, and Visual Effects of THE MORTUARY COLLECTION
In-Depth Conversations with Director and Writer Ryan Spindell, the Actors, and Crew of THE MORTUARY COLLECTION
Deleted Scenes
 …and more!"
----------
Heavy Metal Entertainment and Humble Bundle Join Forces to Launch the Heaviest Metal Comics Bundle: "Time to get METAL. Heavy Metal Entertainment, the premiere storyteller of cutting edge science fiction, fantasy and horror content, is teaming up with Humble Bundle to launch the "Humble Comic Bundle: HEAVY METAL's Heaviest Metal," which is available for purchase now.
Running from April 29 through May 20, the new bundle features over $341 worth of comics from popular writers like Dan Fogler (Brooklyn Gladiator, Fishkill, Moon Lake), Stephanie Phillips (Taarna: The Last Taarakian), George C. Romero (The Rise, Cold Dead War), and Dylan Sprouse (Sun Eater), and all-star artists like Simon Bisley, Ben Templesmith and Diego Yapur. The bundle will also give fans the opportunity to buy historic Heavy Metal Magazine issues featuring legends like Jack Kirby, Richard Corben, and Grant Morrison. 
Notable magazine issues in the bundle include: Heavy Metal Magazine #276, featuring Jack Kirby artwork; issue #280, showcasing Grant Morrison's debut as editor-in-chief; two special music issues with stories inspired by bands like Iron Maiden, Nine Inch Nails, and Slipknot; and the landmark 300th issue featuring VIP guests Moebius (with a short story in English for the first time), Richard Corben, Tanino Liberatore and brand-new talent.
A portion of the proceeds from the bundle will go to The Hero Initiative. The Hero Initiative creates a financial safety net for comic creators who may need emergency medical aid, financial support for essentials of life and an avenue back into paying work. 
"The partnership between Heavy Metal and Humble Bundle offers a rare opportunity to not only sample stunning work our creators and editors have done for the magazine, our many comics, and prose books, but also a chance to support the noble mission of The Hero Initiative, a charity we at Heavy Metal truly admire," said Kris Longo, Heavy Metal's Chief Sales Officer. "We're excited to give new fans and old the opportunity to not only enjoy Heavy Metal's collection, but also help creators in need in equal measure."
"We appreciate the ongoing efforts of Humble Bundle to better the lives of comic creators, and we're delighted to work with Heavy Metal to bring this bundle to fans everywhere," said Jim McLauchlin, President and co-founder of The Hero Initiative.
Humble Bundle offers limited-time collections of games, books, software, and more. Fans can simply pay what they want and choose where their money goes, including to charity. Most bundles come in tiers starting at only $1. The Humble community has contributed over $195,000,000 to charity since 2010, making an amazing difference to causes all over the world.
For more information on the "Humble Comic Bundle: HEAVY METAL's Heaviest Metal" bundle, please visit: https://www.humblebundle.com/books."
----------
Release Details for GOODBYE HONEY: "Dawn, a truck driver, pulls into a state park to get some sleep when she is ambushed by Phoebe, a young woman who claims she is fleeing from an abductor. Dawn is wary of Phoebe's story, leading to a struggle that leaves her phone broken, the keys missing, and nothing but darkness between them and help. As the night progresses, it becomes clear they are not alone. Bonding over a shared history of trauma, Dawn and Phoebe realize they must learn to trust each other if they want to survive a night full of unexpected twists and violent turns."