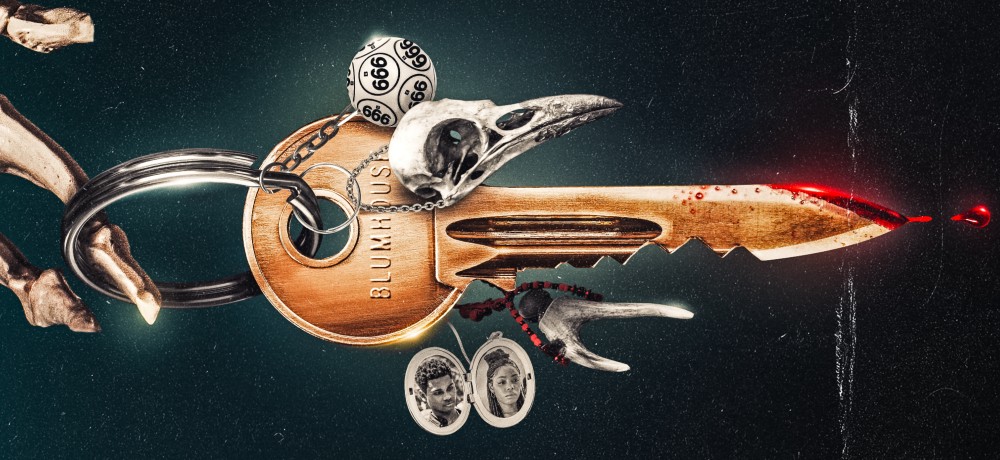 Amazon Prime Video Announces Latest Installment of "Welcome To The Blumhouse": "Amazon Prime Video is excited to announce this year's installment of "Welcome To The Blumhouse," featuring an all new set of unique, unsettling thrillers developed with an eye towards original, diverse storytelling. Produced by Blumhouse Television and Amazon Studios, BINGO HELL, BLACK AS NIGHT, MADRES and THE MANOR premiere worldwide this October exclusively on Prime Video.
The "Welcome to the Blumhouse" slate once again showcases both well-established and breakout actors collaborating with emerging, predominantly female, directors.
BINGO HELL and BLACK AS NIGHT premiere on October 1, followed by MADRES and THE MANOR on October 8.
BINGO HELL
October 1, 2021
Logline
A feisty senior citizen fights to protect her beloved neighborhood from an evil force that's taken over the local bingo hall and is killing the residents in gruesome ways.
Short Synopsis
When a sinister figure threatens the residents of a low-income community, a feisty senior citizen tries to stop him in Bingo Hell, a wickedly original horror movie with a fiendishly funny twist. After 60-something neighborhood activist Lupita (Adriana Barraza) discovers that her beloved local bingo hall has been taken over by a mysterious businessman named Mr. Big (Richard Brake), she rallies her elderly friends to fight back against the enigmatic entrepreneur. But when her longtime neighbors begin turning up dead under grisly circumstances, Lupita suddenly discovers that gentrification is the least of her problems. Something terrifying has made itself at home in the quiet barrio of Oak Springs, and with each new cry of "Bingo!" another victim falls prey to its diabolical presence. As the cash prizes increase and the body count steadily rises, Lupita must face the frightening realization that this game is truly winner-takes-all.
Directed by: Gigi Saul Guerrero
Written by: Shane McKenzie, Gigi Saul Guerrero, Perry Blackshear
Starring: Adriana Barraza, L. Scott Caldwell, Richard Brake and Joshua Caleb Johnson
Executive Produced by: Jason Blum, Lisa Bruce, Jeremy Gold, Marci Wiseman, Raynor Shima and Lauren Downey
BLACK AS NIGHT
October 1, 2021
Logline
A resourceful teenage girl driven by revenge, alongside her trusted friends, spends her summer battling vampires terrorizing her city of New Orleans.
Short Synopsis
A resourceful teenage girl leaves childhood behind when she battles a group of deadly vampires in Black as Night, an action-horror hybrid with a strong social conscience and a biting sense of humor. Fifteen years after Hurricane Katrina ravaged New Orleans, a new threat leaves its mark on the Big Easy in the form of puncture wounds on the throats of the city's vulnerable displaced population. When her drug-addicted mom becomes the latest victim of the undead, 15-year old Shawna (Asjha Cooper) vows to even the score. Along with three trusted friends, Shawna hatches a bold plan to infiltrate the vampire's mansion in the historic French Quarter, destroy their leader, and turn his fanged disciples back to their human form. But killing monsters is no easy task, and soon Shawna and her crew find themselves caught in a centuries-old conflict between warring vampire factions, each fighting to claim New Orleans as their permanent home.
Directed by: Maritte Lee Go
Written by: Sherman Payne
Starring: Asjha Cooper, Fabrizio Guido, Mason Beauchamp, Abbie Gayle with Craig Tate and Keith David
Executive Produced by: Jason Blum, Jeremy Gold, Marci Wiseman, Lisa Bruce, Maggie Malina and Guy Stodel
MADRES
October 8, 2021
Logline
Expecting their first child, a Mexican-American couple move to a migrant farming community in 1970's California where strange symptoms and terrifying visions threaten their new family.
Short Synopsis
Beto (Tenoch Huerta) and Diana (Ariana Guerra), a young Mexican-American couple expecting their first child, move to a small town in 1970's California where Beto has been offered a job managing a farm. Isolated from the community and plagued by confusing nightmares, Diana explores the rundown company ranch where they reside, finding a grisly talisman and a box containing the belongings of the previous residents. Her discoveries will lead her to a truth much stranger and more terrifying than she could have possibly imagined.
Directed by: Ryan Zaragoza
Written by: Marcella Ochoa & Mario Miscione
Starring: Tenoch Huerta, Ariana Guerra, Evelyn Gonzalez, Kerry Cahill, and Elpidia Carrillo
Executive Produced by: Jason Blum, Jeremy Gold, Marci Wiseman, Lisa Bruce, Sanjay Sharma and Matthew Myers
THE MANOR
October 8, 2021
Logline
After suffering a mild stroke, Judith Albright reluctantly moves into a historic nursing home where she becomes convinced a supernatural force is killing the residents.
Short Synopsis
A malevolent force preys upon the residents of a sleepy nursing home in The Manor, a gothic tale of terror with a modern twist. When a mild stroke diminishes her ability to care for herself, Judith Albright (Barbara Hershey) moves to Golden Sun Manor, an assisted living facility with a sterling reputation. But despite the best efforts of the staff, and a budding friendship with fellow senior Roland (Bruce Davidson), strange occurrences and nightmarish visions convince Judith that a sinister presence is haunting the massive estate. As residents begin to die mysteriously, Judith's frantic warnings are dismissed as fantasy. Even her devoted grandson Josh (Nicholas Alexander) thinks her fears are the result of dementia, not demons. With no one willing to believe her, Judith must either escape the confines of the manor, or fall victim to the evil that dwells within it.
Written and Directed by: Axelle Carolyn
Starring: Barbara Hershey, Bruce Davison, Nicholas Alexander, Jill Larsen, Fran Bennett and Katie Amanda Keane
Executive Produced by: Jason Blum, Jeremy Gold, Marci Wiseman, Lisa Bruce, Sandy King and Richard J Bosner"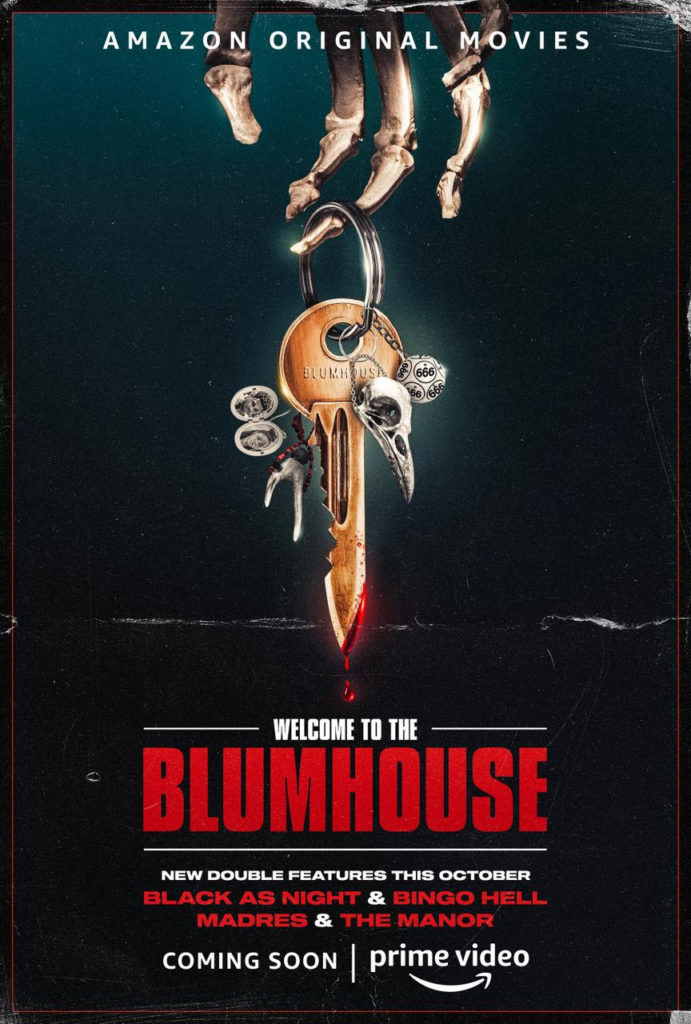 ---------
BORIS KARLOFF: THE MAN BEHIND THE MONSTER: "Shout! Studios has announced today their acquisition of North American distribution rights to BORIS KARLOFF: THE MAN BEHIND THE MONSTER. This captivating new documentary sheds light on William Henry Pratt (better known by his stage name, Boris Karloff) as Hollywood's master of menace, as well as his films, his legend and the fears that haunted him through his life. Abramorama will release the film in theaters on September 17th.
Karloff is best known for his role as "The Monster" in the classic horror films Frankenstein (1931), Bride of Frankenstein (1935) and Son of Frankenstein (1939). This documentary examines his extraordinary 60-year career in the entertainment industry, as well as his continuing influence as a horror icon.
Directed by Thomas Hamilton (Leslie Howard: The Man Who Gave a Damn) and co-produced and co-written by Ron MacCloskey, the film provides a riveting depiction of Karloff and the genre he helped define through exclusive interviews with his daughter, Sarah Karloff, and filmmakers he influenced, including Peter Bogdanovich, Guillermo del Toro, Christopher Plummer, John Landis, Roger Corman and Kevin Brownlow. The film also features the original song "Frankenstein's Lament" by famed jazz bassist Jay Leonhart.
"In Boris Karloff: The Man Behind the Monster, audiences will be taken on a journey through Boris Karloff's life and career. They will discover the secrets of the man, the struggles and triumphs of his career, as well as the surprising twists it took, and hear direct testimony from the man himself and those who were closest," stated director Thomas Hamilton. "Additionally, we chart the rise of one of the most durable of Hollywood genres, the horror film, and provide fresh perspectives on the peculiar power that these films retain, 90 years after they were made."
"Thomas and Ron have done a first-class job of telling the story of Boris Karloff's life. I was a 'monster kid'--my brother and I were obsessed with them, Frankenstein and The Mummy most of all--so I consider it a privilege and high honor to help bring Boris Karloff: The Man Behind the Monster out into the world," said Abramorama's CEO, Richard Abramowitz.
"The timing seems perfect to release a documentary about the heralded actor Boris Karloff. His legacy continues to grow and in keeping with Shout! Studios' focus in perpetuating such legacies, we are thrilled to introduce this documentary to an audience that can once again celebrate Mr. Karloff's iconic status," said Mark Balsam from Shout! Studios.
BORIS KARLOFF: THE MAN BEHIND THE MONSTER (USA, approximately 90 minutes, English). Voltage Films LTD Tribute Promotions & Abramorama in Association with Shout! Studios "Boris Karloff: The Man Behind The Monster." Sara Karloff, Guillermo del Toro, Ron Perlman, Stefanie Powers, Christopher Plummer, Peter Bogdanovich, John Landis, Lee Grant, Joe Dante, Roger Corman, Norman Jewison, David J. Skal, Gregory W. Mank. Narration by Michael Jarmus. Music by Laura Forrest Hay. Original Song by Jay Leonart. Edited by Anuree de Silva. Director of Photography Bruce Heinsius. Post-Production by TVC Soho. Sound Mixing by Stephen O'Toole. Coloring by Marty Webb. Online Editing by Ian Mander. Executive Produced by Eric Bond Hutton, Tracy Jenkins, Richard Abramowitz. Produced by Thomas Hamilton, Ron MacCloskey. Script by Ron MacCloskey & Thomas Hamilton. Directed by Thomas Hamilton. An Abramorama and Shout! Studios theatrical release."
To learn more, visit: www.themanbehindthemonster.com

---------
American Psycho arrives on 4K Steelbook exclusively at Best Buy 10/5: "From acclaimed director Mary Harron and staring Christian Bale in his career-making performance as Patrick Bateman, comes the exciting re-release of the unhinged cult-classic AMERICAN PSYCHO. American Psycho arrives October 5th on 4K Ultra HD™ Steelbook from Lionsgate, exclusively at Best Buy. Patrick Bateman (Christian Bale) is a Wall Street yuppie, obsessed with success, status, and style, with a stunning fiancée (Reese Witherspoon). He is also a psychotic killer who rapes, murders, and dismembers both strangers and acquaintances without provocation or purpose. Based on the controversial novel, the film offers a sharp satire to the dark side of yuppie culture in the '80s, while setting forth a vision that is both terrifying and chilling. Featuring all new artwork from artist Justin Erickson, American Psycho will be available on 4K Ultra HD™ Steelbook at Best Buy for the suggested retail price of $27.99.
4K AND BLU-RAY SPECIAL FEATURES
Deleted Scenes with Optional Director Commentary
American Psycho: From Book To Screen (4K Only)
The '80s Downtown
Audio Commentary with Director Mary Harron (Recorded in 2018 – 4K Only)
Audio Commentary with Writer Guinevere Turner"