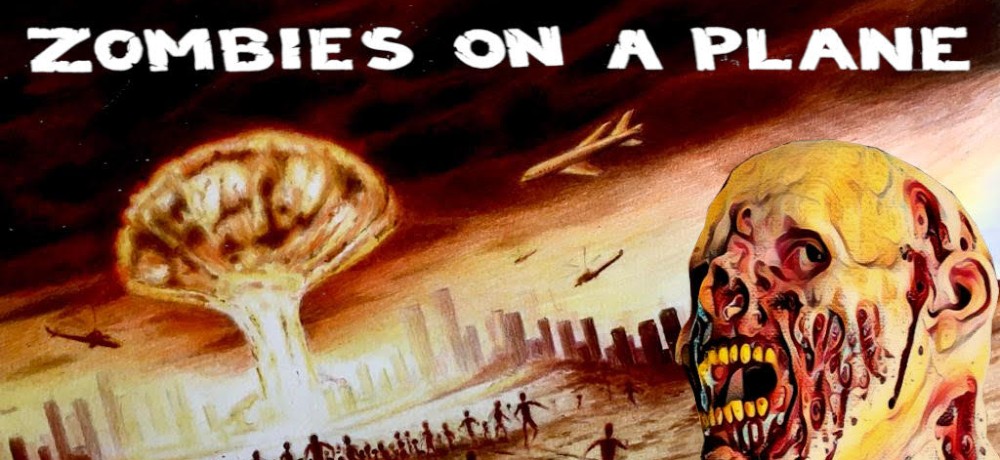 ZOMBIES ON A PLANE: "Flight 543. A regular check-in.
Unbeknownst to them, a passenger is pre-selected and pre-infected with a truly horrific pathogen. Boarding the plane, the virus lies dormant within their body, awaiting to be awakened. Once activated it transforms its unwilling host into a highly intelligent, flesh craving, barely controllable weaponised monster.
Flesh rots, senses heighten but not all goes according to plan...
A plane over the Atlantic..
A monster within..
A new nightmare begins.."
---
SHUDDER & RLJE FILMS MOVE IN TOGETHER ON 'DESTROY ALL NEIGHBORS': "Shudder, AMC Networks' streaming service for horror, thriller and the supernatural, and RLJE Films, a business unit of AMC Networks, today announced their partnership on the newest Shudder Original Film, Destroy All Neighbors. From music-video and commercial director Josh Forbes and starring Jonah Ray Rodrigues (Mystery Science Theater 3000) and Alex Winter (Bill and Ted franchise) who also produce, Destroy All Neighbors will have a day-and-date release in theaters and on Shudder in 2023. The film, which is also produced by Russell Sanzgiri (Michael Bolton's Big Sexy Valentine's Day Special), is from an original script written by Mike Benner, Jared Logan, and Charles Pieper.
"We're so excited for Josh, Jonah and Alex to bring this hilariously dark take on 'the neighbor from hell' to our members,'" said Shudder general manager Craig Engler. "Giving this tentpole feature as big of a launchpad as possible with our partners at RLJE Films is sure to get the whole 'neighborhood' talking."
In Destroy All Neighbors, struggling prog-rock musician William Brown (Rodrigues) finds himself in a living nightmare when he accidentally kills Vlad (Winter), the neighbor from hell. Vlad's disembodied corpse delights in tormenting William, sending him further into madness and impending doom.
"We're thrilled to be working with Shudder and RLJE on this labor of love," added Winter. "Our film is a return to the kind of physical effects-driven genre comedy that's all too rare these days."
Casting is underway and production is set to commence this July.
CAA Media Finance helped broker the deal.
Winter is represented by CAA, Forward Entertainment, Hollander Entertainment and Sloss Eckhouse Dasti Haynes LawCo."
---
RLJE FILMS AND SHUDDER ACQUIRE "THE REEF: STALKED" FOR SUMMER RELEASE: "RLJE Films, a business unit of AMC Networks, and Shudder, AMC Networks' streaming service for horror, thriller and the supernatural, have acquired the North American rights to the horror film, THE REEF: STALKED. The film will be released In Theaters, on Digital/VOD and streaming on Shudder on July 29, 2022.
Written and directed by Andrew Traucki (Black Water) as a follow up to his 2010 film, The Reef, THE REEF: STALKED stars Teressa Liane ("The Vampire Diaries"), Ann Truong ("Cowboy Bebop"), Saskia Archer (Boshack), Kate Lister ("Clickbait") and Tim Ross ("Wonderland").
"Audiences have an insatiable appetite for shark films, which we know first-hand from our incredible experience releasing The Reef years ago," said Mark Ward, Chief Acquisitions Officer of RLJE Films. "We are thrilled to be working with the team again to bring this new terrifying adventure to audiences."
In THE REEF: STALKED, Nic, in an effort to heal after witnessing her sister's horrific murder, travels to a tropical resort with her friends for a kayaking and diving adventure. Only hours into their expedition, the women are stalked and then attacked by a great white shark. To survive they will need to band together and Nic will have to overcome her post-traumatic stress, face her fears and slay the monster.
THE REEF: STALKED was produced by Neal Kingston (Great White), Michael Robertson (The Pack), Jack Christian (Black Water: Abyss) and Traucki (The Reef). AMP International is handling international sales on the film.
Ward and Betsy Rodgers from RLJE Films negotiated the deal with James Norrie and Nina Kolokouri of AMP International on behalf of the filmmakers."
---
ZERO CONTACT: "Starring Anthony Hopkins (The Silence of the Lambs), this high-tech thriller chillingly reimagines our isolated, virtual world. Hopkins plays Finley Hart, the eccentric genius behind a global data-mining program. Upon his death, five remote agents—including Finley's son—are contacted by a mysterious AI entity to reactivate the initiative, which may enable time travel. As sinister events occur at each of their homes, they must decide whether entering their passwords will save the world—or destroy it."
In select theaters, on digital, and on demand May 27, 2022