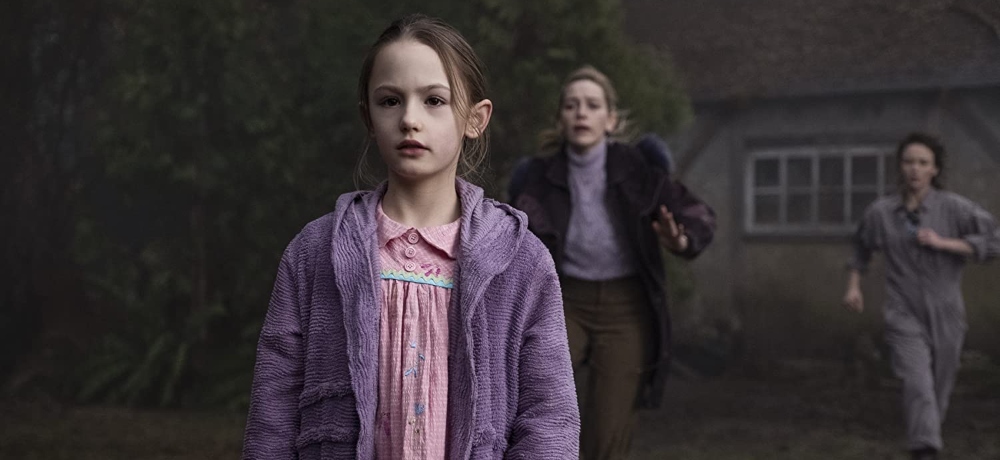 As someone who is a big fan of Henry James' work, and also counts The Innocents as one of the greatest horror movies of all time (you can read my tribute to Jack Clayton's film HERE), I have been eagerly anticipating Mike Flanagan's The Haunting of Bly Manor adaptation for Netflix, as I was extremely curious about how this story would parlay into a nine-episode series. Thankfully, Bly Manor ended up surpassing any lofty expectations I might have had going into this new show, proving that even after countless versions of The Turn of the Screw over the decades, there are still ways to take this story in new and exciting directions.
While it may not necessarily be quite as heavy on the horror as The Haunting of Hill House was, Bly Manor is still an incredible feat in storytelling, and everyone involved with the series should be extremely proud of what they were able to create here. There are still plenty of thrills and chills, but I found myself more enraptured with the gothic romantic undertones of The Haunting of Bly Manor more than anything, and the final episode left me a sobbing mess as well (when will Mike Flanagan create something that doesn't turn me into an emotionally devastated heap?).
The Haunting of Bly Manor takes us back to the year 1987 and introduces us to Dani Clayton (Victoria Pedretti), an American visiting the U.K. who applies for a position as an au pair as a means to escape her life back in the States. She interviews with Henry Wingrave (Henry Thomas), the emotionally detached uncle of the young Flora (Amelia Bea Smith) and Miles (Benjamin Evan Ainsworth), who live at the  family estate out in the countryside. The nanny position is available because a year earlier, the kids' previous caretaker Ms. Jessel (Tahirah Sharif) killed herself after the relationship she shared with Henry's associate Peter Quint (Oliver Jackson-Cohen) went south. Beyond that, both Flora and Miles are also contending with the untimely death of their parents as well, which means whoever steps into Ms. Jessel's shoes will definitely have their hands full.
Dani eventually wins over the reluctant Henry and gets the job, and when she arrives at Bly Manor, she meets the other members of the house's staff, which includes housekeeper Mrs. Grose (T'Nia Miller), a cook named Owen (Rahul Kohli), and the groundskeeper Jamie (Amelia Eve). Initially, Dani is excited about working with the kids and living in the picturesque abode, but soon enough, the au pair realizes that there's something very wrong happening at Bly Manor, and this supernatural threat puts everyone living at the house squarely in harm's way.
Obviously, since we're dealing with nearly nine hours of a series, there's A LOT more to The Haunting of Bly Manor that I didn't mention in that overview. And while I'm going to chat about aspects of the show that I really enjoyed, there's so much that I won't be discussing yet because I don't want to ruin the experience for viewers when the series premieres later this week. So continue reading with confidence—there will be no spoilers revealed here whatsoever.
When it comes to a story like The Turn of the Screw, which has been adapted countless times, you just want someone to bring something new to the plate when taking it on, and I think that Flanagan has done a brilliant job with taking the wide brush strokes of James' original novella and creating something that honors the spirit of James' work, but also adds something new as well, making Bly Manor one of the more intriguing adaptations I've ever seen. The addition of new characters to this world provides Bly Manor with the opportunity to open up this world and the dynamics of the established characters in some new and unexpected ways, and they ended up being some of my favorite aspects of the series. I absolutely adored Rahul Kohli's performance as Owen, who adds a lot of heart to this story, and Amelia Eve's Jamie is another astonishingly great addition as well.
I also really appreciated Bly Manor's approach to the character of Mrs. Grose, and I think T'Nia Miller deserves a lot of recognition for her performance in the series, particularly episode five, which is just a stunning achievement in storytelling and knocked the breath right out of me. Miller's quiet charisma and grace adds so much here, and I think this is the first time I ever have truly adored the Mrs. Grose character, and that's all due to Miller's performance.
As the emotional anchor for Bly Manor, Victoria Pedretti rises to the challenge, and her character Dani, for as damaged as she may be, has a natural warmth and charm that makes her perfect for this role as the determined caretaker to these small children. I also thought both Smith and Ainsworth were great as Flora and Miles, but one of the biggest differences between Bly Manor and The Innocents or other Turn of the Screw adaptations is that the approach to the children here is very different than what we've seen before, which strips away some of the ambiguity of their motivations. These versions of the kids are far less creepy than we've seen before (although they do have their share of moments), so I found them more endearing in Bly Manor than I ever had previously.
While The Haunting of Bly Manor may not deliver up as many fright-filled moments as Hill House did, the scares in this series are yet again expertly crafted, where you really have to be on your toes so that you can keep your eyes peeled for all these creepy appearances that seemingly come out of nowhere. But considering Bly Manor leans more into the tragedies that have befallen those living at the estate more so than the genre elements, it only makes sense that the series feels like an achingly beautifully composed love letter to a deceased love one more than anything else. That's definitely not a bad thing, especially to me, but those looking for something with a bit more horror meat on its bones might feel a little short-changed in the end. Considering the themes Bly Manor explores throughout these nine episodes, there's an unexpected tenderness to this series I was not expecting, but I think that's what made me fall in love with it in the first place.
It's also worth noting that Bly Manor also sidesteps the psycho-sexual undertones that are front in center in The Innocents and also strips away a lot of the ambiguity from James' original novella, too. Again, some fans may not be happy with those decisions, but as someone who will always embrace new interpretations of long-standing material, I was fine with those decisions, and I think from a storytelling perspective, it made sense to go in this direction for Bly Manor.
There's definitely a lot more I want to say about The Haunting of Bly Manor, but I'll refrain for now, since the debut is just a few days away now and I want to make sure you get to experience it the way I was able to. But as someone who has always loved The Turn of the Screw and in particular, The Innocents, Bly Manor takes some bold storytelling risks here that make it a standout adaptation of this world and these characters that I couldn't help but fall in love with it in the end. To paraphrase a few of the characters, The Haunting of Bly Manor is "perfectly splendid."
[Photo Credit: Above photo by Eike Schroter/Netflix.]