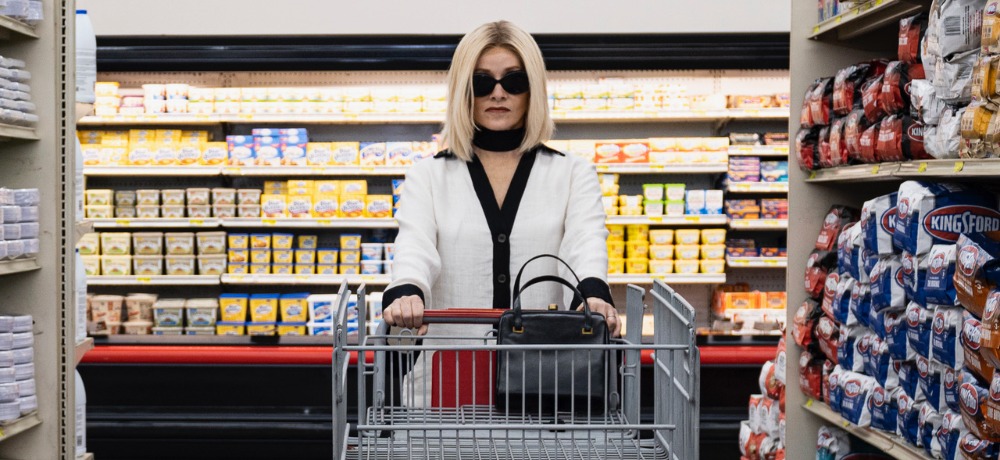 Last month, Travis Stevens celebrated the world premiere of his newest directorial effort, Jakob's Wife, at the 2021 SXSW Film Festival, and now the film is set to be released this Friday, April 16th in limited theaters and on a variety of digital platforms, courtesy of RLJE Films. A few weeks ago, we shared with you the first part of our interview with Stevens (you can read it HERE), and today, we have the second part of our discussion with the indie horror veteran on Jakob's Wife.
During the interview, Stevens discussed trying to defy expectations for his directorial follow-up to The Girl on the Third Floor, his experiences collaborating with his cast, the evolution of Barbara Crampton, and more.
Obviously, Barbara's character is the heart of this story. But I really have to give props to Larry in this as well. I think they're both so brilliant together and they really disappear into the roles of Anne and Jacob here. Can you talk about working with them and finding the emotional beats of this couple, who has to then deal with something like vampirism, and yet, it doesn't go the way that you would expect it to? I really appreciated that touch, too.
Travis Stevens: That's really nice to hear. I felt confident working with Barbara and Larry, because we were friends from Ted Geoghegan's We Are Still Here. But there was a comfort there, and that comfort allowed me to say, "Now, let's start deconstructing what they're known for. Let's present them in roles that the audience maybe hasn't seen them in before." And both of them, as performers, were super game to do that. Basically, every part of the process was trying to do something unexpected or something we hadn't seen before, like something as simple as Larry's haircut. It was like, "Larry, we're going to give you a haircut, you're going to be a small-town pastor." And Larry's like, "Okay, that's great." These little things start to add up, and it was really exciting to work with both of them because it wasn't just a horror movie with Barbara Crampton and Larry Fessenden.
But them as characters and how their characters go through transformations in the movie, it happens with Barbara in this more broad way, and Larry's character goes through it in a more subtle way, where he has to adjust the way he looks at the world, at his partner, and at himself. Both of them were committed to it as actors, and so the movie doesn't just ask them to come in and play up who horror fans know them as. These are great roles and they did a great job and I hope that audiences enjoy what they did with them.
We're in this time right now where there's been a lot of talk about women being able to have a voice in the world, whether it's in the industry or just in general. And I'm curious for you, how cool was it to be able to do something that was structured in a way where Jakob's Wife explored that, but also does it in a really fun way as well?
Travis Stevens: I think what we were trying to do with this movie, you picked up on it perfectly. And there is a version of this movie that thinks it's empowering, but actually isn't. It was very important on this to make sure the movie was not giving Anne a choice between her husband and another male love interest, so by changing the gender of The Master, we were able to completely change what that last conversation was about. And the conversation is about Anne, and what Anne wants. Not what The Master wants, not what Jacob wants. What do you want, Anne?
And that's such a simple change, but it changes what the movie's saying, or how it's saying it, in a fundamental way. The correlation between honoring the character of Anne, and giving her a choice that is actually meaningful for her, and Barbara Crampton, as an actor of a certain age, who is now stepping into producing, is really fascinating, and also equally empowering. This really is a Barbara Crampton movie, not just in name, but in that every step of the way, the choices she wanted to make were honored. I think that's something that I'm most proud about in the film, that we were able to have the work of art parallel the experience of making the work.
I know we're getting close on time, but you mentioned The Master, and so I wanted to talk about Bonnie in this before we go. So first of all, thank you for having a villain who's a female. That, to me, is just so cool, and Bonnie is great. How was it working with her on Jakob's Wife?
Travis Stevens: Yeah, she's great. When I figured out that we should make this character a woman, Barbara had said, "Well, here are some great actresses that I'm friends with." And Bonnie Aarons was on that list. She has such a presence to her eyes, and the way she speaks, and her physicality. I was like, "Oh, this is great." Because we were going to swap the genders of the character, and I wanted to go with this design that honored the classics, I was like, "We need an actor in this role who can perform through those layers of makeup." That requires a really strong presence, and Bonnie has that. She's so expressive in her eyes and her voice and just the way she looks, you read that humanity. And so it was a perfect suggestion from Barbara.
And I met with Bonnie, who's just wild, fun, and energetic. And she asked me, "How do you see me playing this character? Am I 600 years old? Should I have an Eastern European accent?" I said, "Bonnie, I think you need to play this character like a rich divorcee who lives down in Palm Beach. You're there to say, 'Your life can be whatever you want it to be, sweetheart. Let's go get some Mai Tais and go cruise the beach.'" I wanted her to have this Absolutely Fabulous vibe to her character, and she was on board for all of it. Bonnie really brought it on Jakob's Wife, too. I'm so grateful.
---------
Go HERE to catch up on our previous coverage of Jakob's Wife, and go HERE to catch up on all of our Indie Horror Month features!