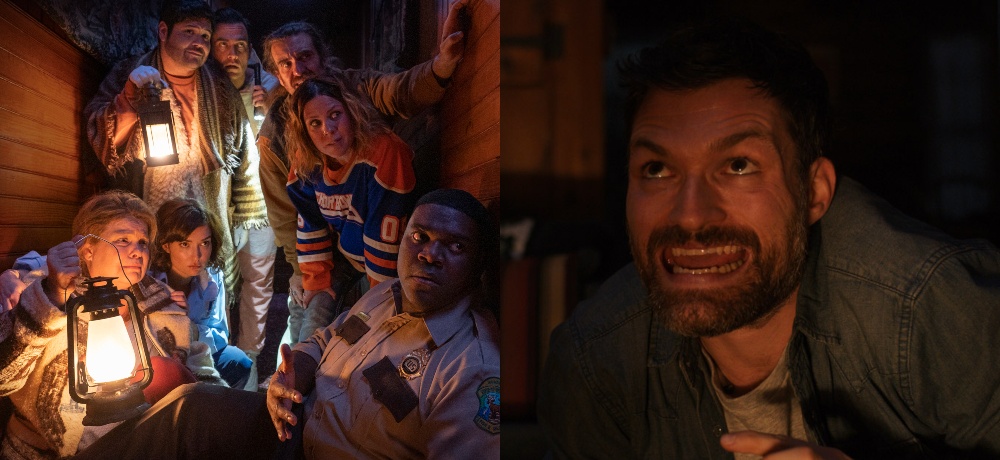 The following is the second part of our in-depth interview with filmmaker Josh Ruben. To read part one, you can check it out HERE.
While the entire experience was a delight, one thing I distinctly remember from the first time I met Josh Ruben for our interview at the 2020 Sundance Film Festival was his natural exuberance and his genuine excitement over being able to share his directorial debut, Scare Me, with audiences in Park City. That initial passion and enthusiasm never waned once as Ruben continued to chat about the film in the following months online, leading up to Scare Me's release on Shudder in October 2020, and its eventual home media debut last month.
Of course, none of us attending Sundance last January could have ever anticipated just what was coming down the line in 2020, but Ruben is still hopeful that as Scare Me continues to connect with fans via streaming and during its home media release that eventually one day he'll have the opportunity to celebrate the film in person with all of those fans who have embraced him and his work on Scare Me throughout 2020 and during this first quarter of 2021 so far.
"You know, last year was definitely surreal," Ruben reflected. "I've been friends with Jocelyn [DeBoer] and Dawn [Luebbe] for ages, and I was so envious of their journey with Greener Grass, where they were able to go as far as France, Spain, and Korea to screen their film, and travel to local fests like Chattanooga to screen their film. They got to meet all these people, and were able to make all the connections that they did with their film. I might be a Cancerian, but I'm very social, and I love being around people and meeting people, and connecting with people."
"And especially, I love being able to celebrate with my friends. That was the best part about going to Sundance, was there's the circus on Main Street, but then it's like when you get back to your place, you can have cold pizza with your friends, watch TV, and just hang out talking about all the ridiculousness of that circus. I just wanted the opportunity to do that a whole lot more. There were definitely moments when my producer Alex Bach and I were dreaming of going to Portugal or Paris or Chattanooga. We would have loved to have gone anywhere with Scare Me, so I'm hoping that I get that opportunity in the future where maybe there will be some special event screening in the future where I'll be able to talk to people who have discovered it over the years, if it amasses any kind of modest following. I'd love to meet folks who love it. I'd love to see people dress up like Bettina and Fanny and Carlo."
When our conversation switched over to the topic of the wardrobe for Scare Me, I mentioned to Josh how Aya's hands sweatshirt had become a big fan favorite and how part of that might be because it was reminiscent of the sweater worn by Olivia Hussey in Bob Clark's original Black Christmas. "Wow, I didn't even put that together. I love that people out there made that connection, but it is totally a happy coincidence. Completely. We had a wardrobe budget on Scare Me insofar as we hired a wardrobe person, but we certainly couldn't get new clothes. I think I had doubles because of what happens to Fred later on in the film, but Aya brought that sweatshirt. She brought the jeans. She brought the undershirt. So that was just a complete happy coincidence, I think."
"What's really fun is that someone pointed out to me that my character Fred is wearing Ash's almost exact outfit from Evil Dead 2—the beige pants, the blue shirt, and I didn't even put that together at the time. I think part of that is the genius of Sean Dermond, my wardrobe designer, who had zero money and who was basically like, 'Let's see if we can find the flannel shirt that Alec Baldwin wore in Beetlejuice, of which we kind of did, but it didn't really look exactly the same. But I think that was a happy accident as well."
It's evident that "Happy Accidents" is a running theme in Josh Ruben's world these days, as he's gearing up for the release of his second feature film, Werewolves Within, which will arrive in theaters on June 25th and then head to digital platforms a week later on July 2nd, courtesy of IFC Films. The production company involved with Werewolves Within also happened to be involved with another recent lycanthrope-centric indie film, Jim Cumming's The Wolf of Snow Hollow. "It's so funny how all these things work out, but Vanishing Angle was the production company for Wolf of Snow Hollow, too. Natalie Metzger and Matt Miller were the ones who so graciously watched an early cut of Scare Me and they gave me some notes, too. Later on, they came to me with the opportunity to pitch on directing Werewolves Within, so the coincidences that have abounded in my life lately have just blown my mind."
While he has to remain tight-lipped about what fans can expect with Werewolves Within for a few more months, Ruben was able to shed just a little bit of light about the project, which is based on the Ubisoft virtual reality game. "The one thing I can tell you is that for Werewolves Within, we definitely upped the ante on the horror side. Also, I say this as fully biased and as unbiased as I possibly can, but it really delivers because of the cast. The cast is out of control, and each and every one of them have so excelled in their careers individually because of how talented they are. I think one of the biggest reasons that I was able to put this awesome cast together is because I'd put in the work over many years where I was trying to staff up as a creator, but also, I just wanted to be a good person, a nice person that people wanted to work with."
"So I was able to reach out to people like Michaela Watkins, who I'd done what I would call a test run in casting her to cameo in this podcast series I did for Spotify, The Last Degree of Kevin Bacon. Through that I realized, 'Holy shit, she's another great buddy type who is down for whatever and I want to be friends with her forever.' Those types of interactions were integral to my assembling the cast, but also, just the years of experience of knowing how to be professional, to be prepared for as much as possible, was a huge help to me as well. And because of that, I worked with so many amazing people on this film."
"You have Harvey Guillén, who was nominated for a Critics Choice Award, and then Cheyenne [Jackson] getting on Call Me Kat, and Rebecca's been up to a lot of exciting stuff lately, too. And Sam has a new [Phil] Lord/[Christopher] Miller show coming out on Apple TV, which looks great. This is just a small fraction of what everyone's been doing since we shot Werewolves Within, and that alone has just been so exciting to see," added Josh.
Even though Ruben had been eager to set out on his own and blaze his own path in Hollywood for quite a while, he discussed how the timing had to be right for him to be able to venture out and start making films on his own terms. "You know, I couldn't have done what I've done at this point in my career if it all happened to me even five years ago. Everything I've learned through my whole life has gotten me here. I tell all the young filmmakers looking for advice, 'Shoot everything. Try everything. And first things first, make some friends so that you can always surround yourself with great people.' I know it's well-trodden territory and young filmmakers probably keep hearing this advice again and again, but I say it to everyone. You have got to experiment. You have got to find your voice, you have to try stuff out, fuck up, and succeed in all the different ways that you can."
"If I were presented with the opportunity to make Scare Me in my 20s, and 35-year-old Josh could travel back and tell him anything, I would say to him, 'Do not over-embellish. When you've got it, move on. And be sure to shake every crew member's hand, learn all of their names, and treat them all with the utmost respect, just as much as your cast members'. That's been the through line, guiding light, and most important thing for me in my career, because the good in me has to be fed to be where I am.
"I am constantly baffled when I hear about directors who give off this divisive, vitriolic energy," Ruben continued. "Or if they're just total geniuses, they create this divisive energy, and I'm just totally baffled by that. It just doesn't make sense to me, and it's just not my vibe. And so that won't be my vibe and it'll continue to not be my thing, too. In terms of great directors out there, I look up to Leigh Whannell and Taika Waititi. These are wonderful, good human beings. I don't know them personally, but everything I hear about how disarming they are with their goodness and charm, and in some cases acerbic nature, but they also deliver great films. And they can bring it out of people by being good human beings, and that's what I want to do as a director, all while still having a strong personality."
Even though last year may have derailed some plans that he had dreamt up for Scare Me, Ruben is still extremely grateful for all the good that came along in 2020, despite everything else going on in the world.
"My experience, having this small movie in this unusual year with COVID and the like, just being welcomed into the horror community, for lack of a better phrase, and seeing how truly wonderful everyone is, it was wonderful. There's something that just happened that feels like when we came into the spotlight with Scare Me, where it's like you get followed on Twitter by all these awesome horror folks and journalists like you and Meagan Navarro—how cool is that?"
"Then the movie screens, and it's even crazier people who start to follow you, talk to you, and just take notice. Everyone has just been so supportive, which I think is the raddest thing, because we all march to the beat of our own drum with this genre. All of it has been really exciting for me to get to experience, and I'm even more excited about when we're out of this mess, because I think we're going to be in a whole new world in a lot of ways."
---------
Go HERE to catch up on all of our Indie Horror Month features!
[Image Credit: Above image of Josh Ruben from Scare Me courtesy of Brendan Banks / Sundance Institute.]