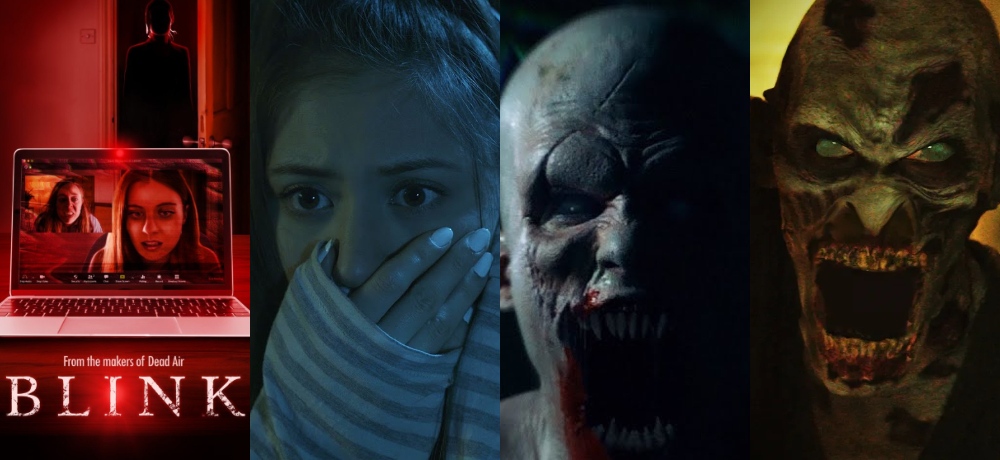 Hello, everyone! Today, we have our final installment of Sunday Shorts on tap, which is a series celebrating the efforts of all the talented short filmmakers out there that we've been running every weekend throughout our Indie Horror Month celebration. For today's selection of short films, we have four different shorts for you to enjoy, and they all offer up a very different viewing experience, which means there's probably something for every kind of horror fan here. 
This Sunday Shorts selections of quick bites of fright include Geoff Harmer's Blink, Sonant by Vik Ramen, Miner's Mountain from Bennett Pellington, and Dillon Vibbart's Somniphobia.
Enjoy!
Blink (Directed by Geoff Harmer)
Synopsis: Gal finally gets through to her friend Missy via Zoom, only to find that she is not in a good state of health.
Starring: Penelope Yeulet and Candice Palladino
Sonant (Directed by Vik Ramen)
Synopsis: Seth and Hannah Baker discover the grim truth behind a missing girl in Bakersfield, California.
Starring: CJ Brooks, Frankie Kevich, Megan Zerga and Bri Bauman
Miner's Mountain (Directed by Bennett Pellington)
Synopsis: A sheriff comes under fire when two S.B.I. agents question his involvement in an unsolved murder case that shares distinct similarities with a recent homicide.
Starring: Henry Bazemore, Jr., Anthony Reynolds, Myke Holmes, Eli Walker, Julie Ivey and Fidias Reyes
Somniphobia (Directed by Dillon Vibbart)
Synopsis: A doctor with the ability to visit people's dreams helps a young woman confront the terrifying reality of her nightmare...
Starring: Chris Attoh, Tatjana Marjanovic, Atticus Hinckley, Roney Iampran, Jul Kohler, Austin Heemstra, Shery Diamond and Nic Tom
---------
Go HERE to catch up on all of our Indie Horror Month features!