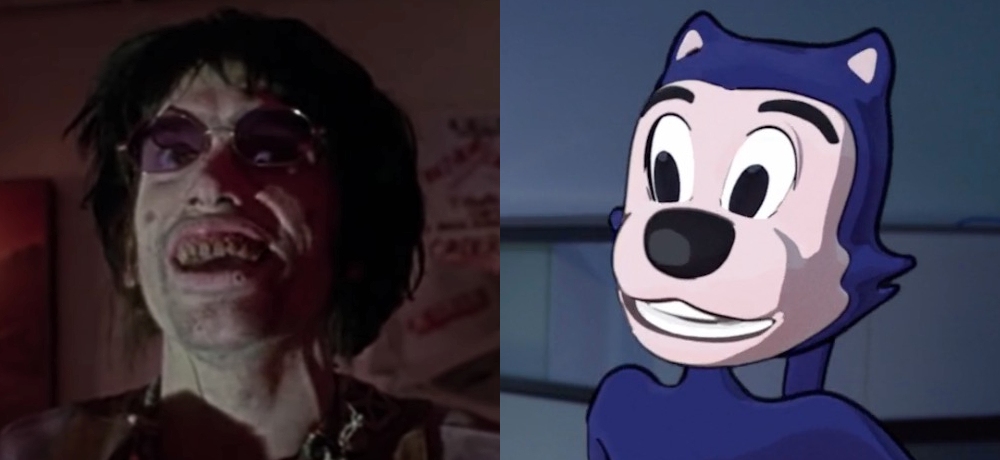 From Chop-Top to Otis Firefly, Bill Moseley has brought so many uniquely haunting characters to life on screen over the years, but his latest role is unique even for him, as he provides the playful voice for the killer animated cat Jasper in Torey Haas' segment for the new horror anthology Dead by Midnight Y2Kill. And while Jasper seems to be all fun and games in his own cartoon show, he shows his sinister side when he crosses over into the real world and sets his wide-eyed sights on Julia Walters (Melissa Haas), the daughter of the animator who created him... and the one person Jasper will do anything to keep to himself, even if it means using his cartoon-style violence on those who get in his way (including Julia's wife, Ally, played by Charis Jeffers).
With Dead by Midnight Y2Kill now on DVD and Digital via Indican Pictures, we had the pleasure of speaking with Bill Moseley about voicing Jasper the killer cat, and he also discussed co-starring in Hayride to Hell with his daughter Marion Moseley and fellow horror icon Kane Hodder, and with April being Indie Horror Month on Daily Dead, Bill also reflects on working with Tobe Hooper, one of the greatest independent horror directors of all time, on The Texas Chainsaw Massacre 2.
You can read our interview with Bill Moseley below, and as an additional treat for Daily Dead readers, we also have an exclusive clip from the "Jasper" segment of Dead by Midnight Y2Kill, featuring Moseley's killer cat in action!
You always have a lot of plates spinning with your roles, and they're always very unique, but the role that you have in Dead by Midnight Y2Kill is pretty unique even by your standards, because you're voicing an animated cat. For this role in particular, how did you get involved with Dead by Midnight, and what attracted you to voicing this killer cat?
Bill Moseley: Well, I guess it all goes back to my love of cats. I have two, they're now with my younger daughter, and my older daughter I think has seven cats. So I am surrounded by cats it seems like everywhere I go. So I do have a natural affinity for cats, and I think it was back in 2019 when we actually did Dead By Midnight, it was pre-pandemic, and the idea of doing a seven-foot cartoon cat certainly appealed to me from the cat point of view, but also it just sounded like a cool challenge. I've done a few animated movies. I actually did an animated version of Night of the Living Dead, but that was playing a human, and I've certainly done a bunch of different voiceovers for cartoons. I did an Uncle Grandpa [episode]. I also did a Teenage Mutant Ninja Turtle cartoon, one of their episodes. So it was nothing I hadn't done before, in the sense of breaking new ground, but it's always strange because of course you don't have anybody else to work with. I did it with my friend, Travis Dickerson, who has recorded a bunch of Cornbugs and Spider Mountain CDs for me. So I just went into a little booth with the script and really just tried to make it real, but also make it fun. So I had to say that probably my spirit animal was Sylvester without the lisp.
I could totally see that. There's this kind of ACME, Looney Tunes vibe to Jasper, but then he's also doing these horrible things, and so he's almost like Chucky the doll in a way, where he sounds really cute and playful, but if you turn your back, he might hit you over the head with a hammer.
Bill Moseley: Well, what you have to remember is that a cartoon cat has no conscience. Yes, they can look very cute and say cute things and then they can shrink themselves down to the size of a kitten and go, "Please," speaking baby talk. They can really pull a lot out of you, but they themselves have no conscience. Especially when you have a cat that's actually, spoiler alert, killed its creator. So, this is a cat that is basically... I suppose you could call it love. My affinity for my beloved [Melissa Haas' character Julia Walters], but I have no problem killing her wife or at least trying to. I have no problem killing her parents, just because it's a different plane of existence.
Animated violence is different when you bring it into the real world. We see you throwing sticks of dynamite and hitting someone over the head with a hammer, and you'd think it would be fun and playful, but then you see that in the real world, it has this real effect. And I thought that was really cool how everyone played with that in this segment, because it was fun but also very serious at the same time. And then there's this great love story in the middle of all that, too. There are just so many great layers to the Jasper segment.
Bill Moseley: It also reminded me certainly of Roger Rabbit and that awkward intersection between the fantastical and the real. And what was interesting was that an old high school classmate of mine, Peter Seaman, was the co-author of Who Framed Roger Rabbit. They got the rights to the book and wrote the screenplay, and so that's just a little side note there, but it [Dead by Midnight] looked like a lot of fun to do and it turned out it was, although I didn't have a director with me at the time. Basically it was just me standing in a booth and I certainly had plenty of notes and good ideas that the director [Torey Haas] had approved, but basically it was just standing there naked and alone, and being that seven-foot cat, thinking of Roger again.
I think it worked out great. I think it's a wonderful, amazing segment. And I just really had a ball doing it and was really impressed with how well it came together, and I'm so glad that Indican Pictures picked it up and is giving it its proper due.
There's such a great collection of shorts in Dead by Midnight, including these commercials. You get such a large amount of short films, but the way they connect them all together is so brilliant in how they do that and how they tap into all of the YouTube stuff, and how it's stuff that we encounter every day now in the digital world. It's a great social commentary as well.
Bill Moseley: Yes. And I'm always glad to see Kane Hodder. We were just in Malvern, Pennsylvania, doing a movie called Hayride to Hell, and we had a great time. We were there in November and December and really had a lot of fun working together again. We played nemeses, that's as much as I'll tell you, but that should be coming out probably sometime this summer, maybe early fall at the latest. Working with Kane is always a pleasure. We did Old 37, so we've just done a lot of stuff together and really love to work with each other. And I'm only sorry that we didn't get a chance actually in the booth to do something face to face [in Dead by Midnight]. But that's the nature of cartoons, you don't always get to work with others.
Hayride to Hell, that title alone just sounds like something you should see at the drive-in.
Bill Moseley: That's going to be fun. And it is also the screen debut view of my younger daughter, Marion Moseley. I was doing the movie and I had talked to the director before I showed up in Pennsylvania. We talked about a character in the movie, and I said, I've got to add this just as a parental duty that I do have a younger daughter, she's 23, she's a great actress, a UCLA grad. And he said, "I hear you, but all the parts are taken." And I went, "Okay, that's cool." And anyway, as we were shooting, one of the characters lamentably fell off a set of stairs leading up to the hay wagon and twisted her ankle.
Because of her twisted ankle, she was not able to continue playing that character. And the director, when he learned that, he turned to me and said, "Can your daughter be here by tomorrow? Can she take the red-eye and be here by tomorrow?" And I said, "Well, I don't know." So I called her mom, and her mom can get a hold of Marion in a nuclear holocaust. Her mom could find her and get her. And so the answer was, "Yeah." So she jumped on a plane and came out and just did a great job, really pretty much overnight learning the character and playing a wonderful character. So, I'm very, very proud of my daughter Marion, and I think that's going to be a real added bonus to Hayride to Hell.
And then I just finished a movie with Robert Englund and Danielle Harris called Natty Knocks, and that was directed by Dwight Little. Dwight has done Halloween 4, Phantom of The Opera with Robert Englund, and Free Willy 2. So Dwight's a veteran, a really great director, and we had a ball. I had worked with Danielle kind of peripherally. We were in a movie called Blood Night, but we didn't have scenes together. I'd never worked with Robert. And both of them were so much fun to work with, we really had a ball.
In Dead by Midnight, it seems like Jasper gets the last laugh at the end. So I'm wondering, if there's ever a chance to expand this into a feature-length film or anything like that, would you be down to bringing that character back?
Bill Moseley: You bet, absolutely. As Chop-Top says when he is talking about Nam Land, "It's what the public wants." And if it's what the public wants, then you bet. I'm more than happy to play Jasper through the first seven sequels.
You mentioned Chop-Top, and right now we're running Indie Horror Month on Daily Dead, celebrating independent filmmakers all month long. Tobe Hooper directed one of the greatest independent horror films of all time [The Texas Chain Saw Massacre], and you got to be in one of the greatest horror sequels of all time [The Texas Chainsaw Massacre 2], which was also directed by Tobe. Looking back on that, watching Tobe work as an indie filmmaker, what do you remember from that experience of getting a front row seat to watching Tobe work and do his magic?
Bill Moseley: Well, I harken back to a scene where it's the introduction of Chop-Top in the radio station and I was banging on L.G.'s head. So, I have a claw hammer, L.G.'s down on the ground, and I'm just wailing away on his head. The blood is flying. Tom Savini is pumping blood as fast as he can, and I've got a claw hammer, and the claw hammer was basically foam rubber with a coat hanger wire holding the whole thing together, but it was painted very well. So it looked like a claw hammer and I'm banging away, Tom Savini's pumping the blood, poor L.G., Lou Perryman, is squirming and spitting on the radio station floor. A couple of takes had been ruined because when Tobe yelled, "Cut," I looked down at the hammer and it was dead like a pretzel. And so there were a couple of just basic equipment problems, but anyway, we had done a couple of good takes and we had just finished take 12 and it was a close little radio station.
It was hot, there were hot lights. That was back in the days of film in the camera, and so therefore they were very, very strong lights, and it was June in Texas. So we've done 12 of these, and Tobe goes, "Yeah, yeah, that was great, that was great. Okay, Bill, let's just do one more." And I was getting a little exasperated. I was getting a little hot and I was like, "What can I do different?" And so I turned to Tobe. I just turned to him, a little bit exasperated, and I said, "Well, am I doing something wrong, Tobe?" And he looked at me and said, "Oh, hell no, Bill, I'm just having fun watching you."
And when you hear that from your director, that is the highest compliment. I just loved hearing that and went on and did another take or two, but my relationship with Toby in a nutshell was the fact that he had taken this enormous chance on me. He hired me on the basis of a short film that I wrote and produced and had a cameo in called The Texas Chainsaw Manicure, all of five minutes of it. I'd never auditioned for the part, and I showed up in Austin, Texas, and I didn't know what I was doing. And Tobe guided me through that, and it really was one of my favorite cinema experiences of my life. It really put me on the map. It was fun to do. It really gave me a career. So, I owe everything to Tobe.
---------
Go HERE to catch up on all of our Indie Horror Month 2022 features, and check out our exclusive clip from Dead by Midnight Y2Kill and the official press release below!
Press Release: LOS ANGELES, CA - Starring Bill Moseley (Halloween) and the Scream Queen herself Linnea Quigley (The Return of the Living Dead), the all-new horror anthology, Dead By Midnight Y2Kill, arrives on DVD and Digital on April 26, 2022 from Indican Pictures. Featuring five different terrifying tales, the film is full to the brim with chilling shocks, plot reveals and deadly twists around every corner.

Through the use of original storytelling and iconic stars, Dead By Midnight Y2Kill is an all-new horror anthology that is carving out a novel niche in terror. The horrifying stories featured in the film include "Hell Evangelist," "Jasper," "Clean Your Room," "Heroes of Time" and "Gut Cruncher," which range in varying levels of fright from the story of a God-fearing old lady (or is she?) to what happens when your reality and dreamworlds become one. Interspersed with creepy commercial breaks, viewers will also feel the tension as the battle between The Temptress of Terror (Hannah Fierman, VHS) and the vengeful Mistress of Midnight (Erin Brown, Masters of Horror) heats up. Remember views, you can pause, but you can't hide.

The film also stars  Kane Hodder (Jason X), Bill Moseley (Halloween), Scream Queen Linnea Quigley, Chris Gore ("Attack of the Show!") and Hannah Alline  ("Ozark"). Dead By Midnight Y2Kill, will be available on DVD and On Demand on April 26  via Apple TV, Prime Video, Vudu/FandangoNOW, Google Play, DirecTV and more.

Synopsis

Introducing Dead By Midnight Y2Kill, a horror anthology that's carving out a new brand of terror with original storytelling and iconic horror stars. Y2Kill has assembled a team of horror legends including Kane Hodder (Jason X), Bill Moseley (Halloween), and Scream Queen Linnea Quigley (The Return of the Living Dead) for five terrifying segments each more deadly than the last. All of this murderous mayhem is hosted by the Temptress of Terror (Hannah Fierman, VHS) but she better watch out, because the vengeful Mistress of Midnight (Erin Brown, Masters of Horror) is out to prove that she's still the most hellish host around.

Release Details

Street Date: April 26, 2022

Digital Availability: Apple TV, Prime Video, Vudu/FandangoNOW, Google Play, DirecTV and more

DVD SRP: $26.98

Run Time: 96 Minutes

Rating: Not Rated

About Indican Pictures

Indican Pictures is a boutique entertainment label and film distributor. The company was founded in 2004 and has released over 300 films worldwide. In our history, our films have won two Independent Spirit Awards, three FIPRESCI awards, five PRISM awards, two NAACP awards, one ALMA award and two HOT DOCS. Indican is known for releasing challenging material like Boondock Saints (Norman Reedus), Tuvalu (FIPRESCI WINNER), Pure (Keira Knightley), Hybrid (Independent Spirit Award Winner), Only The Brave (internment of Japanese Americans), The Black List V. I-III (HBO Original Series), and Guest Artist (Jeff Daniels), among others. Indican Pictures acquires and distributes a diverse selection of feature films to a broad range of entertainment outlets, including theatrical, home entertainment, television, airlines and streaming platforms.