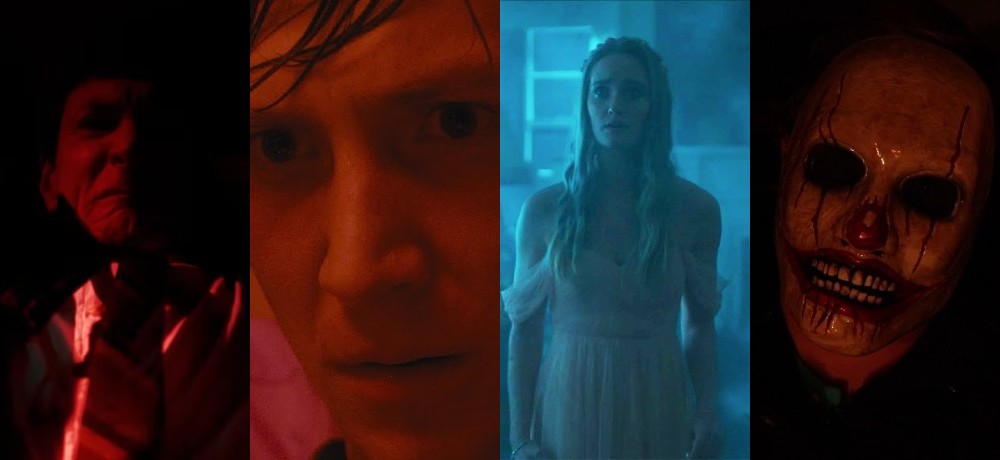 Hello, dear readers! We hope you've been enjoying all of our Indie Horror Month coverage so far over the last few weeks, and we still have so much more before the end of April arrives. Every Sunday, we've been celebrating all kinds of killer short films and we have a new batch of fun shorts for you to enjoy that are sure to give you some thrills and chills and they may even crawl under your skin as well. 
For this installment of our "Sunday Shorts" series, we are featuring a fun assortment of quick bites of fright, including Mary by Justin Lazor, Harry Pages' Dead Line, The Mirror from Nessa Aref, and Jory Boychuk's Sleeping.
Enjoy!
Mary (Directed by Jo Rou & Dan Riordan, Written by Justin Lazor)
Synopsis: One year to the date after his mother's death, Rich, an insurance salesman, makes a house call on the elderly Mary. Over the course of their unnerving conversation, he comes to fear that Mary and his dead mother may be inexorably linked in ways he never could have imagined as he grapples with the consequences of his actions.
Dead Line (Directed by Harry Pages)
Synopsis: During a zombie outbreak, a recently bitten call-center employee working for a specialist 'Survivor Hotline' must help a young woman escape her infected mother and get to safety before he becomes one of the undead. 
The Mirror (Directed by Nessa Aref)
Synopsis: Fearing she's losing her best friends to their prestigious universities, Olivia tries to hide from them on prom night, taking refuge in a creepy old house.
Sleeping (Directed by Jory Boychuk)
Synopsis: A man takes a nap after work, but when he wakes up things seem to be out of the ordinary.