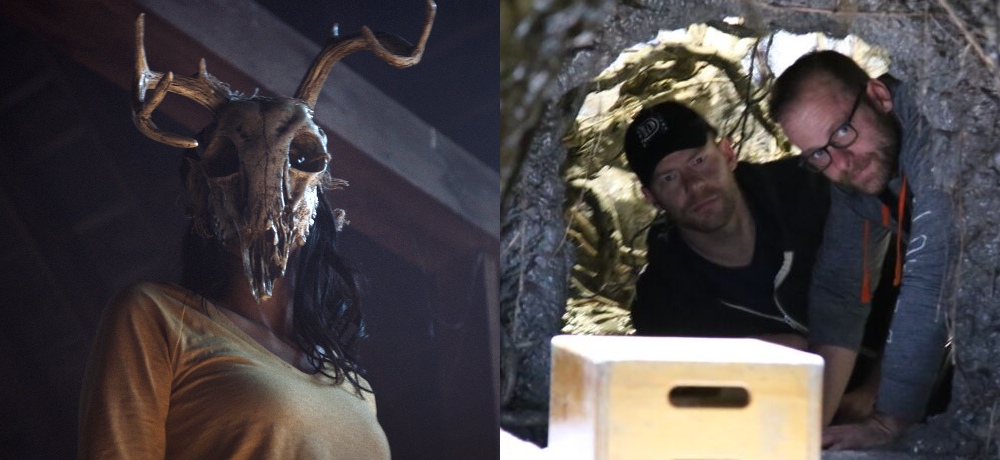 Arriving at select drive-ins (which is awesome) and on Digital and VOD tomorrow is The Wretched from directing duo Brett and Drew Pierce. Centered around a troubled teen who discovers that a deadly witch has cast a sinister spell on those around him, The Wretched is a pretty rad throwback horror that wears its influences on its sleeve, but ultimately stands out as something wholly its own, which is no easy feat.
Daily Dead recently had the opportunity to speak with the Pierce Brothers about their second directorial collaboration (they previously helmed Deadheads together), and they discussed their approach to the story of The Wretched, the various films that influenced the project, the challenges they faced in making The Wretched, as well as the collaborative process behind the design of the witch for the film.
Great to speak with you guys, and congratulations on the film. Can you discuss some of the inspirations behind this story, because I loved the lore of this creature at the center of everything? I also thought it was interesting to get this story from a male character's perspective, especially since we often see women in peril, so this really felt a bit different.
Brett Pierce: It really came from the fact that Drew and I just had a really big fascination with witch mythology. All different ones from all around the world, from Black Annis, which is a UK myth, to the Boo Hag, which is an Appalachian witch, and even Jenny Greenfingers [aka Jenny Greenteeth]. We just loved all the various stories about these weird supernatural characters and we were surprised by how little they appeared in films and movies and TV. We just wanted to start there and grab some of that witch mythology that we love so much, so we decided to pick and choose from various different mythologies to create our uber-witch [laughs].
I think we were also just really excited to do this film because you don't get a lot of female villains in horror movies too often. You get some occasionally, but I think we were excited about having a female villain that essentially in our story jumps between bodies because it just felt like something a little different and it felt a little dangerous because people so often jump to conclusions that women are the weaker sex, which isn't true, obviously. And then you have the kid next door, whose world is falling apart and his character ends up being a bit weaker, so to change up that dynamic was just a little more interesting for us.
This is very much a witch-centric story, but there are some other elements like body horror and body swapping, too, as you mentioned. Was it fun to take certain elements from genre stories and blend them all together for this film?
Drew Pierce: We are enormous horror fans, obviously, and there are so many influences that we drew on for this movie, from John Carpenter to Evil Dead to Fright Night. We love the idea of just building a story that would evolve and grow darker and darker.
Brett Pierce: Yeah, we've seen a lot of horror films and we love all horror movies, even the bad ones. Honestly, watching a bad horror movie is almost more fun than watching a good one sometimes [laughs]. But we realized we wanted to involve so many elements from other horror movies that we have enjoyed to create something fun. Most horror movies I've watched recently, there's like a ghost or supernatural element and the whole movie is about everyone coming to terms that it exists and then they fight it at the end. But there's not a whole lot of change in that kind of story, from the beginning to the end.
So, we were like, how can we jampack this movie so that as you're going through, it feels like a rollercoaster ride and the stakes are changing? And then, in the third act everything just gets weirder and crazier, and I think we were just really intrigued to keep pushing the gas pedal to the floor for this.
There's a lot of ambition on the screen in The Wretched. I'm curious, what would you say was the biggest challenge you guys faced in terms of getting this film made?
Drew Pierce: I think the biggest challenge, for us and probably all filmmakers, is just getting financing. But if you're so committed to it and in love with that, you're willing to do anything to get it made, that's a feeling that I think most filmmakers feel at some point. We worked so hard on the script for a long period of time, getting it to a point where we felt good about it. Then, you get to that point where you're so excited and then you realize there's a mountain ahead of you, between financing and then shooting it. And we had all these practical effects in the movie, we had animals, we had kids [laughs] and multiple locations. These are all things that when a producer comes on, they'll tell you that when you're an indie movie, you just don't do those things.
But we were just so excited about it and because we already had visualized it, we were going to get there no matter what. So if somebody tells you "no," fine, just find the next person. If somebody tells you that you can't do this because it's too complicated, figure out a way to make it work, to make it less complicated, but still pull off the movie you know you need to make. We always joke that making movies is like a series of problems that you're solving and that's totally true. It's like the most fun thing in the world, but it's actually like a series of people telling you why something's not going to work and then you have to prove why it's going to work.
Brett Pierce: I think the biggest challenge in general right now for most independent films is the amount of shooting time you have. Most of us get like two or two and a half weeks and we had a little bit more than that, and you have to compete with mainstream movies that often shoot around four months or more. So you have to make sure you have the time to get it right and accomplish what you want to accomplish.
Drew Pierce: We storyboarded the whole movie before we shot it, so that helped us figure out, "How do we cram as many shots as we can in one day?" We didn't want to waste a single moment that we had while shooting.
Can you talk about the design behind the witch, because it really stood out to me? Was that something you were both heavily involved in?
Drew Pierce: We were involved with it, but we had great collaborators in the group. My background is in animation, as I worked on Futurama. I worked as a character designer and a storyboard artist. We had developed a bunch of concepts and sketches that we brought to different teams before we even brought Erik [Porn, makeup effects supervisor] on. We talked to them about how to accomplish it and then collaborated with Erik. Erik sculpted and developed the character, based on our initial concepts, and we would draw over his sculpts. He would send us pictures of his sculptures of the head and we would shave stuff down and say, "What if we add this little piece here?" So it was a constant collaborative process. And then, the tribal skull mask was a last-minute addition before we brought Erik on, because we wanted the witch to feel of the earth and of the wild.
Brett Pierce: Drew's being modest, but he actually did drawings of the mask and the creature. But like he said, they traded materials back and forth. Drew would literally draw over Erik's sculpt and Erik was doing a really great job and he'd come over and Drew would be like, "Let's thin the cheeks out, this looks maybe a little too masculine, I want it to look a little more feminine." So, it was this constant back and forth of evolving the look which was always loosely based on witches like Black Annis and Jenny Greenfingers. It was a good process. It was one of the most fun things to do. Drew and I love designing monsters and we're working on a werewolf thing right now and we're working on our design for a werewolf that feels unique.
---------
The Wretched will play at the following drive-in theaters beginning May 1st:
King Drive-In // Russellville, AL
West Wind Glendale Drive-In // Glendale, AZ
West Wind Sacramento Drive-In // Sacramento, CA
Mission Tiki Drive In // Montclair, CA
Ocala Drive-In // Ocala, FL
Starlight Drive-In Theatre // Atlanta, GA
Raleigh Road Outdoor Theatre // Henderson, NC
Highway 21 Drive-In // Beaufort, SC
Stardust Drive-In Theatre // Watertown, TN
Tascosa Drive-In Theater // Amarillo, TX
Galaxy Drive-In Theatre // Ennis, TX
Hollywood Cinema // Martinsville, VA
[Photo Credit: Above photos courtesy of IFC Midnight.]